In 2013, the world was treated to a Lara Croft who was inexperienced, being hunted, and struggling to survive in the reboot game, Tomb Raider.
2015/2016's Rise of the Tomb Raider gave us a Lara Croft that learned to become a hunter, setting off on her first expedition in pursuit of the nefarious organization Trinity.
Come September 2018, Lara Croft will complete her transformation in Shadow of the Tomb Raider, as she races to stop Trinity and the Mayan apocalypse.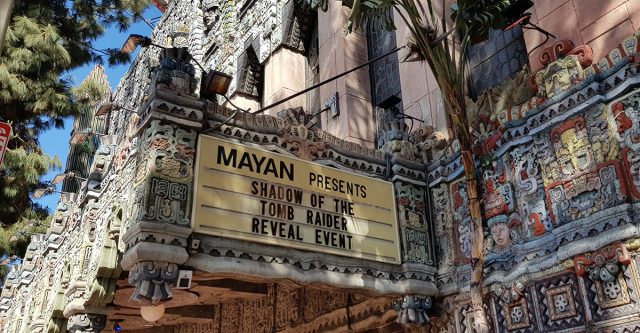 Geek Culture was on-hand at The Mayan in Los Angeles for the first-ever look at Shadow of the Tomb Raider, and we also sat down with Chris Johnson, Brand Manager of Crystal Dynamics, Mario Chabtini, Senior Producer, and Daryl Purdy, Performance Director and picked their brains about development of Shadow of the Tomb Raider.
Suffice to say, boy were we impressed, particularly by the latest evolution of Lara Croft. (Unfortunately, no capture of gameplay was allowed).
As Narrative Director Jason Dozois put it, Shadow will be her defining moment, where a now confident Lara is forced to face the consequences of her actions, and come out on top.
Senior Producer Daryl Purdy also shared that "this is the moment when Lara, at the end of this, has to choose what Tomb Raider she wants to be. With any great hero journey, she's gonna have the moments that test her the most. there's always that duality of dark and light."
Tomb raiding is a dirty business and there will be "moments where she has to go into that darkness, but then we're gonna bring her back and she's gonna reflect upon that and try to make a decision."
Fans of the latest trilogy would know the general formula of a current Tomb Raider title – fast-paced action, challenging puzzles, and a focus on survival.
This new entry is doubling down on those key tenets, with the three pillars of combat, traversal, and the resourcefulness of Lara honed to, hopefully, perfection.
Developers Eidos Montreal are adding new and interesting twists to the core formula, and fan concerns have certainly been heard.
Shadow of the Tomb Raider will feature underwater survival, giving players more room to explore and even more threats to face in the murky depths.
"We listened to the fans and we brought back underwater traversal so you know you're going to spend a fair bit of time, not just kind of navigating through water but actually searching and, you know, running into any wildlife and stuff like that. We brought back mechanics like wall running andwe do a lot of what we call spelunking So when when she's in Peru. There's a lot of places where she gets like rope hanging and wall running, which I think changes Tomb Raider quite a bit."

Daryl Purdy, Performance Director
The game "starts in Mexico, that's where she kind of kicks off this Mayan apocalypse. She goes into the jungle in Peru and the rest of the game takes place there." Amid the dense vegetation, an evolution of stealth was needed, and Lara becomes a whole new beast in the jungles.
Blending into the foliage, crawling in the bushes, and even moving through the trees, she is an apex predator that can unleash hell on the forces of Trinity. Lara can even utilize mud a la Alan "Dutch" Schaefer in Predator, to escape detection.
And a new dimension to the stealth mechanic, as Chabtini added, is that "in stealth gameplay, we can come back into stealth after we assault the enemies," whereas in the previous games, once your cover was blown, it was kill or be killed.
And if you are into tomb raiding, the team has assured us that the tombs and puzzles you will find in Shadow are more devious than before. Larger than before, these subterranean tombs are terrifying and keen to kill, after all, the Mayan culture is one where fear was worshipped and death, celebrated.
"So we look at tombs in Rise of the Tomb Raider, these were very biblical spaces with these golden domes and God rays coming from the ceiling. But now, in Shadow of the Tomb Raider, we are flipping them upside down and taking Lara subterranean, into deep, darker places that are borderline terrifying. That is a tomb that was built from a culture that worship fear and human sacrifice. So it's putting Lara into these places that are deadlier than ever and we will still use physics as a star for Lara to solve these puzzles that are even less forgiving then before."

Chris Johnson, Brand Manager
Hunting returns as well, and the much-loved feature of survival and resource management will help you make Lara into the badass she truly is. The jungles are as deadly as they are ripe with resources.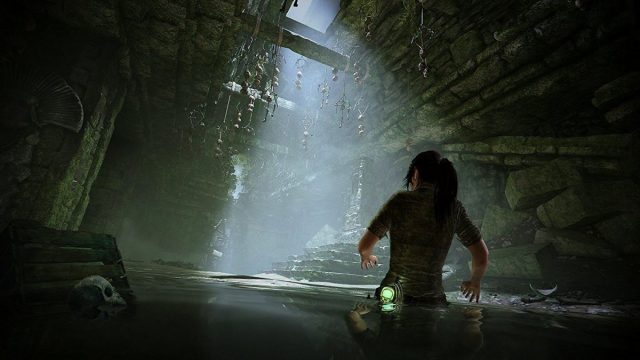 Of course, it would not be Tomb Raider without some high octane set pieces that require deft control and precise timing. You can't help but marvel at the amount of destruction and how gorgeous it looks, even at the pain of death.
Running on Xbox One dev kits, Shadow of the Tomb Raider already looks pretty spiffy, and we are sure with even more polishing ahead of its September 14 release, it will be as awesome as Lara's transformation. Xbox One X and PS4 Pro owners can also look forward to the game pushing the full potential of the systems.
"We've completely revamped the way we take a script from paper to the final performance. So one of the big things is working with the actors, we've allowed them to take ownership of these characters. Somebody like Earl (Baylon) or Camilla (Luddington), they have played these characters for, going on, seven years. So really what we wanted to do is create an environment in the performance capture stage where they can really take hold of these characters and give their influence into it, which I think, has resulted in some of the most natural and heart warming scenes that we have thus far."

Daryl Purdy, Performance Director
Besides the Standard Edition, fans can opt for the Digital Deluxe Edition, which comes with a Skills Booster Pack, Outfits/Weapons Pack, original soundtrack, as well as an Avatar outfit (Xbox One), Dynamic Theme (PS4), or wallpaper (Steam).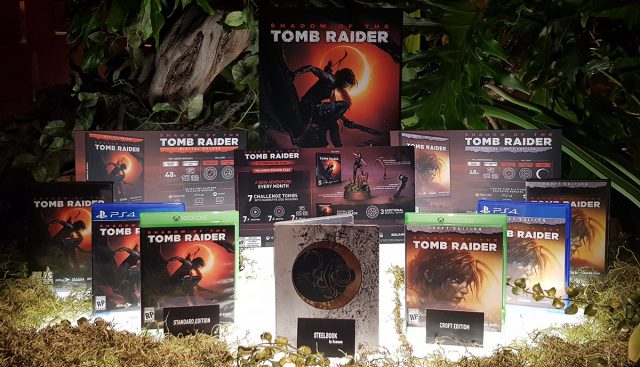 Croft Edition includes all the bonuses of the Digital Deluxe Edition, together with the Season Pass.
The hardest of hardcore should really be gunning for the Ultimate Edition of Shadow of the Tomb Raider, which not only grants you 3 additional weapons/outfits, the soundtrack, the Season Pass, but also a detailed statue of Lara Croft, her trusty climbing axe that functions as a bottle opener, and the flashlight of the Tomb Raider herself!
Do note that all pre-orders of the Digital Deluxe, Croft, and Ultimate Editions will get access 48 hours early, even physical purchases!
Details of the Season Pass are scarce, but we do know it will come with a new adventure every month, seven challenge tombs with narrative side missions, seven weapons, outfits and skill boosters each.
The burning question, and we asked to be sure, is that there will no microtransactions/loot crates in Shadow of the Tomb Raider. Hurray, because that is the type of raider no gamer needs!
---

Drop a Facebook comment below!