From ultra-smooth performance to visually pleasing water-cooling systems, desktops have everything a gamer needs… except portability.
Thankfully, gaming laptops have been right on the tails of their "stationary" counterparts, and slowly, their design and performance have been progressing exceptionally well these days, with Taiwanese brand ASUS's Republic of Gaming (ROG) leading the way with their line-up.
With the announcement of all the new ROG Gaming Laptops in 2021, it looks like gamers might be in a slightly tough spot to pick out what they need but that's what we're here for, to help you figure out which laptop is best for the different types of users out there!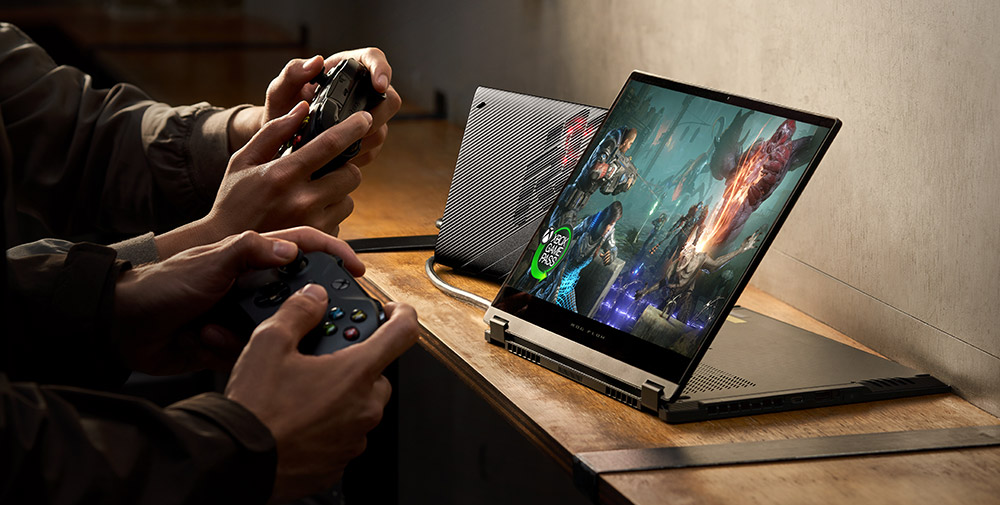 ---
WORK AND PLAY VERSATILITY
ROG Flow X13 (GV301)
From S$2,548
If you're looking for a versatile machine that can fit both your work and play needs, then the ROG Flow X13 (GV301) would be your pick, as efficiency and convertibility are the two main selling points of this compact performer.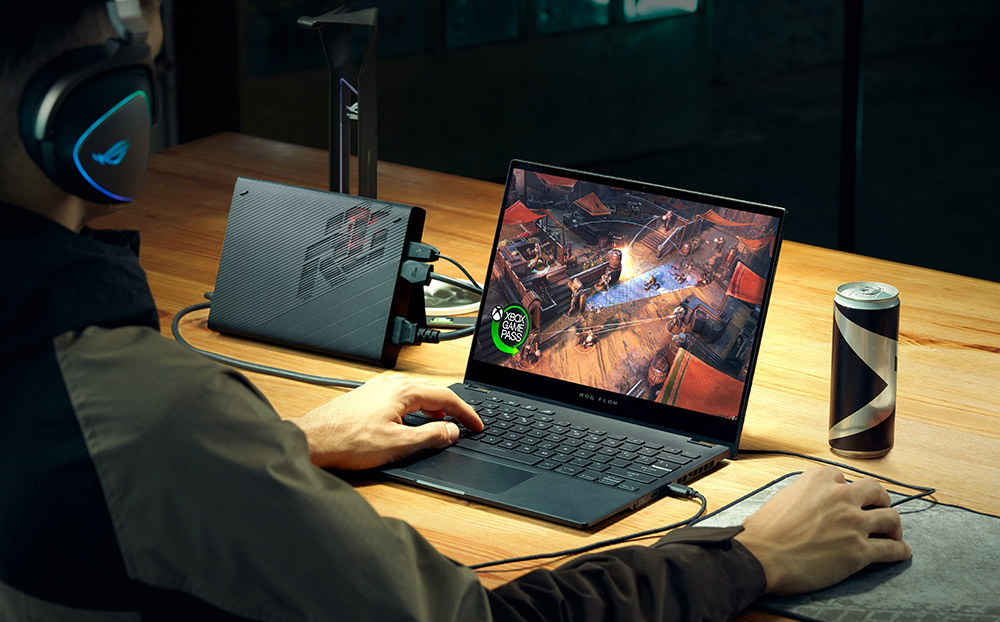 Running up to an AMD Ryzen 9 5980HS in the Supernova Edition, the laptop offers a lot more than you need, be it for gaming or multi-tasking through all your work projects. The convertible design features a 360° hinge that allows you to flip the screen into four different modes: Laptop Mode, Stand Mode, Tablet Mode and Tent Mode. Players can select any Mode to optimize their needs from illustrating on Tablet Mode to watching your favourite shows on Tent Mode.
All that is packed into 13-inch of greatness that is 15.8mm thin and only 1.3 kg. In addition, the ROG Flow X13 (GV301) comes with the ROG XG Mobile for true gaming portability, with an external graphics card that features the NVIDIA GeForce RTX 3080 but only taking up 6% of the usual eGPU's size.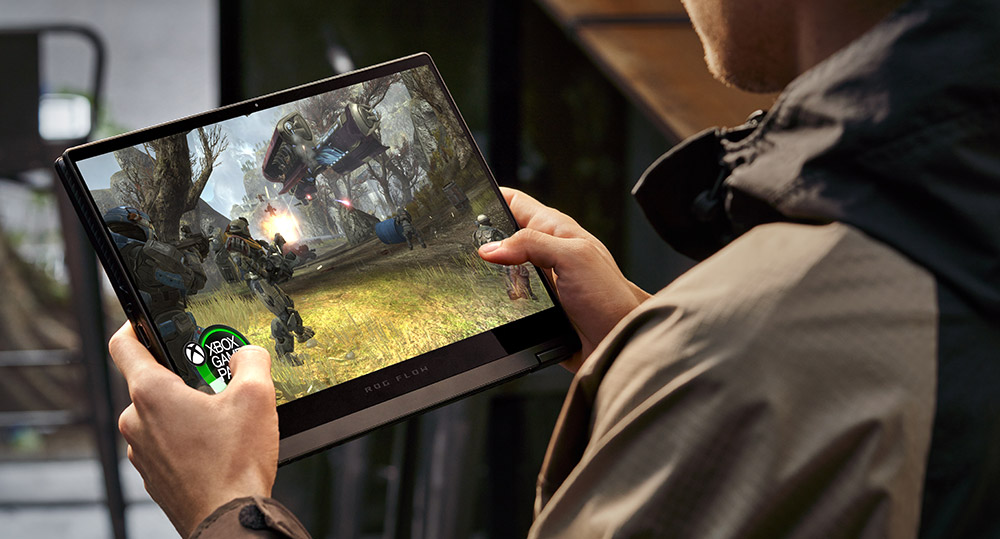 One might foresee that such a versatile machine must have a drawback with its battery or heat dissipation but ROG has it all figured out. The laptop allows you to run up to 10 hours of video playback with a 50% fast charge in 30 mins using its compact USB Type-C cable. Fine-tuning its new self-cleaning cooling system with a redesigned thermal module that features liquid metal compound and arc flow fans, it enables top lasting performance.
With a 4K touchscreen and Panton Validated colours, content creators can now draw, edit, flip through tabs or scroll pages all you want on the configurable and intuitive display. What makes this laptop stand out is its 16:10 aspect ratio which you don't see very often. For users who'd love the extra vertical space for multitasking, along with ROG Flow X13's fast and versatile system, this might be a call out to you.
ROG Flow X13 With XG Mobile is available now.
ROG Flow X13 Without XG Mobile will release on 2 April 2021.
---
POWER HUNGRY GAMER
Zephyrus Duo 15 SE (GX551)
From S$6,998
Two Screens. Zero Limits.
Replacing the ROG Zephyrus Duo 15 (GX550) which we had reviewed, the innovative Zephyrus Duo 15 SE (GX551) takes upgrading its predecessor to the next level.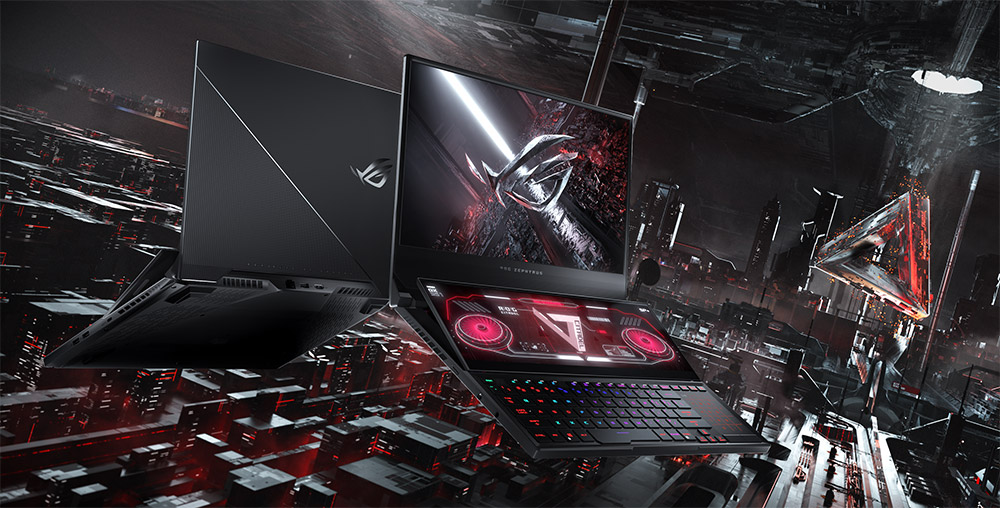 With a 15.6-inch screen, gamers can rejoice in this hi-res 4K 120Hz display. The ROG Zephyrus Duo 15 SE (GX551) allows you to enjoy a wholesome 4K cinematic experience and a pretty good refresh rate for gaming alike.
Besides that, it is a machine perfect for power-hungry gamers who want nothing short of the best performance. A step up from the ROG Zephyrus Duo 15 (GX550), the ROG Zephyrus Duo 15 SE (GX551) runs on an AMD Ryzen 9 5900HX CPU and the latest NVIDIA GeForce RTX 3080.
Sharing the similar ScreenPad Plus from the ROG Zephyrus Duo 15 (GX550), a second 14.1-inch touchscreen display that can be tilted 13 degrees, one might start questioning the prowess of hooking up another monitor to your laptops. With 4K resolution, fully immerse yourself in games like Dying Light 2 which are optimised for the multi-screen experience – allowing the menu or inventory UI to be displayed on the second screen.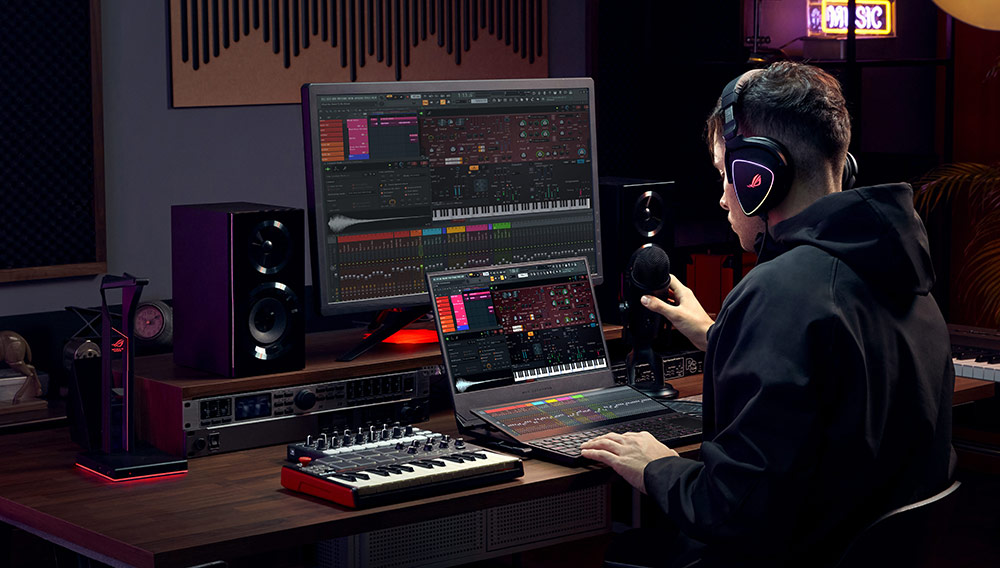 The last thing you'd expect from a laptop is its upgradeability but again, ROG surprises. With an easy-upgrade design, users can upgrade their memory and storage slots in a breeze. Lifting off panels with their pop-open screws is simple enough to make any changes less of a hassle than usual hardware desktop upgrades.
Top it off with its ultra-slim chassis design, this sleek laptop packs a punch that's perfect for the ultimate gaming experience. With its top-notch quality, it's no doubt that the laptop comes with a high price tag.
ROG Zephyrus Duo 15 SE (GX551) is available now.
---
ATTENTION SEEKING GAMER
ROG Zephyrus G15 (GA503) & G14 (GA401)
From S$2,898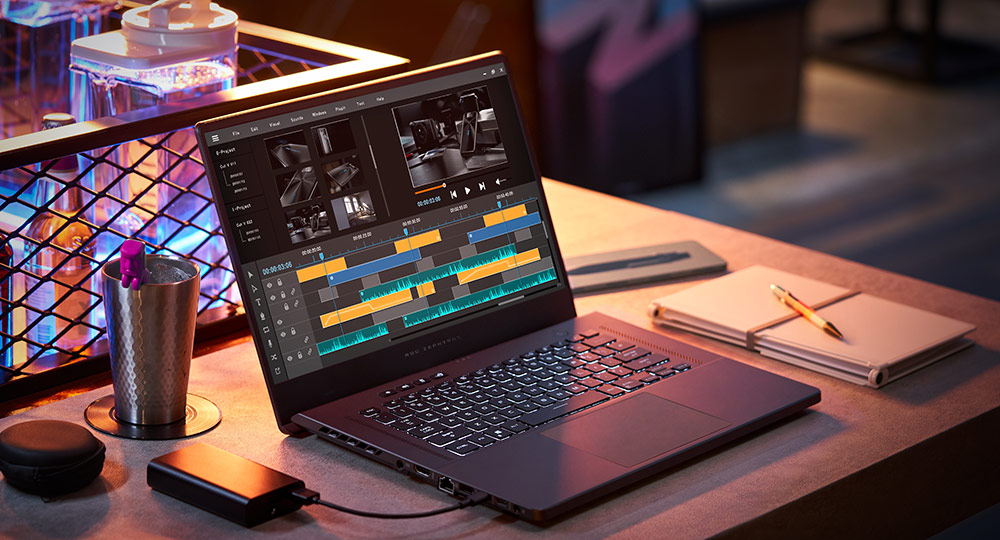 If you want something to spice up your experience and aesthetics, both the ROG Zephyrus G15 (GA503) and ROG Zephyrus G14 (GA401) are what you're looking for.
With the ROG Zephyrus G14 (GA401), it sports their AniMe Matrix display, a first-of-its-kind feature that offers personalization like never before. Made up of 1,215 individual mini-LEDs one can finally express themselves by personalizing their own display images, animations and audio visualizations. ROG is even working on future updates to add on status notifications and improve its battery consumption.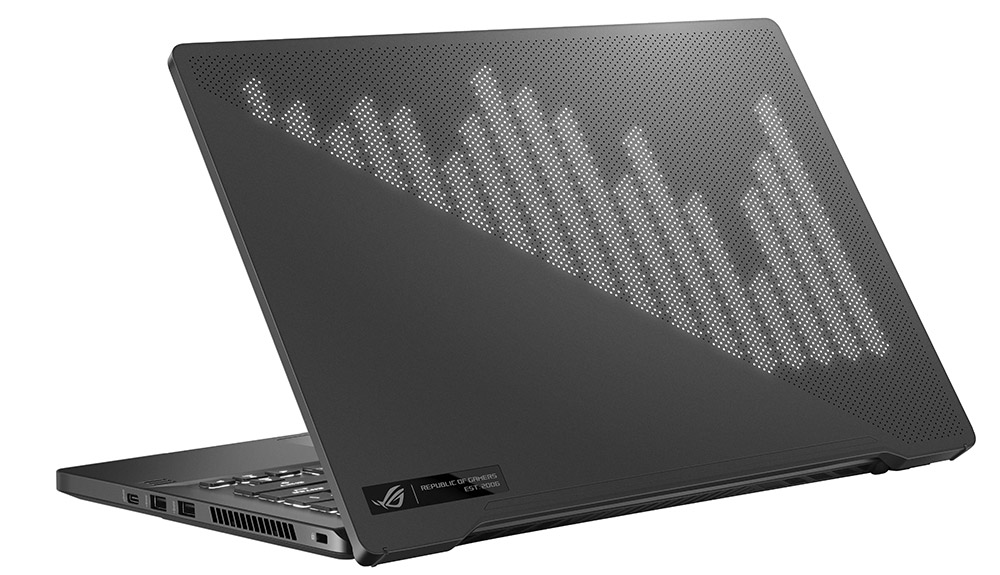 Despite having a small chassis, these two laptops are impressive in terms of their new specifications. The ROG Zephyrus G14 (GA401) runs on the new AMD Ryzen 9 5800HS and NVIDIA GeForce RTX 3060, with a 120Hz refresh rate on full 14-inch HD display. Meanwhile, the ROG Zephyrus G15 (GA503) is currently running the AMD Ryzen 5900H and up to NVIDIA GeForce RTX 3070, with a 165Hz refresh rate on a 15.6-inch WQHD display.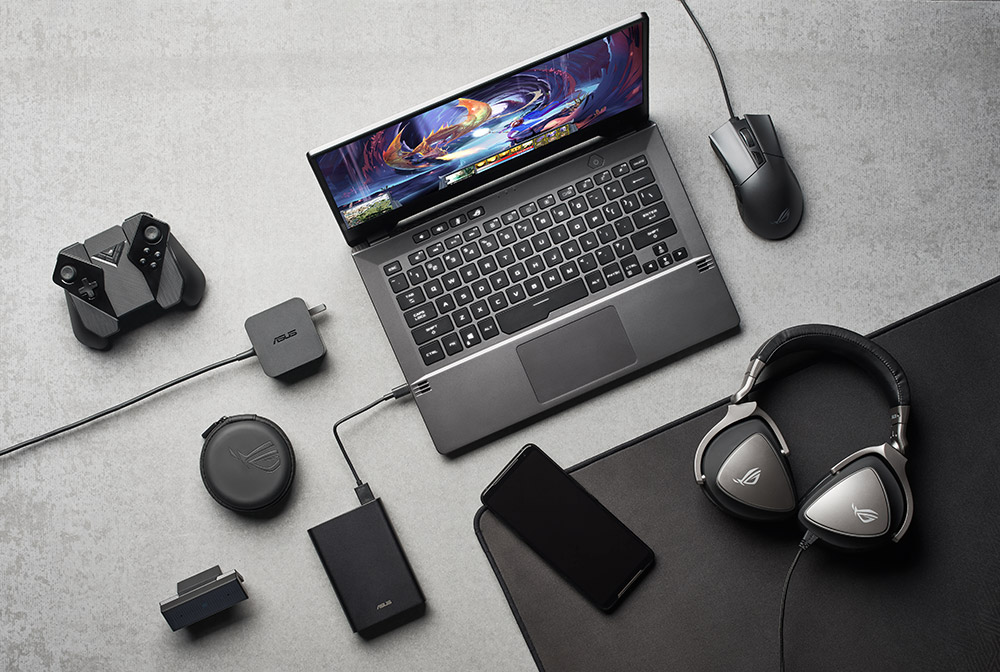 The ROG Zephyrus G14 is also the first ROG laptop that comes with one-touch fingerprint login, making logging in and waking up the desktop as simple as unlocking your smartphone.
ROG Zephyrus G14 will be released on 17 March 2021 while the G15 will be released on 2 April 2021.
---
COMPETITIVE ESPORTS GAMER
ROG Strix Scar 15 (G533) & ROG Strix Scar 17 (G733)
From S$3,598 and S$3,798
For high-performance systems catered purely for competitive gaming, the ROG Strix Scar 15 (G533) & ROG Strix Scar 17 (G733) are the latest entries for their ROG Strix Series that will assuage your competitive drive.
With a bold and athletic design that includes customisable chassis accents and customizable lighting, both these systems will definitely set you apart from the rest of the casual gamers.
As the first two laptops to implement optical-mechanical keyboards in a Strix laptop, you no longer need to spend additional moolah to get tactile click and clacks! Both screens on the ROG Strix Scar 15 (15.6-inch) and ROG Strix Scar 17 (17.3-inch) offer high refresh rates of 300Hz and 3ms response time. Since every second count in competitive games, reducing response time, input lag, screen tearing to ensure accuracy is what the ROG Strix Scar 15 & 17 intends to shoulder. Their Wi-Fi 6 networking also supports wireless interface bandwidth of up to 2.4Gbps on compatible networks.
These two systems run on up to NVIDIA GeForce RTX 3080 and AMD Ryzen 9 5900HX Mobile Processor. Multitasking through high system demands like streaming or recording is an easy feat. Like the rest of the recommendations, the ROG Strix Scar 15 & 17 also uses Type-C charging.
However, if the ROG Strix Scar 15 & 17 might be a notch too high for your wallet, you can also opt for the ROG Strix G15 (G513) and ASUS TUF Gaming A15 (FA506) as more budget-friendly options.
ROG Strix Scar 15 (G533) is available now while the ROG Strix G15 (G513) and ROG Strix Scar 17 (G733) will be released in April 2021.
---

Drop a Facebook comment below!