What's one similarity between a Pokémon and a partner for life? The importance of choosing the right one.
If you, like me, have grown up on a steady diet of Pokémon games, you'd know just how pivotal it is to plan for the right party such that the Elite Four and eventual Champion are all defeated. Make the wrong selection, and strife awaits; make the right one, and good things come.
The same can be said for real life, and especially so where marriage is concerned. One of the most important milestones in life, it's quite the decision to make, so it certainly is more than fitting that Japanese accessory maker U-Treasure has released a new line of Pikachu engagement and wedding rings.

Decked out in beautifully striking hues of silver and gold, the Pikachu Electric Motif Ring boasts a sleek wave-like design to help make one's finger appear slender. True to its name, the engagement ring is wrapped around the tail of the beloved series mascot, who can be seen hugging another smaller diamond in its paws.
There's more variety than just the above 18-carat-yellow-gold version, however. Should users prefer a different colour combination, there are four other alternatives to consider: the two-toned white and yellow gold, monochrome platinum, white gold, or yellow gold iterations.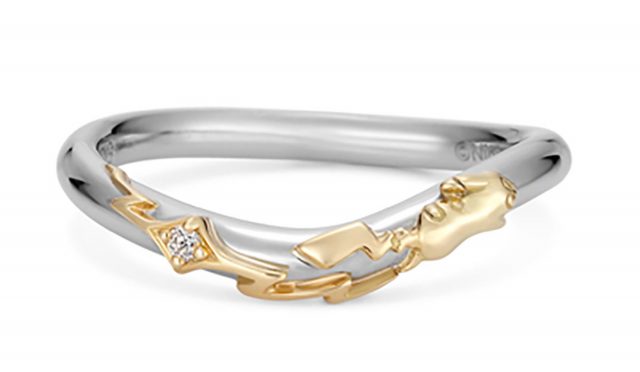 After the question has been popped and you've become one half of a newlywed pair, it's time to check out the Pikachu marriage rings. With a varying design for both men and women, the Electric Motif Pair Ring – Women's Version boasts the same wave-like shape, except that Pikachu's tail is the one containing a melee diamond as its body stretches across the curve; meanwhile, its male counterpart sports more subtle adornments, with only a lightning bolt and Pikachu's tail in tow.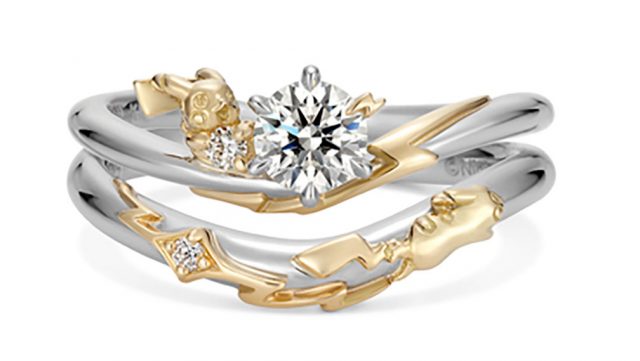 One neat feature that has been infused into the women's ring collection is their complementary design elements. This means if you're feeling particularly sappy, or can't bear to remove the adorably-themed engagement ring, there's always the option to slip in a second one so that two Pikachus are on the finger at once.
In the case where everything is still lacking on the whole Pokémon theme, U-Treasure has the ultimate treat in store: a wooden Poké Ball Accessory Case. Professor Kukui has already proposed using this method in the anime rendition of Pokémon Sun and Moon, which is horribly cheesy and romantic, but is sure to help bring a smile to your significant other. And if Pikachu is the favourite pick? Extra brownie points in the bag.
Depending on the choice of material, the wedding rings are individually priced between  ¥73,000 to ¥15,000, while the engagement rings (without the central diamond) span across ¥88,000 to ¥135,000. The Poké Ball Accessory Case costs ¥12,960, so Pokémon fans can do away with the traditional, sparkly diamond rings, and say "I choose you!" in the most Pokémon-like fashion when all items go on sale come July 27, 2018.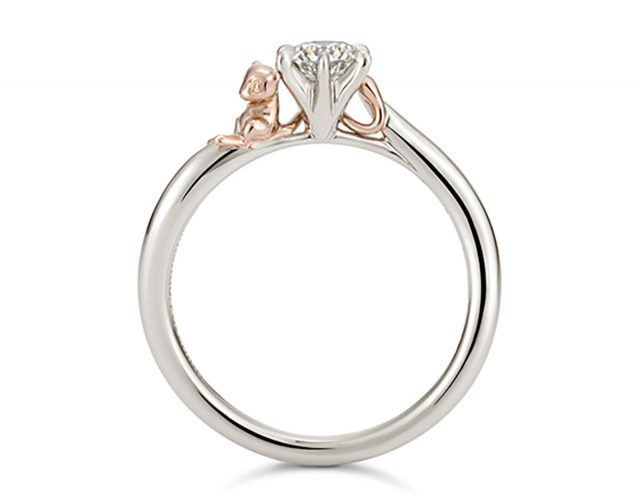 Oh, and if Mew is favoured over Pikachu, enthusiasts can opt for wedding rings based on the famous legendary Pokémon instead!
---

Drop a Facebook comment below!