It's no secret that director Ryan Coogler and actor Michael B. Jordan have a great working relationship, with Jordan playing the autobiographical role of Oscar Grant in Coogler's debut movie, Fruitvale Station, as well as Adonis Creed in the Rocky spin-off, Creed, which served as Coogler's sophomore film.
So when it came down to casting Killmonger, the villain in Coogler's third film, Black Panther, there was really only one man to call for Coogler.
But how do you convince a rising young star on the cusp of greatness to take on the role of a villain, and not the hero, in the biggest cinematic film franchise known to man?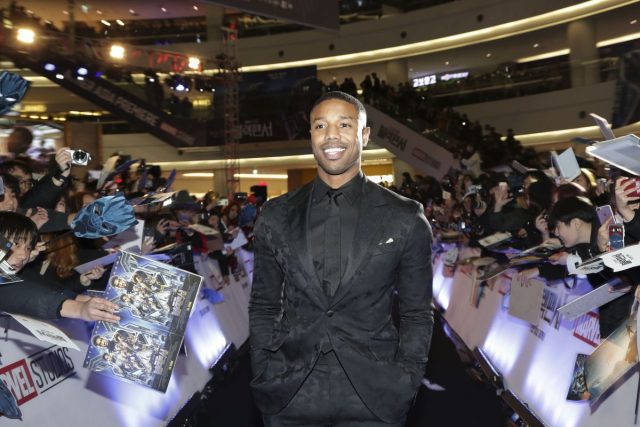 As it turns out, all you have to do is ask, revealed Jordan in a round table media session the day after Black Panther's premiere in Asia, in Seoul, Korea.
Facing off journalists from across the region, and seated beside Coogler, Jordan quirks his lips in a knowing lilt, and in the entirety of a devil-may-care attitude, casually said that he accepted the role after Coogler asked him with a simple, "Hey, do you want to have some fun?".
It's an extremely unorthodox proposition, with Black Panther being their third collaboration, the mutual faith in each other's abilities is hardly surprising, and quite frankly, rather endearing to those present at the round table.
"It's unique to our relationship, we got this layer of trust, I know he's not going to put in a situation that's not beneficial for me, for us, for the project," Jordan shares.
Perhaps it's this intimacy with being able to relate to someone else that enabled both Coogler and Jordan to fully develop the movie to its highest potential. It also helped that when Coogler was assembling his cast, he knew the significance not just in making the first superhero movie to have an all-black cast, but be backed by a large budget where anything goes.
"We knew this project had a huge significance on our culture, in American history, in African history, and we want to put it in a vehicle that could be relatable and accessible to the people of today."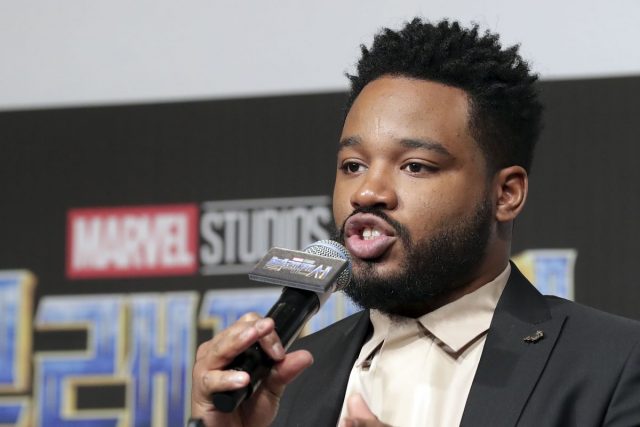 He goes on to elaborate, "We're trying to be true to the material and make it relevant, which I think the MCU does very well. Take a look at the Earth in the comics – it feels like an Earth that we're familiar with, one that feels contemporary …it's a way to pull empathy from the audience, and as filmmakers, we feel responsible to do the same for Wakanda, wanted to make it feel like what would happen to Wakanda in the real world,…and that's something we feel international audience could relate to."
While this point might be lost back home in America, it was a reference that was not lost among the Asian journalists in the room, especially from the Filipino journalist who expressed a similar situation in the Philippines, where tourists are always surprised at the modern facilities they can find in the country.
Jordan immediately demonstrates his flair at establishing rapport with people, by chipping in with a question, "You guys got cars?", when the reporter tried to illustrate his point, by doing an impression of shocked visitors, who go, "Oh my god, you guys have this stuff?"
It's something that can be related to Wakanda, a fictional nation normally portrayed to be a third-world nation, where in fact, she houses some of the most advanced technology in the Marvel Universe. Needless to say, the shock upon stumbling the truth is more than warranted, and a scene in the movie actually echoes this.
Personally though, Coogler pointed out that there was something unique about the lack of white actors in this film – the film marked the first time that he shot a scene with two notable white actors – Andy Serkis (Ulysses Klaue) and Martin Freeman (Everett K. Ross) – which felt like a strange thing, to which the trio then had a big laugh about it afterwards.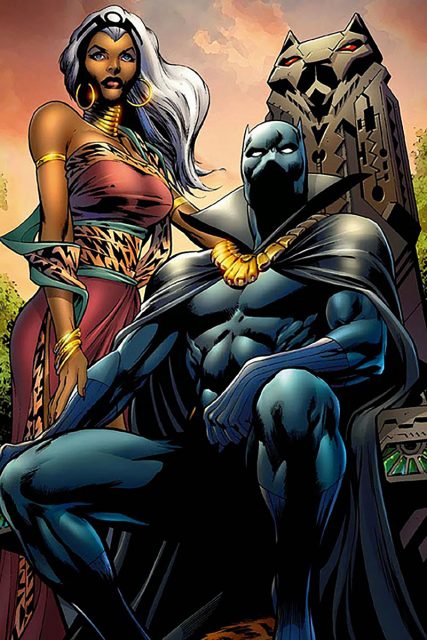 Following the recent acquisition of Fox by Disney, it didn't take long for someone to ask about the possibility of an X-Men and Black Panther movie crossover, especially since in the comics, T'Challa (Black Panther) shared a romance, marriage and eventual divorce with X-Men alum, Ororo Munroe (Storm), but that was an answer left for another day.
"I can't say anything, so what I'll say is that I love this movie, and it just finished recently, so as far as future plans go, I don't have the knowledge to answer any questions."
And while he plays the villain, Jordan shared that it would be cool for Killmonger to have an alias, much like T'Challa has Black Panther. Yes, Killmonger is his real name, and not a moniker for his costumed persona.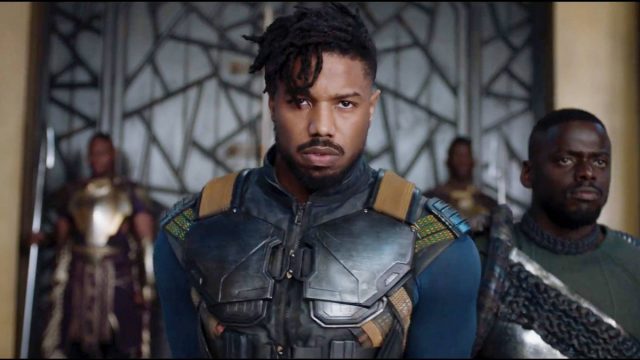 "Our film is kind of a mixture of a lot of different renditions of Black Panther, so these different pieces of Killmonger made it into this movie," he enthuses, "I think, maybe, he should be called Black Jaguar; that'd be pretty cool, like a little companion to him, another personal guard. Just like how T'Challa has the Dora Milaje loyal to him, he should also have someone like this as well."
The tongue-in-cheek manner in which he brought up the non-existent alias of Black Jaguar was so absurd that everyone barked out a round of laughter, or two. Seemingly satisfied with the response, he allowed himself a smug little smirk, adding on his roguish charm.
When asked on whether he would prefer to don the Black Panther suit, or his on-screen persona's, he answered with absolute certainty, "I like my suit better!"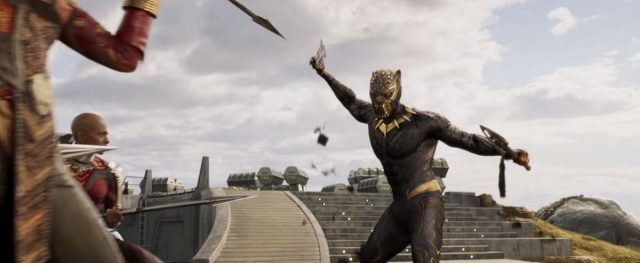 The twinkle in his eyes melts out the arrogance behind the statement, and he substainates his point with an explanation:
"The gold is kinda dope, and it definitely suits his (Erik's) character. T'Challa is more inconspicuous, and he's using the silence to move and things like that, but Killmonger just doesn't care."
And that's why Jordan is such a perfect fit for the antagonist role – he seems to take on a freigeist style, with a carefree and devil-may-care attitude to boot.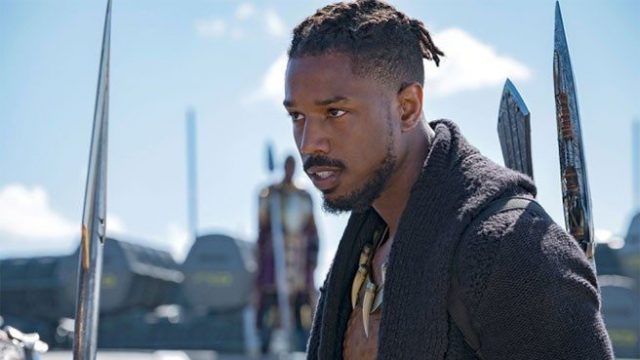 Despite that, he's extremely sensitive to the nature of Killmonger's personality. He relates that his favourite scene was when he walked into Wakanda for the first time, because it was "pretty cool for him to find that such a place exists", especially after the tragic happenings of his life.
Drawing parallels to the previous generation of black acting talents such as Will Smith, Denzel Washington, and Wesley Snipes, Coogler only had praise for his cast: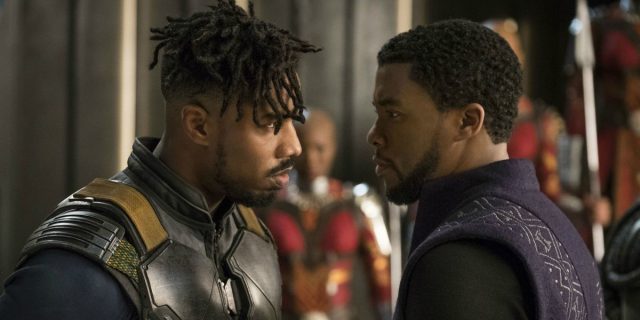 "For our generation, we get Chadwick, we got Michael, and you know how it is to see a comic book movie. Now you get to see these two actors, who've never been together, who could front their own movies, but to get them head-to-head, well, that's an amazing thing."
Black Panther opens in Korea and Singapore theatres on February 14, 2018, with a release global date of February 16, 2018.
---

Drop a Facebook comment below!