Just in case you think that there aren't enough lenses in the market, Sigma has surprised the photography market with two new lenses for the Sony E Mount and the L Mount Alliance (Leica, Panasonic and Sigma) – the 24mm f/2 DG DN and the 90mm f2.8 DG DN "I" series Contemporary lens.
While many have been waiting for Sigma to update a number of their more popular lenses, there's no denying that Sigma is willing to try something new and offering new lenses with interesting focal lengths and apertures that photographers may not know they wanted, and both of these fit the bill, and offer exceptional performance once you get to know them.
The 90mm f2.8
The 90mm f2.8 is unique in the sense that it matches the focal length and aperture of the Sony 90mm Macro and others on the market, this is not a Macro lens. Instead, Sigma has opted to take a different approach, and make this a compact prime lens that is surprisingly small in size, but packed with Art quality optics. This is one of the key attributes of its new "I" Series Contemporary lens – classic design, reminiscent of manual lenses of years past with modern optics and high performing Auto Focus.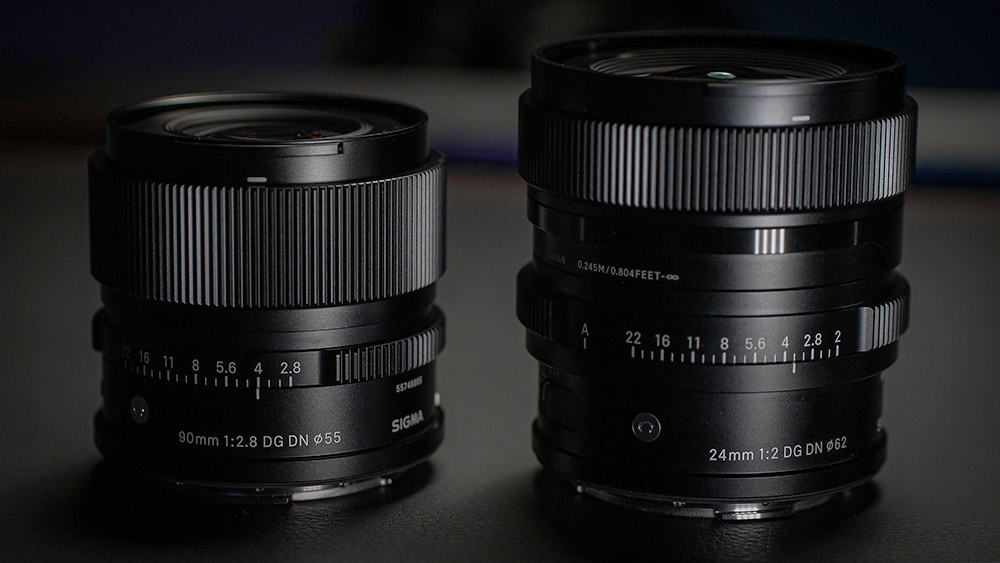 In terms of build quality, the 90mm is extremely solid, offering full metal construction, tight tolerances, and some weather resistance attributes to make what would on paper seem like a "budget" lens anything but one. The optics inside include 11 Elements in 10 Groups, 5 SLD Elements and 1 Aspherical Element, and all of these squeezed in a lens measuring 64mm x 59.7mm or 61.7mm for the Sony E mount version. It also comes with a magnetic lens cap and full metal lens hood, for US$669.
Performance is equally impressive for this lens, with in-focus subjects sharp in the center, with some softeners in the corners at 2.8 but stop down further and the lens is sharp corner to corner. What really impressed us is how well controlled Chromatic Aberration performs, along with flaring and speed of the AF. While third-party lenses sometimes struggle to keep up with AF speeds that the camera manufacturers get with their lenses, the Sigmas hold their own and this one didn't miss a beat.
The only downside of this lens would be that if you want closer focusing capabilities like a Macro lens, one will need to look elsewhere, but otherwise, we were extremely impressed with its performance.
The 24mm f2 DG DN
The 24mm f2 DG DN "I" Series Contemporary lens also retains the build quality of the 90mm, but also further enhances it with some nice design cues that give it a slightly more luxurious look. The high polished black metal band in the middle of the lens contrasts with the semi-matte finish, giving the lens a nice two-toned look that really enhances the already attractive body. With the all-metal build and high-quality optics, the lens weighs in at 365 grams for the L Mount version, and 360 Grams for the E Mount variant.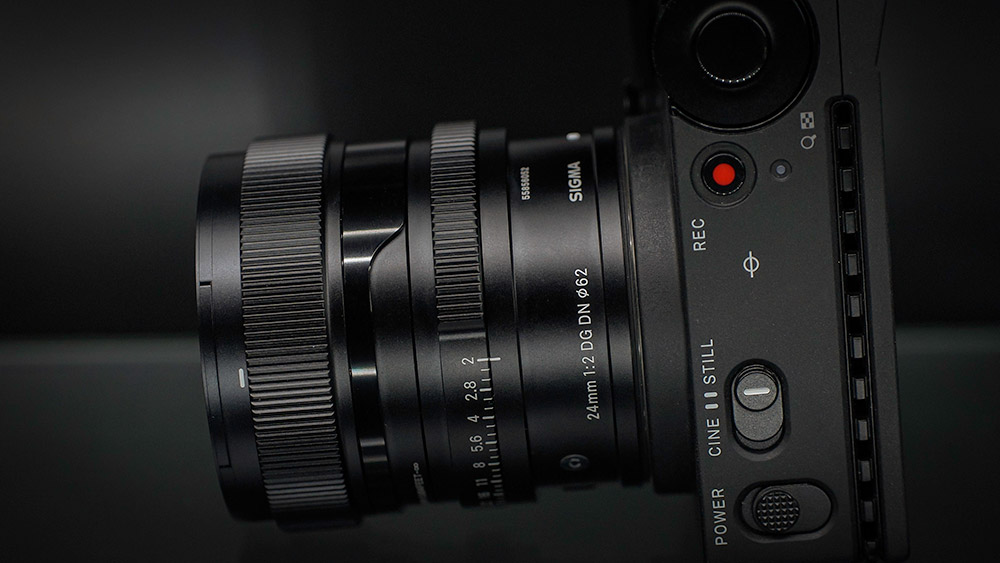 Optically the lens has 13 Elements in 11 Groups, 1 FLD Element, 2 SLD Elements, and 2 Aspherical Elements. What this means is a high-performing lens that rivals the SL Summicron Primes from Leica, but at a fraction of the price. Yes, the lens renders subjects softer in the corners when shot at f2, but like most lenses, the entire image is crisp full of detail when stopped down. Flaring is also well controlled with minimal Chromatic Aberration.
While both lenses are highly recommended, what's confusing is Sigma's direction with these more interesting lens choices, namely why offer a 90 f2.8 and a 24mm f2 just a short time after they released a 24mm f3.5 "I" Series contemporary lens. Did the photography community ask for it? Maybe for the 24mm in the L mount community, since Leica has been delaying its 24mm f2 while Panasonic just launched its 24mmm f1.8, but not for the Sony E mount line-up though.
There are a number of other options that do compete with the 24mm, and would make it more difficult for Sigma to get a foothold in that particular market segment. While the Sigma 90mm f2.8 is priced at US$669, one can find a Sony 90mm f2.8 Macro lens with OSS (Optical Stabilisation) that performs beautifully at just a slightly higher price and while it is larger, you gain two features the Sigma doesn't have.
Additionally, Sigma can work on streamlining their categorisation of the lenses. "Art" lenses are the top of the line here, while "Sports" have "Art" optics with a more rugged body design. "Contemporary" is for the more budget-friendly photographer/videographer, and the "I" series is a combination of contemporary and "Art". Here, the lenses are categorised as Contemporary with the C badge the lens, which for many means budget but the performance and build quality are anything but. It's an unnecessary confusion and hopefully, Sigma can work on it as it will help improve overall visibility of the lenses for the general market and also educate buyers as well.
---

Drop a Facebook comment below!