Even after a decade after their debut, tablets still occupy an interesting design space in the realm of electronics, sitting somewhere between a phone and a laptop. And when you already own both, as is the norm for most, it can be tough to justify buying a tablet.
However, the concept of a tablet opens up more possibilities for laptop makers, making them wonder why a laptop should be confined to the standard hinge structure? This has allowed device makers to carve out their own niche in the modern laptop space, since they are no longer bound by a fixed form, and the ROG Flow Z13 (read our review) turns the idea of a gaming machine on its head, by giving it the additional form factor of a productivity device a la the Vivobook 13 Slate OLED.
So what about that laptop and tablet convergence? It's essentially a tablet, as the hardware is housed within and behind the 13.4-inch display. If you need the portability, that's all you need. For productivity, simply use the detachable magnetic keyboard. It folds in like a normal laptop, and works independently. With the stand behind the display, you can use the display on a table without the need for a stand case.
From its specs alone, the ROG Flow Z13 is a cut above the chaff. It operates on Windows 11 Home, and runs on the 12th Gen Intel® Core™ i7-12700H Processor 2.3 GHz (24M Cache, up to 4.7 GHz, 14 cores: 6 P-cores and 8 E-cores), and NVIDIA® GeForce RTX™ 3050. Its 13.4-inch display comes in a native resolution of 1920 x 1200 and an aspect ratio of 16:10.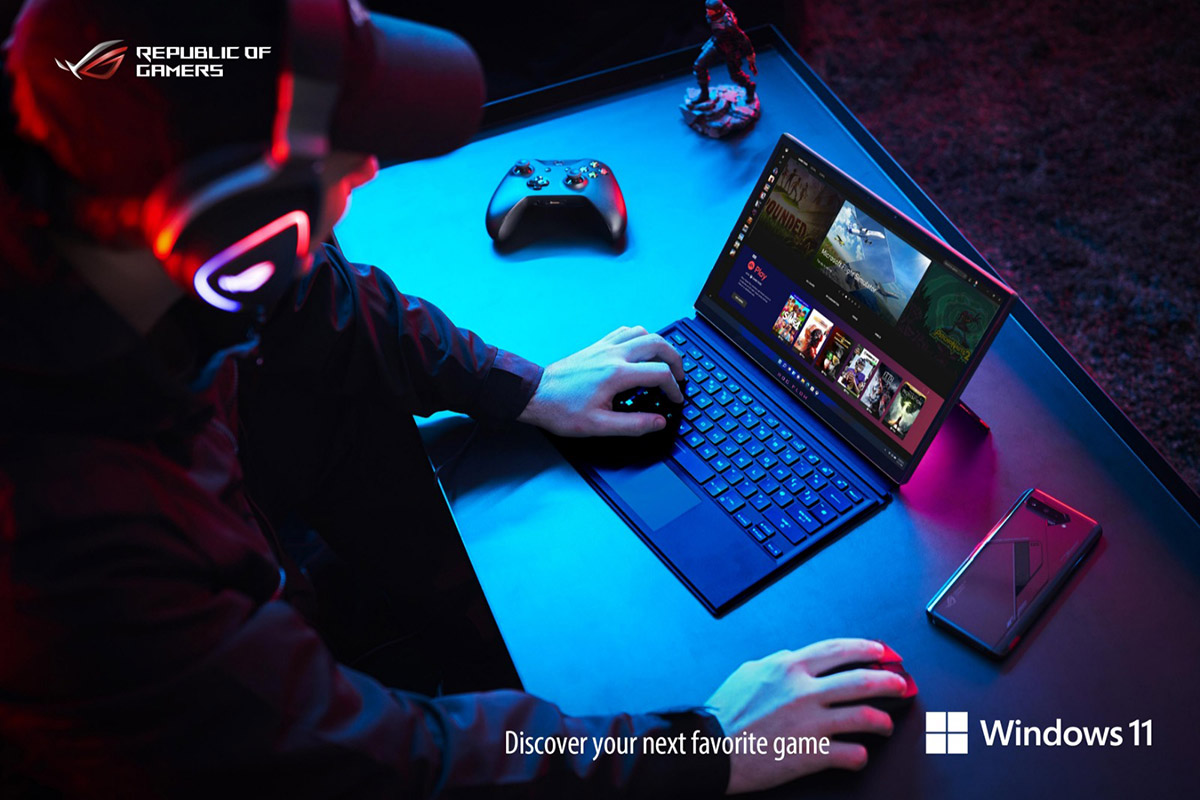 Instead of buying just one game and hoping that you'd love it, now for a fraction of the price of a new game you can try over a hundred games on your PC (or Xbox console, tablet, or phone!). With Xbox Game Pass Ultimate, play over 100 high-quality games, such as Hades, Halo Infinite, It Takes Two and many more for one low monthly price of S$19.99*. It also comes with an EA Play membership which gives you access to top titles from best-loved series like FIFA, Battlefield, and Star Wars**. With games added all the time, there's always something new to play. Tap into the heart of the Xbox community and join millions of players ready and waiting to play together.
Due to the powerful hardware, the ROG Flow Z13 is able to handle most games with ease. At just 12mm thick, along with a kickstand and detachable keyboard that features RGB lighting, it's easy to think of it as a gaming laptop with a slimmer form factor. However, that would be doing the device a disservice as its specifications, portability, and stylus support mean that it is able to do more than normal, easily providing for digital artists, workers, streamers and students alike.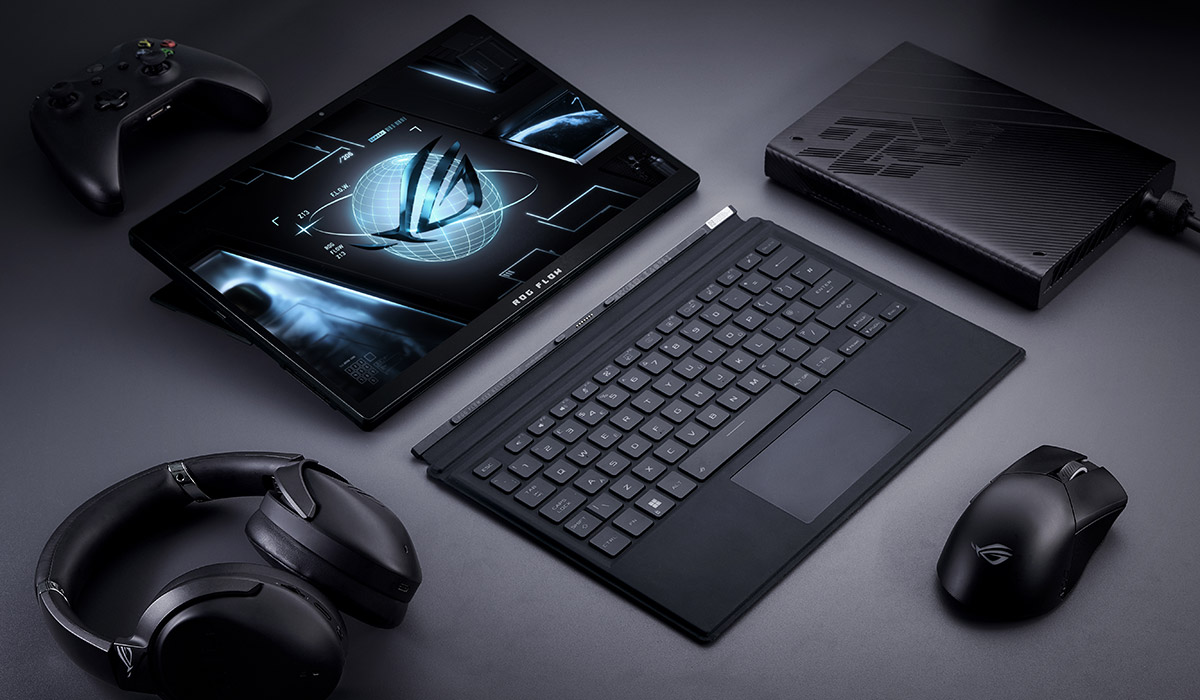 The versatility afforded by the light 1.18kg ROG Flow Z13 means that it's easy to carry around and be used in a wide variety of situations, whether it be digital sketching while out and about, taking notes in classrooms, setting oneself up for streaming, or even getting work done while commuting. Oh, Its audio is also impressive, with Dolby Atmos and AI noise-canceling technology that deliver solid and clear sound.
This device fuses the best aspects of both, by offering laptop's horsepower, while effectively minimising the heft and tedium in setting up and shutting down, and also the sheer flexibility and ease of use of a tablet without compromising on the performance front. This is a 2-in-1 device that could be the next big thing as far as tech upgrades are concerned.
With quick-charging support, this is a device that can be charged from zero to 50% within 30 minutes. Because of the fast charging speed, you won't find yourself stuck waiting for it to charge up on days when you forget to do so. This is an important feature for those who find themselves always on the move or busy with work, since it's easy for something like this to slip one's mind when things are hectic.
For such a high performance device, cooling is of paramount importance. ROG is pushing the envelope with the cooling technology on the ROG Flow Z13 by combining multiple elements to ensure that the device stays at comfortable temperatures. First and foremost is the use of liquid metal, which is highly effective at transferring thermal energy, and has been observed to reduce temperatures of up to 10 degrees Celsius. Then, there is the vapour chamber, which is an improvement over the standard heat pipe, allowing the cooling to be in contact with multiple heat sources such as the CPU, GPU, and VRM. This helps the device balance out the temperature despite its slim form factor.
The Arc Flow Fans have also been improved so that they're quieter, and the cooling system automatically switches to 0dB Ambient Cooling mode when the machine is operating under a lighter workload, thus allowing you to focus on your work without being disturbed by the noise. The fans will automatically switch back on once temperatures increase, which means that with every moment, noise level is optimised for the best user experience.
For a device that's built for heavy use, it comes as no surprise that the metal chassis is strong despite its thin form, and is clearly a durable device. Users of the ROG Flow Z13 won't need to worry about babying it while taking it out of their bags or while putting it back in.
Make no mistake, the ROG Flow Z13 is a powerhouse capable of delivering when it comes to work, study, play, and everything in between. As part of a promotion on the ASUS Store which runs from 18 to 31 March 2022, those who purchase the ROG Flow Z13 can get either a one-year subscription to Microsoft 365 Personal worth S$108, or a six-month subscription to the Xbox Game Pass Ultimate worth S$119.94, depending on what you'll be primarily using the device for.
---
* Terms and exclusions apply. Game catalog varies over time, by region, and by device. See xbox.com/gamepass and ea.com/eaplay/terms, for details. Xbox Cloud Gaming: Streaming limits apply. Requires compatible controller (sold separately), supported device and Xbox Game Pass app; see system requirements. System requirements vary by game; performance scales with higher-end systems.
** The EA logo and Battlefield are trademarks of Electronic Arts Inc. © FIFA is a copyright and/or trademark of FIFA. All rights reserved. Manufactured under license by Electronic Arts Inc. STAR WARS © & TM 2019 Lucasfilm Ltd. All rights reserved.
---
This article is brought to you together with ASUS Singapore.