If this is a sign of things to come, the future is indeed mobile.
After close to a good year teasing, Adobe has finally brought the full Photoshop to the iPad. It is available immediately on the iOS store from today.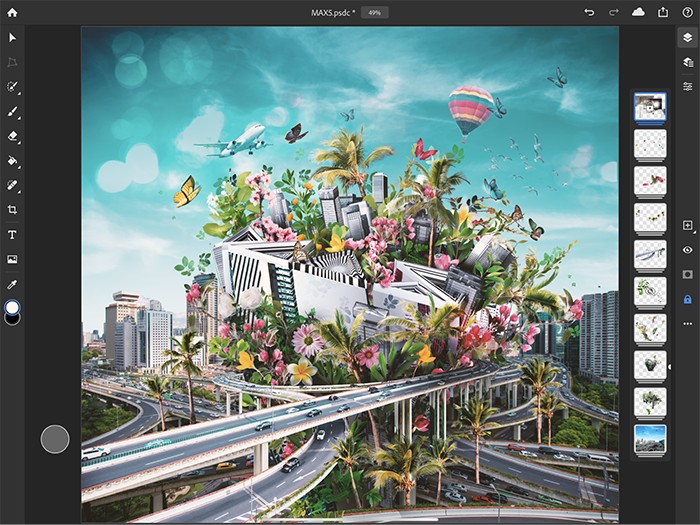 Photoshop for iPad has the ability to open the desktop PSD files with little issue at all. Or so the claim goes for now. It is as though a million designers can now scream out in terror as clients as for "one final edit" while they are commuting.
Using the same codebase as the desktop version, Adobe wanted Photoshop for the iPad to have the "power, depth, and flexibility" of the desktop app to use with a pencil and smaller touchscreen.
All efforts made on the iPad will be automatically saved into the cloud. Or at least, Adobe's cloud.
Before you take the leap and get the whole suite of Adobe services onto your iPad, there's one thing to note – basic adjustments, layer masks, brushes, sophisticated selections, blend modes, clone stamp, spot healing, crop, gradients, paint bucket, eyedropper, and color picker will be available from the start.
In the coming months, Adobe is planning to roll out a slew of features such as rotating the canvas, Refine Edge, Select Subject, and more brushing options.
To be able to run the new Photoshop for iPad one would need to be on iPadOS 13.1. And on the following iPads:
iPad Pro 12.9-inch
iPad Pro 10.5-inch
iPad Pro 9.7-inch
iPad 5th generation
iPad Mini 4
iPad Air 2
That's quite a bit of builds to cover so best to double-check before taking the leap. Prices start from US$10/month if you're subscribed to the Photography plan (for Photoshop and Lightroom) before January 31st, 2020. Prices scale up quite a bit from there with more access to even more creative suite tools.
It seems like the download link for Photoshop for iPad is hidden off at the moment, so hit the preceding link to get it now.