On a normal day, the end of the year marks Christmas – the time for turkey, joyous celebration, and Secret Santas. For 2017, however, it also beckons the release of the much-anticipated The Last Jedi in cinemas, and that means double the joy, excitement, and happiness for this holiday season.
If you're familiar with the annual gift-giving culture of Christmas, then the sheer feeling of indecisiveness and frustration at choosing one shouldn't be a foreign concept. Worse still, everything is made more difficult when the recipient of your gift is a hardcore enthusiast of a fandom that you're not in.
Well, we've got you covered – in the Star Wars category, at least.
In light of the giving spirit of Christmas, here are some practical gift suggestions for your fellow Jedi Master wannabes:
---
S$1 – S$50
Star Wars Apparel (no fixed price)
Shirts, socks, and the like are always safe bets. Depending on personal taste and style preferences, there are different sources available for every consumer. TeeTurtle is for those who love all things adorable (with a temporary 50% off Star Wars products), while RIPT takes on a more sketchy, dynamic design. Redbubble, on the other hand, will appeal to fans with a sense of appreciation for independent artists – there's no fixed source, as far as apparel is concerned.
Star Wars and music is a good way to start the day right. Armed with a tangle-resistant cable, volume control, and a built-in microphone, Tribe Swing's earphones allows for maximum freedom control, as well as a high convenience level.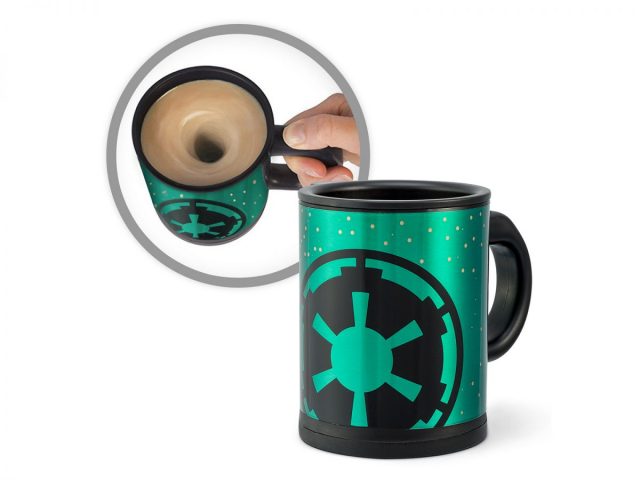 I'm not sure about you, but I do love my coffee like how I like The Force – strong. Sporting a black Imperial insignia and a green or gold facade, a push of a button on the handle is all that it takes for a miniature whirlpool to form amidst the dark brew. Be careful to place the mug away from the microwave, keep cleaning to the hand wash level, and watch as The Force does its magic – at a temporarily discounted price of S$9.40 (limited time only).
Millennium Falcon Lavender Bath Bomb (S$28.67, including shipping)
Instead of just looking at products modelled after the iconic light freighter, there now exists a way to smell it. Introducing the Millennium Falcon Lavender Bath Bomb, oozing with all the natural goodness of various handmade materials, and each boasting their own unique character. Time to unwind with the calming, soothing effects of this lavender bath bomb, in a bathtub not so far away.
Nothing ever went wrong with more stationery. Decked in a full-on First Order theme, the package consists of a hardcover 120-page lined journal with the silver First Order insignia as its cover, four file folders, 600 sheets of memo cubes, five First Order binder clips, and a black ink pen. Ruling a galaxy with paperwork has never been easier!
Say goodbye to conventional clocks, and spice up your walls with the unique, intricate design of this vinyl timepiece. With a small clock face sitting in its centre, it presents a case of both simple practicality and elaborate complication – telling the time is hardly an issue, and every other detail is finely-crafted against an interestingly-shaped backdrop. Functionality with the highest visual appeal.
3D Optical Illusion LED Lamp (S$40.50, free shipping)
Let there be light, and there it shall be. Taking up the 3D illusionary form of R2D2, Darth Vader, Yoda, the Death Star, and the TIE Fighter, this LED lamp features an intricate design, and is the ideal choice for those who favour subtle lighting instead of a bright glow.
Star Wars Kitchen Utensils Set (S$40.60, including shipping)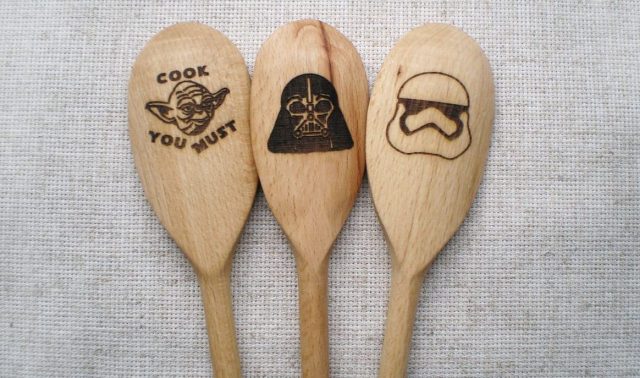 A simple yet practical gift, these personalised character spoons are laser-engraved with the faces of Darth Vader, Yoda, and a Stormtrooper. Interested parties have the choice to buy each of them individually, or as a whole set for a limited price of S$33.91.
---
S$50 – S$100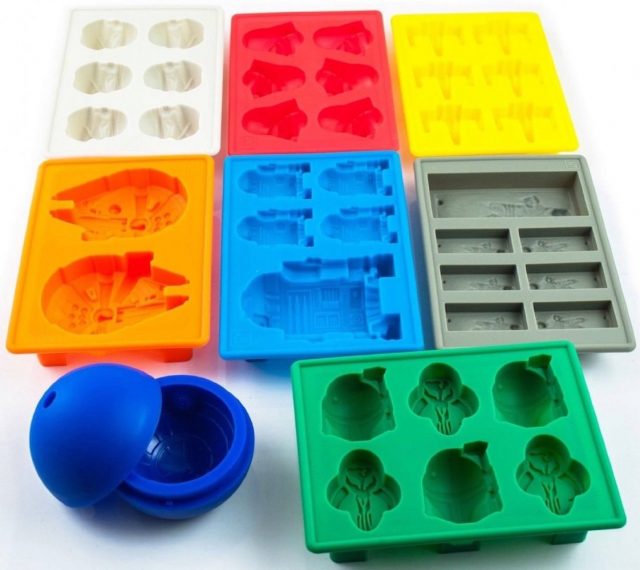 Beat the tropical heat with these silicone ice tray moulds, shaped in the form of the Stormtroopers, Darth Vader, X-Wing Fighter, Millenium Falcon, R2-D2, Han Solo, Boba Fett, and Death Star. With a heat resistance of up to 232 degree Celsius, they can double up as chocolate moulds as well – an old favourite of the young ones.
Serve up the Force with this 35cm-plate, adorned in the classic black and white line art design of the Death Star. Made out of high-quality ceramic, it is microwave- and dishwasher-safe, which makes for the perfect addition to your collection of kitchen utensils. For a limited time only, the platter will also be sold at the discounted price of S$37.75, so be sure to not miss out on this deal!
Star Wars Bamboo Coaster Set (S$76.58, including shipping)
Finely crafted and engraved on bamboo wood, the Star Wars Bamboo Coaster Set adds a nice touch of aesthetic geekiness to one's kitchen collection, and comes in a coaster selection of either four squares or six circles. Dinner affairs are now peppered with a little bit of fun.
---
Above S$100
Death Star Star Wars Bookends (S$121.50, including shipping)
A little on the pricey side, these bookends are the ideal picks for all book lovers out there. Sporting a handmade wooden design, the two spherical halves also come together to create a cool, illusion-like effect of the Death Star. Beautiful.
Star Wars Kettlebells by Onnit (starting from S$202.27, excluding shipping)
Listen up, fitness buffs – your workout regime is about to get a little bit more intense. With these meticulously-sculpted kettlebells of Darth Vader, an Imperial Stormtrooper, and Boba Fett, building explosive strength and muscular endurance has never been more efficient. Available in 22 kg, 27 kg, and 31 kg weights, the route to being a powerful Sith is now in order.
The most expensive gift on the list yet, this 60-cm tall trash can makes for a cool inclusion in one's living room – plus, kids are bound to love it.
---
With the crazy amount of advertising done for Star Wars, there's certainly no lack of merchandise in the market. Some are interesting innovations, others a downright oddity, but what's undeniable is everyone's need for practical items – and for a fan, the best kinds all come in a fandom-themed package. After all, nothing is better than indulging in something that one loves, with the side bonus of it being functionable and dependable.
---

Drop a Facebook comment below!