The collective video game community has been going nuts over Nintendo's 2018 plans, with the trolling by the Twitter accounts of Nintendo doing little to calm the hysteria.
The wait is over. In today's Nintendo Direct Mini, the Big N lays out its plans for the coming months, and to no one's surprise, it's not as spectacular as 2017.
Check out all the info below!
---
Dark Souls: Remastered
Then, there was fire.
Re-experience the critically acclaimed, genre-defining game that started it all. Beautifully remastered, return to Lordran in stunning detail. Dark Souls: Remastered includes the main game plus the Artorias of the Abyss DLC.
With dedicated servers for up to 6 players for multiplayer, experience the glory that is Dark Souls on your Nintendo Switch with friends and foes!
Dark Souls: Remastered is available on May 25.
---
Mario Tennis Aces
A new Mario Tennis game is bringing a new level of skill and competition to Nintendo Switch. Mario steps onto the court in classy tennis garb for intense rallies against a variety of characters in full-blown tennis battles.
New wrinkles in tennis gameplay will challenge your ability to read an opponent's position and stroke to determine which shot will give you the advantage.
And this time the game adds the first story mode since the Mario Tennis game on Game Boy Advance, offering a new flavour of tennis gameplay, with a variety of missions, boss battles and more.
Available in Spring.
---
Super Mario Odyssey Update
A free update is coming to Super Mario Odyssey! With the update, a new online activity becomes available after beating the main story.
Luigi's Balloon World will task you to either Find or Hide balloons alongside other players to compete for the best ranking on leaderboards!
There are also new outfits to look forward to, like the Knight set, and new filters for the Snapshot Mode!
Available in February.
---
PAYDAY 2
PAYDAY 2 comes with full touchscreen menu support and a newly developed rumble feature that responds as you, for example, fire weapons or throw grenades.
There's also an added local multiplayer mode to the CRIME.NET – called CRIME.NET Local Play, that will make you able to set up a local game and invite friends that share the same local network.
Finally, PAYDAY 2 comes with an exclusive character called Joy who's initially releasing only on Nintendo Switch™ – complete with her own mask and weapons.
Available on February 27!
---
Fe/Celeste
Two indie gems is set to hit the Switch in 2018. Zoink Games' platforming adventure Fe lets you run, climb, and glide your way through a dark, Nordic forest to explore a world filled with secrets, legends, and mystical creatures.
Celeste from Matt Make Games is a modern take on the action platformer, journey through strange places and meet exotic people as you climb the mysterious mountain known as Celeste.
Fe releases on February 16, and Celeste is coming on January 25!
---
Donkey Kong Country: Tropical Freeze
This title includes all the fun and challenge of the original game, plus a new beginner-friendly mode that lets players enjoy this critically acclaimed adventure as groovy surfing simian Funky Kong.
Funky Kong can double jump, hover, perform infinite rolls and even perform infinite underwater corkscrews. Thanks to his sturdy surfboard, even spikes can't slow him down.
Coming on May 4!
---
The World Ends with You: Final Remix
This 2008 Nintendo DS game has been updated for Nintendo Switch with HD visuals and a new epilogue that sheds new light on the game's story.
Players can join rhythmic battles using either Joy-Con controllers or the Nintendo Switch touch screen.
---
Pokkén Tournament DX Battle Packs
Aegislash and other Pokemon will join the tournament in upcoming DLC/Battle Packs in Wave 1 on January 31 (Aegislash, Rayquaza, and Mimikyu) and Wave 2 on March 23 (Blastoise, Mew, Celebi), along with Avatar items and more.
---
Kirby Star Allies
Kirby is back—and he's finally on the Nintendo Switch system in HD! But this time, he's not alone. Recruit enemies by hitting them with a Friend Heart and gather helpers for a party of up to four characters.
On top of that, you can join with up to three friends for a different kind of team-up action!
Kirby Star Allies releases on March 16.
---
Mario + Rabbids Kingdom Battle DLC
Donkey Kong makes his debut in the strategy series, with all the banana-themed weapons you expect.
Swing into action with this new DLC pack this coming Spring 2018.
---
Hyrule Warriors: Definitive Edition
A new, ultimate version of the exhilarating action game set in the Zelda universe will include every map and mission, plus all 29 playable characters from both the Wii U and Nintendo 3DS versions of the game, along with all of the previous paid downloadable content.
Play as Link, Zelda, Midna, Skull Kid and dozens more in action-packed battles at home or on the go.
Additionally, the game includes new outfits for Link and Zelda based on the Legend of Zelda: Breath of the Wild game.
Available in Spring 2018.
---
Ys VIII: Lacrimosa of DANA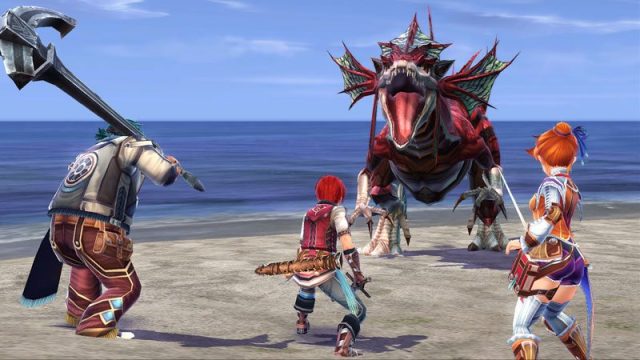 Adol awakens shipwrecked and stranded on a cursed island. There, he and the other shipwrecked passengers he rescues form a village to challenge fearsome beasts and mysterious ruins on the isolated island.
Amidst this, Adol begins to dream of a mysterious blue-haired maiden living in an unknown world.
Join Adol as he unravels the riddle of the cursed isle and the blue-haired maiden Dana in Ys VIII: Lacrimosa of DANA.
Coming in Summer!
---
SNK HEROINES ~Tag Team Frenzy~
Play online or with friends as SNK's iconic heroines in the brand-new 2 vs 2 fighting game, SNK HEROINES Tag Team Frenzy!
Activate Special Moves with a single button, and make use of special items to change the tide of battle! However, the fight isn't over the moment you've chipped enough health away.
Once your opponent is on the ropes, utilize your Dream Finish technique to win the match! Spectate on other battles online, and wage on who you think will win using in-game points.
Use your winnings to buy voice clips and accessories in an all-new costume system, and customize your favourite heroine to your heart's content!
Available Summer.
---
What do you think of the Switch's lineup for 2018? Hopefully we will get more details about all these games and more in the coming months!
What do you think of the Switch's lineup for 2018? Hopefully we will get more details about all these games and more in the coming months!
---

Drop a Facebook comment below!