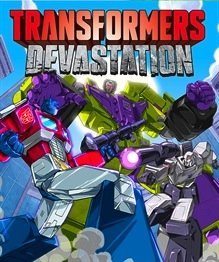 [17 JUNE UPDATE: VIDEO ADDED ABOVE!]
Ever since Activision's last (not-so-great) attempt at the Transformers universe in 2014, Transformers: Rise of the Dark Spark for Xbox 360 and Xbox One, things have been relatively quiet in the Transformers gaming scape, up till now. Looks like they're all set to announce the next game, based on the Generation 1 Transformers (FINALLY!), and comes complete in beautiful cel-shaded goodness – Transformers: Devastation.
This is also suspected to be the "secret project" PlatinumGames (of Vanquish and Bayonetta 2 fame) is working on. If that's really the case, then we're in for an action-crazy feast! The game is slated for release on PS3, PS4, Xbox 360 and Xbox One.
In the meantime, here's the gallery of screenshots to ogle at while we await further details and announcements at E3 later this week:
More of what the game is about
Face off against Megatron and battle it out with the Decepticons in Transformers Devestation. Equipped with fast action capabilities, this game allows for instant robot to vehicle attacks, slam downs, counterattacks, and infinite combos for a unique master combat system. Five difficulty levels also deliver hours of intense gameplay.
Autobots face off against the Decepticons when Megatron discovers a way to harness the enormous power of plasma energy to cyberform Earth
PlatinumGames signature fast action allows instant robot to vehicle attacks, slam downs, counterattacks, and infinite combos for a unique master combat system
Features 5 playable Autobots including Optimus Prime, Bubblebee, Sideswipe, Wheeljack, and Grimlock
A deep customization system and 5 difficulty levels with overhauls in enemy composition deliver hours of intense gameplay
Actors from the original TV series reprising their roles include Peter Cullen (Optimus Prime), Dan Gilvezan (Bubblebee), Frank Welker (Megatron and Soundwave), and more