Monster Hunter World will soon take its first step into the uncharted waters of tabletop gaming, as design studio Steamforged – whose portfolio includes Dark Souls: The Board Game and Bardsung – has dropped a fresh look at its upcoming board game adaptation of Capcom's wildly-popular title.
Launching on Kickstarter this April, Monster Hunter World: The Board Game takes a party of up to four players on a choose-your-own-adventure-style journey through the steamy jungles of the Ancient Forest, or the Wildspire Wastes' fetid swamps. The objective is fairly simple: gather resources, search for a monster that could appear at any moment, and complete the hunt.
But the pursuit isn't necessarily set in a straightforward charge-in-and-kill approach. As Dicebreaker has exclusively revealed, the group can choose to work alone or combine forces to simply chase after their prey, or use their wits to hunt down tracking information within the wilderness. Just like in the video game, having more information at your disposal would mean a greater advantage in combat, and an easier time exploiting the target's weaknesses.
With Monster Hunter World: The Board Game, there will also be a reduced focus on traditional storytelling. Scavenging, foraging, and grinding serve as the main anchor instead, allowing players to collect resources, gradually craft better and more necessary gear, and eventually take down stronger adversaries. As gameplay progresses, a book of random encounters and branching choices is used to provide a narrative framework.
A total of 12 weapons have been aside for the board game, with each one working similarly to a class system – that is, having their own individual and distinct combat style – that are represented as cards in a deck. Moves are queued and processed via a stamina board capable of holding five cards at a time, then triggered from left to right.
The Kickstarter campaign for the project comes with three pledge levels in tow. The Entry Pledge, priced at US$70, offers the following:
[XL] Monsters x4
Hunters x4
Cards x600+
Double-Sided Board x1
Rulebook x1
Quest Book x1
Next in line is the Core Pledge that's valued at US$140:
[L] Monster x 1
[XL] Monsters x4
[XXL] Monster x1
Hunters x8
Cards x1,200+
Double-Sided Boards x2
Rulebooks x2
Quest Books x2
PLUS All Unlocks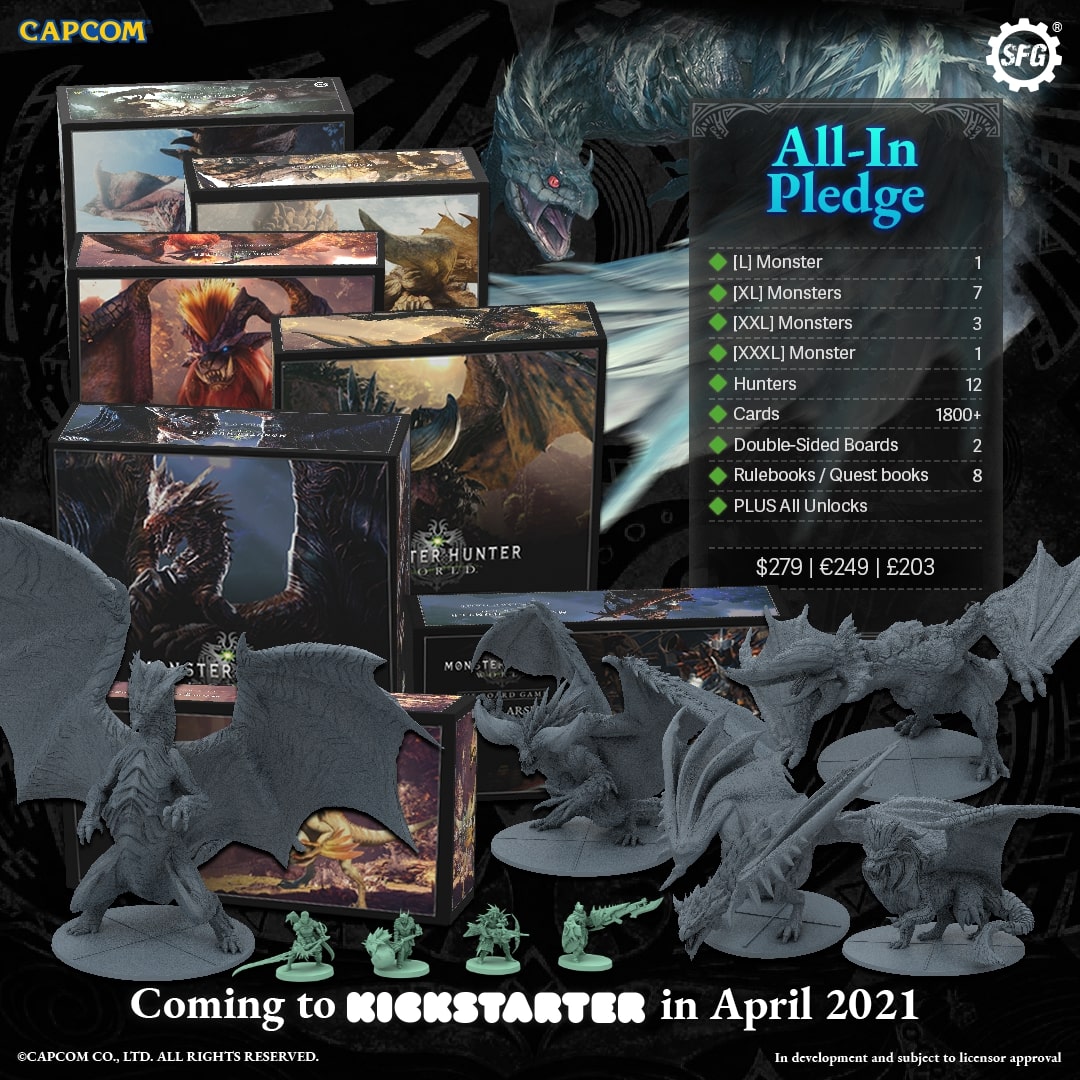 The US$279 All-In Pledge bundle, meanwhile, is the ultimate deal for the biggest and most dedicated of tabletop and Monster Hunter: World fans –
[L] Monster x 1
[XL] Monsters x7
[XXL] Monster x3
[XXXL] Monster x1
Hunters x12
Cards x1,800+
Double-Sided Boards x2
Rulebooks / Quest Books x8
PLUS All Unlocks
More information about the L, XL, XXL, and XXXL monsters are expected to be on the horizon. An estimated shipping and fulfilment date has yet to be announced as well.