The monster-hunting lifestyle never stops, even when you're on the go. With Monster Hunter: Rise, the newest entry in Capcom's popular action-RPG series, set to grace the Nintendo Switch on 26 March 2021, things will only get more heated, exciting, and action-packed.
First unveiled during a Nintendo Direct showcase held earlier today, the game announcement came in the form of a two-and-a-half-minute trailer which introduces a bunch of new monsters, including Aknosom, Tetrandon, Great Izuki, and Magnamalo. A subsequent Monster Hunter Direct then followed up with more gameplay details, such as a new wall-climbing ability allowing players to rise to greater heights (thus the name) and an energy-based grappling hook powered by a small creature known as a Wirebug.
The best part of everything, though? A good little pet doggo. In Rise, you'll be able to ride on this new canine pal called Palamute, who not only is your form of transportation but also your trustworthy combat partner. Armed with an endless reserve of stamina (yes, they can run without decreasing stamina), Palamutes are bound to be a handy addition to the team. That doesn't mean you'll have to leave your Palico behind – the single-player mode allows you to bring along two buddies, such that you get double the power. Nice.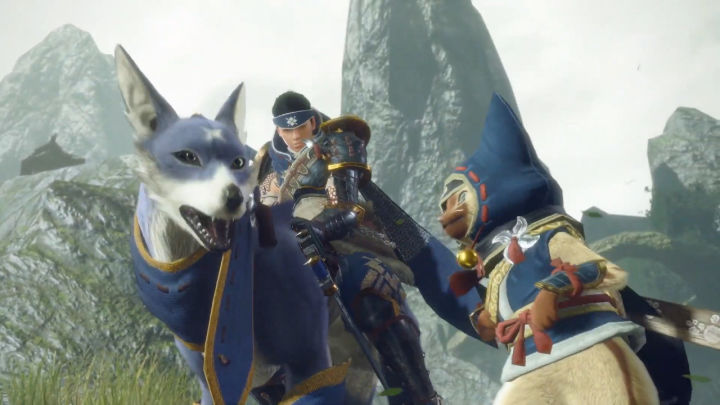 Enthusiasts looking to enjoy more content can opt for the Monster Hunter: Rise Deluxe Edition, which ushers in extras including a layered armour set and new gestures. Pre-orders will yield player three bonus items: a golden retriever costume for your dog pal Palamute, a forest cat costume for Palico, and "a novice talisman for some extra assistance in the early stages." Pre-orders will open on 18 September 2020.
Apart from Monster Hunter: Rise, there's also Monster Hunter Stories 2: Wings of Ruin to look forward to. The latter is set to release sometime in Summer 2021, a few months after the Monster Hunter live-action movie takes off.