It is a tall order to design a mascot that's representative of an entire demographic, especially one that Singaporeans would embrace. Just look at the list of mascots who have since been retired, including Singa or Sharity? Well, a new player is up to the challenge, and local toy designer and maker Mighty Jaxx has teamed up with the National Youth Council (NYC) for this challenge.
As part of the brand refresh for Youthopia.sg, a site which features trending news and resources for youths aged from 15 to 25 as they transition into adulthood, Mighty Jaxx has come up with three mascot designs, and youths in Singapore can be heard, by voting for their favourite character.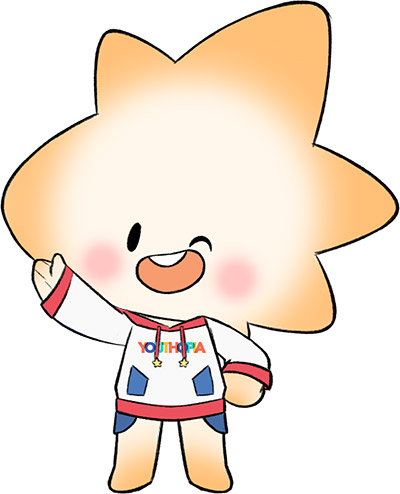 So how does someone develop and design a mascot that will resonate with audiences? When it comes to a mascot meant to represent an entire demographic, the traits and values it symbolises become especially important said Samantha Sim, Senior Concept Artist from Mighty Jaxx and Kelvin Leong, Assistant Director of Strategic Communications from NYC, as both shed light on the design process and how they arrived at the final three designs of Spark, Zap and Bud.
"The Mighty Jaxx team started developing the characters based on NYC's vision for Youthopia to be the first-stop portal for youths in Singapore as they pursue five important values to them — inclusiveness, fairness, care, sustainability, and progress. From there, we spoke to other youths to better understand what else matters and appeals to them, integrating those insights into the characters," Sim said.
As Leong elaborated, "For example, the character Spark represents the creativity, aspirations, and passions of youth."
The mascot is, ideally, the personification of those values, and a sort of conduit that reinforces those values in youths.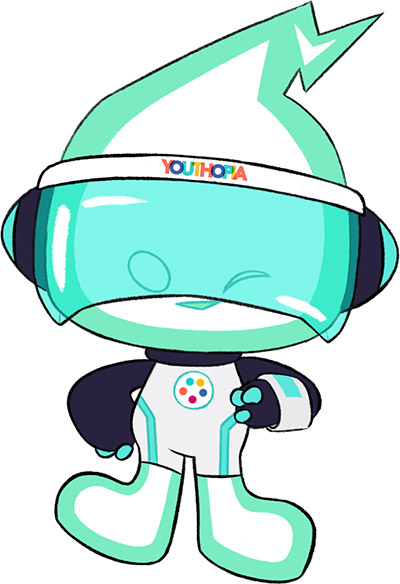 "We think of it as kind of like an extension of themselves, a figure to guide and inspire the youths of tomorrow. Each of these characters help to represent the youths as Singapore's architects of tomorrow, specialising in something which youths would like to see in the near future, such as technology, creativity and empathy," Sim said.
It's plain to see how the design of Zap, with its visor and futuristic outfit, represents the broad umbrella of technology. The idea of creativity for Spark is more abstract, but once the connection is made, the concept of it being an anthropomorphised eureka moment becomes clear. Finally, with Bud being a literal flower bud, not only does it symbolise the lifestage of youths, its tender nature speaks to the value of empathy as well.
The mascot is actually just part of the equation, as the Youthopia.sg platform needs to be robust in order to both empower and nurture youths.
"Youthopia.sg, a digital home for youths, was developed by NYC to nurture their interests, address concerns unique to youths and connect them with like-minded youths who are passionately leading projects to shape Singapore into a caring and cohesive society," Leong said, "Youth creators, be it budding writers, videographers or graphic designers, are nurtured on this platform. We are deliberate in carving out opportunities for youths to address issues that we know youths care deeply about – career guidance, and mental well-being for example."
However, as youthfulness is an ephemeral thing, the values that each passing generation of youths hold close to their hearts will change. As such, it can be difficult to ensure that the mascots' designs have, if not timeless, then a lasting appeal. Not only that, within each generation of youths, there is bound to be a highly varied range of beliefs that can make it hard to pin down unifying threads.
"Together with the team at Mighty Jaxx, the conceptualisation and design process was a rigorous journey that took into consideration what we gathered from youths through brainstorming sessions, looking into youth cultures and interests, and the values that were gathered from youths. Across this journey, we found common traits among youths, which helped greatly in the ideation process," Leong said.
Sim believes that the five core values of inclusivity, fairness, care, sustainability, and progress "are timeless in their application, and that we should strive to inspire the youths of tomorrow to show these values to the world, be it young or old, and to face these daily issues with courage and learn to be a better person every day."
As such, rather than simply reflecting the beliefs of this generation's youths, Mighty Jaxx and NYC focused on values worth passing down, thus giving both the Youthopia.sg platform and the mascots a more general appeal while still holding onto an imperturbable youthful cheer.
The result of the voting has been announced, and going forward, the mascot for Youthopia.sg will be Spark, the architect of creativity.
"We conceptualised the icons to appeal to not just the youth, but also the youths at heart, and we've incorporated these values into a character design which are inspired also by shows and cartoons that are well-liked and which the youths grow up with, like those seen on Disney and Nickelodeon, among others," Sim elaborated, "The icons also should not be too complicated and be able to resonate with a wide range of audiences, which resulted in ideas that are simple, fun, cute and somewhat edgy."