It's been one wild ride for the cast of Everything Everywhere All at Once, particularly for Michelle Yeoh and Ke Huy Quan. Fresh off their win at the 80th Golden Globe Awards, the power duo has gone on to nab another accolade at the Screen Actors Guild Awards (SAG).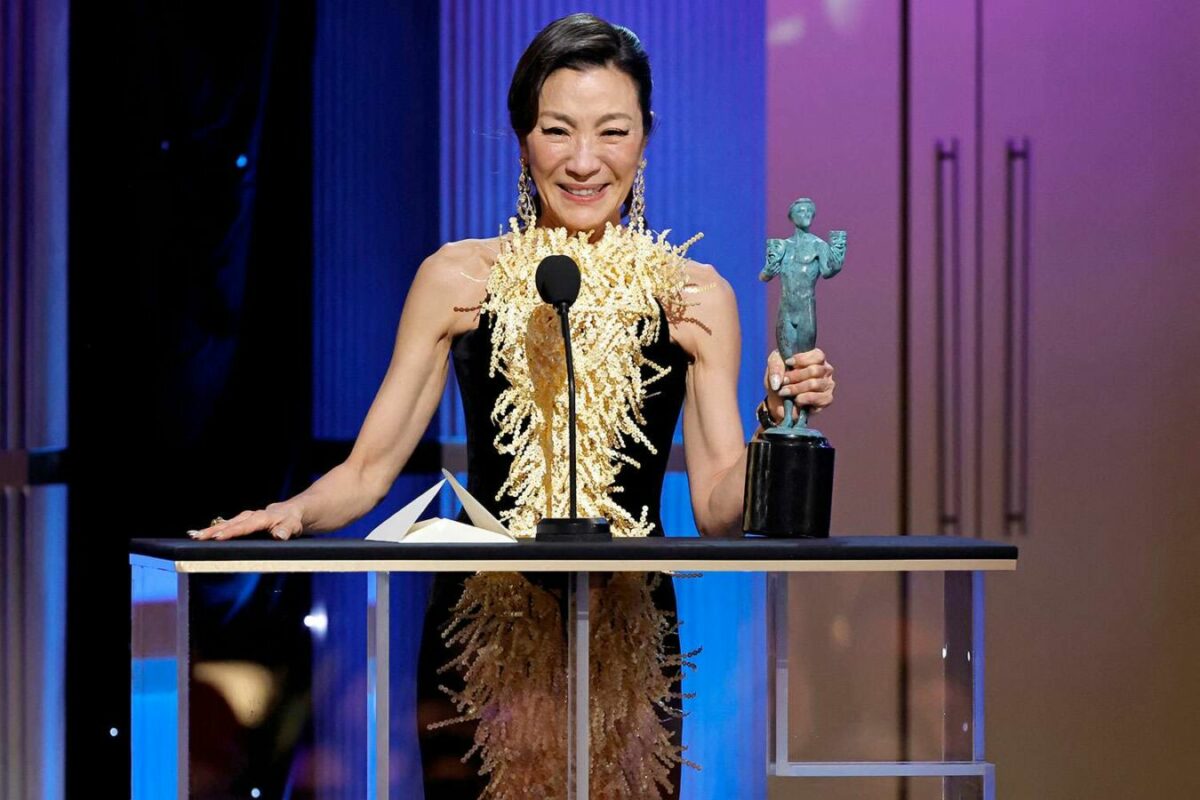 Yeoh, making history yet again with her win for best performance by a female actor in a leading role, is now the first Asian woman to win a leading film acting award at the event. "I think if I speak my heart will explode," said the actress on stage while accepting her award.
"SAG- AFTRA, to get this from you who understand what it is to get here… everyone of you know the journey, the roller coaster ride, the ups and downs. But most importantly we never give up. I thank you… This is not just for me, this is for every little girl who looks like me."
Following the emotional speech, Yeoh then turned away from the podium to compose herself but eventually let her excitement loose by screaming a string of curses to an elated crowd. "Thank you for giving me a seat at the table and tonight you've shown us that it is possible," she added. "I'm grateful and my mom will be eternally grateful to all of you."
Yeoh was joined by Quan, who took home the award for best performance by a male actor in a supporting role. The feat has made him the first Asian man to win a film acting award at the annual ceremony since its inception in 1994, and the second Asian actor to win any individual SAG prize in either film or television. Squid Game's Lee Jung-jae was the first.
"This moment no longer belongs to just me, it also belongs to everyone who has asked for change," Quan said. "When I stepped away from acting it was because there were so few opportunities." Calling out the other nominees in attendance including co-stars Yeoh and Stephanie Hsu, he continued, "The landscape looks so different now than before. So thank you so much to everyone in this room who contributed to these changes."
"Please keep on going because the spotlight will one day find you," he said, turning his attention to the actors watching from home.
All three stars — Yeoh, Quan, and Hsu — have also received Oscar 2023 nods in their respective categories. Yeoh faces fierce competition from Cate Blanchett (Tár), Michelle Williams (The Fabelmans), Ana de Armas (Blonde), and Andrea Riseborough (To Lesile) in the Best Actress category, while Hsu is nominated for Best Supporting Actress alongside Angela Bassett (Black Panther: Wakanda Forever), Kerry Cordon (The Banshees of Inisherin), Hong Chau (The Whale), and Jamie Lee Curtis (Everything Everywhere All at Once).
Quan, securing a slot in the Best Supporting Actor category, is going up against Brendan Gleeson (The Banshees of Inisherin), Brian Tyree Henry (Causeway), Judd Hirsch (The Fabelmans), and Barry Keoghan (The Banshees of Inisherin).
In total, Everything Everywhere All at Once is nominated for 11 Oscars including best picture, with final voting taking place from 2 to 7 March before the event kicks off on 13 March, 8am (GMT+8).