On paper, it was a case of making major revisions for one design project that lasted almost a year.
But behind the scenes, it was a constant volley of submissions and request for changes with a client that drove 25-year-old designer Yu Xin and her colleagues crazy at work. That memory, along with her current experience working as a game CG artist, led her to channel that frustration into designing some keychains for her hobby selling trinkets on arts and craft site, Etsy.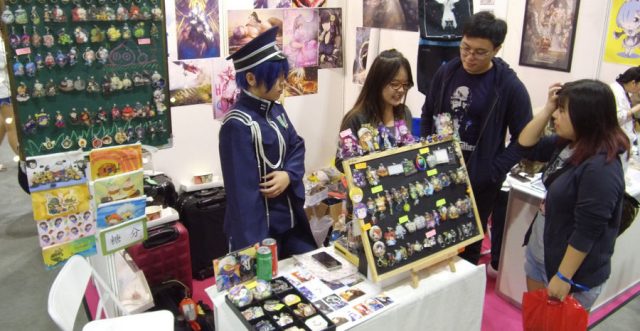 "We were salty at work, and angry at some stuff, so we were thinking of stuff to make ourselves feel better," recalls the former NYP/Digipen graduate.
"For my first batch, I only made 10 pieces each."
After handing over a few pieces to her colleagues, she posted photos of the rest on Facebook last month, and her friends picked up the remainder of the pieces she had. This led her to believe that there would be a small market for the 10 different keychain designs she had in mind, which she loosely calls her "Artist Memes Series".
---
She made another estimate, and produced between 30 to 100 pieces per design, to put on sale at this year's Singapore Toys, Games and Comics Convention (STGCC), to go along with the dozens of other anime and video game based keychains she was already planning to sell at her booth.
What she didn't bank on was that thousands of people around the world also felt the way she did, when photos of her keychains went viral after Geek Culture shared a photo of her designs on Facebook. This resulted in an influx of visitors who popped by her booth, her Etsy store and the corresponding Facebook page.
---
The 26,000 shares. 9,600 likes and 2,600 comments (at the time of posting) for a photo on two designs – Ai and Ps – came as a surprise for the full-time game artist, who never thought that her frustration would be shared by so many.
"I used to only have one (keychain) order per month (on Etsy). My Facebook page used to have 700 fans. Today, I have close to 4,000 fans."
Another piece she is proud of is this "Graphic Design Is My Passion" keychain, with intentionally kitschy tones.
"I spent the most time on this," she declared proudly, "Because I had to make it as ugly as possible."
When she woke up on Sunday, the second day of STGCC 2018, after selling out the pieces she brought to the event on Saturday, she found over 200 pre-orders waiting for her at her Etsy store.
While it might seem like a good thing for a fledgling business, it didn't help that another exhibitor approached her on Sunday morning before the doors to STGCC opened, and snapped up nearly every piece in her Design Series.
And she suffered some loss in business, when a few others took Geek Culture's photo and posted it as their own, without crediting the source or her business. One uncredited Twitter post chalked up over 115,000 likes and over 58,000 retweets, but failed to mention her business.
— foxes in fiction (@foxesinfiction) September 8, 2018
But that might be a good thing for now, she says, as she is currently busy fulfilling the orders she has on hand.
"I work full time, so I do this at night on my free time," she admits.
Once the show wraps up, her priority is to fulfill her pre-orders, and start work on improving her designs, as well as work on her next series.
"I plan to come up with more designs. I have a lot of suggestions, and this is focused on designers. Next, I will be focusing more on programmers, so hopefully, more people will find it more relatable."
If you want to pick up pieces on your own, or make a larger order, Yu Xin will have a booth at this year's upcoming video games convention, GameStart 2018, which is slated to take place next month, on 13 & 14 October, 2018.