Physical games can often be a good thing, lasting for perpetuity and not beholden to an Internet connection, but when your bonus DLC is still locked regionally, that is opening up another can of worms.
Nintendo does not have an eShop officially for Southeast Asia, and gamers often have to venture into the Japanese Nintendo eShop or the American eShop to get what they want, and for Xenoblade Chronicles 2: Torna – The Golden Country, you are out of luck if you got the physical version from Maxsoft, the regional distributor.
Expansion Passes that were to be bundled with the game were not included as Maxsoft was "unable to obtain the DLC from Nintendo" due to the lack of an eShop, and to placate irate fans and consumers, the distributor initial plans were to give out 1 x amiibo, and not even newer ones, to resolve this issue via their Facebook page.
Cue more anger.
The Expansion Pass would have set consumers back US$29.99 for four DLC packs that would add substantial content to the original Xenoblade Chronicles 2, and instead of getting it for free, gamers were paying the approximately the same price (~US$40) for an incomplete package.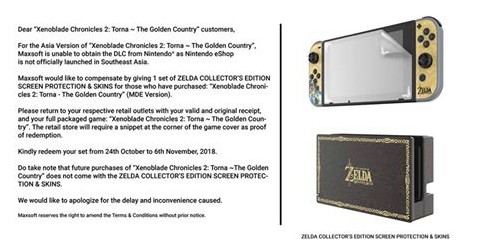 A revision of plans by Maxsoft was soon underway. This time, they were offering a Legend of Zelda decal and screen protector bundle. It would appear that it was insufficient compensation, judging by the flood of negative comments, as well as Maxsoft removing the post entirely.
The distributor may not have anticipated such backlash from the consumers, but considering their position as the sole distributor of Nintendo products in the region, it remains to be seen if they would make any improvements to the process, or even care about the concerns of their consumers.
Maxsoft controls the market on official Nintendo products in this region, and if you are buying locally, you do not have much of a choice, no matter their business practices.
This does not bode well for gamers, and have been the case for years when it comes to Nintendo, and one would think such bad experiences will translate to poor brand value in the future for the increasingly younger fans getting into the game.
Unless we get an eShop dedicated to the region, it's best if gamers look towards buying from overseas to avoid such incidents again.
H/t: NintendoSoup
Jake is a full-time trophy hunter and achievement gatherer on consoles, and part-time Steam Sale victim. He has a thing for Batman and awesome statues, and running out of space for both. Send help.
---

Drop a Facebook comment below!

---