Something's brewing in the fictional world of New York City, and it doesn't seem to bode well for our resident web-slinger.
With Insomniac Games' highly-anticipated Marvel's Spider-Man hitting shelves on September 7, 2018, more information has slowly been trickling out. Following recent E3 gameplay footage that showed off Rhino, Scorpion, Vulture, Electro, and Mister Negative in all their villainous glory, another force of the evil is set to join the roster – or so Sony suggests.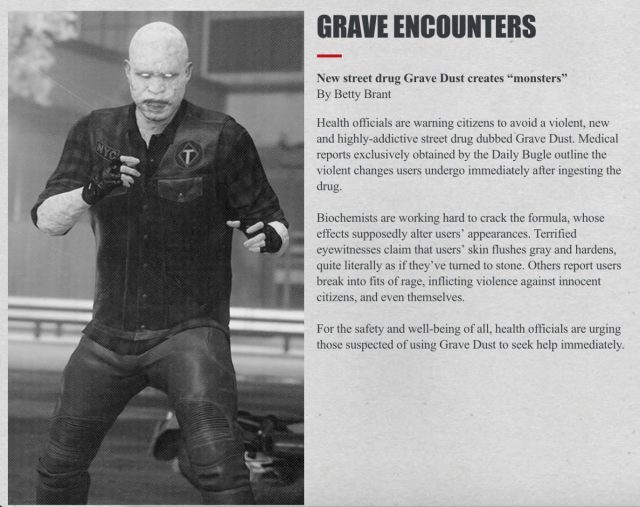 On the official PlayStation site, Tombstone made a teasing appearance in a small section of the Daily Bugle Issue #2, where fictional journalist Betty Brant brings to light a new street drug called Grave Dust, and warns readers of its hazards. Among them, two, in particular, stand out: skin hardening, and being flushed grey.
While there's no mention of the impending villain's name, the above signs do point to Tombstone being the new addition.
The next installment of the Daily Bugle is out now! Check out what Spider-Man's been up to in Marvel's New York: https://t.co/44uOyfskEt #SpiderManPS4 pic.twitter.com/FKHJOIXxE3

— PlayStation (@PlayStation) July 18, 2018
In a crafty move by PlayStation, Spidey's in-game classic costume has also been hinted at, by means of a tweet, decked out in the familiar red-and-blue hues of latex.
With the launch date being two months away, things sure are shaping up to be rather exciting. Besides, there's bound to be more wicked evil, if the rogues' gallery is any indication, which means more butt-kicking!
---

Drop a Facebook comment below!