With the successful launch of Alien #1 having over 300,000 orders, Marvel Comics had also recently added Predator into their 2021 lineup.
However, for reasons unknown, Marvel has announced that all orders for Predator #1 have been cancelled along with all Marvel Vs Predator variant covers there were planned for May 2021. It looks like they will be rescheduled for November instead.
The Predator Omnibus collecting the Dark Horse Comics' Predator comic books orders have also been cancelled with no new release date.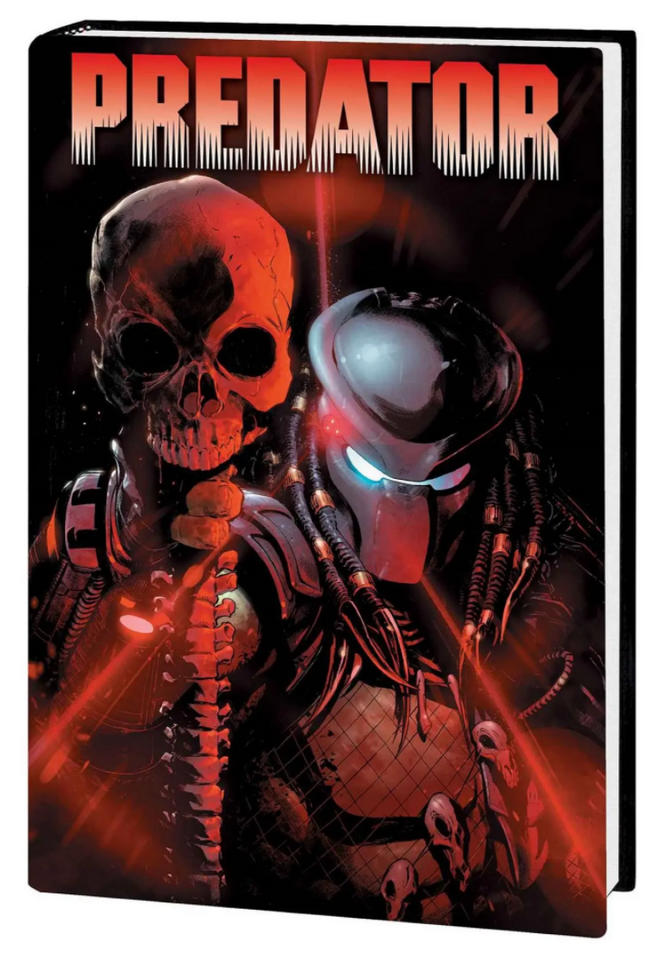 This comes as a surprise as the cancellation leaves an empty schedule for Marvel Comics in May and June since the Predator comic books along with its exclusive variant cover programme and Marvel Vs Predator cover variants are expecting over 200,000 orders.
Below are a list of all affected titles:
PREDATOR 1 (WDC) APR210821
PREDATOR 1 BROWN VARIANT (WDC) APR210822
PREDATOR 1 CAMOUFLAGE VARIANT (WDC) APR210832
PREDATOR 1 FINCH LAUNCH VARIANT (WDC) APR210826
PREDATOR 1 INHYUK LEE VARIANT (WDC) APR210828
PREDATOR 1 INHYUK LEE VIRGIN VARIANT (WDC) APR210829
PREDATOR 1 MOMOKO VARIANT (WDC) APR210825
PREDATOR 1 RAHZZAH VARIANT (WDC) APR210824
PREDATOR 1 RON LIM VARIANT (WDC) APR210830
PREDATOR 1 TAN VARIANT (WDC) APR210823
PREDATOR 1 YOUNG VARIANT (WDC) APR210831
PREDATOR 1 YU PREMIERE VARIANT (WDC) APR210827
PREDATOR: THE ORIGINAL YEARS OMNIBUS VOL. 1 HC COELLO COVER JAN210717
PREDATOR: THE ORIGINAL YEARS OMNIBUS VOL. 1 HC WARNER COVER [DM ONLY] JAN210718
AMAZING SPIDER-MAN 65 CORY SMITH PREDATOR VARIANT (WDC) MAR210611
IMMORTAL HULK 46 KEOWN PREDATOR VARIANT (WDC) MAR210635
STRANGE ACADEMY 10 RON LIM PREDATOR VARIANT (WDC) MAR210644
BLACK CAT 6 MAYHEW PREDATOR VARIANT (WDC) MAR210619
FANTASTIC FOUR 32 SUPERLOG PREDATOR VARIANT (WDC) MAR210545
GUARDIANS OF THE GALAXY 14 SPROUSE PREDATOR VARIANT (WDC) MAR210627
HEROES REBORN 2 GIST PREDATOR VARIANT (WDC) MAR210513
SPIDER-WOMAN 12 RYP PREDATOR VARIANT (WDC) MAR210617
AMAZING SPIDER-MAN 66 DELL'OTTO PREDATOR VARIANT (WDC) MAR210615
CHAMPIONS 7 RAMOS PREDATOR VARIANT (WDC) MAR210646
DAREDEVIL 30 SIENKIEWICZ PREDATOR VARIANT (WDC) MAR210632
THE MIGHTY VALKYRIES 2 JUNGGEUN YOON PREDATOR VARIANT (WDC) MAR210569
WOLVERINE 12 HOTZ PREDATOR VARIANT (WDC) MAR210596
BLACK WIDOW 7 ANDOLFO PREDATOR VARIANT (WDC) MAR210630
MILES MORALES: SPIDER-MAN 26 DE LULIS PREDATOR VARIANT (WDC) MAR210622
X-MEN 20 STOKOE PREDATOR VARIANT (WDC) MAR210600
IRON MAN ANNUAL 1 BENNETT PREDATOR VARIANT (WDC) APR210732
CAPTAIN AMERICA 30 COELLO PREDATOR VARIANT (WDC) APR210915
CAPTAIN MARVEL 29 NORD PREDATOR VARIANT (WDC) APR210910
THOR 15 RAHZZAH PREDATOR VARIANT (WDC) APR210933