Being chased by a horde of aggressive zombies is a terrifying prospect, but when placed alongside Zack Snyder's Army of the Dead, that seems to be just scratching the surface of undead horror. 17 years after ushering in a fresh spin on George A. Romero's Dawn of the Dead, the man is back in the zombie business with his latest movie, which will be dropping first in select theatres on 14 May 2021, before heading to Netflix on 21 May.
The news is accompanied by a second trailer that shows evolved, more intelligent zombies in action, thus spelling a certain doom for humanity. What's even more attention-grabbing, however, is the appearance of a deadly zombie tiger (yes, you read that right) that sets up the stage for a host of undead animals to wreak total havoc.
"Zombie animals were [always] going to be part of it. The only creatures immune from the zombie virus are birds," revealed Snyder in an exclusive interview with Bloody Disgusting. He continued, "We have two categories of zombies in the movie: The Alphas and the [traditional] Shamblers. Our Alphas are the evolved version of zombies, they've taken another step. They're much faster, and we kind of treat them like wolves…they're sentient. They kind of fight in packs, and kind of have a pack mentality." Overkill is certainly an understatement here, it seems.
Joining Snyder as the scriptwriter are Shay Hatten and Joby Harold, who are supported by an acting cast that includes the likes of Dave Bautista (Guardians of the Galaxy, Master Z: The Ip Man Legacy) as protagonist Scott Ward and Hiroyuki Sanada (47 Ronin, Mortal Kombat) as casino boss Bly Tanaka. A brief synopsis of the film reads, "After a zombie outbreak in Las Vegas, a group of mercenaries takes the ultimate gamble by venturing into the quarantine zone for the greatest heist ever," which involves retrieving $200 million from a vault sitting beneath the Las Vegas strip within 32 hours before the government nukes it to oblivion.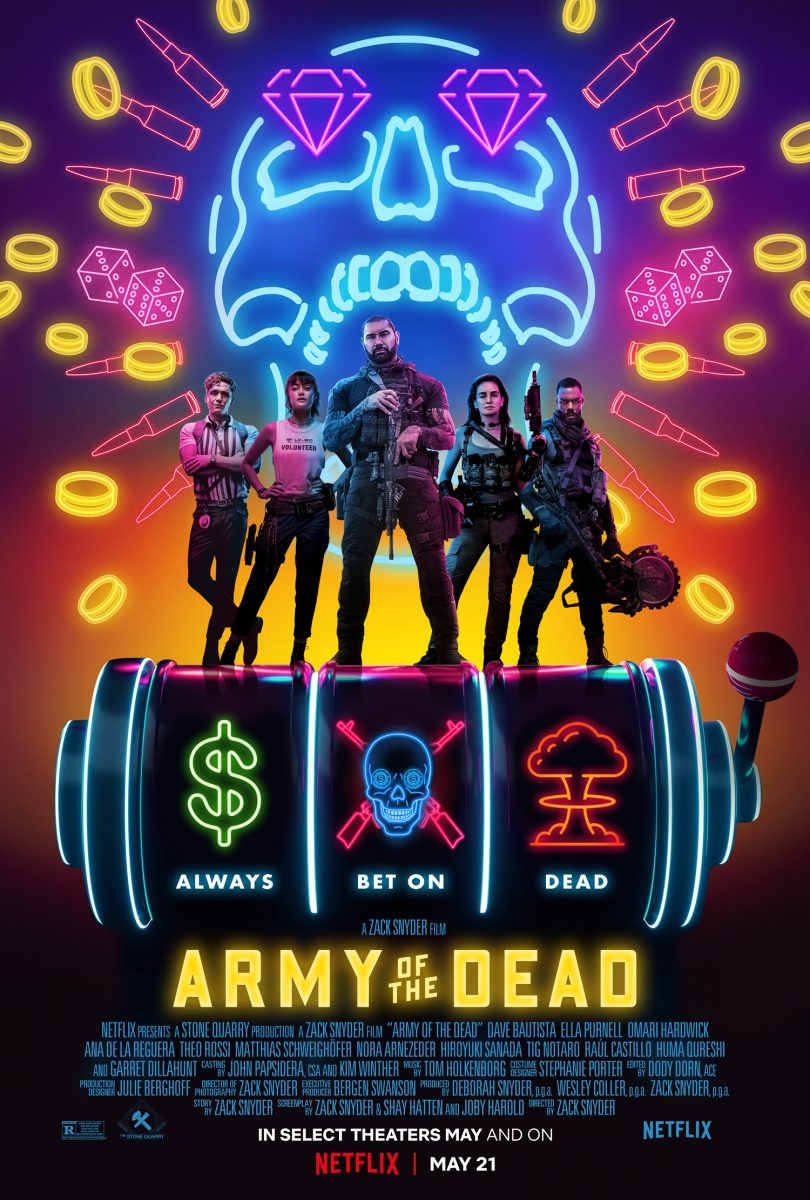 Ella Purnell will be taking on the role of Ward's estranged daughter Kate, with the remaining announced cast suiting up as members of the ragtag team: ace mechanic Maria Cruz (Ana de la Reguera), zombie-killing machine Vanderohe (Omari Hardwick), helicopter pilot Marianne Peters (Tig Notaro), influencer Mikey Guzman (Raúl Castillo) and his best buddy Chambers (Samantha Win), casino security head Martin (Garret Dillahunt), skilled warrior Coyote (Nora Arnezeder), security guard Burt Cummings (Theo Rossi), and German safe cracker Dieter (Matthias Schweighöfer).
The best part about Army of the Dead is that the action doesn't stop here. In addition to the Snyder-directed movie, zombie enthusiasts can look forward to its live-action prequel and animated prequel series sometime in the future as well.