The 16-hour flight from New York to Taipei took its toll on 77 year-old Sir Patrick Stewart. After a day's worth of TV and print interviews on Monday (Feb 27), the Star Trek actor did not feel up to attending the red carpet premiere for Logan (read our review) that evening, leaving co-star and friend Hugh Jackman to manage the thousands of fan waiting at Taipei 101.
At the press conference the next morning, Sir Patrick Stewart apologised for his absence, but no one blamed the thespian, as they were much too excited to see both stars up close.
The one item the city of Taipei wanted to present to the star was a painted poster of Charles Xavier. But this wasn't just any artwork, as the poster-size painting was done by hand, by Master Wen, of Tainan's Chuan Mei Theater (全美戲院).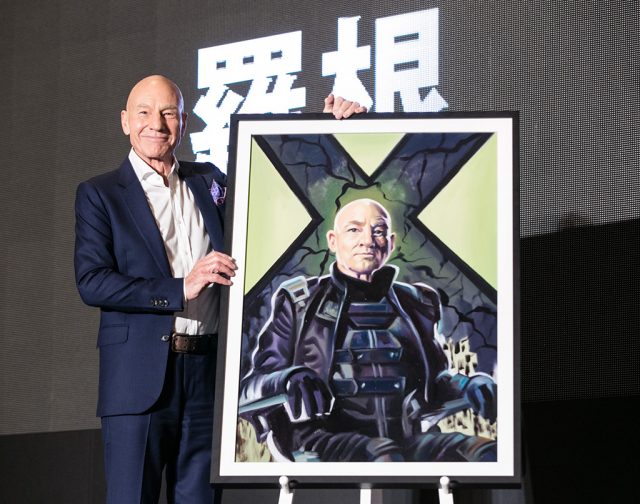 Across Southeast Asia in the 60s, 70s, 80s and up to the early 90s, massive movie posters hung outside cinema halls were not printed, but hand drawn and painted by individuals, who were tasked in getting the look and feel of a movie right, just by referencing the original poster keyart.
Both Stewart and Jackman were also presented with puppets of their reel life characters – Charles Xavier and Wolverine. Done in the style of Chinese glove puppetry or 布袋戲, each of the puppets comes with movable limbs, and donned the traditional garb from the movie. Prof X even came with Cerebro.
Unlike Jackman, who has opened up on the production process of making Logan, including the exclusion of characters and ideas that he originally wanted to include to the movie, Stewart was more reserved and preferred to talk about his last outing as Prof X, and how he sees his time spent in the X-Men Cinematic Universe, versus his tenure as the Captain of the USS Enterprise.
Check out our interview with Sir Patrick Stewart above, and our one-on-one interview with Hugh Jackman here.