Unless you are extremely well prepared or have trained your whole life for this, the chances of you surviving a zombie apocalypse for long are slim at best and nil at worse. Despite starring in what is possibly the best known foreign zombie TV series currently streaming right now, the cast of Korean zombie period drama Kingdom know this all too well, and have made some sort of plan to survive, except for one.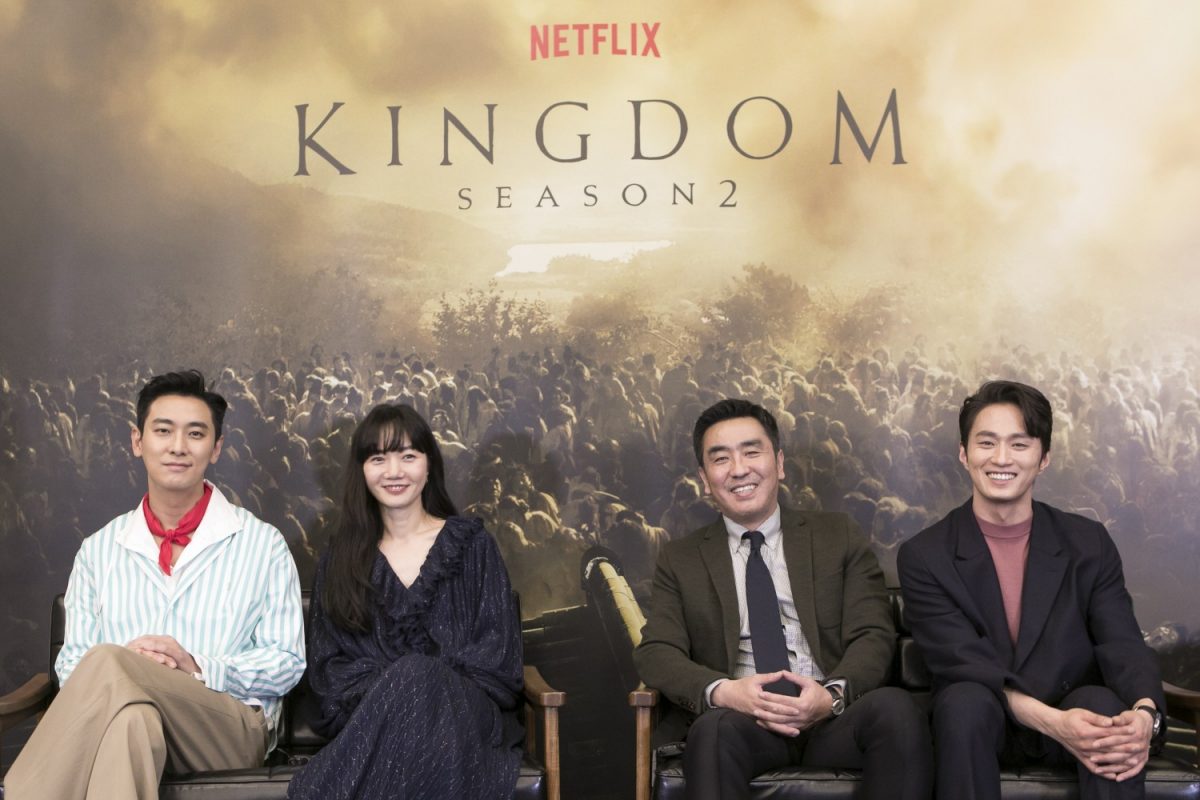 Kim Sung Kyu, who plays the enigmatic hunter Yeong Shin in the drama, gave the most pragmatic answer in an interview promoting the drama's second season. Instead of prolonging his suffering, he'll simply show the zombies where to bite, to kill him off the fastest.
"I don't think I would enjoy being bitten in many different places on my body, so I'm just going to let them know where it takes for them to kill me with one bite, and I'm just going to go with that."
Meanwhile, the other three stars of Kingdom Ju Ji Hoon, Bae Doo Na, and Ryu Seung Ryong are determined to try and survive, though in vastly different ways. For Ju, who plays Crown Prince Lee Chang, he's banking on the fact that the zombies can't go into water and immediately "get on a ship and try to find help because there's not going to be a lot of food on the ship".
On the other hand, Bae has a few tricks up her sleeve should a zombie apocalypse happen, thanks to playing Physician Seo Bi in the drama. Seo Bi was constantly on the lookout for a cure to the zombie virus and whether a cure exists or not, Bae will definitely know to be on the hunt for it. Unfortunately, she was unable to reveal what the ideas are due to Season Two spoilers but she promises that she will "definitely do something".
However, the award for Most Interesting Answer will definitely go to Ryu, who plays Minister Cho Hak Ju. He has come up with a method he feels is a sure-fire way to survive the zombie apocalypse, or at the very least not turn into a zombie.
"I'm going to make sure to get my hands on as much resurrection plants as possible and enjoy salads with the resurrection plants, enjoy bibimbap with it, have some tea with it, all to make sure that I grow my immunity [to the zombie virus] so I will not die."
This answer is certainly in line with Minister's Cho Hak Ju's power-hungry personality, made evident from how he comes up with various plots and schemes to wrest power away from the Crown Prince Lee Chang and into the Cho family's hands. Simply giving in to the zombie virus will certainly not be something Minister Cho will do.
Though it has been a year since the cast returned to their roles in Kingdom, each of them clearly understands their respective roles exceedingly well. Ju said that instead of finding it difficult to slip back into the character of Lee Chang after a whole year has passed, it was more of a homecoming because it "felt like we had just wrapped up the previous season two to three days ago."
"It was very unique and also very exciting because about a year had passed before we were on board for the second season shooting. But because we all shared this experience of having been on set together for a very long time for the previous season, I wouldn't say that it was a difficult challenge [to slip back into character] but rather it was really special because I felt like we had just wrapped up the previous season about two to three days ago."
The same can be said for Bae, who called it both a "strange and special experience".
"As for me, it was a strange and special experience as well because as he (Ju Ji Hoon) said, a year has passed between the season and shootings, and yet when I went back into the costume and into the makeup, I almost felt like automatically I was brought back to being Seo Bi."
"However, season two is a lot more fast-paced, and there are a lot more spectacular scenes being portrayed. So there was difficulty regarding that, and there's also the aspect of Seo Bi, because of her occupation, there are conflicts that emerge, regarding work ethics and whatnot. So those were some things that I tried to focus on and try to express the best that I can. However, stepping back into the role in the second season, I don't think that was too difficult for me."
With Kingdom being a massive success globally, Bae also adds that she is "personally extremely proud" to be part of a project that is not just fantasy but also very historical with costume, makeup and set pieces based on actual historical studies.
Ryu mirrors Bae's opinions of Kingdom being extremely Korean in its aesthetics and values while still managing to seamlessly blend the world of zombies in.
"I believe that Kingdom is a Netflix original series that has succeeded in depicting an epic world and epic story that cannot be contained with the short running time of a film through cinematic technique," said Ryu during the interview.
"And also I think it's unique in that it brought together the two different worlds of zombies, which everybody around the world is familiar with, the other world [which] is extremely and uniquely Korea."
You can catch Ju Ji Hoon, Bae Doo Na, Ryu Seung Ryong, and Kim Sung Kyu in Kingdom season two which drops on Netflix on 13 March 2020.
---

Drop a Facebook comment below!