Kingdom Hearts 2 was a delight, and it came as no surprise that the game went on to garner critical reception in the gaming community. Since then, fans have been yearning for a third installment of the charming Disney hybrid, and it has been a long wait.
A very long wait, in fact. Square Enix has been teasing fans with small, sparse mentions over the past 13 years, with the fanbase constantly asking for more information, alongside the planned release date after several delays.
The first question has now been answered.
In an early media and fan screening session, attendees were given a lucky first glimpse of Kingdom Hearts 3. Described by Polygon to have the "whimsical charm of Disney and Pixar's animated films", the highly-anticipated title features many new and old faces against a kaleidoscopic backdrop of vibrant colours and dazzling visuals.
From previous reports, we know that characters from Toy Story will make in-game appearances. Adding to the list are Wreck-It-Ralph's Ralph and The Little Mermaid's Ariel (among others), together with existing personalities and familiar faces alike – Sora has his Keyblade for hand-to-hand combat, while Donald still can't heal.
Two different worlds in Kingdom Hearts 3 were shown during the first-look session – Mount Olympus from Hercules, and Andy's room and the Galaxy Toys toy store from Toy Story – and each one can be broken down into the following details: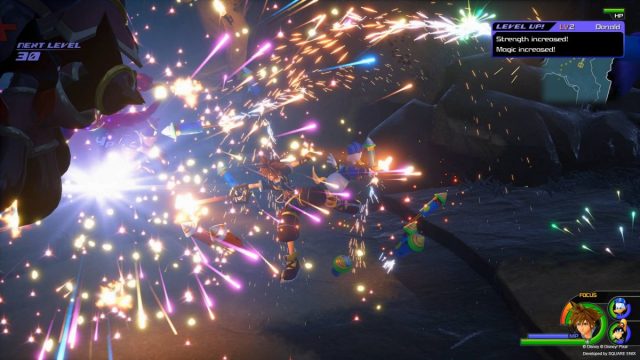 Mount Olympus:

Sora, Donald, and Goofy make their appearances in the midst of a battle
Sora and Donald partner up for the explosive Flare Force attack
The newly-added Attractions attack is showcased, a term used to describe special abilities based on Disney theme park attractions
Attractions shown include Mad Tea Cups, Big Magic Mountain, the Pirate Ship, Shooting Ride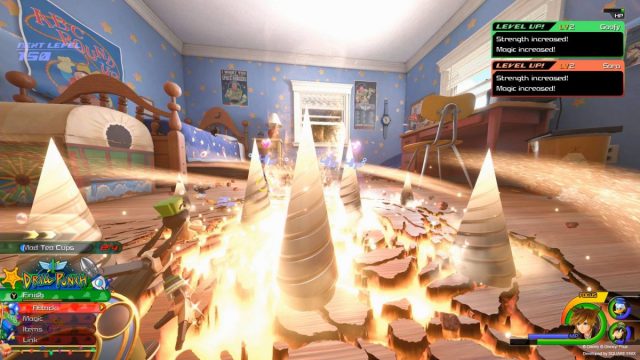 Toy Story World:

Woody, Buzz Lightyear, Rex the Dinosaur, Hamm the piggybank are seen in Andy's bedroom
Sora and friends show up, alongside a group of Heartless
Easter eggs! Rex references a video game in a conversation with Sora: "I've levelled you up to 47 but I still can't beat Bahamut."
Series antagonist Young Xehanort brings some toys to life in Galaxy Toy as the crew travels there
A first-person mech battle ensues, where players are introduced to massive robots called Gigas
Hamm gets kidnapped, and a rescue mission is added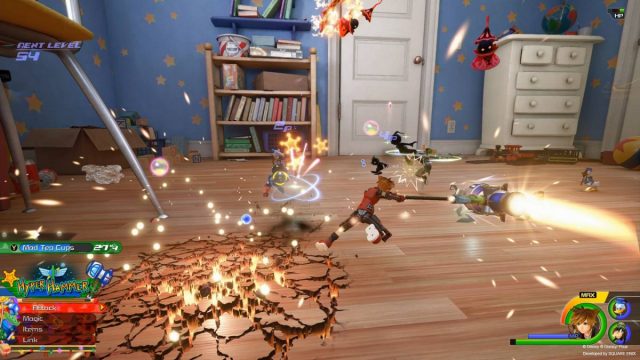 In terms of in-game features, both locations have climbable surfaces, and feature some room for exploration. For example, the cash registers in Galaxy Toy can be smashed to obtain resources, while treasure chests may be hidden on top of doors.
Naturally, with new installments comes new powers and enhancements. Apart from Sora's wall-run ability, there's also:
Different attack styles and flair of each themed Keyblade, which can also be swapped out for another
Attractions attacks (as aforementioned)
The occasional special attacks in between usual battle rounds
A big Finish move if the given button is triggered at the right timing
Link commands, which allow players to pull in other characters to do big moves.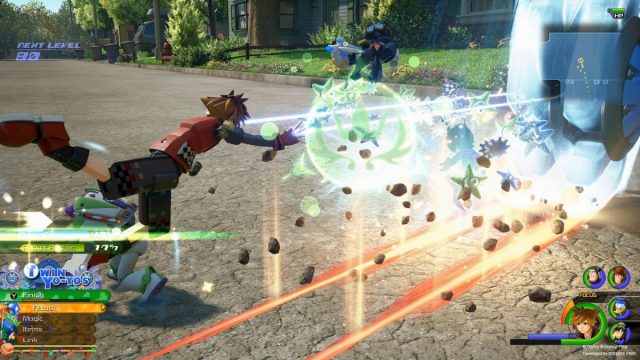 Given that the above information was gleaned off only two worlds in Kingdom Hearts 3, more content is certainly lined up for fans – and rightly so after 13 long years. While the new additions may take players some time to get used to, especially for those who grew up with the first two installments, it can make for a good entry point for newcomers. Unfortunately, a release date has yet to be confirmed.
We're be looking out for more details when E3 2018 comes around, so stay tuned then! In the meantime, do feast on these gorgeous in-game visuals:
---

Drop a Facebook comment below!