A new Jumanji game, based on the latest reboot, is coming from Bandai Namco this Fall, and is called… Jumanji: The Video Game.
Releasing on the PC, PlayStation 4, Xbox One, and the Nintendo Switch on November 15, Jumanji: The Video Game will follow the four characters from the 2017 film: Dr. Smolder Bravestone, Ruby Roundhouse, Franklin "Mouse" Finbar, and Professor Shelly Oberon.
Each will come with their own skill sets, and the team must work together to obtain the Jewels of Jumanji and fight through enemies and traps to make it home.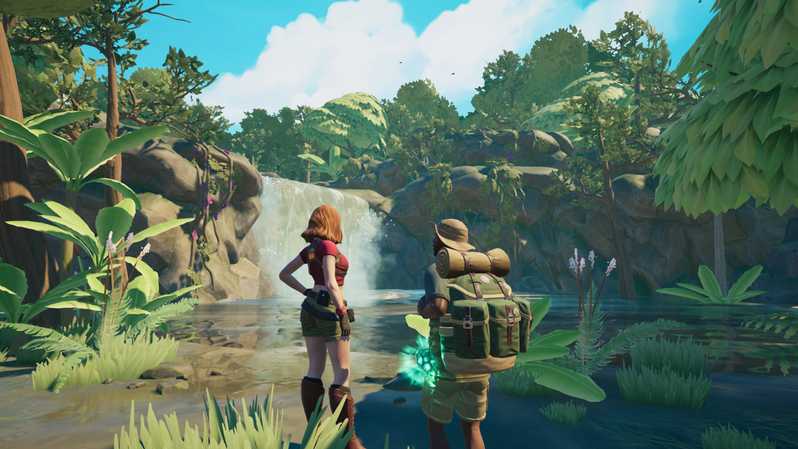 The film depicted four teenagers getting sucked into a video game world as opposed to the classic's board game, and their avatars had stats and skills that made them different from each other. The likeness of Jack Black, Dwayne "The Rock" Johnson, Karen Gillan, and Kevin Hart are used for this new game.
Developed by Outright Games, the studio has also worked on many other licensed properties such as Adventure Time: Pirates of the Enchiridion, Paw Patrol: On a Roll, and Dragons: Dawn of the New Riders.
"Jumanji is a property we have been eager to work with for a long time," announced Outright CEO Terry Malham. "Our speciality as a video game publisher is in producing high-quality interactive-entertainment for the whole family to enjoy and there is no brand more exciting for families right now than Jumanji."
The overview of the game reads:
Unite in adventure and laughter in the action-packed game of Jumanji, as you try to survive the ultimate challenge for those seeking to leave their world behind!

Only you and three teammates can recover the Jewels and save Jumanji. So get online, gather friends for split-screen play, or go alone with AI companions. There's an army of evil marauders to take on, deadly beasts and traps to dodge, and cool customizations to unlock. And with heroes Dr. Bravestone, Ruby, Mouse, and Prof. Oberon as your avatars, you know you've got the unique abilities –and hilarious failings –to save the day!
Key Features
Return to the Jungle – Play as movie heroes Dr. Bravestone, Ruby, Mouse, and Prof. Shelley in a hilarious new 3D action adventure
Team Up – In online or split-screen modes, work together with up to three friends or AI teammates to defeat enemies, survive deadly traps, and save the world
Dangerous Locations – The world of Jumanji gets bigger with beautiful but deadly new mountain, city and jungle environments
Endless Adventure – As you hone your skills and strategies, and unlock new outfits and weapon styles, no two rounds of Jumanji are ever the same!
---

Drop a Facebook comment below!