When it comes to Japanese cuisine, there's the well-known noodle trio of ramen, udon, and soba, as well as the crowd darling that's sashimi. For meat aficionados, the yakiniku grilled meat concept should prove to be an enduring favourite, with a palatable blend of grilled meat, oozing juices, and savoury sauces. And now available as a fast food option.
Enter Yakiniku Like, a specialty yakiniku fast food restaurant hailing from Japan. With a total of 30 branches in Asia and 260 outlets around the globe, it runs on a quick-service concept that serves orders within three minutes – an experience that will soon be available to diners in Singapore.
Paya Lebar Quarter is the first space to house the yakiniku brand. Come 3 February 2020, meat lovers can look forward to an affordable spread of USA- and Australia-imported beef, including karubi (short plate), harami (skirt steak), prime karubi, and misuji (top blade).
Prices start from S$7.80 for a set, which comprises of meat, rice, soup, and a choice of kimchi or salad. A la carte options are also available, with other meat picks on the menu for non-beef eaters. Ordering at the restaurant, meanwhile, is tailored to be a fuss-free and user-friendly process, where diners can simply scan an allocated QR code with their mobile devices without the need to download an external app.
Yakuniku Like's set menus are as follows –
Value for Money: Karubi Set (S$8.80/100g | S$12.80/200g | S$16.80/300g)
Singapore Exclusive: Trio Set – beef short plate, pork jowl, chicken thigh (S$11.80/150g | S$16.80/300g)
AAA Top Quality Choice: Prime Karubi and Misuji Set (S$15.80/100g | S$19.80/200g)
Authentic Japanese Taste: Sukiyaki Karubi Set (S$9.80/100g | S$13.80/200g)
No. 1 Choice: LIKE Set – beef tongue, shirt steak, beef short plate (S$15.80/100g | S$19.80/250g)
Best Seller in Japan: Karubi and Harami Set (S$12.80/100g | S$17.80/200g)
Unbeatable Price: Pork and Chicken Set – pork belly, chicken thigh (S$7.80/100g | S$11.80/200g)
Ultimate Indulgence: Wagyu Steak Set (S$19.80/120g | S$29.80/200g)
Like most yakiniku joints, individuals are able to adjust the heat levels as they deem fit. In general, the beef pieces are sufficiently succulent and tender – even when overcooked. There's an absence of the tough, rubbery texture that usually accompanies overcooked meat, particularly so for the prime karubi, which makes for a pleasant surprise. The meat doesn't quite melt in the mouth, unlike the more premium A5 cut, but the quality is decent for its price point. Do note that the marination may be a little salty for some.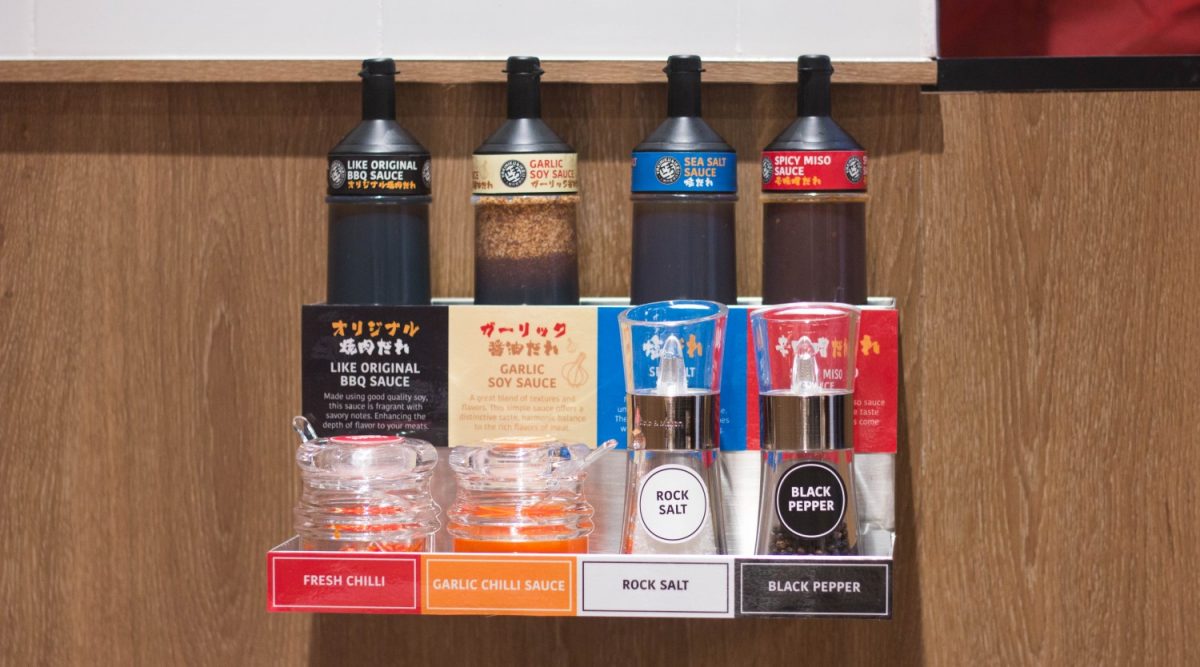 For an added touch of flavour, four dipping sauces are up for grabs. Yakiniku Like's signature Original BBQ Sauce comes with a savoury punch in tow, while the Garlic Soy Sauce offers a fragrant, spiced touch to the meat. Accompanying the two are the Sea Salt Sauce and the Spicy Miso Sauce, the latter of which is best suited for pork and chicken.
A personal favourite is the Garlic Soy Sauce. Where the Original BBQ Sauce goes a little heavy on flavour, its garlic companion strikes a fine balance between piquancy and saltiness. The charred taste of grilled meat, thus, doesn't come across as overpowering.
The condiment selection, meanwhile, sees the likes of red chilli, garlic chilli sauce, rock salt, and black pepper, with the former two being Singapore-exclusive specials.
Yakiniku Like is also the first restaurant in Singapore to boast individual electric smokeless for customers. This means diners get to enjoy a solo dining experience – perfect for a quick bite session, or just some me-time alone. Do note that while it seeks to deliver orders within three minutes, it's often not an achievable goal, with the average waiting time observed to be around eight to 10 minutes, which is already quite a reasonable time frame.
The greatest treat of it all, however, is a special one-day promotion that the yakiniku outlet is offering on the day of its grand opening. As a celebration, the first 290 customers will be able to enjoy the 200-gram Karubi Set at an astounding S$2.90 on 3 February 2020 from 5pm onwards.
At a time where BBQ or grilled meals can command a premium, it's great that we now have an affordable option that fills the tummy with a selection catered to foodies of all types.
Details of Yakiniku Like may be found below –
Address: 10 Paya Lebar Rd, #B1-28 Paya Lebar Quarter, Singapore 409057
Operating Hours: 11am to 10pm; last order at 9.30pm (Mon to Sun)
Contact Number: +65 69707397
Seating Capacity: 42 pax
Header image courtesy of Yakiniku Like.
---

Drop a Facebook comment below!