Masked superheroes Ant-Man and Wasp are certainly killing it in cinemas. Following the events of the Ant-Man film, the Ant-Man and the Wasp sequel sees the reunification of the dynamic duo as they once again fight against evil forces. Though small-sized, the pair has been making a big splash in the international box office, and it seems their popularity will soon soar to even greater heights.
Confirming a tease during D23 Expo in Japan earlier this year (2018), Hong Kong Disneyland has officially announced the addition of a new Ant-Man and the Wasp theme park attraction. Titled Ant-Man and the Wasp: Nano Battle!, it falls under the resort's multi-year expansion plans, and is set to debut in 2019.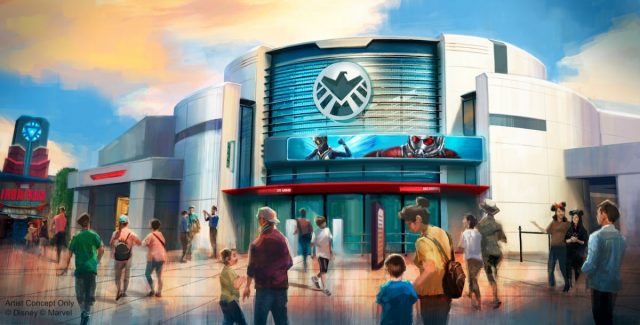 The interactive ride has some big shoes to fill, too – prior to this, the Iron Man Experience has consistently been rated as the park's top attraction since its opening in 2017, as Hong Kong Disneyland informs. But the upcoming attraction appears to be plenty of good fun, with guests visiting the Science and Technology Pavilion at Stark Expo, hopping onboard S.H.I.E.L.D's state-of-the-art vehicle, and going an adventure with the superhero duo:
When a routine trip to the S.H.I.E.L.D. Science and Technology Pavilion at Stark Expo takes an unexpected turn, guests join forces with Ant-Man and The Wasp in S.H.I.E.L.D.'s state-of-the-art vehicle to fight against Arnim Zola and his army of Hydra swarm-bots in a heroic battle. Paul Rudd and Evangeline Lilly, the stars of Marvel Studios' Ant-Man films, also appear in this all-new, interactive attraction.
Naturally, the acting talents themselves are gleeful over the inclusion of their on-screen persona in the theme park lineup. Paul Rudd, who plays Ant-Man and also happens to be a Disneyland fan, said that it's an "exciting" experience, while co-star Evangeline Lilly expressed enthusiasm at how having a female heroine-themed ride "is an incredible honour".
In light of Disney's financial losses, Ant-Man and the Wasp: Nano Battle! would definitely help to hook in more visitors, especially the Marvel fans. There's still a while more to go, but you'd be sure that we'll be waiting in ant-cipation for what's to come next year – or in 2023, when an entire Marvel-themed area will be open for public.
---

Drop a Facebook comment below!