It's time to get fully connected.
If you love all things Google, living in Singapore is a pretty crappy experience. If you've wanted to get your hands on the Google Pixel, Home, or Chromecast, you'd have to get them from third party retailers. This is rather ironic considering that Google's HQ for this region sits in Singapore.
But thankfully, that's all about to change with the Google Wifi.
Google's solution to eliminate dead zones in the home is nothing new, in the sense that Google Wifi was actually released in the US sometime in 2016. Since that time, we've had a chance to look at the Linksys Velop as well as the Asus Lyra, which do the same job as Google's devices.
Wifi mesh devices are not new to the market, but it recently become more affordable for the mass market consumer. How it works is simple – plug the first unit to the ethernet port and add on additional mesh devices wirelessly around the home, and your Internet signal is handed over to each new device point, creating a nice network that link to one another.
The best part of it all, the system is dead easy to set up compared traditional routers. There are no other wires to deal apart from the USB-C connector to the power adaptor for each unit and the network cable to your existing modem (for the base unit only). At the end of the day, everyone wants to get connected to the Internet in the fastest way possible way, but every individual has a different level of technical know-how. Thus, such mesh networks are a godsend for the average consumer.
Here's the catch – the launch of Google Wifi here is exclusive to local ISP StarHub. Google will be retailing these devices from S$360 (with contract, see below for details), which is cheaper than Linksys' current Velop System. However, having more affordable hardware means that you're investing in Google Wifi's dual-band device, instead of the tri-band offered on the Linksys Velop. When you have multiple devices connecting to the network at the same time, more bands means the network can take on more traffic. Think of it like a road that has three lanes instead of two.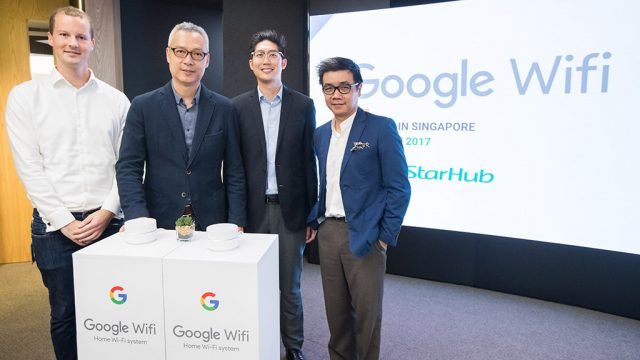 While not the most superior, the Google Wifi has an important feature that won me over – its design. Compared to the taller Linksys Velop, I'd be more inclined to display the Google Wifi out in the open. Being short and stout also means that the Google Wifi will probably be less likely to be knocked over as well.
For the average apartment dweller in Singapore, Google and StarHub are recommending at least two Google Wifi units to be placed around a typical 4-room HDB, home in order to eliminate internet deadzones. While it might be a bigger investment, the price of having a constant, uninterrupted internet access is a major priority these days.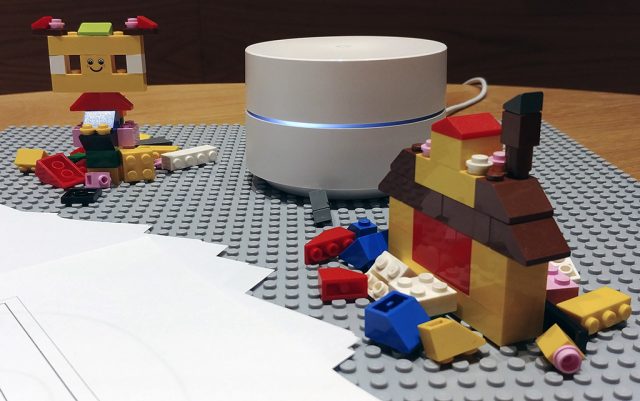 When to get and how much is the damage?
Starting August 31st 2017, customers who sign up or renew their StarHub Broadband or Hubbing all-in-one plans will get a 3-pack Google Wifi at $0 upfront. So what's the catch? You'll have to lock in a 2-year contract with Starhub, and pay an additional S$15 per month over 24 months, which brings your total to S$360. The usual price, according to Starhub, would set you back S$597.
If the 3-pack isn't sufficient because you live in a giant multi-storey geek den, you'll have to option to buy single units at S$199 each. Each device comes with a 1 year local warranty covered by Starhub (not Google).
If you're already stuck on an existing contract with another ISP, but want in on the Google Wifi, I'm sorry, you're out of luck. But who are if we don't recommend an alternative? Head over to Amazon USA, as it is currently selling the 3-pack at US$264 with FREE shipping to Singapore (which converts to approximately S$360 too!). The only downside is you don't get any warranty coverage. But hey, who needs warranty for awesome and reliable Google devices right?
So in a nutshell, here are the various features you'll get from using Google Wifi:
Google Wifi Specifications
Wireless
AC1200 2×2 Wave 2 Wifi
Expandable mesh Wifi
Simultaneous dual-band Wiwi (2.4GHz / 5GHz) supporting IEEE 802.11a/b/g/n/ac
TX Beamforming
Bluetooth Smart Ready
Ports
Two 1-Gigabit Ethernet ports per point. Ports can be configured as WAN or LAN.
Security
WPA2-PSK
Automatic security updates
Trusted platform module
Memory
Power
15W power adaptor
~9W consumed
Colour & Material / Dimensions & Weight
White, lightweight, durable plastic
Diameter: 106.12mm
Height: 68.75mm
Weight: 340g