Fusing different cuisines together can be really successful and exciting. "Fusion food", the blending of culinary worlds to create new hybrid dishes, has been around for eons though the other alternative, fusion confusion is less appealing.
Thankfully Lè Fusion, helmed by award-winning chef Jack Tiang Toh Huat, has taken a bold step in bringing traditional Chinese cuisine, and refreshing it with contemporary tinkering and a unique twist of ingredients from all over the world. The restaurant is led by a passionate husband and wife duo who have created their favourite recipes with inspirations stemming from their various travels from China, Australia, Philippines and France.
From Australian Beef Fillet infused with China's Tsingtao Beer, to French inspired pan-seared Foie Gras accompanied with Chinese glutinous rice, and even a slow-roasted pork belly with crispy crackling skin from the Philippines paired up with the famous asian Man Tou, there is a little something for everyone looking to sample cuisines from around the world.  Every bite is a culmination of their passion for the culinary arts, but it's not only about the food, but it's aesthetic and ambience too.
Nestled in the tranquil riverside neighbourhood of Robertson Quay, Lè Fusion sits by the Singapore River, with its chic ambience and neon-lit bar, it is definitely the perfect chill-out spot to wine and dine. Gently lit by red pendant lamps, Lè Fusion's walls are decorated with graffiti-esque pop art, with neon signs providing an extra je ne sais quoi.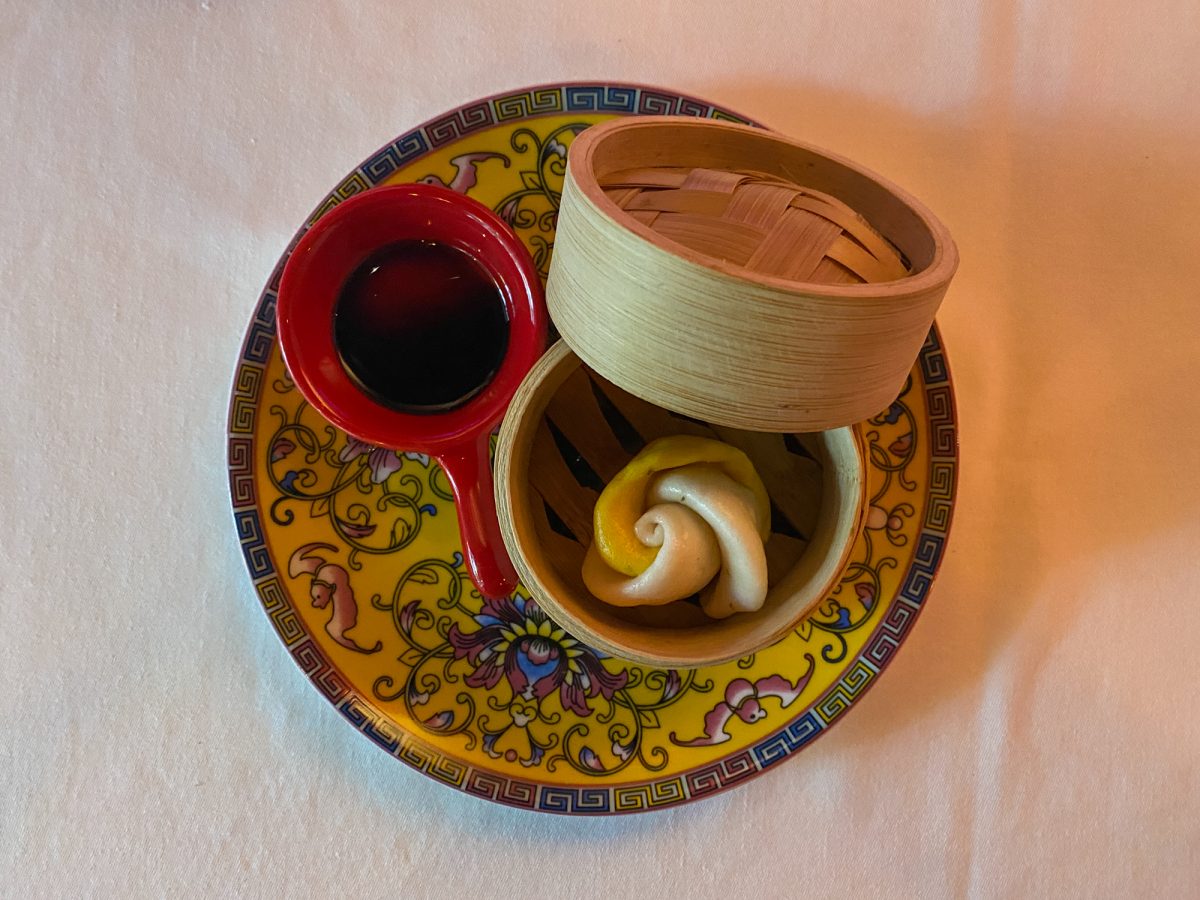 Enter Lè Fusion and be greeted by their pretty Focaccia Rose Mantou, an amuse-bouche (single, bite-sized hors d'oeuvre) made in-house for all their guests. Made with a blend of pumpkin and flour with hints of oregano herbs, the fragrant rose-shaped mantou is served in a mini bamboo steamer with a choice dipping of vinaigrette dressing on the side. The immediate aroma of herbs permeate the air, the steaming warm mantou has a delectable chew with a little give as your teeth sink in. The balsamic vinaigrette helps give the sweet dough a little zing.
On Le Fusion's tapas menu is the Crispy Pork Belly Mantou (S$12), inspired by Philippines's rendition of suckling pig, lechon. It's a new take on the classic Chinese braised Kong Bak Pau or pork belly buns. One bite of this and you'll be greeted with a loud crisp of the crackling skin that can be heard across the table. The pork belly itself has a sweet and spicy aroma with plenty of meat juices oozing from its long marinade, with subtle hints of Chinese five-spice powder. The pickle zing of the salted vegetables cuts the greasiness of the pork belly and the whole dish balances out with the creamy mayonnaise.
The Imperial Double Boiled Soup (S$28) is a premium rendition of the traditional "Buddha Jumps Over The Wall" elevated by premium nu er hong rice wine. Served in a beautiful oriental Chinese soup tureen, the dish is a nutritious soup that has been double-boiled overnight,using only premium ingredients such as abalone, scallop, dried oyster; and a myriad of Chinese herbs including ginseng and wolfberries. 
The broth itself is rich tasting and flavourful thanks to its many ingredients, with each sip revealing more and more layers of ingredients used. Then, pour in the nu er hong for an added tinge of sweetness. You will definitely experience a sense of warmth having this highly nutritious soup.
Next on the menu is the pan-seared Rougie Foie Gras (S$25). Introduced with a smoke-filled dome, the servers unmasked the dish and the smoke-filled the restaurant. Beneath the aromatic smoke lies the foie gras served atop an unassuming bed of Chinese glutinous rice and encircled by an in-house tangy sauce. The generous slab of foie gras is well cooked, offer a delightful contrast in texture between the browned crust and the barely softened centre. The rich and sweet flavour of the foie gras paired well with the citrusy yuzu sauce, working together to create a flavour which is perfectly balanced and refreshing while remaining tantalising to your taste buds.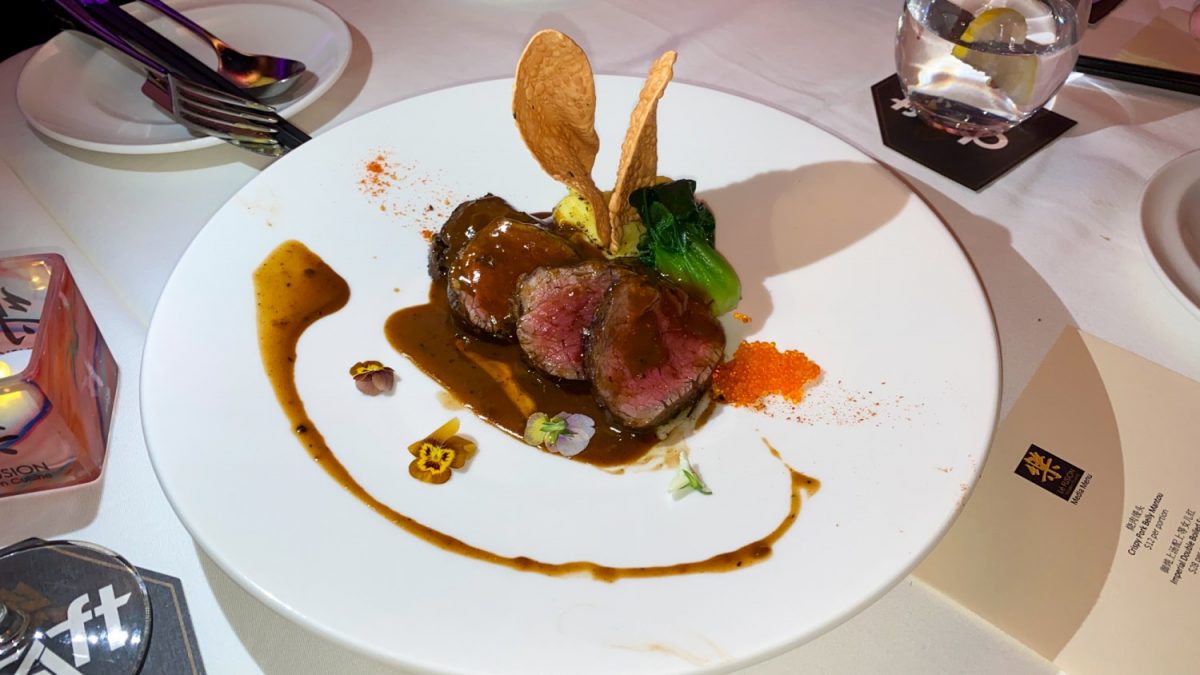 The Tsingtao Beef Fillet (S$42) uses grilled Australian Augustus Beef tenderloin (180g), which has been softened through a 12-hour infusion with Tsingtao beer, and is accompanied by melt-in-your-mouth cauliflower pommes mash and papadam. The medium-rare serving has a bittersweet, malt flavour from the Tsingtao Beer, while the au jus and mash gives a nice balance to the bitterness of the beef.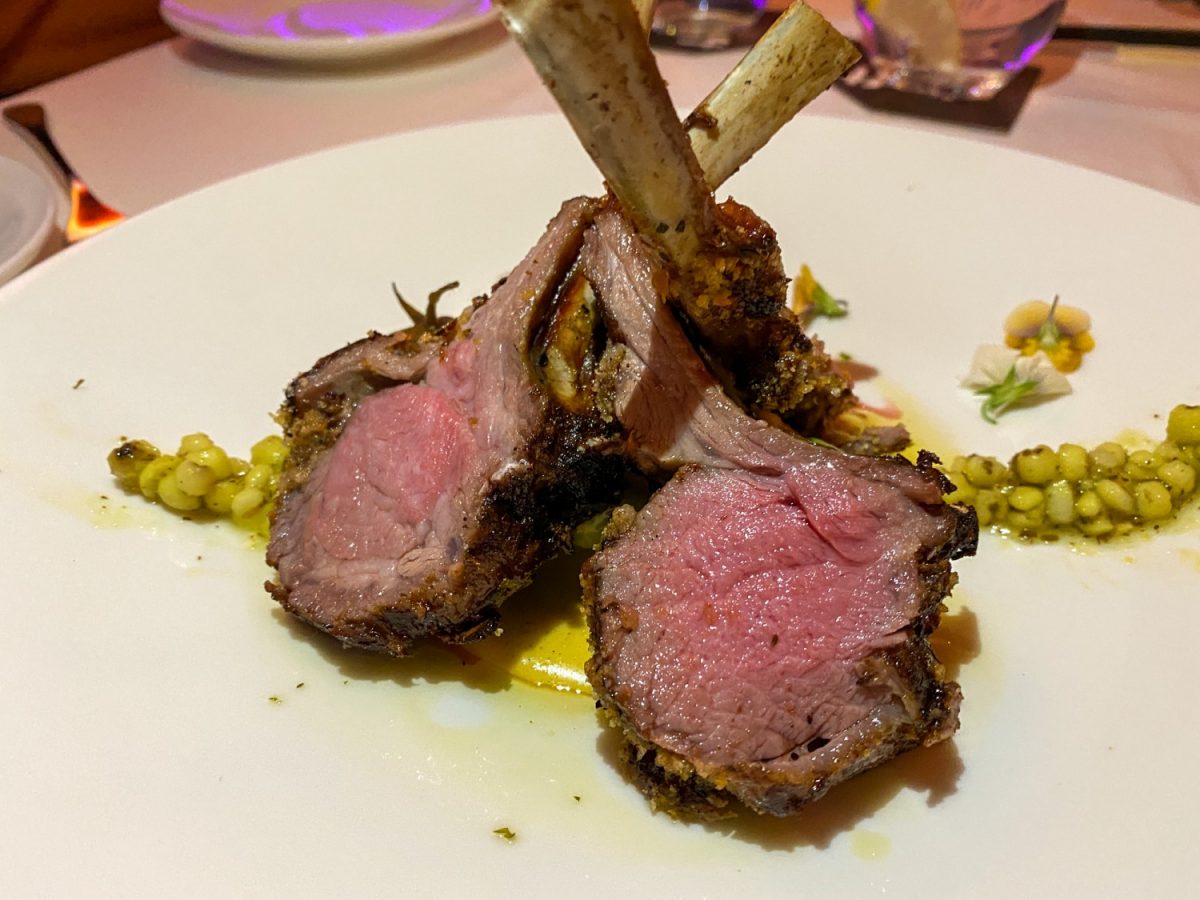 The Asian Crusted Provencal Lamb Rack (S$46), was our personal favourite. Breadcrumbs and provincial herbs gave this tender Australian lamb rack tons of flavours, such as the subtle notes of citrus and the slightly spicy heat coming from bits of mandarin orange skins and Szechuan pepper. This is a perfect dish for those who would love to try out lamb without the fear of it tasting too gamey.
We are introduced once again to the crispy pork belly with the Lè Fusion Crispy Pork Roulade (S$32), only this time, it is prepared in a different way. The pork belly is stuffed in a mixture of uncased sausage meat, rolled, and finally roasted in the oven to achieve a crisp crunchy outside and succulent inside. It is complemented with a vine baby tomato soaked overnight in Shanghainese sour plum juice, piquillo yuzu sauce, and deep-fried golden mantou. You will definitely enjoy every single bite of the pork belly and the drizzle piquillo yuzu emulsion helps to give the meat a sweet tangy flavour. 
The quintessential Chinese mui fan gets a deluxe upgrade with the Braised Abalone Seafood Rice (S$38), which comes with Tasmania 6-head abalone, scallops, fish, squids, mussels and prawns drenched in the Chef's special savoury consommé. The thick gravy-like sauce coats your mouth with an oceany umami brininess from the consommé. Beneath it sits a bed of rice that has absorbed some of the sauce for you to dig in together with the rest of the dish. 
Helping to this gastronomic journey on a sweet note is the Lè  Fusion Chendol ($14) which comes in a three-layered concoction of chendol, kidney beans with jelly and crushed ice drizzled with coconut milk and Bailey's cream. This dessert will definitely entice sugar-toothed diners as the Bailey's Irish cream adds more depth than to its classic counterpart, the palm sugar (Gula Melaka). With the increasingly hot weather, this makes such a refreshing treat in the staggering heat.
For those who crave desserts but do not want anything too sweet, you can try Le Fusion's Panna Cotta with Sweet Glutinous ($14). A perfect marriage of the classic Italian panna cotta and pulut hitam (black glutinous rice porridge with coconut milk), the serving is topped with crispy thin house-made lotus seed tuille for an extra crunch. This thick mousse blend accompanied by the silk tofu-like panna cotta gives a splendid creamy mouth-feel with some chew from the bits of black glutinous rice. 
If you're looking for a place that serves up exciting dishes and are willing to try out something new, Lè Fusion is a place you need to check out! 
Address: The Pier at Roberson, 80 Muhamed Sultan Rd, #01-7 8/9, Singapore 239013
Operating Hours: Monday to Saturday – 5pm-1am, Sunday – 4pm-10pm