When it comes to PC gaming, the genres of first-person shooters (FPS) and Multiplayer Online Battle Arena (MOBA) have to be amongst the most popular for those in the master race. With the ever-increasing fanbase of MOBAs like League of Legends and DOTA 2, as well as the vibrant, competitive scenes of shooters like Overwatch and Rainbow Six: Siege, it's easy to see why both genres are slowly defining PC gaming.
If you are planning to dip your toes into the two game types, here's our list of the current hotness in the FPS world, as well as things to look out for if you are new to the MOBA scene!
---
OVERWATCH
Take a cursory glance at Overwatch and you can see the many different influences that have come together to become one of the most beloved titles ever in the genre. Be it Team Fortress 2, or even LoL, the colourful and interesting world of Blizzard's shooter stands tall among its peers.
A game that champions teamwork more than any solo effort, the myriad configurations of different heroes make for an ever-changing experience. No matter your skill level or efficiency, there is a hero for you.
It looks great, runs great, and most importantly, plays like a dream. And with Overwatch League capturing audiences worldwide, there's no better time to join in the madness than now.
---
RAINBOW SIX: SIEGE
How things have changed. After a lukewarm start to its existence, the persistence of Ubisoft to continually update and add content, together with the rabid support of fans, has given rise to one of the best shooters ever.
The esports scene has only grown bigger and better, and with new operators joining the meta, and a robust foundation running it all, Siege is one of the more tactical shooters in our list, demanding your attention and cautiousness.
Undoubtedly, Siege requires time to learn and master its many hooks, but the satisfaction of being the last one standing while firing that crucial shot into the skull of your foe has no substitute. If you are into more than just plain shooting, with doses of strategic and psychological warfare thrown in for good measure, Siege is a godsend.
---
COUNTER-STRIKE: GLOBAL OFFENSIVE
The granddaddy of all competitive shooters, CS: GO is still going strong, off the back of a vocal and passionate fanbase. Of course, it will be daunting to newcomers, considering many of the pros have been running and gunning in the many maps of CS: GO for years now.
But the same pros are often helpful, and sharpening your skills and climbing the leaderboards is just part of the fun and appeal. This shooter also boasts some of the best level designs in the genre – who can forget the classic Dust II map?
With a modern take on a classic, together with improved features and a burgeoning financial reward awaiting in the aftermarket trading of cosmetics, CS: GO is a shooter that can easily pay for itself in both fun and profit.
---
BATTLEFIELD 1
Even with Battlefield V and Call of Duty: Black Ops 4 coming in the next few months, Battlefield 1 still holds up as one of the most cinematic and immersive experiences in the genre.
From the exhilarating multiplayer component to a deeply engaging single-player campaign, Battlefield 1 has it all. The hallmarks of the series, huge battlefields, spectacular vehicular combat, destructible environments, and great shooting can be felt throughout the entire game.
Battlefield 1 does a fantastic job of bringing the wonderous formula of the series' traditional highlights into the weaponry and vehicles of World War I, and manages to shock, awe, and impress at every turn. After all, which shooter lets you ride a horse and stab your opponents in glorious 4K?
---
DOOM
A glorious reboot of the fabled classic, the modern DOOM is nothing short of breathtaking. From its thumping soundtrack to every satisfying pull of the trigger on the many weapons the Doomslayer get his hands on, the adrenaline-pumping and bloodily satisfying campaign of DOOM sets a very high bar few games can dream of even touching.
One of the more gorgeous shooters ever made, players can look forward to dismembering the cohorts of demons that are foolish enough to stand in your way while marvelling at another FPS masterclass from id Software.
For those of you who prefer the aggressive route rather than hiding behind cover, the action, level and enemy design, as well as the weapons of DOOM will be your go-to choice to let all that aggression out perfectly.
---
FPS Arsenal: The ROG Strix SCAR II
Before you head into the many amazing shooters around, you will need the right tools for the job. With the ROG Strix SCAR II (GL504), you will have all the power you need.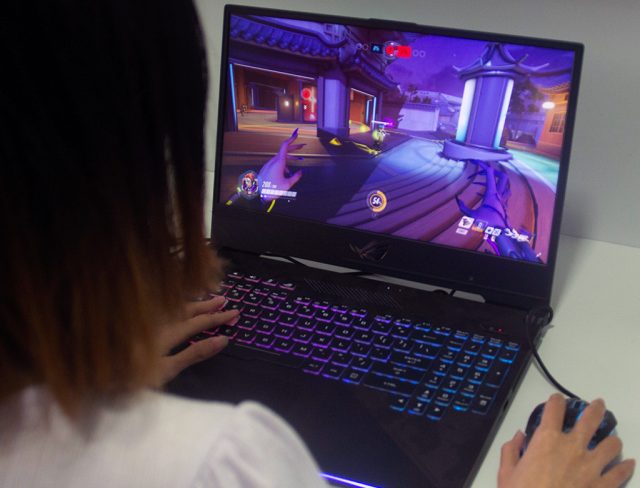 With the world's first 144Hz super-narrow-bezel display with ultrafast 3ms grey-to-grey response time for extreme precision, every shot will be exactly how you want it. The fast-responding desktop-style keyboard with Overstroke technology also ensures complete and swift control of your armoury, and the 8th Generation Intel Core i7 processor and NVIDIA GeForce GTX 10-Series graphics will make sure everything runs smoothly while you slay your enemies.
Be the best soldier with the best gear, choose the ROG Strix SCAR II (GL504), the ultimate, portable weapon for the fiercest gunfights!
---
Beginners often have it hard, being entirely new to something is always going to be a challenge. And trying out MOBAs is no different, and with the added pressure of having teammates that depend on you, it can be daunting.
However, all of us started from the bottom, and to help you on your journey to becoming a valuable team player, here are some general tips from our many years spent of DOTA 2, League of Legends and Heroes of the Storm!
---
Test That Ping!
Before you even head into battle, making sure you are not lagging behind everyone else is key to having a better experience. Make sure your ping is reasonable before you even join a game, and give other players less reason to throw shade your way when you miss a crucial engagement.
Practise Your Timing
Unlike in Heroes of The Storm, last-hitting is an essential skill to master if you want to survive the harsh environments of most MOBAs. Depending on your choice of hero, the amount of health you take off a minion or opponent will vary with each auto attack.
Going into a bot game is the best way to hone your timing before doing it for real under pressure, so get it down to muscle memory and you will be an asset in your lane in no time.
Play With Your Friends
This is a no-brainer, grouping up with friends is always a better time. It does not matter if you are all noobs or pros, having people you can openly communicate with, learn from, and practice can only bring more improvement to your game.
Plus, one more friend equals less chance of having a random being AFK or trolling, and victory tastes sweeter when you and your friends achieved it together.
Learn The Meta
For gamers who are preparing to head in deep, learning the meta is extremely important. The "most effective tactic available" often changes with every update to whichever MOBA you are involved in, and buffs and nerfs can easily be the difference between winning and losing.
Being up to date helps you win half the battle, and knowing the best way to counter or take advantage of your opponents ensures you are contributing in more ways than one to your team.
When it comes to picking your heroes, it is often easy to just follow the meta and try to achieve that, but the speed and regularity of changes can scupper your plans. Instead, master the intricacies of two heroes so you are less likely to be caught out during drafts.
See The Bigger Picture
Both literally and figuratively, you should always be keeping an eye on the battlefield for your allies, enemies, and opportunities to gain the upper hand, and not overly focus on your solo game.
Taking key objectives/lanes are part and parcel of the MOBA experience, and learning when to advance, retreat, or fake out the opposing team is something you will have to take note of and learn as you play.
Think of your team first, and if something appears too good to be true, you probably have a gank (ambush) heading your way.
Be A Good Teammate
When someone makes a mistake, it is easy to feel frustrated and take it out on them. But would you want the same to be done to you? A team lives and dies by being a team, and being positive often helps everyone.
Being overly critical hardly elicits a better performance, and often results in tilting and trolling. Learn to move on, engage pleasantly, and help each other become better players.
And this applies to your own play as well, be prepared to assist when possible, do not overextend, and communicate with your teammates.
Learn From The Best
With plenty of tournaments and games happening every once in a while, it is a simple task to find VODs of the pros at the peak of their powers. With your chosen heroes in mind, find the pros that are playing the same characters and/or lanes as you would, and watch.
While you may not be able to replicate the same moves, analysing the reasoning behind their each and every move will already make you a better player. Now, all it takes is practise and time to put these lessons into action.
---
MOBA Arsenal: The ROG Strix HERO II
As you prepare yourself to enter the intimidating arena of MOBAs, you will need a good setup to back you up. The ROG Strix HERO II (GL504) brings you even more power for MOBA esports gaming with a super-narrow bezel that boasts an ultrafast IPS-level display with its 144Hz refresh rate and 100% sRGB colour gamut.
A desktop-grade keyboard with a 20-million-keystroke lifespan — twice the industry standard — provides unmatched reliability, while the patented RangeBoost multi-antenna system guarantees ultra-reliable, wider-ranging Wi-Fi coverage that will help keep your ping low.
With its 8th Generation Intel Core i7 processor and NVIDIA GeForce GTX 1060 graphics card, the ROG Strix HERO II (GL504) is raising the standard of gaming laptops to match your unparalleled potential.
Jake is a full-time trophy hunter and achievement gatherer on consoles, and part-time Steam Sale victim. He has a thing for Batman and awesome statues, and running out of space for both. Send help.
---

Drop a Facebook comment below!