This week is Father's Day, and many folks in Singapore are no doubt scrambling to pick out something nice for their dad to celebrate fatherhood. Though many would no doubt consider something tech- or toy-related to bring out their inner young boy, it's also not a bad idea to indulge in your dad's tastes for the finer things in life.
As such, here are Geek Culture's recommendations for you to pour one for your old man on Lazada this Father's Day!
---
What better way to celebrate this day than with a local classic – Milo, with a sweet power up. Who would've thought everyone's classic chocolate malt drink could be a great way to wind down after a long week? Zouk Singapore's Milo Gao Bottled Cocktail is a modern alcoholic take on the Milo drink, enhanced with a hint of whiskey to complement the already chocolatey and malty taste of the beverage. While Milo is the main ingredient in this liquor, we'd advise against using this as an energy drink to fuel your workouts.
---
And Singapore's premiere nightclub is not done there with modern takes on classic drinks. Zouk Singapore is at it again, this time with its Teh Peng Bottled Cocktail. Inspired by the iconic drink commonly found in hawker centres across Singapore, this alcoholic beverage comprises of Thai red tea as the base, infused with a nice blend of milk and vodka, for a creamy, yet punchy kick.
For added effect, you can even add some brown sugar pearls to it, if you absolutely must have your BBT fix.
---
Want to crank up that fruity taste to 11? Zouk Singapore's Assam Guava Bottled Cocktail might do the trick here. Using an exquisite blend of guava and lime with savoury sweet plum powder, this zesty goodness is sure to bring a smile to your dad, especially if he's a fan of guavas.
---
Speaking of creamy, perhaps he would prefer something a little more classic, like the Baileys Original Irish Cream. Almost everyone might have tried this smooth Irish goodness at least once in their lives, but it's always a good go-to for Father's Day, especially when accompanied by some cake.
---
This entry is perfect for dads who like their caffeine and liquor fix all in one go. The Kahlua Original Coffee Liqueur, though mainly used as a base for many popular cocktails, is actually quite nice on its own, thanks to its fragrant blend coffee bean and roasted chestnut scents. Its sweetness also makes it a great ingredient for tiramisu and other desserts that require a liqueur base.
---
For something a little more tropical, you can check out the Glenfidditch IPA Cask. As its name suggests, this whiskey is seasoned with India Pale Ale, which gives it its fruity, tropical characteristic. Its vibrancy is further enhanced with its aging in the Glenfidditch cask, which also gives it enough spice to add some kick to your evening.
---
The Sazerac Rye from Buffalo Trace is a great old-fashioned whiskey that blends a little bit of sweet and fruity thanks to apricots, orange peel, plums and caramel and vanilla. Its infusion with anise and raisin gives it a nice fragrance. Perfect for those who want something a little more classic in taste.
---
Produced by the White Oak Distillery in Hyogo, Japan, this single malt whiskey is as fine and grand as the place it came from. Sweet, fruity and earthy, it ticks all the boxes for a nice, relaxing afternoon contemplating life on a comfy chair.
---
As its name suggests, this crystal-clear spirit hails from the picturesque coastal city of Santorini, Greece. Made from white Assyrtiko and red Mavrotragano grapes, its sweet fragrance and soft palate make it great to be paired with something a little stronger, like black coffee.
---
Another Japanese single malt whiskey, the Iwai Komagatake is a well-aged spirit that has spent at least three years in Sherry and American white oak casks, which gives it a nice, earthy and smoky fragrance and taste. Aside from its strong flavour, it also contains hints of sweetness and fruitiness, thanks to a mixture of grape, strawberry, cocoa and vanilla.
---
There's arguably no better way to honour your old man than to present him with some really aged whiskey. It's got a great blend of sweet, smoky, fruity and even spicy flavours, which will no doubt appeal to almost any palate.
---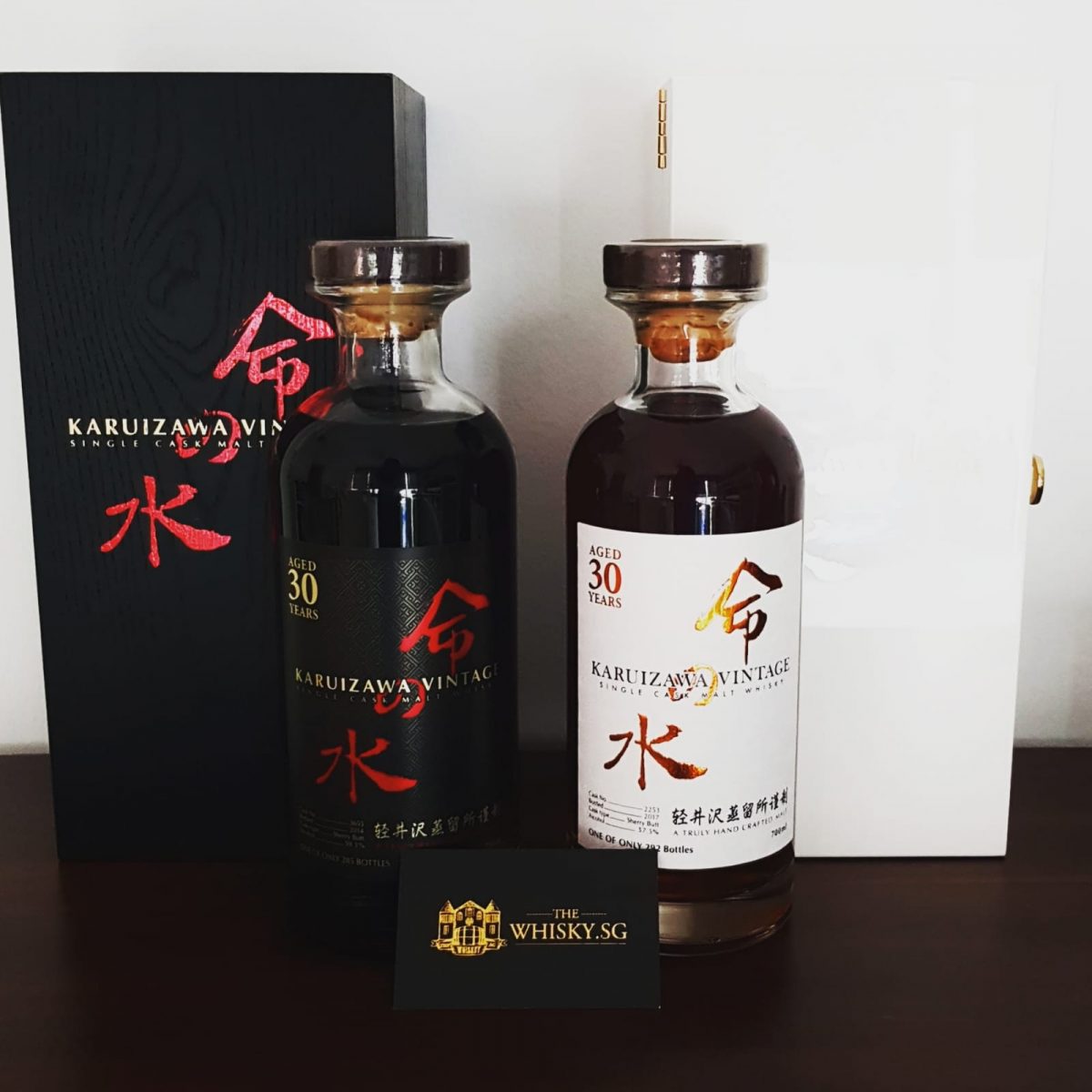 If you're planning to go all out for your dad this year, why not do it with the Karuizawa Aqua of Life 30 Years? Aptly named the water of life, this aged whiskey hails from the central Honshū area in Japan, where Mount Asama presides. It is said that all the elements present there, from the volcanic lava and soil to the temperate weather, all contribute to the richness of this spirit. Truly meant for the grandest of occasions — like Father's Day.
---

Drop a Facebook comment below!