Say what you will, but these past few months have been quite the whirlwind ride, with the coronavirus outbreak and all. To reward yourself for making it through the first half of 2020, what better way is there than some well-deserved retail therapy?
Though with most physical retail stores closed (till 19 June), it might seem like there aren't many options out there for you to get your shopping fix. Thankfully, there are numerous e-commerce platforms for you to shop on, and with brands supporting them, more sales taking place. The biggest is Lazada's week-long Mid-Year Festival, from 18 to 25 June, where you will get to enjoy discounts of up to 80%, participate in Slash It deals with other shoppers, and pretty much shop till you drop without even needing to take a step out of your house. 
Lazada's Mid-Year Festival will see about 100,000 sellers and brands taking part. This includes the likes of Sony, Anker, Baseus, Philips and Sulwhasoo. A number of deals you will find during the Mid-Year Festival also happens to be Lazada exclusive, meaning you won't be able to find it on other platforms so grab it while you still can! 
Here is a quick look at the various deals and promotions you can look forward to at Lazada's Mid-Year Festival, along with activities you can partake in before the Mid-Year Festival commences.
Pre-Sale Deals (till 17 June)
Get to enjoy an early-bird discount by placing a non-refundable deposit on the item you wish to purchase from 11-17 June. Once you've done so, you will be able to check your item out on 18 June only at its discounted price.
Save S$59.97 on Darth Vader's wearable helmet from Hasbro's The Black Series. Perfect to celebrate Father's Day.
Storewide Flash Sale on 18 June for 2 hours only!
There will be Storewide Flash Sales for over 300 stores on 18 June itself, from 12am – 2am, with discounts of up to a whopping 80%, so mark your calendars to ensure you don't miss out on great deals!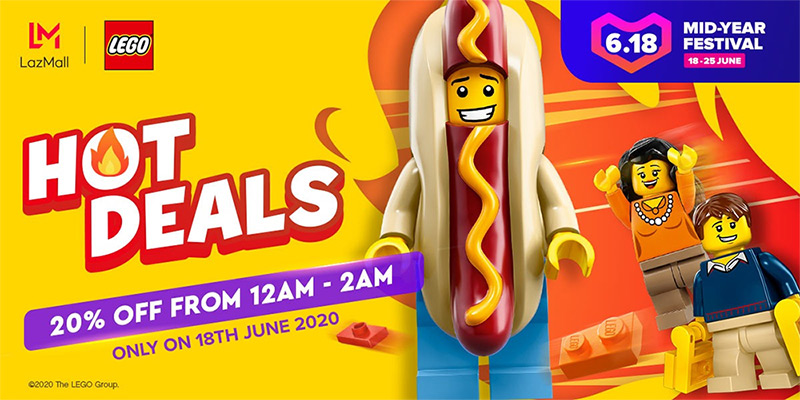 Aside from the various promotions and deals above, here are some more Lazada exclusive deals for you to consider.
With its extraordinary AF speed performance and persistent subject tracking, the Sony α6100 skillfully handles the mechanics of photography so that you'll be free to concentrate on more creative aspects.
There will definitely be a lot more deals than what you can find here during the Mid-Year Festival happening later in June. As always, we advise you to first put any items you wish to check out into your cart so you can immediately check them out the moment you can, before it gets sold out.
Happy shopping!
---

Drop a Facebook comment below!