Admit it – you beginning to get tired of superhero movies. Another blockbuster about a misunderstood underdog who rises to the occasion to save the world? Yawn. How many more self-indulgent CG-laden comic book adaptations can we take before it officially becomes passe to make another superhero movie?
We're not saying we don't like them all, but for every Batman Begins or Avengers: Infinity War, we also get the likes of Fantastic Four, Hulk and Suicide Squad.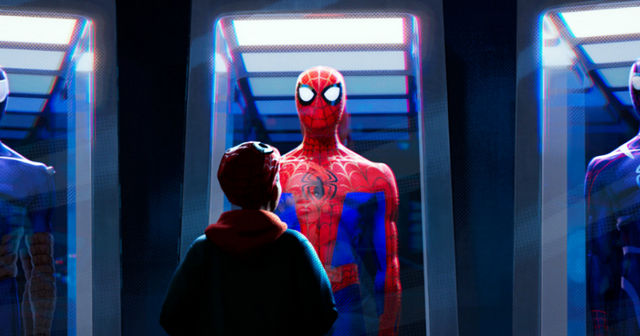 Then along comes this itsy-bitsy gem of a movie that defies all odds, and gives cinema-goers (both geeks and non-geeks alike) hope that superhero movies can still be fun and original. This computer-animated feature film is based on Marvel Comics' Spider-Man, who needs no introduction. Unlike the previous two series and current one, this film is set in a shared multiverse called the "Spider-Verse", where there are a family of Spider heroes running around.
Movies like Source Code (2011) and Sliding Doors (1998) come to mind. But this film takes it further by having five Spider-People from five parallel universes coming together to fight baddies. And no – not all of them are about the death of one Uncle Ben,
To put it simply, Spider-Man isn't just embodied by Peter Parker alone.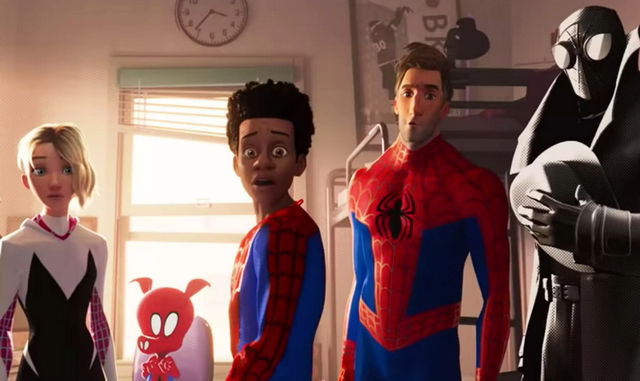 The protagonist here is Miles Morales (Shameik Moore), a Brooklyn teenager whose loving parents are an African-American policeman and a Puerto Rican nurse. The character who first appeared in 2011 under the Ultimate banner, and was a great effort to diversify the Marvel franchise. After getting bitten by a radioactive spider (we wouldn't expect anything more from an origin story), Miles begins to realise he has powers like strength, speed and heightened senses. But he can also turn invisible, and emit an electrical discharge. And yes, he is a web-slinger too.
An impending catastrophe sees Kingpin (Liev Schreiber) using a scary supercollider to open a black hole. We won't spoil things for you, but why he is doing it isn't your run-of-the-mill excuse of "I want to take over the world! Bwahahaha!". Miles finds himself having to work with the Spider-Man from his universe, albeit a bit briefly, before teaming up with Peter B. Parker (Jake Johnson), Gwen Stacy (Hailee Steinfeld), Spider-Man Noir (Nicolas Cage), Spider-Ham (John Mulaney) and Peni Parker (Kimiko Glenn) from other realities, to shut the supercollider down before it wreaks more havoc.
This approach of introducing many Spider-People may sound awesome within the pages of a comic book, but it is a risk to translate it for the big screen. Over-stuffing a movie with characters isn't exactly the wisest thing to do when viewers are experiencing fatigue from this genre. You may have all the budget to throw in A-listers and special effects, but the result may be a tiresome bore fest.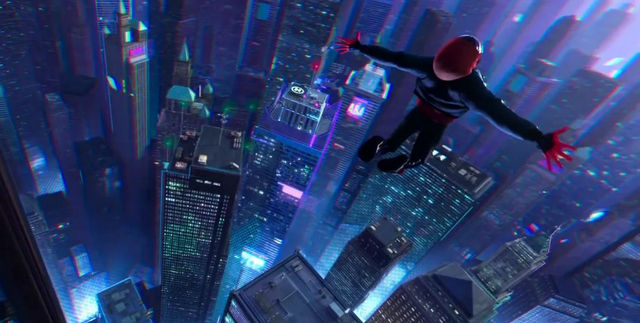 But the filmmakers know better than to churn out a movie that people will forget years down the road. Directed by Bob Persichetti, Peter Ramsey, and Rodney Rothman, the first thing that we want to applaud is the screenplay by Phil Lord and Rothman. It weaves in the various Spider-People and their unique personalities seamlessly. Miles is an earnest youngster who is eager to prove himself, while the version of Spidey here is a man with a beer belly after life caught up with him. Gwen is a spunky girl who lost her best friend, and we particularly love how the other three Spider-People are animated.
Spider-Man Noir (in cool 2D black-and-white) is dripping with dry wit, Peni Parker (drawn in anime style) is kawaii cute, while Spider-Ham (a great throwback to Looney Tunes cartoons) steals the show with his hilarious dialogue. Besides Kingpin, there are also other villains that are gorgeously animated: Prowler (Mahershala Ali), Doc Ock (Kathryn Hahn), Tombstone (Marvin "Krondon" Jones III) and Green Goblin (Jorma Taccone). Familiar characters like Mary Jane and Aunt May make appearances as well.
We have never been more impressed by how a superhero movie includes so many characters without making them sideshows. This movie has everything: excellent characterisation (we love all the Spider-People), intense thrills (animation allows the action sequences to come to life), humour (it dares to take digs at other Spider-Man movies), and most importantly, heart. This inspiring movie has made us all believe that each of us has what it takes to be Spider-Man.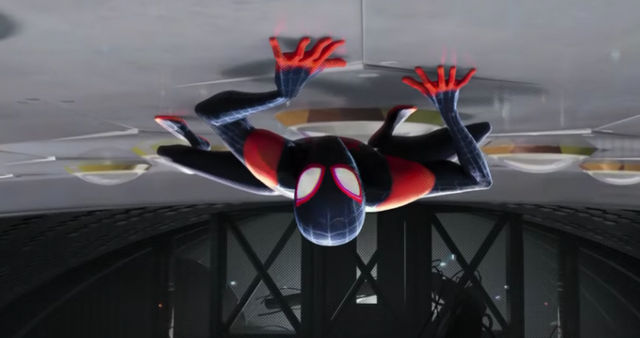 Oh, try not to tear when you see yet another of Stan Lee's posthumous cameo and a sweet end-credits note to thank the Spider-Man co-creator.
The other aspect worth mentioning is the film's animation technique. The unique look uses different styles and textures, while using text boxes and speech bubbles to fully exemplify the comic book story. It is an amazing piece of art that words can't describe.
This movie is an experience you have to see for yourself on the big screen. And yes, stay in your seat to catch a post-credits scene that opens up possibilities for future sequels. While this has become gimmicky over the years, this sequence is really making us anticipate the next instalment from this groundbreaking franchise.
Bring on more Spider-People! And don't forget to stay till after the end credits for a bonus scene.
GEEK REVIEW SCORE
Summary
Into the Spider-Verse is about the Spider-Man you never knew existed. It has the action, humour, heart and soul of who and what Spider-Man is, mixes it in with new Spidey characters who prove to be endearing in what little screen time they have, and just as the movie ends, it hits you – the "real" Spider-Man is not even in this movie, and doesn't need to be. Stand aside, Tobey, Andrew and Tom.
Overall
9.2/10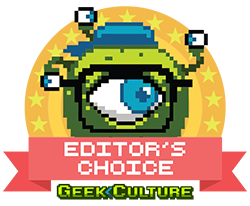 Animation -

9.5/10

Story -

8.5/10

Direction -

9.5/10

Characterisation -

9/10

Geek Satisfaction -

9.5/10
---

Drop a Facebook comment below!