Imagine this – you wake up with a nasty bout of morning breath, but you think to yourself, "It can't be that bad", and blame it on the garlic that you had the night before. But smell builds up in your mask after a while, and you are assaulted by the stench of halitosis that lingers even after your morning teeth-brushing routine.
The SOOCAS Spark Electric Toothbrush offers a solution to cleaning hard-to-reach crevices in the mouth for improved hygiene. The inexpensive and compact sonic toothbrush is perfect for starters and travellers, producing 30,000 vibrations per minute that can remove five times more plaque as compared to a manual toothbrush – on paper, at least.
Unlike the brand's other variations of electric toothbrushes, SOOCAS claims the Spark is the size of a manual toothbrush, measuring 8.97 inches tall and 0.63 inches in diameter, which is smaller than the standard build that can go as tall as 11 inches and over an inch wide. It's perfect as a carry on and the leaner form factor doesn't mean that build quality has been compromised either.
With an aluminium shell and a detachable plastic case, the toothbrush is extremely sturdy and holds up well against flex. Capable of withstanding drops from high places, it's designed to be durable and has a IPX-8 water resistance rating to survive lengthy shower times.
At the base of the toothbrush is a detachable plastic cover that houses a USB-C port for charging the device. A USB-C cable is also included, with the LED ring around the rim of the toothbrush acting as a battery status indicator. A flashing red light indicates that battery levels are low, and charging it up from an empty tank would take around two hours. Once fully charged, it can last up to 40 days but mileage varies depending on how often you brush daily.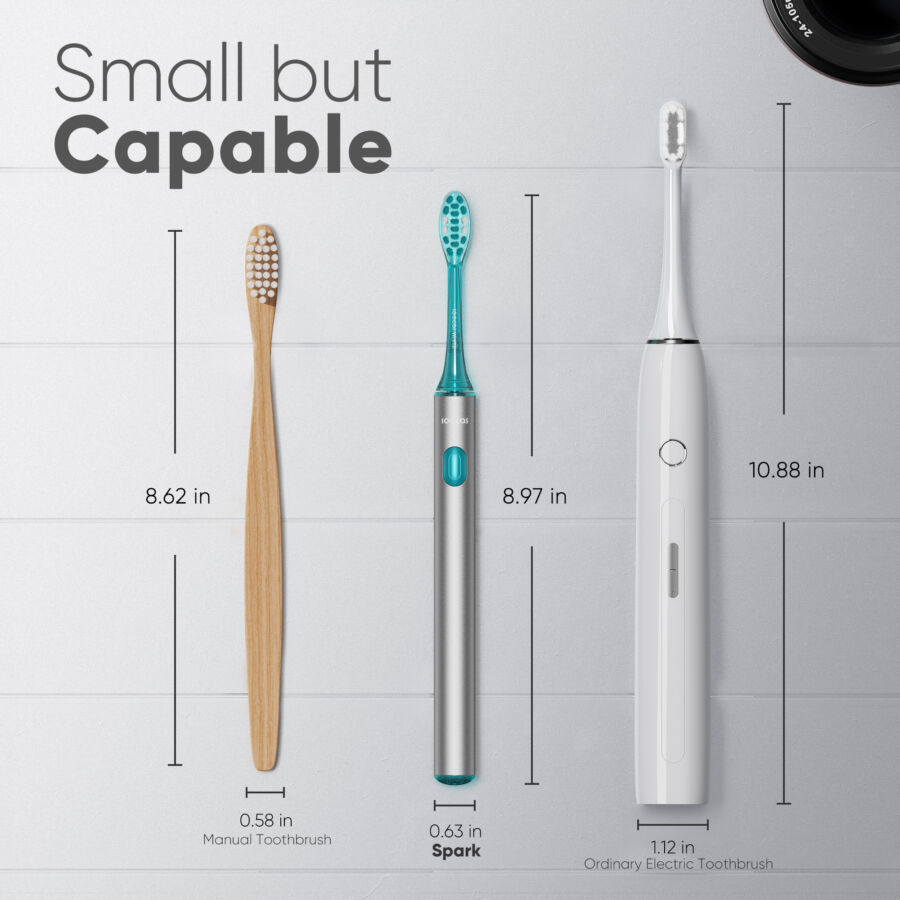 Activating the toothbrush is as simple as pressing the only power button on its body to switch between 2 modes: Cleaning and Gentle. The detachable toothbrush head uses soft DuPoint bristles built to be durable yet gentle on the teeth and gums, but real-world use puts them more towards medium hardness that become more seasoned after a few cycles of brushing.
The two modes, meanwhile, offer more options for users. Gentle mode, with its lower frequencies, is more suited for newcomers, kids, or those with sensitive teeth and gums, whereas long-time users should feel comfortable with Cleaning mode. No matter the pick, the Spark comes with a timer that sends a reminder to switch zones every 30 seconds with a flash on the LED ring and a slight vibration pause.
What sets a good electric toothbrush apart is its cleaning performance, and this is where some users might find the Spark lacking. Granted, for its price, it still delivers better results than the typical manual toothbrush, because the bristles can easily reach the spaces in between the molar. For those who own advanced electric toothbrushes, or are aggressive brushers, the lack of power may take away some of the appeal.
SOOCAS claims that the Spark holds a 40-day battery life, and it does seem to hold its weight here. At full charge, the electric toothbrush managed to last through 21 days of twice or thrice-a-day brushing cycles, and continues to put up a strong showing without any sluggishness in battery performance.
The SOOCAS Spark retails for US$59.99, which makes it an affordable option as compared to the bigger builds. It's a no-frills toothbrush that gets the job done, with a brush head that finds its replacement in the form of a four-piece pack for US$29.99. With these more durable DuPont brush heads, you can expect a longer life than a manual one. Replacing them every three to four months comes highly recommended, but as a general guide, they should be replaced once there's a drop in cleanliness performance. Let intuition be your guide.
The SOOCAS Spark gets the job done – and does it well. A well-built, solid electric toothbrush, it offers features that are perfect for those who are just getting started on their electric toothbrush journey, with its compact, sleek design making it the ideal companion for frequent travellers.
GEEK REVIEW SCORE
Summary
For its price, the SOOCAS Spark is one electric toothbrush that does stand out from its competitors and holds great value.
Build Quality -

8/10

Performance -

7/10

Value -

7.5/10

Geek Satisfaction -

7/10