Audio peripherals are a huge market, with brands coming up with the latest earbuds, headphones and speakers. Adding the phrase 'Gaming' in front of them, and you have a brand new category to cus on, but naturally, Sony is looking at leading, not following, the pack, which is why it has launched the latest for the niche segment known as wearable neckband speakers.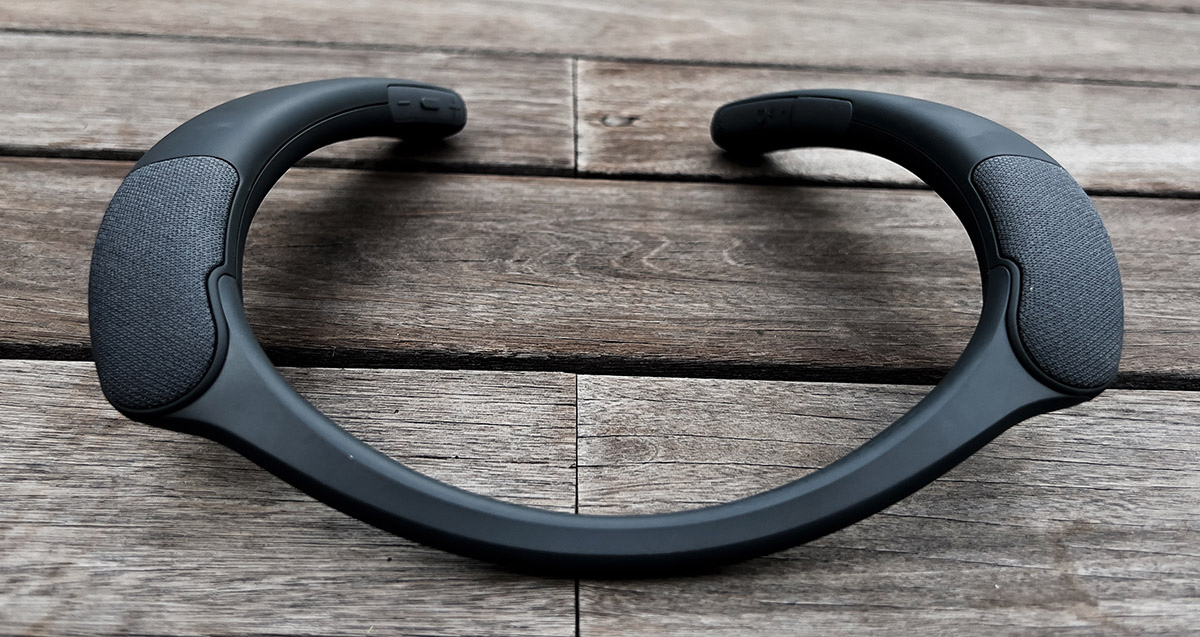 Sony and Bose have been two companies that have been periodically releasing such devices for the past few years, and while they work as described and can produce fantastic audio at times, they haven't seemed to capture a large market of audio enthusiasts. In comes the SRS-NB10 Wireless Neckband Speaker that aims to bring a more lightweight, wearable speaker that goes beyond your house or office.
So what are neckband speakers? Instead of getting up close and personal with earbuds and headphones, or audio levels enough to fill a small room, these sit somewhere in the middle, with a loop that sits nicely on your shoulders around your neck. There are upward-facing speakers on each side, offering acoustics for your personal pleasure, without the presence of anything in or on your ears.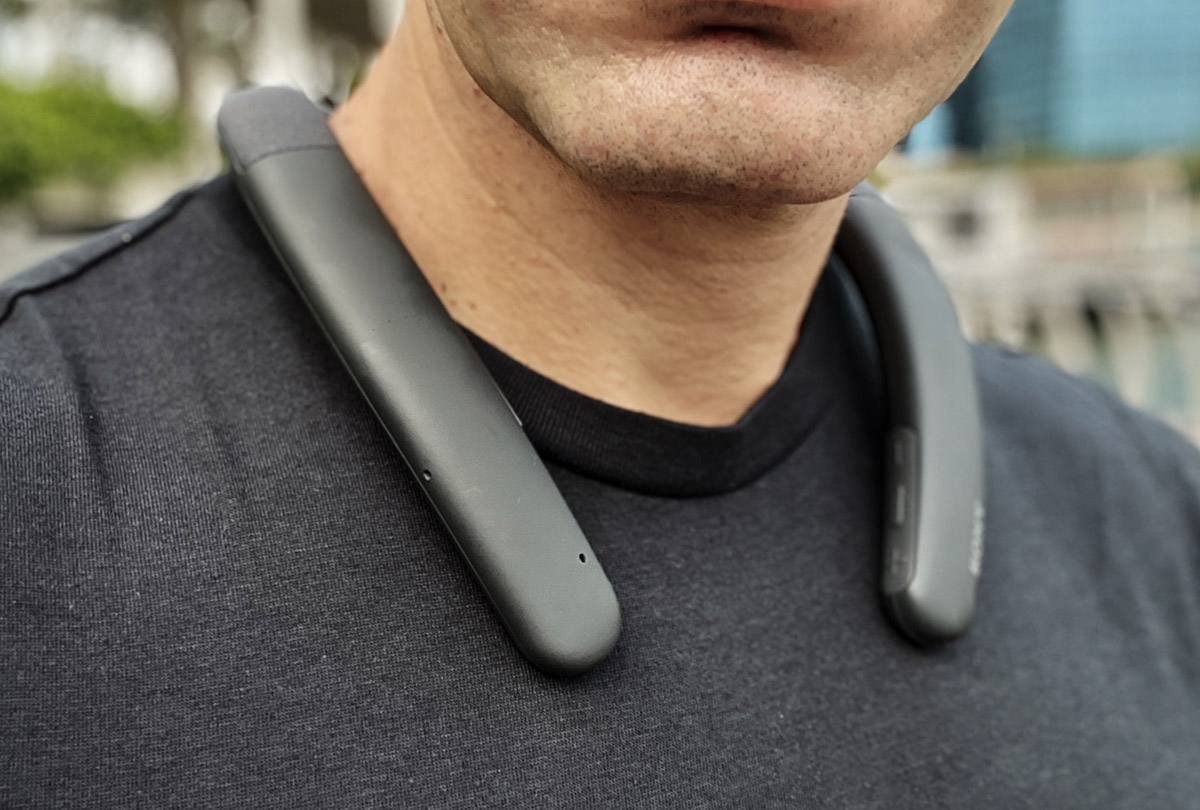 Having tested the NB10's for the past couple of weeks, we can definitively say these are versatile, but also not without some caveats. The weight, at 113g, feel fantastic around the neck for long wear times, especially outside walking or doing non intensive activities. As these neckbands are IPX4 rated, and lightweight, they are designed to be taken outside comfortably, unlike the offering from Bose or even Sony's NS7.
The NB10 is completely made from plastic composites, which have a soft rubber touch to the longer areas that contour to your shoulder, and a harder plastic for the neck area. The band that contours to the back of the neck has slight ridges to help keep the band in place, and while flexible, cannot bend or be molded to a particular position.
On the top of each side are the speaker grills, which are exposed but due to the IPX4 rating, offer some protection in case rainwater or sweat drops on them. It seems like Sony loves the Charcoal Grey or White colour options, and as always, we opt for the grey as they do a better job of hiding scuff marks or dirt over time.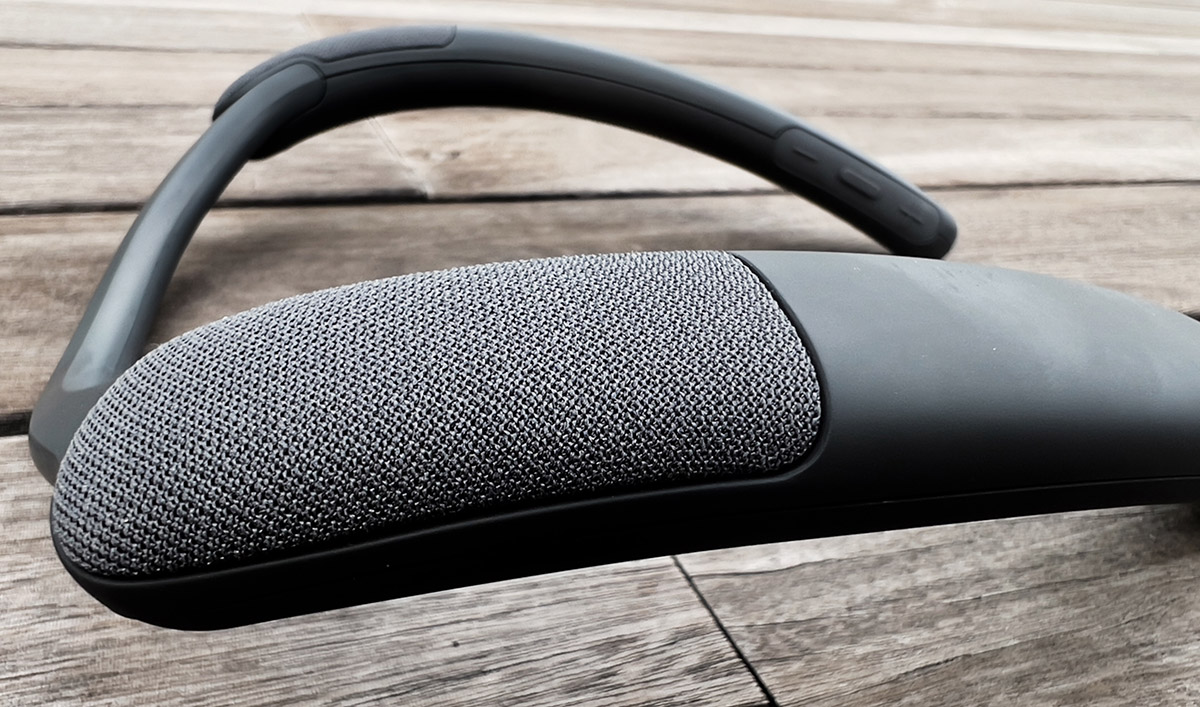 So how do they work? the controls are relatively simple with Plus, Minus, Stop/ Pause buttons on the left side and a power button on the right side. All controls are placed on the inside of the neckband, which makes sense as you can support the band with your thumb and use your index finger to select the appropriate button. In addition, the USB-C charging port is placed next to the power button and covered with a rubber cap to protect it from water, dust, etc.
Connectivity to an iPhone or Android device via Bluetooth is fast and simple with no issues with either platform. Range is fantastic, allowing us to set our phone in one room and walk around a 2,000 sq ft office without much interruption. Now this is subject to the design of your home or office, but we found the range to be superior to many other wireless devices we have used in this segment.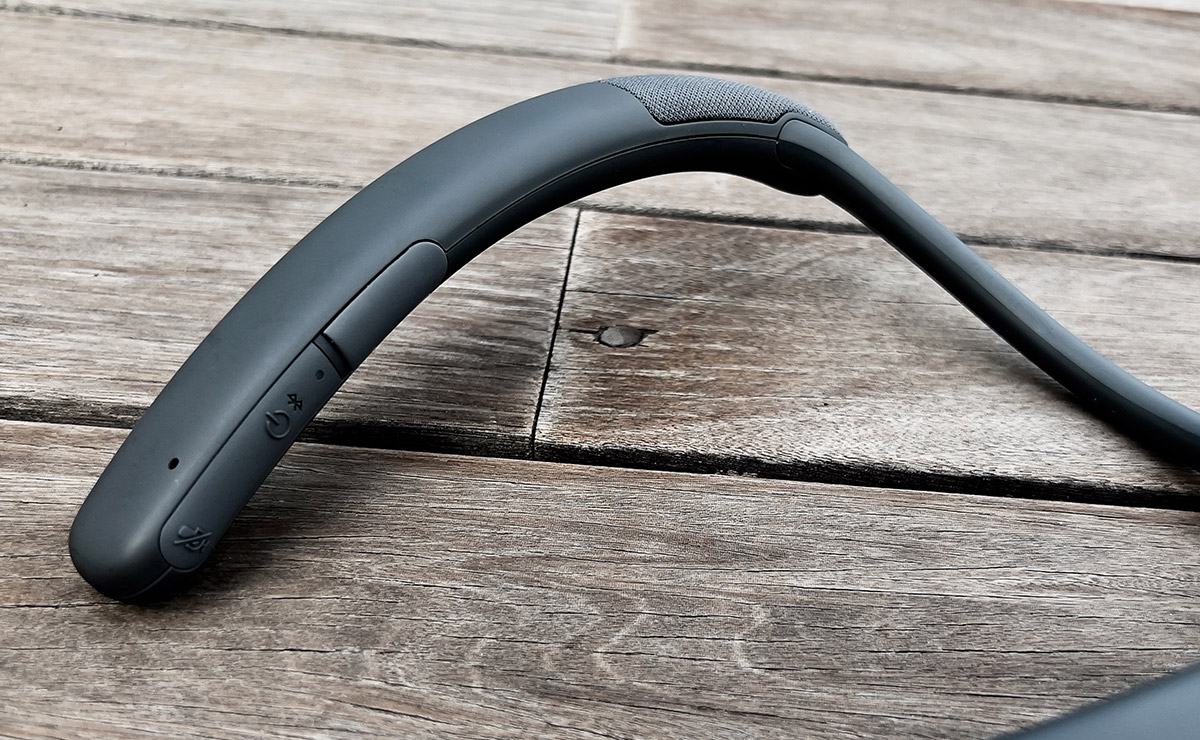 Audio-wise though, it's a different experience from headphones and where the NB10 doesn't quite hit the mark. The lack of bass is apparent right from the get-go, resulting in some of the most underwhelming audio we have heard in a while, which is surprising based on Sony's track record for excellent audio reproduction in various speakers, headphones, and earbuds.
Having said that, if you just want to have some music in the background, listen to podcasts, spoken word and use for web conferences or phone conversations, these work well for that, but don't go in expecting the NB10 to replace your WH-1000XM4 or WF-1000XM4. 
The Sony SRS-NB10 Wireless Neckband Speaker does open up a lot of options for users, especially those that don't want to wear something over their head for long periods of time or in their ears. We have found the battery life to be comparable to most high-end wireless headphones, coming in around 20 hours on a single charge and with a quick charge of 10 min, one will get 1 hour of audio which is a welcomed feature.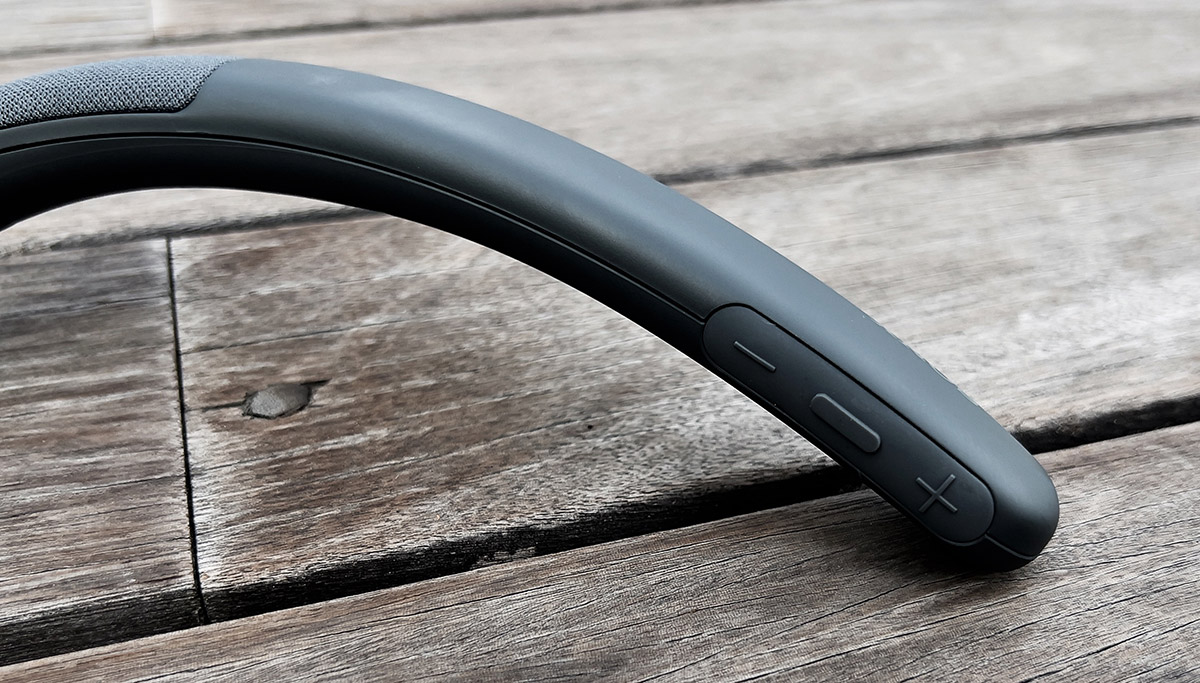 The volume level in a quiet room is fine but in a crowded environment, we found the maximum volume to be not as good but then again, we won't recommend you wear these in crowded places as folks around you will be able to hear what you are listening to. When volume is set to 50%, the audio isolation is relatively good considering the design and placement of the speakers which are essentially right behind your ears, though at neck level.
The splash-proof design of these neckbands does make going outside with them much easier, but due to the lack of adjustment on the neckband, jogging or anything strenuous may not be the most ideal due to comfort and fit. With the outdoor activities of walking and cycling, the NB10 performed well as audio devices offering some level of ambient acoustics.
They do take some getting used to, like having a personalised speaker trailing you everywhere. We won't recommend using them in public or on the bus, but it's a good accessory to have around the house while you're listening to conference calls, and need to focus on other things as well.
GEEK REVIEW SCORE
Summary
The Sony SRS-NB10 Wireless Neckband is a product many may not initially gravitate towards or even know about, but some brands seem to think there is potential here. If your audio preferences are more towards the spoken word or just want to hear something with decent volume these are a great option.
Aesthetics -

7/10

Build Quality -

8/10

Performance -

8/10

Value -

8/10

Geek Satisfaction -

7/10
Pros
Lightweight
Comfort
Battery life
IPX4 rated
Good voice pickup
Cons
Lack of bass
No 360 Spatial Sound
Low max volume
Lack of adjustment