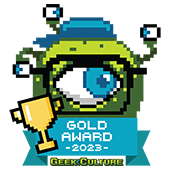 Picking up a TV for the home used to be a simple affair – you measure the dimensions of your display console, pick a panel, look at a few brands and commit. These days, you have to consider operating systems, ecosystem support, and a slew of other smart TV features you may want to consider adopting. Not everything will catch on (3D TVs anyone?) and buying a new TV is pretty much a tricky proposition these days, but if your main aim is to have a sharp display that produces the greatest details and resolution, there are only a small handful of TV manufacturers invested in perfecting the technology, and one of them is Korean tech giant, Samsung.
Their key push is their new QD-OLED display, which is tech slated to compete with LG's dominance in the space; this might be the panel technology for folks to sit up and take notice.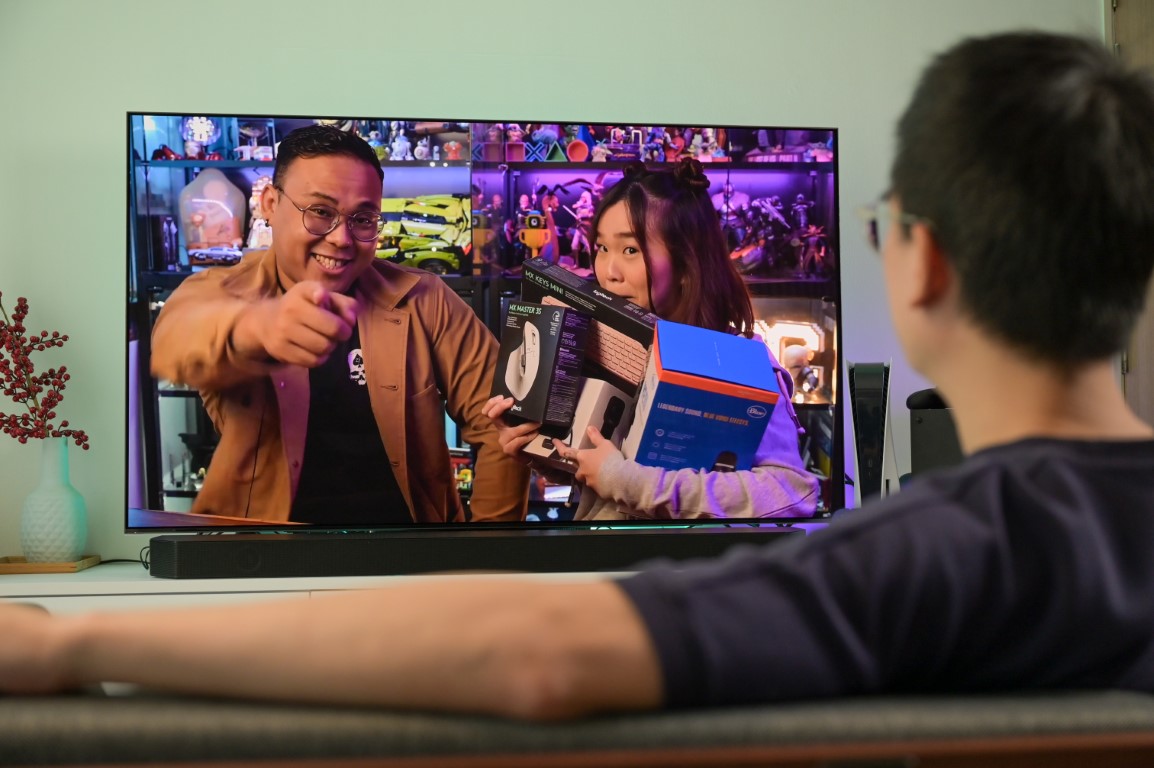 Offering a sharper screen over traditional LED, and at a compelling price compared to OLEDs, QD-LED displays have been adopted on monitors, including on the Alienware AQ3423DW, and are now anchoring the Samsung TV line-up, and the Samsung S95B QD-OLED TV takes the same piece of hardware, pumps up the dimensions and adds on the Korean Chaebol's flair and design, moving from your study room to the living room.
With ultra slim bezels, this 65-inch beauty measures just 1444.3 x 897.6 x 288.2 mm (WxHxD), offering a frameless presentation with Netflix shows and video games. With a barely there 5mm thick display frame, the TV's only body is a small 15cm x 15 cm frame that houses the ports for the unit – 4 X HDMI 2.1 and 2 X USB ports, optical audio, and ethernet port. Located in the rear of the right side, it's easy to reach behind without having to move the TV, especially for home where you don't have space to shift the beast around.
Samsung has spent some effort in redesigning the connectors, removing the external TV box that dominated its previous models though it's still the norm for larger models. In a way, it makes sense as you don't want to shift the 65-inch screen just to connect an Apple TV to it.
The one area it hasn't really caught up is with the Tizen OS, which strives to offer a smooth interface, but it's bogged down by traditional controls. Want to surf through different menus and shows? Be prepared to click through the controller multiple times. With multiple menu headers, a gesture or movement controller makes more sense especially if you want to smoothly rotate through audio and subtitle options for that Korean drama or Japanese anime.
As far as premium TVs go, this appliance meets the standards that we've come to know Samsung for when it comes to premium home appliances.
The first thing that everyone who buys this TV would be to check if updates are available on this TV. With the current 1302 firmware version on our 65-inch review unit, the TV has its "Filmmaker Mode" picture setting toned down a fair bit in terms of brightness.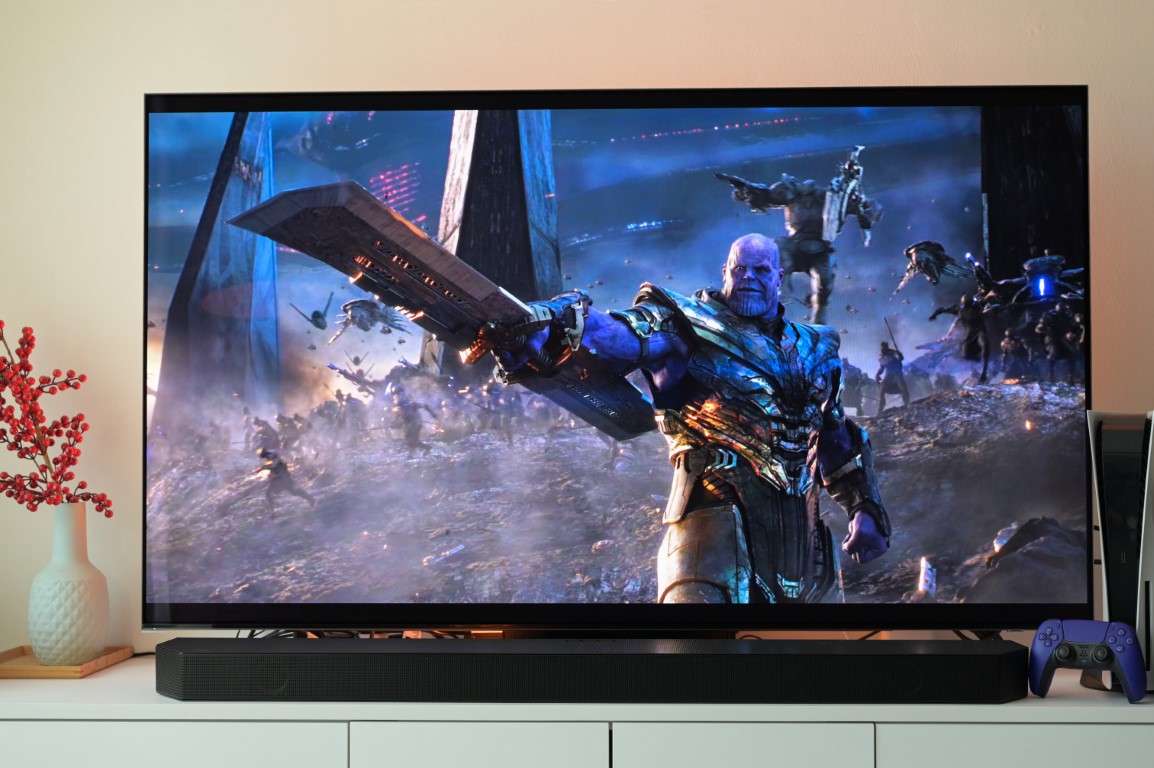 By default, Samsung has turned on "Intelligent Mode" which adjusts the 3840 x 2160 display into one that calibrates the content on the screen to be brighter and vibrant. This might not always suit one's taste so make sure to test it out with your favourite content.
For example, we found that this TV really brought out the details for Avengers: Endgame especially when it came to the final battle scene. The improvements are visible with the yellows of the flames when the Avengers Headquarters was reduced to rubble and the reds when Hawkeye is running away from Outriders in the tunnel on "Intelligent Mode".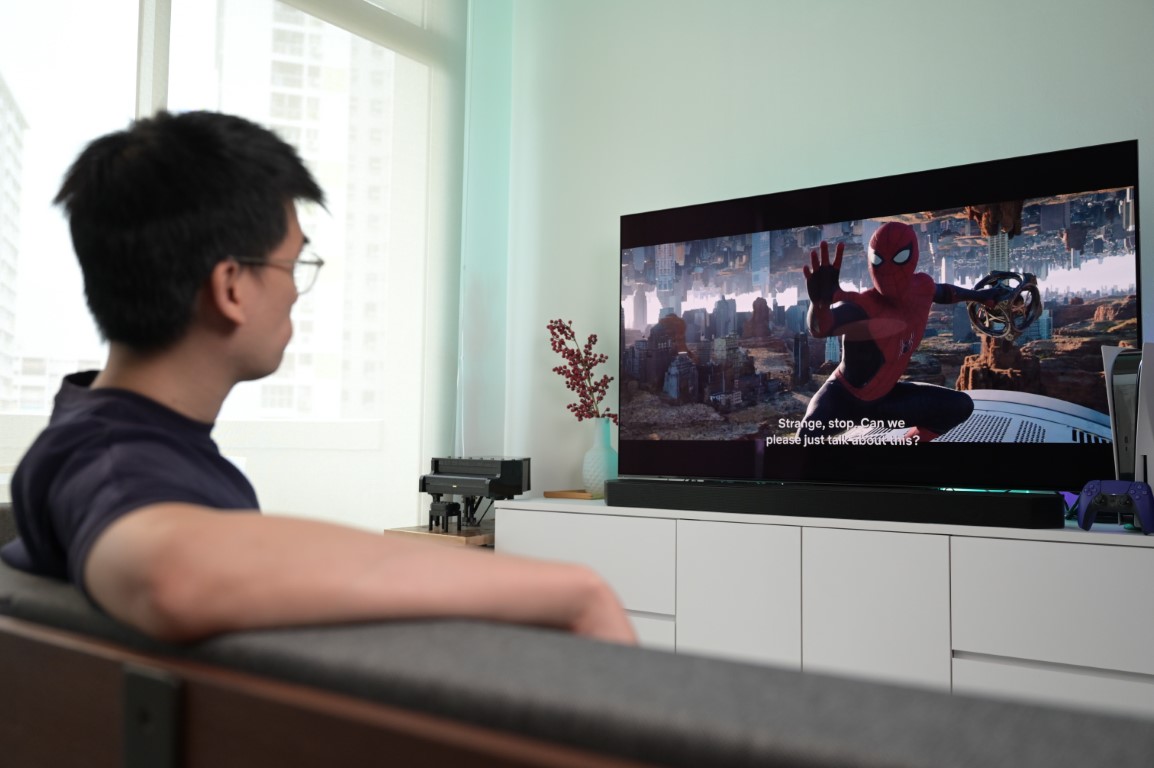 However, when it comes to Umbrella Academy Season 3, toggling towards "Filmmaker Mode" suits the content much better overall as the show is colour graded well and artificially colour-boosting scenes do the scene no additional favours.
With "Intelligent Mode" off, the TV gives you access to three more options in the form of "Dynamic", "Standard", "Movie", on top of "Filmmaker Mode". In our video above, you've able to see how each mode differs. The brightest and vibrant mode would be "Dynamic" and you're able to further tweak the picture settings if required.
No matter which angle you're looking at, the Samsung S95B looks great overall though you'd need to be mindful that the screen can be rather glossy. However, having used the TV in a bright living room, reflections are not apparent once the content is projected on the screen.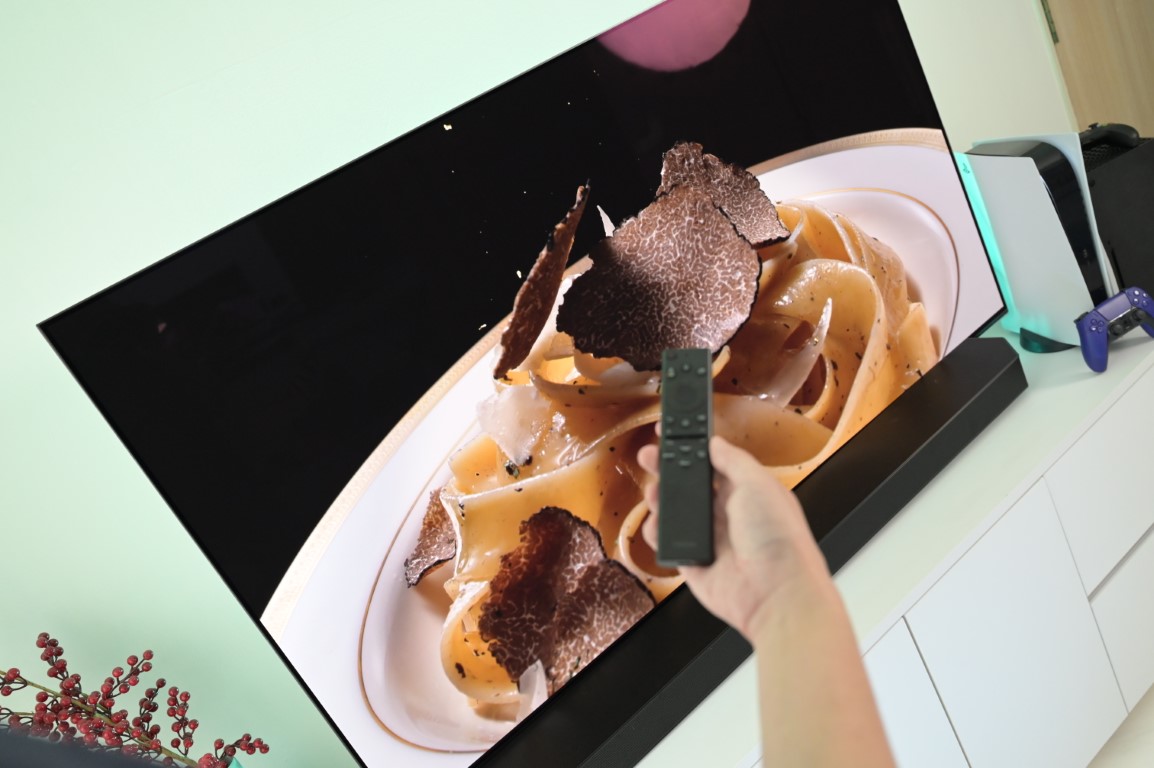 Ultimately, how one consumes content on the TV is a highly personal choice so be sure to try out all the various toggles to suit your taste. For the most part, in all the content we've tried on the Samsung S95B, every piece of content looks stellar, and, perhaps, you'd find yourself hours later wondering where all that time went after marvelling at the screen.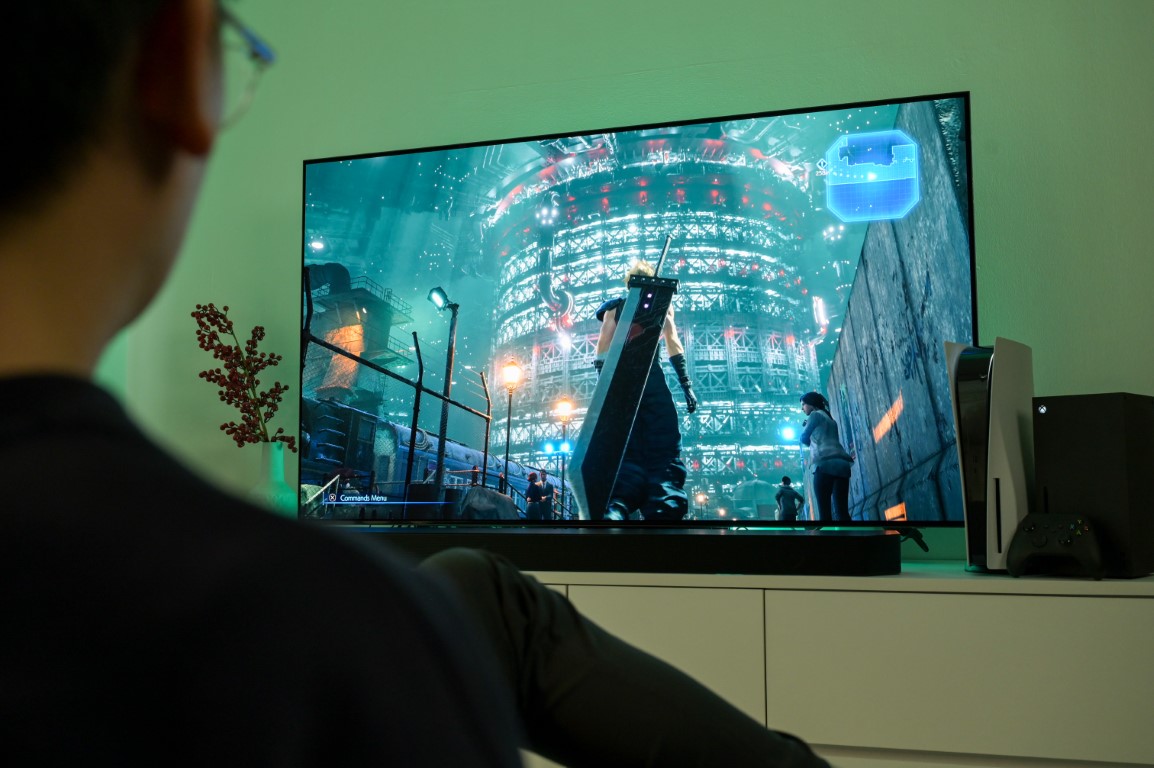 How this all works in comparison to OLEDs, QD-OLED's blue OLED material is deployed to light up pixels that contain red and green quantum dots. Traditionally, OLEDs use a white backlight to illuminate these pixels and go through a filter. For QD-OLEDs, no such filters exist thus resulting in an overall brighter picture overall.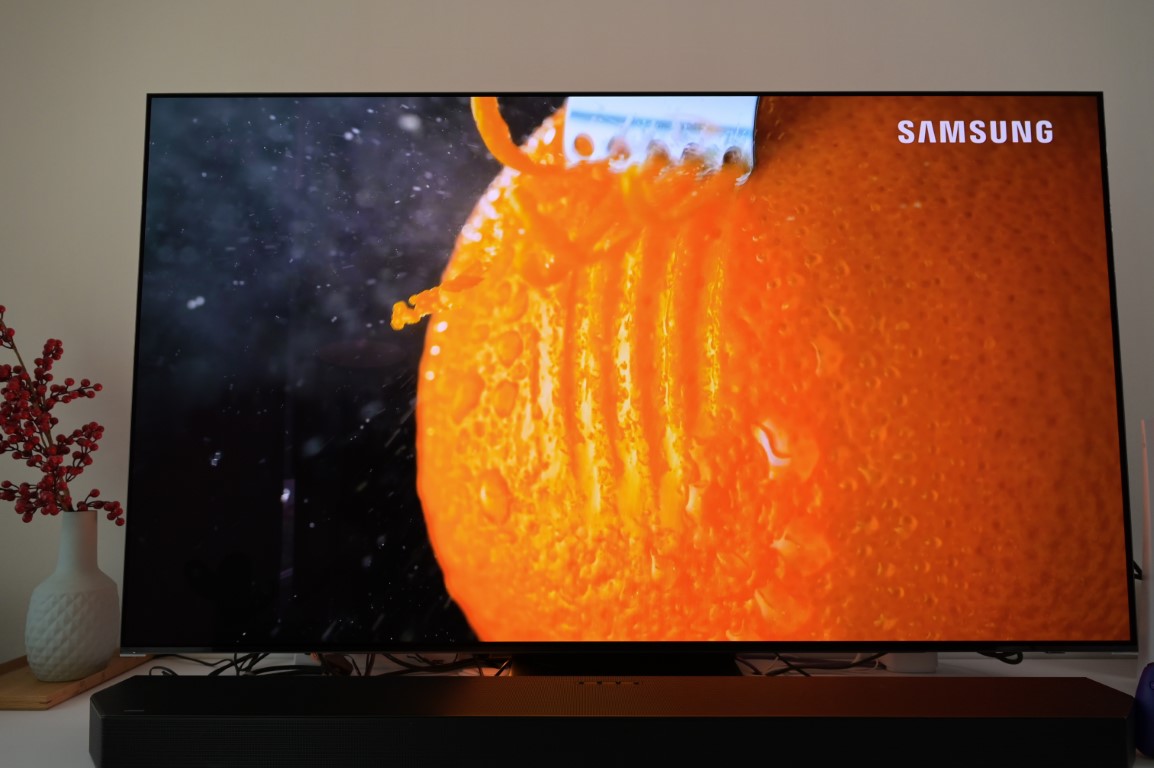 When it comes to the Samsung S95B TV it would seem that Samsung is sticking to its claim. At first glance, users will be amazed at how bright this television is overall while retaining the rich blacks found in an OLED and the brightness of an LED with no loss in picture quality.
Audio-wise, TVs with such a small frame struggle when it comes to project sound to fill the room. The TV is equipped with 60W 2.2.2 CH speakers to complement the display. As a result, the TV's audio balance is solid overall and if you'd like there's even an equalizer to give users more control and achieve their preferred audio settings. However, to get the best out of the TV, it's recommended to pair this along with a Samsung soundbar. The Samsung Q990B soundbar allows one to unlock the Q-Symphony function and make full use of all available speakers from both the Samsung S95B and the soundbar.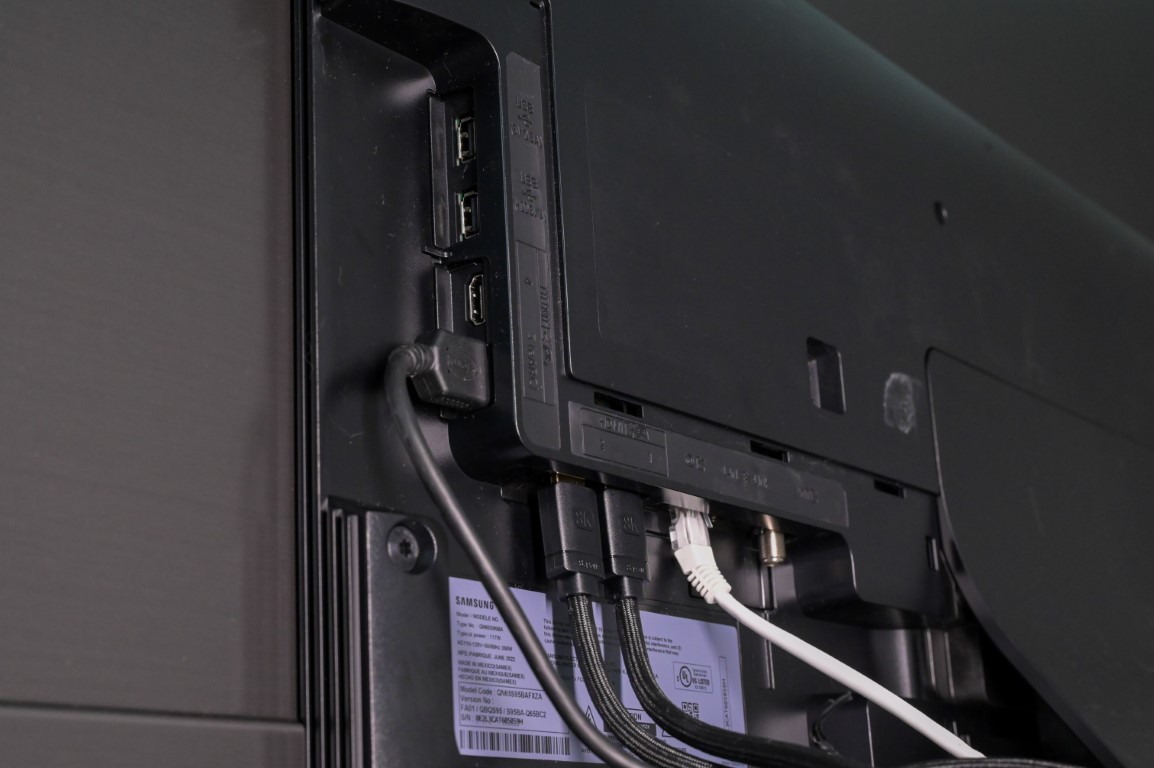 One of the more important aspects of the TV is that it comes with 4 HDMI 2.1 ports for all your modern devices so Samsung is cutting no corners here in futureproofing their TV. These ports are placed near the which corner of the TV, allowing easy access behind the incredibly slim display.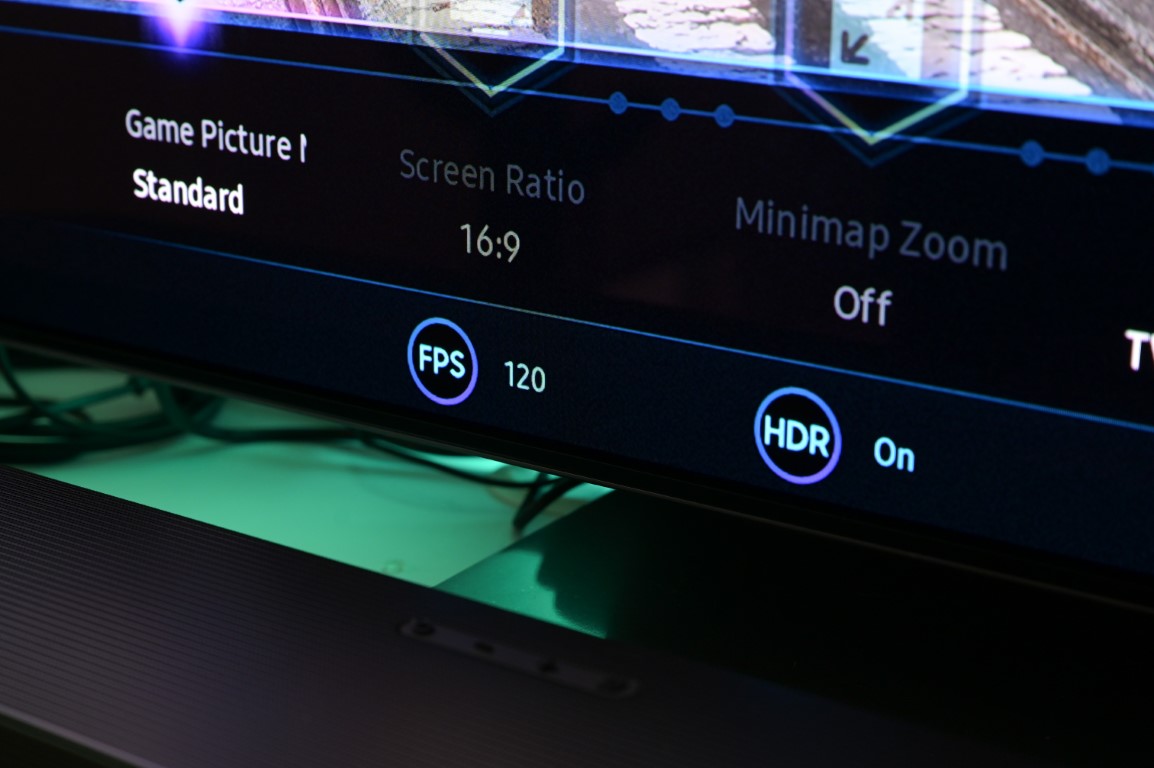 Equipped with Auto Game Mode and Variance Refresh Rate, the Samsung S95B TV is one of the best televisions to play video games on. For the PlayStation 5 and Xbox Series X owner, you'd be able to enjoy content with consistent 120Hz. When the console is plugged in, the TV automatically presents a gaming UI that allows one to see the consistency of frames with a counter. In addition, plugging in a PC allows the TV to toggle from the default 16:9 aspect ratio and offer widescreen options in the form of 21:9 or 32:9.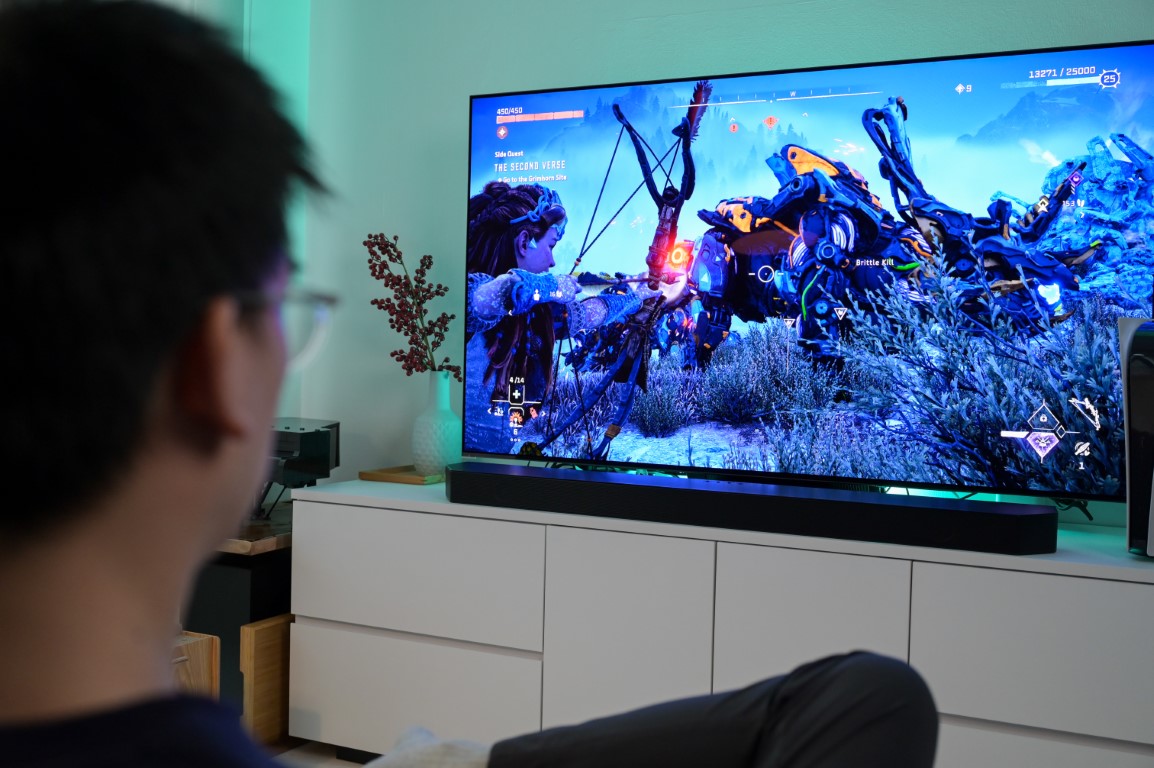 However, to really make the most of these aspect ratios, it's much preferred if the screen is curved to optimize the display. Otherwise, gaming at 16:9 works perfectly fine, especially at a distance.
The main drawback with this TV is that the UI can be especially tricky to navigate and it can take some time to get used to especially if you're more familiar with other TV brands. Running on Tizen OS, the biggest departure from the norm that one would immediately notice would be how the UI labels the different devices plugged into the TV.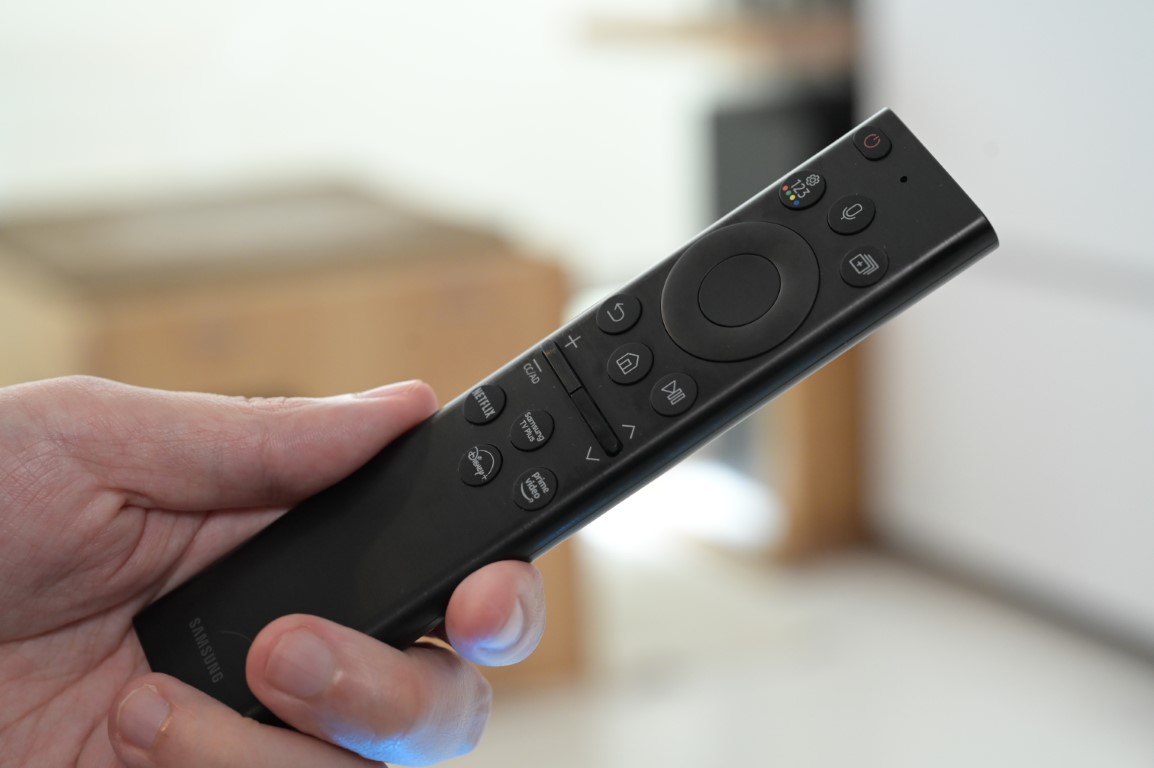 For most, "input" is the most widely used term to identify each device. Instead, the Samsung S95B prefers to group all of these devices under "connected devices" which can be confusing the first time around. However, once you've plugged in your devices for the first time, a nice tile appears on the home screen allowing you to skip the additional input and pick it up right away from boot up.
It would be wise to spend some time figuring out how deep some of these menus go and also see if you can access certain toggles from the settings shortcut via the pop-up menu. Outside of that, the television would be high on your shortlist if you're in the market for one provided you can afford one.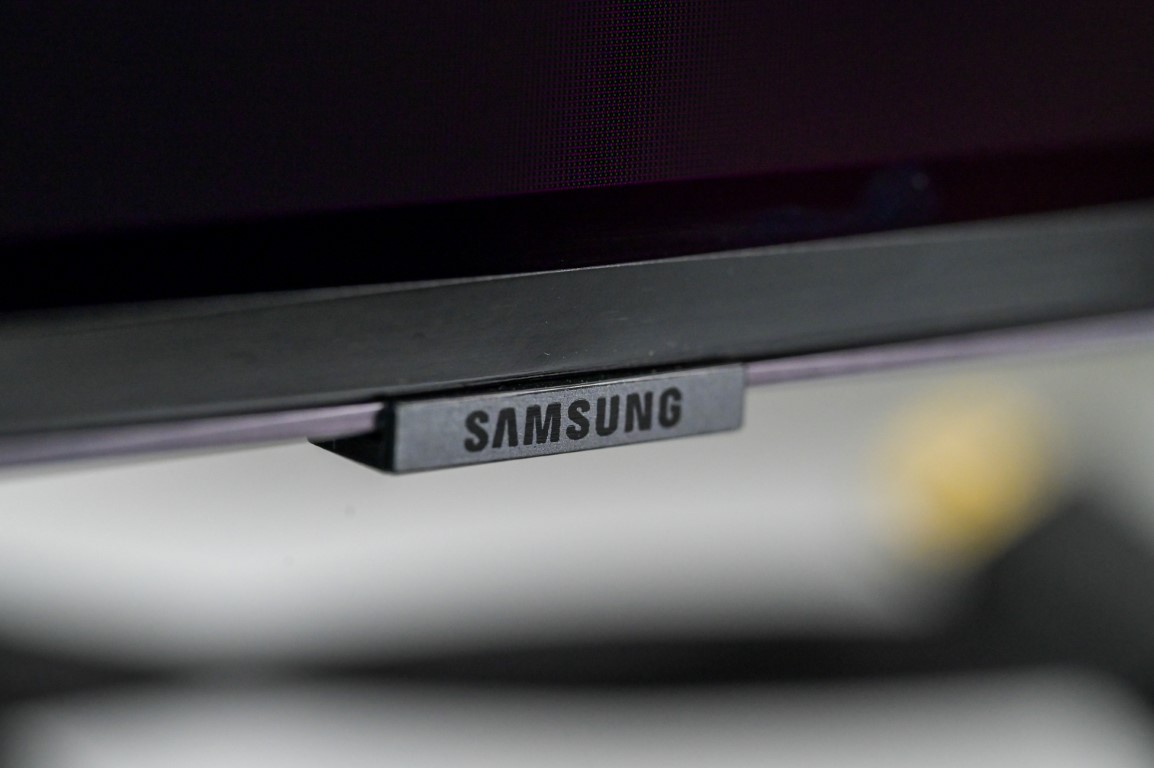 With a great display that blows away all expectations especially when it comes to new tech the only biggest hurdle right now will be in the realm of price. Samsung is retailing the TV in 2 models with the 55-inch at an SRP of S$3899 (US$1999) and S$5399 (US$2599) for the 65-inch model. We're certain the eventual sticker price might be lower once it hits stores and it might be worth a trip down to see the display with your own eyes.
Right now, if you're looking to get a new television, the Samsung S95B QD-OLED pretty much checks all the boxes one should expect from a TV in 2022. If you're really keen to see how this TV performs in real life, do check out our video above and see it for yourself.
Do check out Samsung's official site for more info and availability as they might have plenty of tricks up their sleeves as the battle for 2022 TV supremacy is only just getting started.
GEEK REVIEW SCORE
Summary
While QD-OLED tech might be relatively new to the market, having put both TV  and monitor through its paces, we're confident that the consistency in performance is no fluke. If getting a new TV is in the works then the Samsung S95B QD-OLED TV is definitely one of the top picks for 2022.
Overall
9.1/10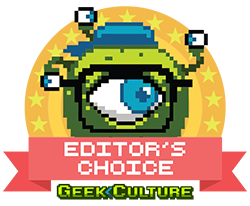 Aesthetics -

9/10

Build Quality -

9.5/10

Performance -

9/10

Value -

8/10

Geek Satisfaction -

10/10
Gerald currently straddles between his love of video games and board gaming. There's nothing that interests him more than trying out the newest and fanciest gadget in town as well. He dreams of publishing a board game sometime in the future!