6,000 steps. That's the default goal that the latest Samsung Gear Sport wants users to achieve, in a bid for better health. It might not sound like much, but hitting that mark might be a tad tricky if you're an office-bound individual.
But that's what Samsung's latest fitness tracker is aiming for, and in some ways, it does help you get there.
Hardware wise, the Samsung Gear Sport looks like a watch first, and fitness tracker second. Packing a 360×360 and 302ppi circular display, Samsung's Super AMOLED technology shines as the screen looks great, even under bright sunlight. The display quality is sharp and crisp, with the colours of the display looking fantastic.
The first thing that users will immediately notice is how slim the watch is, compared to other Android smartwatches is in the market. At 67g (with the supplied strap), the watch unit sits nicely on the wrist, without having too much of a raised profile. While some might prefer a weightier package on the wrist, one must remember this watch is made for an active lifestyle, so comfort is a priority.
Unlike other smart trackers that make use of a touchscreen for navigation, the Gear Sport, like its predecessor, uses a rotating dial, which is a boon, compared to having to swipe through the screen. Rotating the bezel to navigate the cursor over an icon or item feels zippy, and you are more than likely to give it repeated spins, just because.
If you're in a meeting, twisting the dial to answer a can is way more subtle than pressing the buttons, or swiping through the screen. While the Samsung Gear Sport does allow for that, being able to swivel the bezel is a much more intuitive navigation too, as anyone is capable of scrolling through all the notifications, and make a selection without making any major motions.
Outwardly, the design remains simple. Internally, there are plenty of features to cover. But like Samsung stuffing all it has into its phones, there is a limit here and it's pretty hard for anyone to incorporate all of them into their lifestyle.
The Korean chaebol has packed possibly everything one would need, such as fitness, calorie and even sleep-tracking, via Samsung's own Samsung Health App, contactless payments with Samsung Pay, and even offline music playback via the watch running Spotify. It even manages to squeeze swim session tracking, as well as being water resistant up to 50m.
While it is a nice touch, it was rather cumbersome to actually have a watch in the pool measuring laps. It certainly needs a good amount of time to get used to, and I found myself wanting to take it off after the third lap as it was too much of a distraction, especially if you prefer to swim freestyle.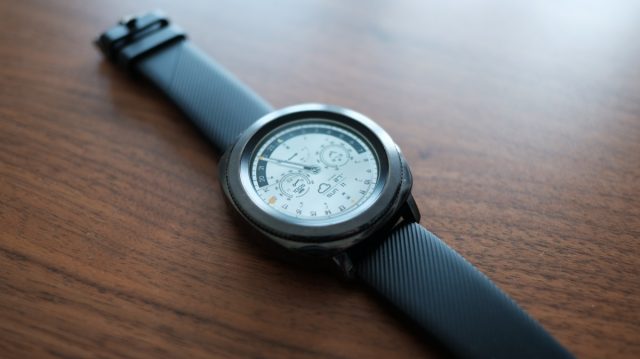 With GPS inbuilt, the Samsung Gear Sport is also friendly with a whole suite of third-party fitness apps such as Fitbit, Jawbone, Microsoft Health, Strava, and Runkeeper. That said, the watch certainly works best with the main Samsung Health app. One glaring omission would be the watch being unable to sync with Google's own Fit app. Despite this minor issue, Samsung has made quite the effort to work well with others, and not force users to solely rely on their apps. However, this comes at a small cost.
If users are planning to get this watch to pair with their own non-Samsung Android phone, be prepared to spend a good moment installing a whole suite of apps. With no less than six apps (at least you'd need an app for health, pay, watch control) being installed at the start, it can put quite a damper when unboxing your new toy.
Thankfully, if you're ingrained into the Samsung ecosystem with the appropriate Samsung phone, all is good and their own Samsung Health app is pretty robust for the everyday user.
Imagine this, you're out for a run and all you need is a watch and perhaps a pair of Bluetooth headphones accompanying the exercise session. All of your activities are tracked accurately using GPS, and you're able to select your exercise type (running, cycling, swimming) with a quick swivel. Once you're done with the session, you could pay for a drink using the watch as well.
All this takes place without the need for a phone by your side. Considering that most fitness devices require a phone to unlock most of the complementary exercise activities, the Samsung Gear Sport has made it possible for users to go as lightweight as possible.
Having cycled along the eastern coast of Singapore for about 35km, comparisons were made between the results recorded by the Samsung Gear Sport, to the Strava app used by a friend. Distance wise, the results were close in terms of the distance recorded, down to a variation of about 500m. Comparing to historical data on his Strava app, the Samsung Gear Sport was a bit inaccurate in this aspect.
If you're a stickler for accuracy, perhaps a more dedicated device might be in order. But to the average user, the Samsung Gear Sport should do fine.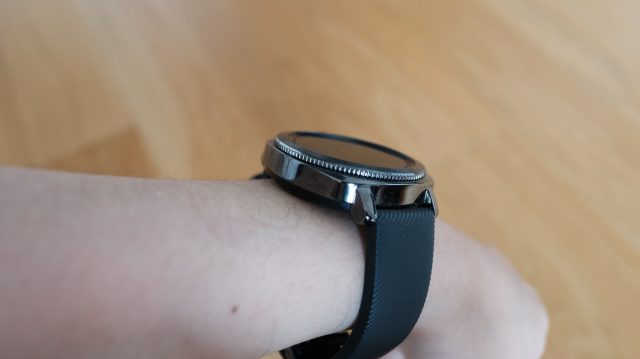 One point of contention with the Samsung Gear Sport and Samsung Health would be their lack of automation. Considering that even the Google Fit is able to distinguish between exercises such as running and cycling, the Samsung Gear Sport seems unremarkable in its inability to do so.
Users would have to manually activate, start and stop each session, in order for the activity to be accurately recorded. In 2018, we'd expect that using fitness devices should be a friction-free experience. In the same session, after getting off my bike and folding it into the taxi for the ride home, I had forgotten to log my ride. As a result, the Samsung Gear Sport and Samsung Health recorded me achieving the highest ever speeds on a bike, but they failed to check if it was an error. Guess, we'll just have to accept the small "wins" in life.
Despite the minor gripes of the watch, the Samsung Gear Sport shines where it counts.
R&D and time has given the Samsung Gear Sport much opportunity to improve on of the main pain points circling similar devices. With many active chat groups, along with others that can easily cross 500 messages in a single day, the watch was able to get at least 3 days of battery before it throws the white towel. It would not be impossible to even eke out four days of battery time if notifications were pruned down. Even at three days, that's plenty to work with for the average athlete.
With a generous battery life with the watch, the Samsung Gear Sport can also serve as a good tool to track your sleep. While most fitness devices do offer this feature, their position during the evenings would be off the wrist and charging for the next day. However, this pairing seems doomed from the start. Even if users were to turn off their notifications during the quiet hours of the night, the watch will continue to vibrate, with each message or email received. While you could always manually toggle the notifications off on the watch, it should not be the case. Imagine having the watch vibrate while you're sleeping, as the random texts come in during the wee hours of the night.
At its core, the Samsung Gear Sport, and Samsung Health work in perfect combination to help users form good habits in the pursuit of a healthier lifestyle. Being able to track all workouts, and even set a schedule to gently remind users that it's time for their daily workout, is a good companion in helping build positive habits. If only it was not so easy to dismiss the device's good intentions.
With no negative repercussions, the lack of a positive feedback loop is unlikely to create that daily grind to help users achieve their fitness goals.
The good thing about all these workouts would be the ease of which all exercise prompts are nicely displayed on the screen and you'd be able to make it through an entire workout session without having to reach for the phone. Having it all in one place is immensely helpful and prevents users from getting distracted with their phone. It's a small touch and reflects the careful care Samsung has brought into the Gear Sport's overall design.
At the end of the day and when the watch runs out of juice, Samsung has included a stylish wireless charger for Gear Sport to cradle on. Not many brands have actually made the effort to include this with their devices and it becomes a total dealmaker for myself. Without having to awkwardly plug in the watch to a micro USB or a similar sort, makes charging all the more a breeze. However, in the pursuit of design, that leaves little room for a backup. If the cradle is busted, there goes charging your watch.
Overall, the Samsung Gear Sport is a great device that should be the top of mind purchase pick for anyone owning a Samsung Android phone. It certainly works as advertised but you somehow feel for the price you paid for it should make an even bigger difference to your life.
At S$448, this device does come off as an exuberant purchase. However, if you're looking for a stylish watch and reliable performance, look no further than the Samsung Gear Sport.
GEEK REVIEW SCORE
Summary
Hampered by a huge sticker price, the Samsung Gear Sport has all you need in a modern smartwatch with fitness features. Get this at a reduced price and you'll be getting a stellar deal.
Aesthetics -

8/10

Build Quality -

9/10

Performance -

8/10

Value -

7/10

Geek Satisfaction -

8/10
Gerald currently straddles between his love of video games and board gaming. There's nothing that interests him more than trying out the newest and fanciest gadget in town as well. He dreams of publishing a board game sometime in the future!
---

Drop a Facebook comment below!

---