It's one thing to marry feature-packed functionality with high performance, and another to perfect the design craft. For the ROG Zephyrus series, the secret has always been rooted in balancing all three factors, where aesthetics, form, and function work together to offer an all-rounded experience. 
The refreshed 2023 iteration of the ROG Zephyrus M16 brings little change to the tried-and-tested formula, with the hardware infrastructure welcoming some improvements. Where its predecessor was powered by the NVIDIA RTX 30-series graphics cards, this upgraded offering boasts the even more formidable RTX 40-series GPUs, powered by Intel's latest 13th Gen i9 processor.
It can be difficult to distinguish one from the other, though. In line with its previous low-profile, minimalist aesthetic, the 19.9mm-thick laptop rocks the same unassuming and clean all-black chassis that tips the scales at 2.1 kg. The power inlet joins an HDMI 2.1 port, a USB 3.2 Type-A slot, a Thunderbolt 4 port with DisplayPort 1.4, and a 3.5mm audio jack on the left frame, while the right side is lined with 1 x microSD slot, 1 x USB 3.2 Type-A port, 1 x USB 3.2 Type-C port with DisplayPort 1.4, and a Kensington lock slot.
Booting up the AniMe Matrix external display adds some LED flair to an otherwise frills-free lid. While the feature has been around since 2020, this year's model is the first Zephyrus M16 to offer that extra bling, appearing as animated illustrations on its matte surface with overfiring finish. It's a nifty, stylish touch that doesn't necessarily translate to ostentatiousness, as users are free to express themselves through various options, from simple texts to flashy custom animation.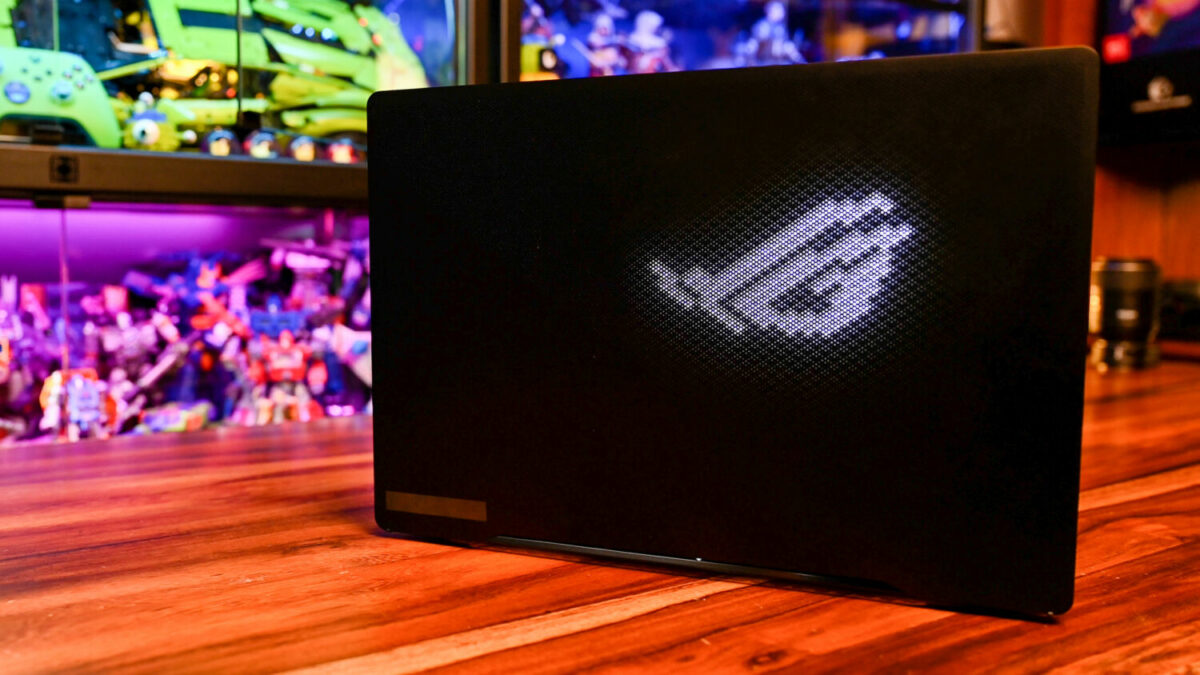 For those set on trimming the decorative fat, there are alternative models without the AniMe Matrix display. Likely to find the effects gimmicky, these individuals would rather invest in a more affordable option – and it's a well-warranted concern, given they won't be able to see the lights for the most part anyway.
Exerting pressure on the lid reveals little to no flex, and surprisingly, few fingerprints. Oil prints and smears are an industry-wide issue, so the lack of a fingerprint magnet is always welcome – however minor the concern may be. In general, the device feels solid, even if its body isn't as hardy as some of its bulkier counterparts on the market.
The actual viewing screen is no slouch, either. Armed with the brand's proprietary ROG Nebula display (2,560 x 1,600, WQXGA), the Zephyrus M16 is well capable of delivering crisp and vibrant colours, as well as sharp detail. Popping visuals, striking contrast, and deep blacks made for a delightful time in Hades and Cyberpunk 2077, with the 240Hz refresh rate and three-millisecond response time allowing for a fluid gameplay experience.
Indeed, there was no hint of screen tearing, stuttering, or input lag in fast-paced titles like Overwatch and Apex Legends. Part of the magic can be attributed to NVIDIA G-Sync support, but the heavy lifting is mostly done by a powerful RTX 4070 GPU and 13th Gen Intel Core i9 processors combination under the hood.
Joined by 1TB of memory and 16GB RAM, the powerhouse is something to behold when spurred into action. Gaming performance is easily the crown jewel here, with God of War, Control, and Red Dead Redemption 2 running smoothly at maximum settings. More impressively, it registered an average 60 frames per second (FPS) in Cyberpunk 2077 – one of the most GPU-demanding titles to date – at Ultra settings without DLSS.
The benchmarking results are also a testament to its competency in the field. In Time Spy, the Zephyrus M16 scored 11,794, which is above the 11,403 average across the same hardware, while PC Mark 10 clocked a 8,198 total (again, higher than the 7,582 average). Cinebench R23 ranked its CPU performance third on a list with similar configurations, beating out AMD's flagship Threadripper 1950X and another less powerful outfit with the same i9-13900H CPU. 
Great power and speed, however, comes at a cost. As hard as the device works to keep things cool with liquid metal, a vapour chamber, a heat sink, heat pipes, and fans, it still remains susceptible to warming up, especially when the AniMe Matrix display is active. It doesn't quite overheat, but there's a noticeable spot or two where the heat isn't dissipated entirely. Under heavy load, the whirring of the fans can get rather loud as well, though that's easily remedied by putting on headphones.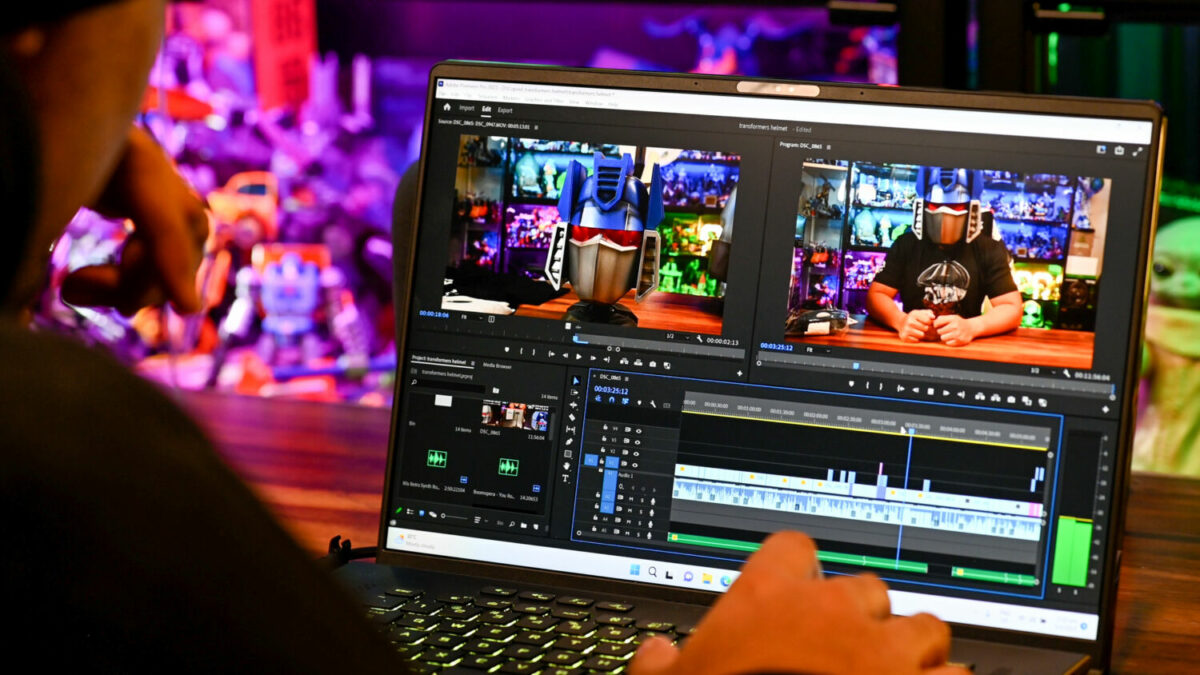 Battery life, too, takes a hit. This year's Zephyrus M16 boasts the same 90Wh capacity as its predecessor, and it's more of a drawback than a boon here. Divided between the more power-hungry nature of the RTX 4070 and AniMe Matrix feature, it tops out at around five hours of casual use, and turning the latter off doesn't really improve its endurance by much. It's very rare, but gaming on the battery isn't recommended at all, because the laptop won't be able to make it past the one-and-a-half hour mark in most titles at medium-and-higher settings.
For what it's worth, the Zephyrus M16 offers a solid, enjoyable typing experience and great built-in sound performance. The Chiclet-type keyboard comes armed with responsive, tactile, and snappy keys, with the speakers – comprising two 2W tweeters and one 2W dual-force woofer – lending a touch of crisp, loud, and distortion-free audio, even at high volumes.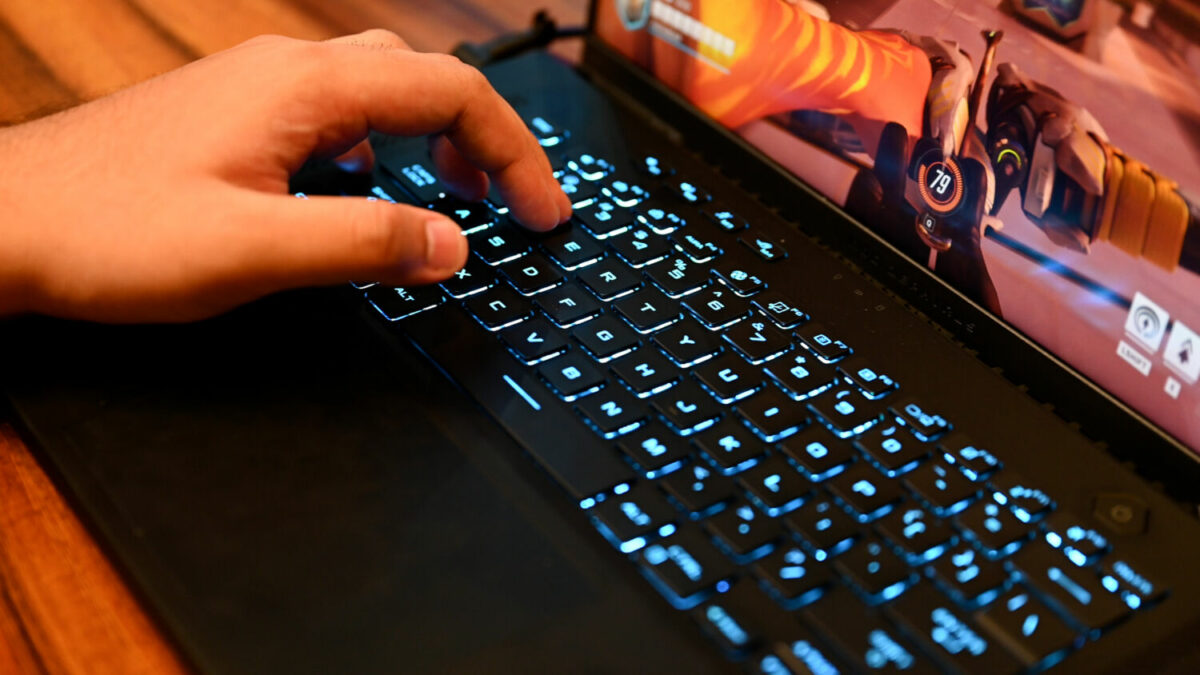 At S$3,998, the ROG Zephyrus M16 is a premium offering that packs all the punch of a desktop into a sleek, more compact form factor. The powerful trooper dazzles with its breathtaking visuals, pounds the GPU demands of any game into the ground, and pushes aesthetics – however gimmicky – past the industry's creativity conventions to leave much of the competition in the dust. The steep price, however, isn't for everyone, especially for those who are particular about battery life.
GEEK REVIEW SCORE
Summary
A gaming beast and desktop replacement rolled into one, the ROG Zephyrus M16 demonstrates its mastery in balancing performance, aesthetics, and functionality.
Aesthetics -

8.5/10

Build Quality -

9/10

Performance -

9/10

Value -

8/10

Geek Satisfaction -

8.5/10