Technology changes and improves, but sometimes, old is gold and in this case, the golden ratio of screen displays is making a return, with the 16:10 aspect ratio. Ditching the 16:9 convention offers more vertical real estate, and work and multimedia notebooks are slowly embracing the shift.
The challenge is with video games as most machines continue to live by the current standard, likely due to limited compatibility across many game titles, which means a return to the past is not always as smooth.
The ROG Zephyrus M16 is a standout entry as it marries a 16:10 display with top-end gaming prowess. What lies at the end of the road is a versatile touch that allows users to work effortlessly on various day-to-day tasks on top of intense gaming, even if its S$3,798 price tag does present some slight issues. 
A low-profile, modest presence is established right out of the box. Unlike some models on the market, the device casts aside flashy RGB effects in favour of an all-black matte coating topped off with a rubberised finish. That isn't to say that the aesthetics are completely dull – courtesy of tiny holes layered with a prismatic film, a colourful sparkle is reflected off the lid to liven up the monotony, albeit only a little.
The soft surface feels comfortable to the touch, but the lid does feel more fragile than other recent ROG builds, with flex detected in response to applied pressure. Fingerprint smudges and oil residue are also an issue here, which means users will have to clean the Zephyrus M16 fairly often.
Tipping the scales at 1.9 kg, the laptop has sufficient capacity to house several connectivity options. The left side is flanked by 1 x charging port, 1 x HDMI 2.0, 1 x Ethernet, 2 x USB-Type C inlets (one with Thunderbolt support), and 1 x 3.5mm headphone jack, while the right boasts 1 x MicroSD card reader and 1 x USB-A. It's a decent selection, even if more ports should be repositioned on the other end to balance out the sides, and reduce the cramped spacing on the left.
Where the Zephyrus M16 grabs attention is with its 16:10 aspect ratio 16-inch display, with WQXGA resolution (2,560 x 1,600 pixels), 165Hz refresh rate, and three millisecond response time. Coupled with a 94 percent screen-to-body ratio, it makes visuals look effortlessly smooth, crisp, and sharp across all entertainment mediums.
The combination of 100% DCI-P3 colour with Pantone validation and Dolby Vision technology further enhances the viewing experience. Here, the standard comes in the form of striking, accurate colours, strong blacks, and rich contrast, which breathe more life into vibrant works, such as Arcane and Spider-Man: Into the Spider-Verse on Netflix, or Hades and It Takes Two of the gaming world.
There's just one issue, however – the 16:10 aspect ratio can make shows, movies, and games feel a little tighter than usual. Users will have to contend with the black bars at the top and bottom of the panel, as few platforms, including the latest gaming titles, boast 16:10 support. It's not quite a dealbreaker, but some might find the lack of fullscreen less immersive and enjoyable.
Outside of entertainment, the added vertical estate proves handy for fitting a document or webpage into the display, or for executing creative tasks. Photo and video editing, for instance, would stand to benefit from an expanded workspace, where content creators can access their required tools more easily.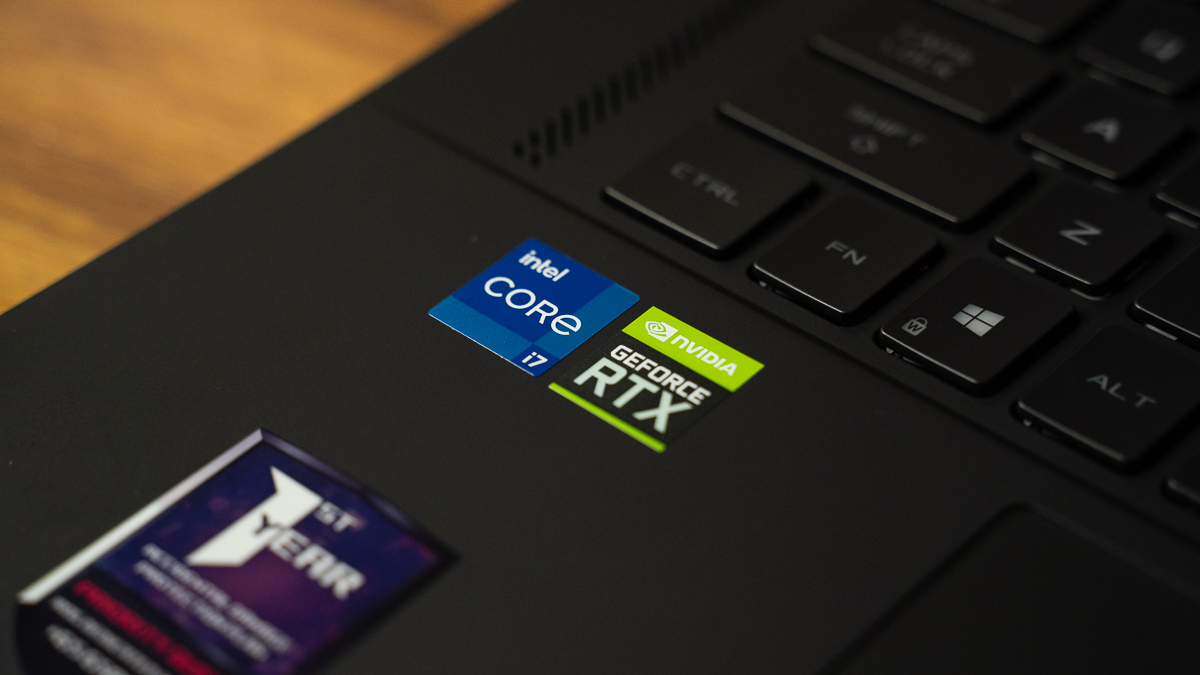 The Zephyrus M16 doesn't only look good screen-wise, but performs well on the gaming front too. Armed with an NVIDIA GeForce RTX3070 GPU and Intel Core i7-11800H processor, it scored decently across various benchmarking apps to outperform most of its peers in the same class.
On 3DMark Fire Strike, a stress test specially designed for gaming devices, the device nabbed a 'Legendary' score of 15,738, which puts it above the 13,771 average. PCMark 10, meanwhile, yielded a 7,581 reading that surpassed the 5,773 average for gaming laptops, with Geekbench 5 registering scores that hover slightly above the average mark: 1,347 and 6,158 for single- and multi-core testing respectively.
This competent show of performance does indeed carry over to the gaming world. Supported by Adaptive Sync technology, the Zephyrus M16 satisfies with low-latency gameplay, smooth action, and reduced tearing – for the most part, anyway. Over the course of the review period, intermittent bouts of stutter and lag occasionally rose to the surface, especially when things got heated up.
In Apex Legends, landing in Fragment (a hot fighting zone that often sees more than five squads) on the World's Edge map would result in dropping frame rates and jaggy movement, while Horizon Zero Dawn saw choppy action during hectic battles. Despite the inconsistent performance, the gaming process still proved to be enjoyable, with Apex Legends clocking a 69 fps average on Ultra settings. Horizon Zero Dawn and Cyberpunk 2077 took more of a hit, hovering around 37 fps on Ultimate at WQXGA resolution, and 34 fps on Ultra respectively.
A comfortable keyboard serves to boost the user experience as well. The laptop ships with rubber-domed keys that are responsive, well-spaced out, quiet, and firm, and packs them into a standard layout. The number pad, Function hotkeys, and dedicated PrintScreen key are absent here, but users will get a set of media keys at the top. On the right is the power button, which doubles up as a fingerprint reader.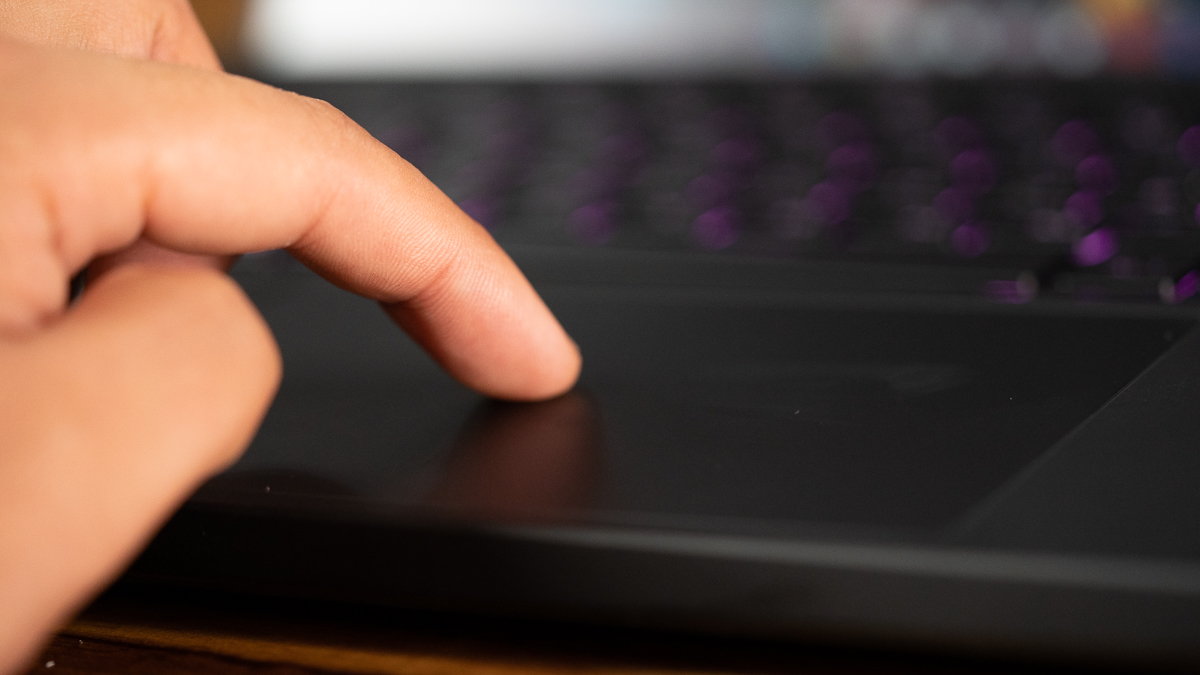 The Zephyrus M16's subtle design tones have also extended to its keyboard. Unlike some of the other gaming models on the market, it cuts down on the gaudy factor to feature dim, single-zone RGB illumination that bleeds from under the keycaps. The clickpad is equally solid, delivering soft clicks, responsive gestures, and smooth tracking without any discernible rattling, although it can afford to be smaller.
There's just one issue of note, however. As ASUS' proprietary ErgoLift technology – a hinge that gently tilts the keyboard for greater typing comfort – has been included here, the bottom section of the display tends to run hot, since heat is being pushed up and directly into it. In general, the device does a fairly good job at cooling its internals, but the fans can get rather loud under heavy load.
Switching from the Turbo or Performance profiles to Silent is a possible workaround, though that'd mean increased throttling and reduced performance in games or GPU-intensive tasks. It's one or the other, so users will have to prioritise based on their considerations and demands.
Battery life is perhaps the weakest link of the Zephyrus M16. Powered on a 90Wh charge, it tapped out around six hours when put through text editing on Google Drive and social media browsing, with Spotify, chat apps, and Youtube running in the background. Gaming sessions, meanwhile, largely lasted for around an hour before the 200W power brick came into use, juicing the laptop fully from an empty tank in two hours or so.
At S$3,798, the ROG Zephyrus M16 is a powerful, versatile piece of kit that won't disappoint both gaming enthusiasts and content creators. It boasts impressive technical prowess, looks slick on the outside, and charms with its larger-than-usual, high-quality display.  While there are certainly some flaws to consider, such as a shorter battery life, loud fans, and black bars on the screen, users should find themselves easily satisfied with all that the device has to offer – so long as they are willing to shell out a premium for it. 
GEEK REVIEW SCORE
Summary
Not many gaming laptops can tout mastery in both gaming and non-related tasks, but this powerhouse is all set to hugely deliver on both fronts…for a price, that is.
Aesthetics -

8/10

Build Quality -

8.5/10

Performance -

8.5/10

Value -

7.5/10

Geek Satisfaction -

8.5/10
---

Drop a Facebook comment below!