When the first Razer Phone came out last November, the Singapore-based tech company defied expectations and announced a phone with features that identified it as a gaming phone – a 120Hz display with Dolby Atmos stereo speakers on top of high-end specs, from a well-known gaming brand. Fast forward 11 months and Razer has developed a follow-up, though gone is the aplomb and we're seeing an incremental upgrade over its predecessor.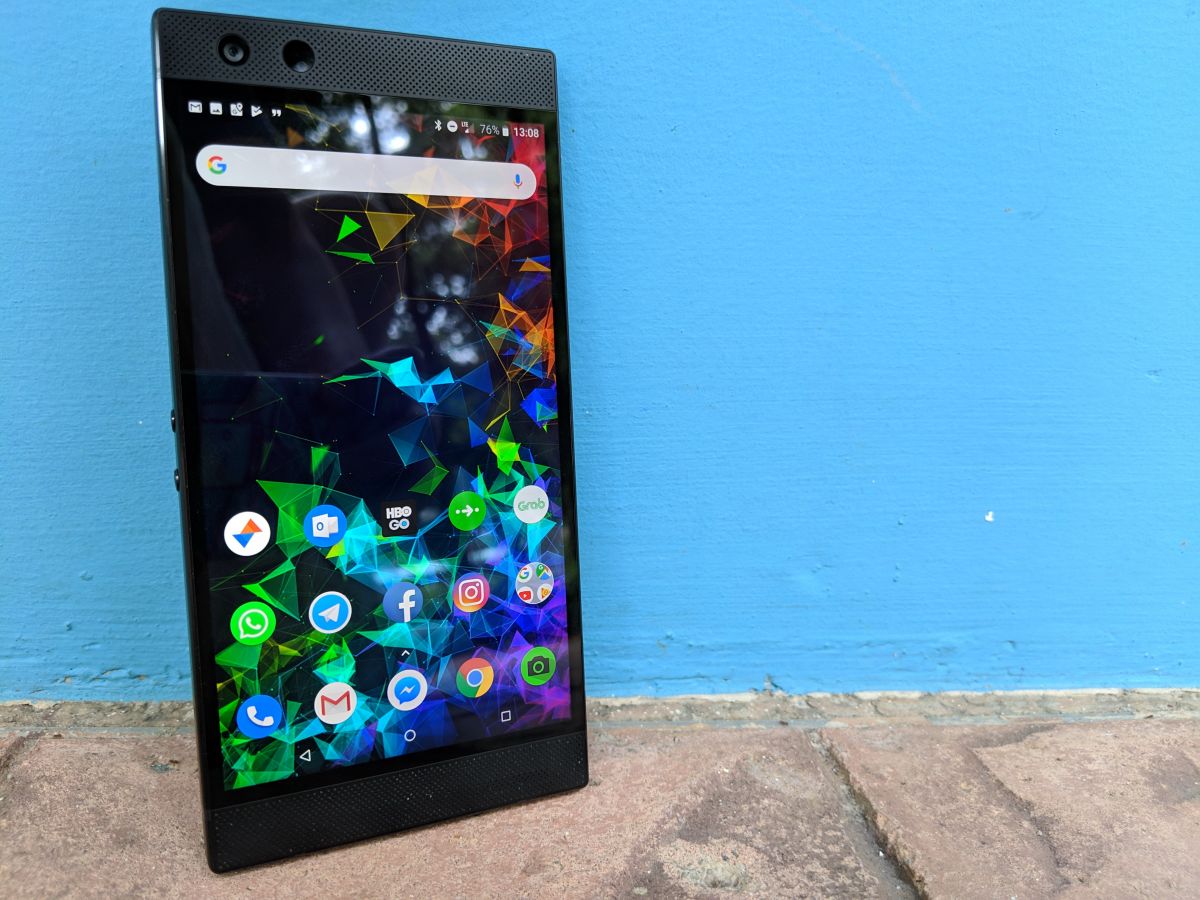 All the cool features that fans love from the first Razer Phone are back, with minor tweaks. Firstly, the 120Hz fast refresh screen with HDR content support is back, though it is now much brighter. Instead of a metal rear, the new phone comes with a glass panel, enhanced by an illuminated RGB Razer logo that adds the dazzle, though it's clearly cosmetic.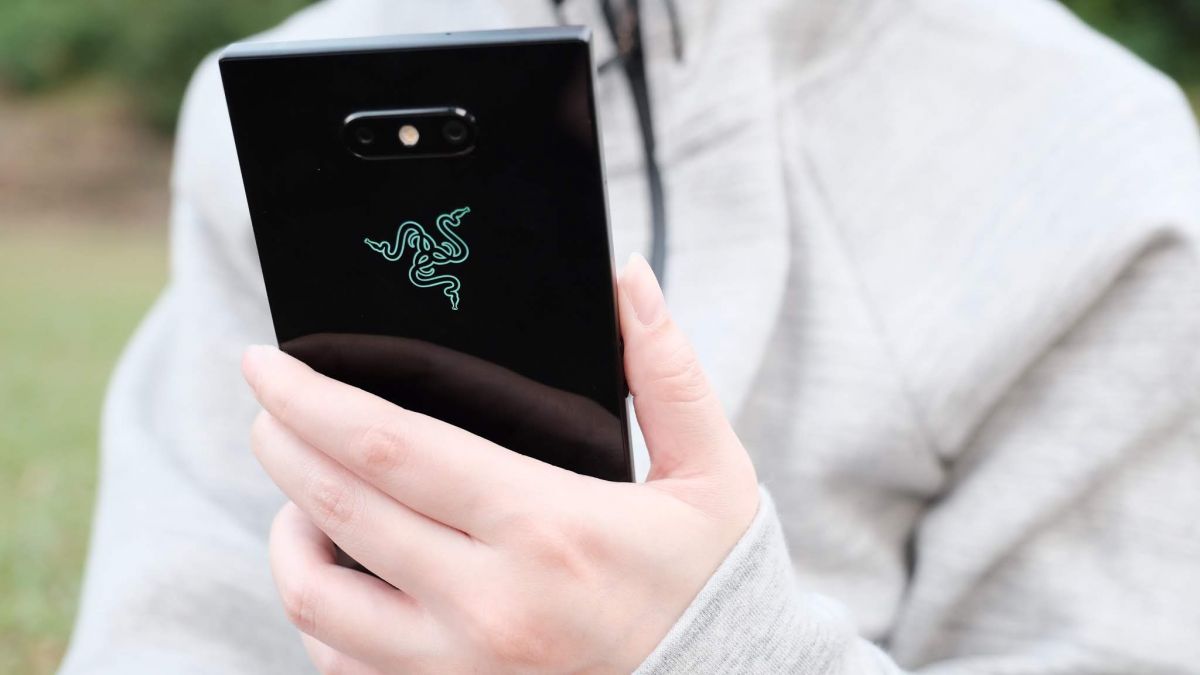 The logo's LED glow can be permanently turned on and it doesn't seem to impact battery life all that much. There are small other toggles to prune back on the intensity and scenarios the LED lights up but if you have it, flaunt it. Keeping the lights on makes the most sense.
If you're a first time user of the Razer Phone, do note that 120Hz refresh rate is not on by default and users would have to head on over to display settings to tweak the settings a fair bit. While some might be concerned that keeping the screen constantly at 120Hz might affect the battery life of the phone, no significant performance loss was observed even with the additional Chroma lightning made available on the Razer Phone 2.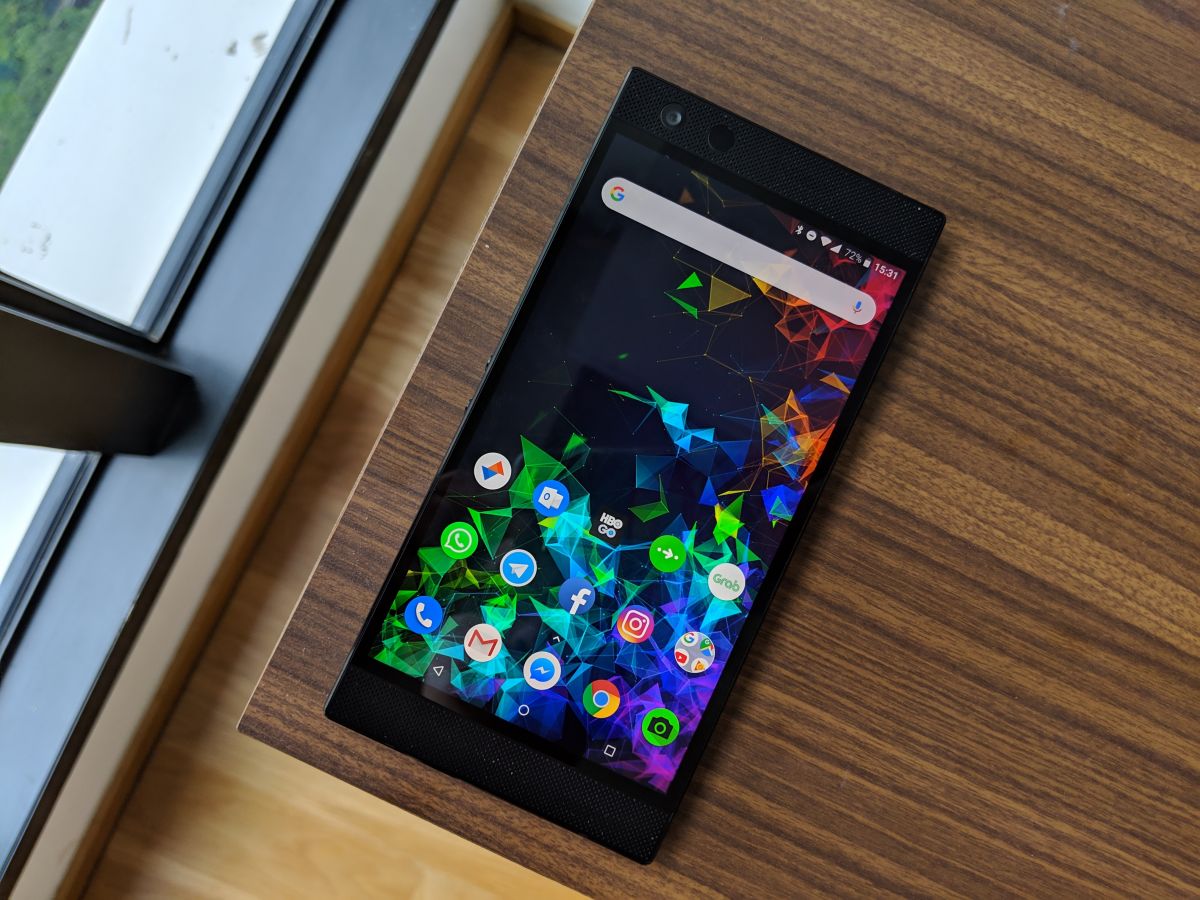 Alas, the rest of the new phone still maintains the blocky and angular design of the original. Despite it being 2018, Razer seems inspired by Sony's Xperia series of devices, which weren't known for their outstanding design. The volume and biometric buttons are still in the same places where we left them the last time. Though past reviews have indicated that the fingerprint sensor is fast and responsive, there's a noticeable delay in day to day use, especially when making payments using Google Pay.
Hardware wise, the phone uses the latest Qualcomm Snapdragon 845 processor, with 8GB RAM. The weird bit is that while everyone else is offering a 128, 256 or even 512GB memory option on their flagship devices, Razer is sticking with a rather frugal 64GB offering.
And for a Phone designed by a Singaporean company, in a country where users own more than one line, the Razer Phone 2 lacks dual SIM in favour of a micro SD card expansion. With so much bulk, you'd imagine there's plenty of space to squeeze the component in, considering that we do not have a headphone jack with the Razer Phone 2.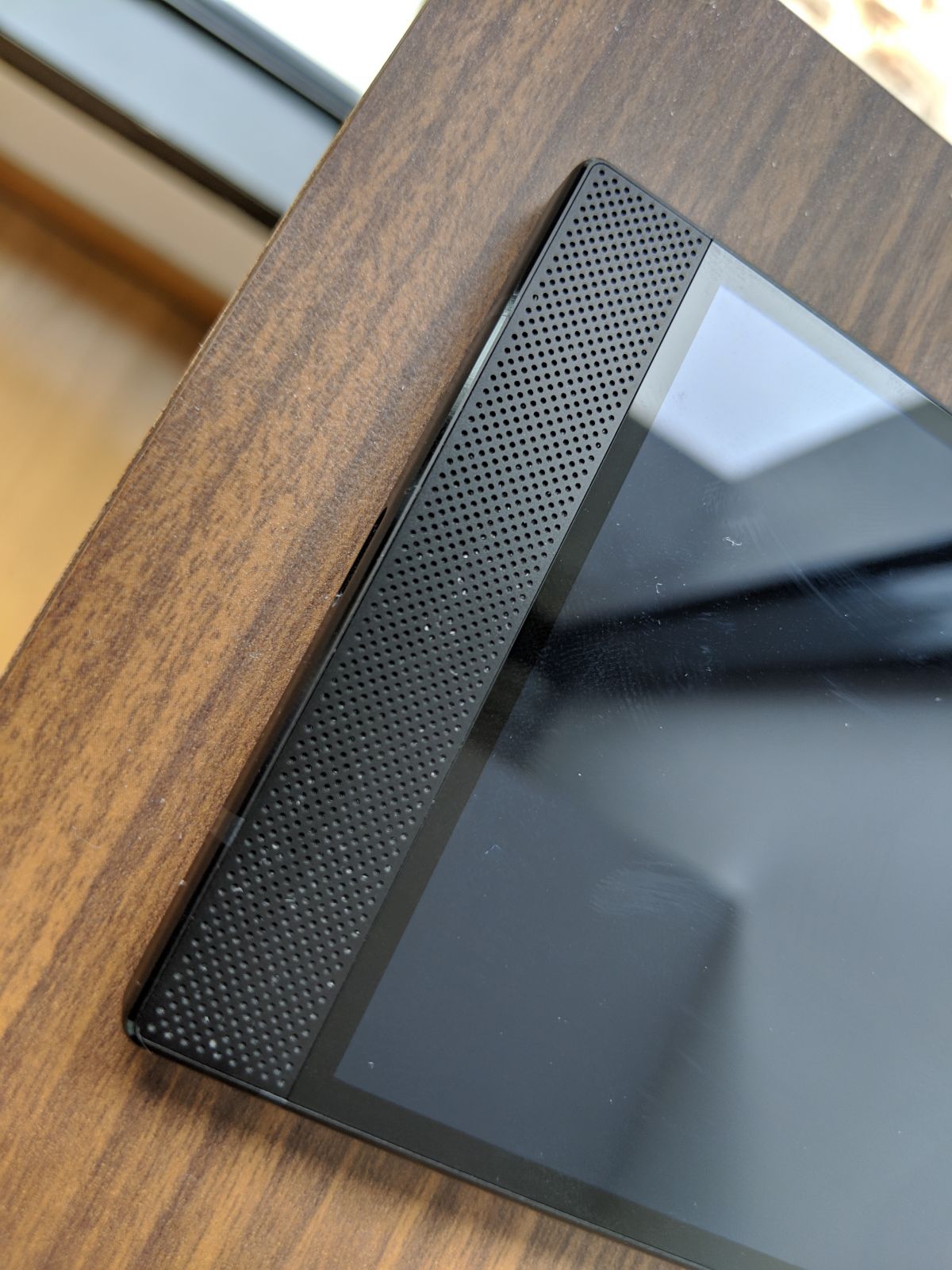 Still, this is an audio powerhouse as the way Razer wants you to enjoy audio on their phone would be through their large, Dolby Atmos-enabled speakers. Even when compared to the Pixel 3, size matters and this is probably one of the reasons behind the Razer Phone 2's awkward design. When toggled to max volume, content sounds great across YouTube and Spotify but listening to Dolby Atmos supported content is where the speakers truly shine. Users will be able to hear and feel the audio prompts with pinpoint accuracy. If an audio source starts from the right side of the screen and moves across the frame, the audio shifts accordingly relative to its position. It's not new but quite uncommon and it's definitely nice to have in a phone.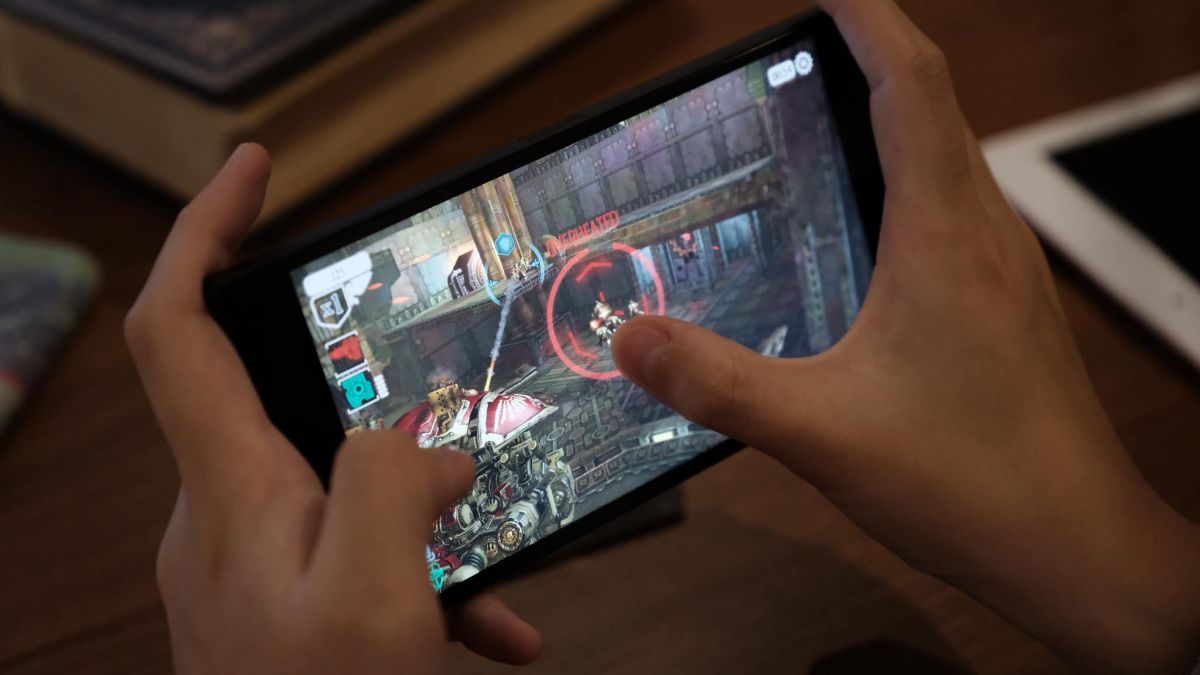 With a great screen and powerful audio, the Razer Phone 2 is well set up for its ultimate mission – to establish itself as a gaming phone. Having played with a variety of Razer Phone supported gaming titles, including Vainglory, Warhammer 40k: Freeblade, and Modern Combat 5, there is no doubt that the phone produces a marked improvement when it comes to gaming, though the experience is not absolute,
Despite having great speakers, playing Vainglory with a few friends in public will quickly draw many death stares. Hence, the option of having a headphone jack is sorely missed. While the screen here is amazing, the phone does get really warm and uncomfortable to hold over long periods of time. Sure, there's a new heat sink system in place that helps cool the rear of the phone, but most of the heat ends up on the screen and at the rims of the device. This experience basically showcases the gist of the Razer Phone 2 – Great for individual aspects but not quite hitting the mark in the day-to-day practical side of things.
While most mainstream manufacturers are in a mobile phone camera arms race at the moment, the quality on the Razer Phone 2's 12MP camera is merely a good enough solution. It does really well in sunlight but struggles in even indoor lighting and images from the phone do come with a flat profile.
With a 120Hz display, great audio and 5.72-inch screen, one concern would be the battery life but the phone's 4,000 mAh battery shrugs off the challenge with great ease. Even after a full day's use, the phone is able to retain 30% of battery life, which is pretty much the expectation of any modern flagship. With gaming thrown into the mix, the Razer Phone 2 comes out all the more impressive.
GEEK REVIEW SCORE
Summary
While it is pretty much an incremental upgrade, the Razer Phone 2 is still pretty much a powerhouse for most users. An improved showing from Razer with their second generation device helps quell the criticisms of their previous attempt and, perhaps, their 3rd outing might be the true device to look out for.
Aesthetics -

7.5/10

Build Quality -

9/10

Performance -

9.5/10

Value -

8.5/10

Geek Satisfaction -

9.5/10
Gerald currently straddles between his love of video games and board gaming. There's nothing that interests him more than trying out the newest and fanciest gadget in town as well. He dreams of publishing a board game sometime in the future!