The last time someone told me to brush my teeth, the president of Singapore was Devan Nair.
It was in primary school and we had to chomp on these red pills that would highlight the plaque on our teeth, so we would know where to brush. The nurses and teachers would then tell us what to do, as I stared at the reddish saliva dripping from the mouth of all my friends.
Over 30 years later, the role of dental hygienist has now been taken over by a smart toothbrush. Now, we shouldn't be surprised, as companies have longed been wanting to add a smart chip into any electronic, to upsell it to consumers.
So instead of SGD$1 for a toothbrush, Omate, the wearable tech guys behind Oclean, want us to pay US$79 for a smart brush that can monitor the quality of your teeth.
So while there are electronic toothbrushes already in the market, the Oclean offers more, in the form of an intelligent system that tracks every turn, twist, pull and press of the toothbrush while it is in use, to track your cleaning habits and offer you tips and suggestions on how to improve your twice-daily oral care.
The built-in gyroscope keeps tabs on the pressure, angle and motion of the toothbrush as you clean the insides and outside of your teeth. When paired with an app, the phone stores the data within, studies it, and offers remedies. How? Well, the device pairs with your phone via Bluetooth, and there's actually a small speaker that pipes a female voice to tell you how to proceed.
Pairing the phone with the toothbrush is relatively simple, and once done, you can choose from 3 presets – cleaning, whitening and gum care. Each preset comes with their own level of intensity, but your best bet is to take it easy, and start with the basic.
If you haven't used an electronic toothbrush before, the experience here will be new. Even if you have used electronic toothbrushes, the experience will be different. This is similar to the cleaning tool that dentists use while you are lying on the chair – if the tool even grazes your teeth, you'll feel your teeth vibrate.
It's not just the motor here, but the sense that you have to keep your mouth wide open while it is in operation, less the moving mechanism causes your teeth to rattle. With each preset, the brush will operate in a set time frame, and if it's too short, simply fire up the toothbrush again.
My first few tries with the review unit proved interesting. Without any control over the brush, there were times when the brush would tickle the roof of my mouth or the insides of my cheeks. Naturally, there were occasions when the vibrating instrument would brush (no pun intended) against my upper or lower teeth. But you will get the hang of it after a while.
After each brush, there would be a report based on the preset picked. The unit will record your brushing movements and present a performance indicator.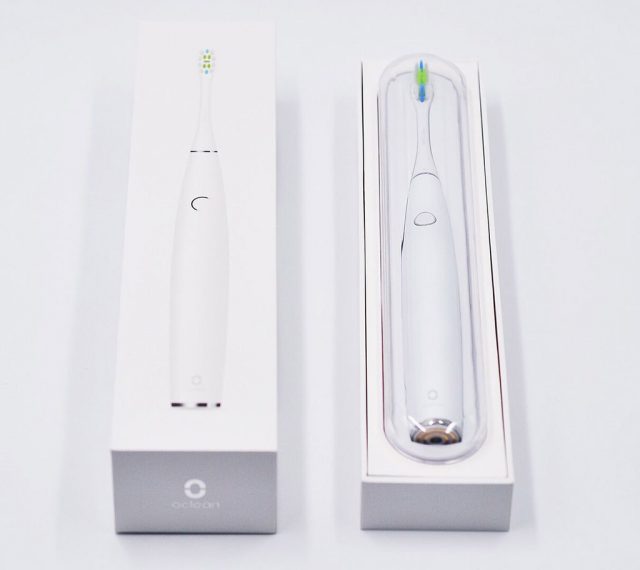 Given that electronic toothbrushes can start from US$50 and run close to US$200, the Oclean is not out of place in the market. When it wins out on is the smart features that lets you now if you are brushing the proper way.
One thing that you might have to note is that while the battery lasts for almost two months, the brushing head comes with a finite shelf life, which the app also measures. I would recommend picking up a few extra heads, just in case.
GEEK REVIEW SCORE
Summary
Bad breath and terrible brushing habits seem to be the norm these days. While teachers are no longer able to tell us how to brush, there's now a smart device for that.
Aesthetics -

9/10

Build Quality -

8/10

Performance -

9/10

Value -

8/10

Geek Satisfaction -

9/10
---

Drop a Facebook comment below!