If you play a game of word associations, "fun" would probably be quite a popular adjective for a MINI—and deservedly so. Its appearances may lean heavily on the cutesy end of the design spectrum, but if you can find it in you to laugh a little, there will always be a place in your heart to appreciate the enduring appeal of a MINI despite the loud voices of logic and practicality in your head.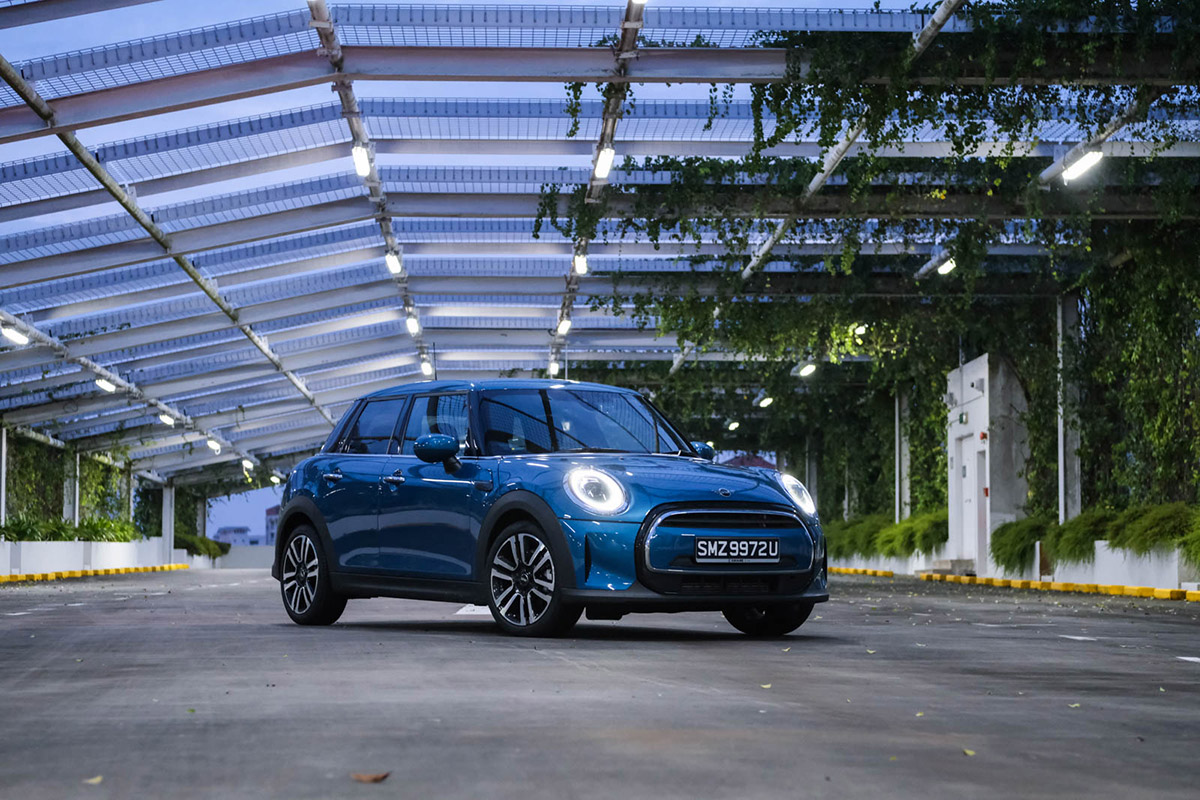 And it frankly doesn't matter if it's the bonkers John Cooper Works edition or the entry-level One, because a fun driving experience doesn't need to depend on the numbers on a car's spec sheet. This much was proven to me when I first drove a MINI One back in 2018, and three years later as I walked up to its facelifted namesake, I was a wee bit wiser in my appreciation of its raison d'être.
Painted in Island Blue with piano black accents, it's hard not to see the D-shaped moustache on the current-generation MINI's front appearance. A similarly-shaped but more discreet moustache can be seen on the rear bumper too. MINI claims the air curtains integrated on both sides of the front bumper play a significant role in helping to improve the car's fuel economy and provide aerodynamic improvements over its predecessor.
The facelift's updates aren't just skin-deep as more changes can be found inside the cabin. Gone is the conventional analogue tachometer as it's replaced by the brand's new Digital Instrument Cluster, a five-inch colour screen similar to the MINI Cooper SE that shows the car's speed, revs per minute, fuel level, mileage, temperature, and navigation instructions from its navigation system. The steering wheel also features a flatter button layout than in the previous generation, but is a magnet for fingerprints due to its glossy black surface.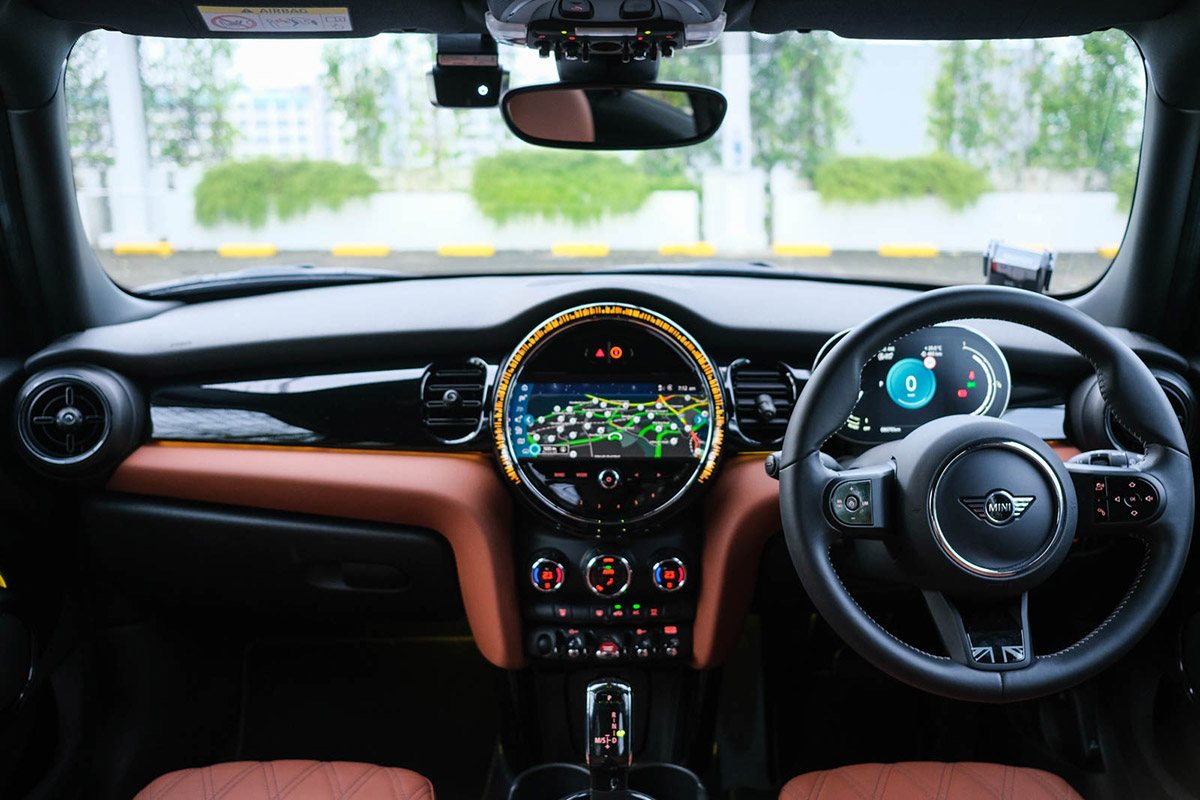 The new 8.8-inch touchscreen on the centre console supports wireless Apple CarPlay, although there's no wireless charging so a Lightning cable will still be needed to avoid draining the iPhone's precious juice. It's fairly impressive that the entry-level MINI can also be connected via the MINI smartphone app, which reminds owners when their ride is due for its next servicing, allows them to remotely lock and unlock their car (for times when someone needs to retrieve an item from the car without a key), and activate the car's ventilation system in advance on a warm day.
On the road, this MINI's demeanour is similar to the One I reviewed three years ago, which is a good thing because I had fun in it without having to drive the wheels off the car. An output of 102 hp and 190 Nm from the 1.5-litre turbocharged three-pot engine may not sound like much, but having only around 1,300 kg of inertia to overcome means the little hatchback is still quite agile and responsive on the road. The same seven-speed double clutch transmission is also retained in this version, reflecting the familiar energetic and willing driving character of the zippy little hatch. Its firm suspension and weighty steering lend confidence when tackling fast corners, but aren't overdone such that someone who just wants to get from A to B would complain about the car being too bumpy or tiring to steer.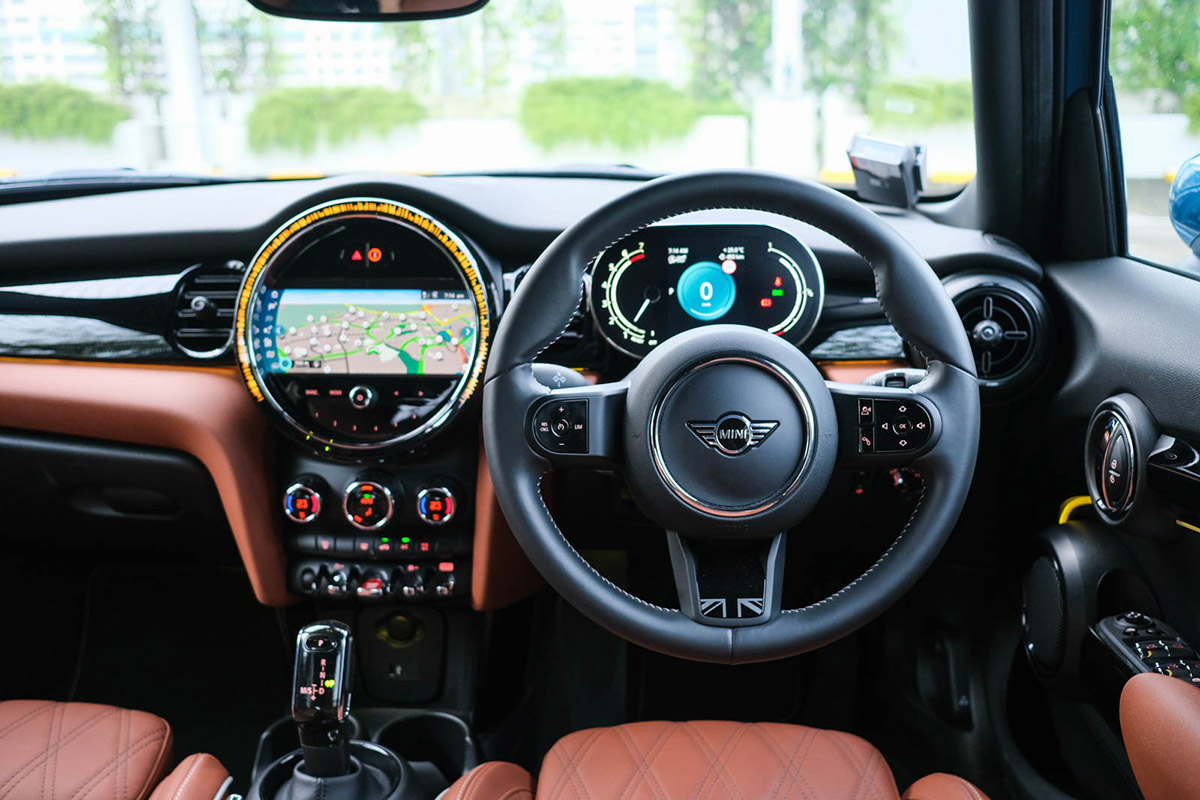 Joining the ebb and flow of Friday's evening traffic as the rain poured down during our east-bound journey to dinner, much of our route within the Google Maps display was just a bold red line, indicating the dreadful traffic conditions ahead. Despite the slow drive and increasingly hungry occupants—myself included—in the MINI One 5-door, we were happily chatting away in relative comfort. Without much noise intruding from the 205/45R17 comfort-biased Pirelli Cinturato run-flats on the highway, holding a conversation was easy, even with the rain pelting down on the roof of the car. And although cabin space will always be at a premium in a MINI hatchback, the 5-door offered enough room in the rear for my (fun-sized) dinner companions.
But the MINI is not without its flaws. Although the Digital Instrument Cluster tilts in tandem with the steering wheel when adjusting for reach and rake, the display is just a little offset to the left of the steering wheel. It's not a deal-breaker, but once you see it… The central armrest has also returned after being left out in the previous generation so it'll again be in the way when you operate the handbrake lever, which the MINI One comes with. Carried over from the previous generation is the small opening to the rear seats, so although passengers no longer need to perform basic gymnastics to climb into the back, getting in still requires some care. Boot space in a MINI has traditionally been on the lower end too, ranging from 211 to 731 litres depending on whether the rear seats are up or collapsed.
My greatest bugbear in this car, however, is the restrictive side bolsters for the front seats, which hinder my arm movements when I need to turn the wheel. I eventually settled on driving practically with arms akimbo when I approached car park ramps, U-turns or fast corners—it's a solution but far from a practical one, especially for a car that is meant to represent driving fun. You'd want to pay attention to this aspect of the ergonomics when test driving the MINI. Maybe I have limbs like an orang utan… who knows? A friend of mine even remarked that the front seats are not friendly to fat people.
Aside from these irritations, the MINI One is arguably still worth a look thanks to its digital infotainment upgrades, fun-loving road manners, and updated leather upholstery with beautiful stitching. You don't need to go fast to have an enjoyable driving experience in a MINI.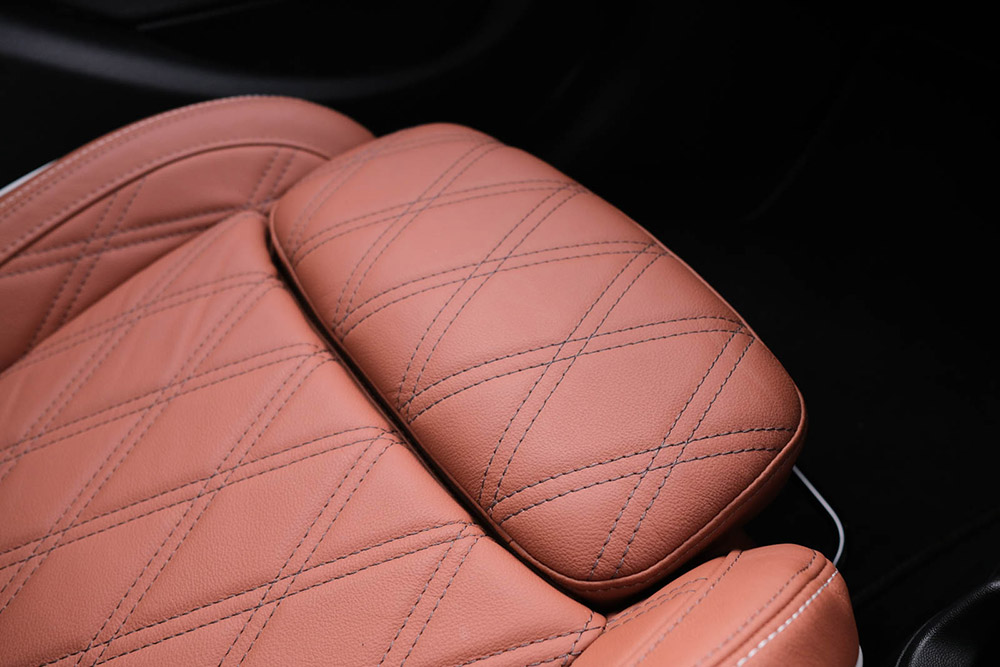 Special thanks to Eurokars Habitat for this opportunity.
---
The original version of this article first appeared on Eat.Fly.Drive.
GEEK REVIEW SCORE
Summary
With more smart tech and the same driving dynamics, does the facelifted MINI One 5-door offer enough to still deserve a look?
Handling -

7/10

Performance -

6/10

Design -

7/10

Comfort -

7/10

Practicality -

6/10

Value -

7/10