"Uncle, how long will you be here for?"
"About an hour. I just got here."
So went the brief exchange in Mandarin between myself and the driver of another electric vehicle (EV) who was at the Shell charging station before me. Not wanting to waste the Saturday morning waiting for my turn at the single charging station, I tried my luck at another one that was 10 minutes' drive away, which was—fortunately—available when I arrived.
After a minute of faffing around at the self-service kiosk, I mustered enough intelligence to start charging my car. The app on my phone informed me it would take an hour to fully recharge the battery from 49%, but after 28 minutes, the digital instrument panel read 94% so I decided to unplug my car and continue with my plans. Doubling my wait for that last bit of battery charge didn't make sense; I had better things to do with my time.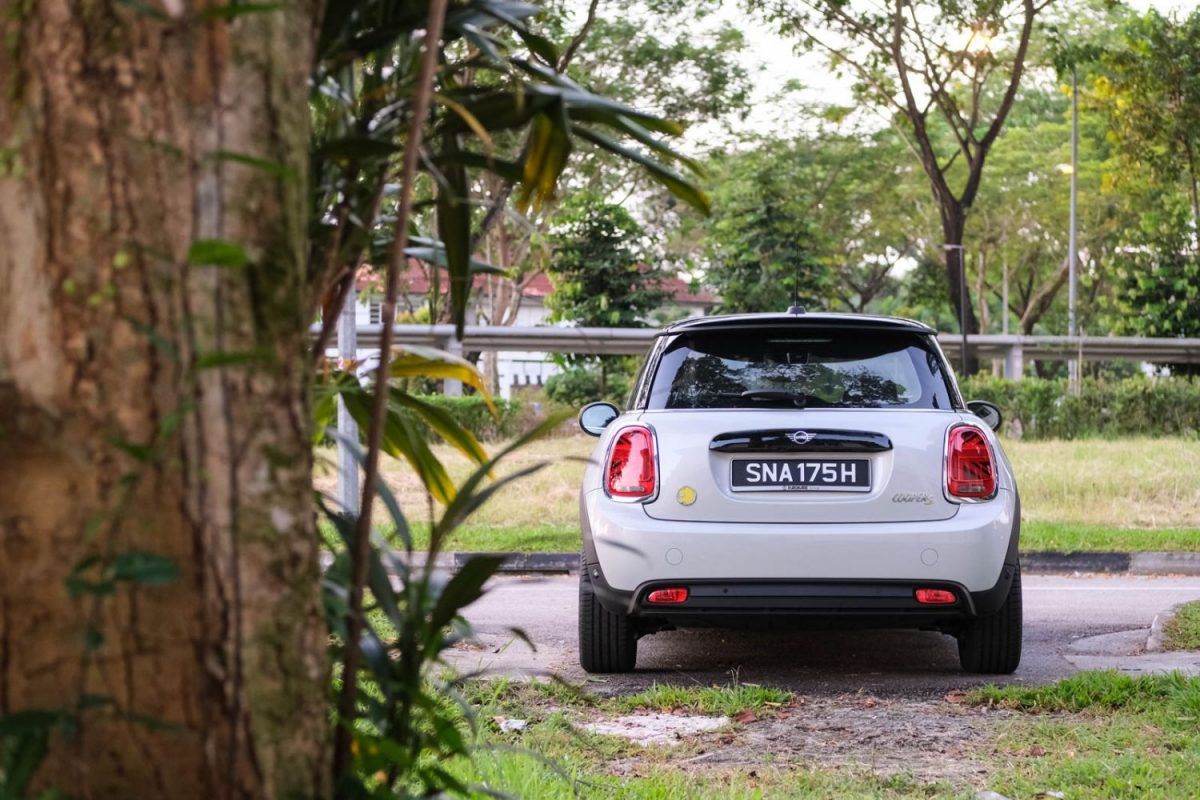 That's the situation most EV owners probably face. Getting a full tank of petrol and paying for it won't take more than 10 minutes at a petrol station; getting a full charge for an EV's battery is a different matter. But you're here to read a car review, not my commentary about the public charging infrastructure for EVs.
Unlike most EVs out there, the Cooper SE retains a familiar design and form factor of the three-door hatchback, albeit with some modifications to accommodate the 184 hp electric motor under the bonnet and lithium-ion battery beneath the floor and rear seats.
Because the implementation is more 'engine swap' than 'back to the drawing board', the car doesn't look radically different from what I'm used to from MINI, although its alloy wheels, which resemble the three-pin socket used in the UK and Singapore, are one of the most obvious clues to its electric drivetrain. Yellow visual cues like the door mirrors; S badges on the front, sides and rear; 'E' badge on the rear hatch; and rim protectors provide more hints that this is a different type of MINI.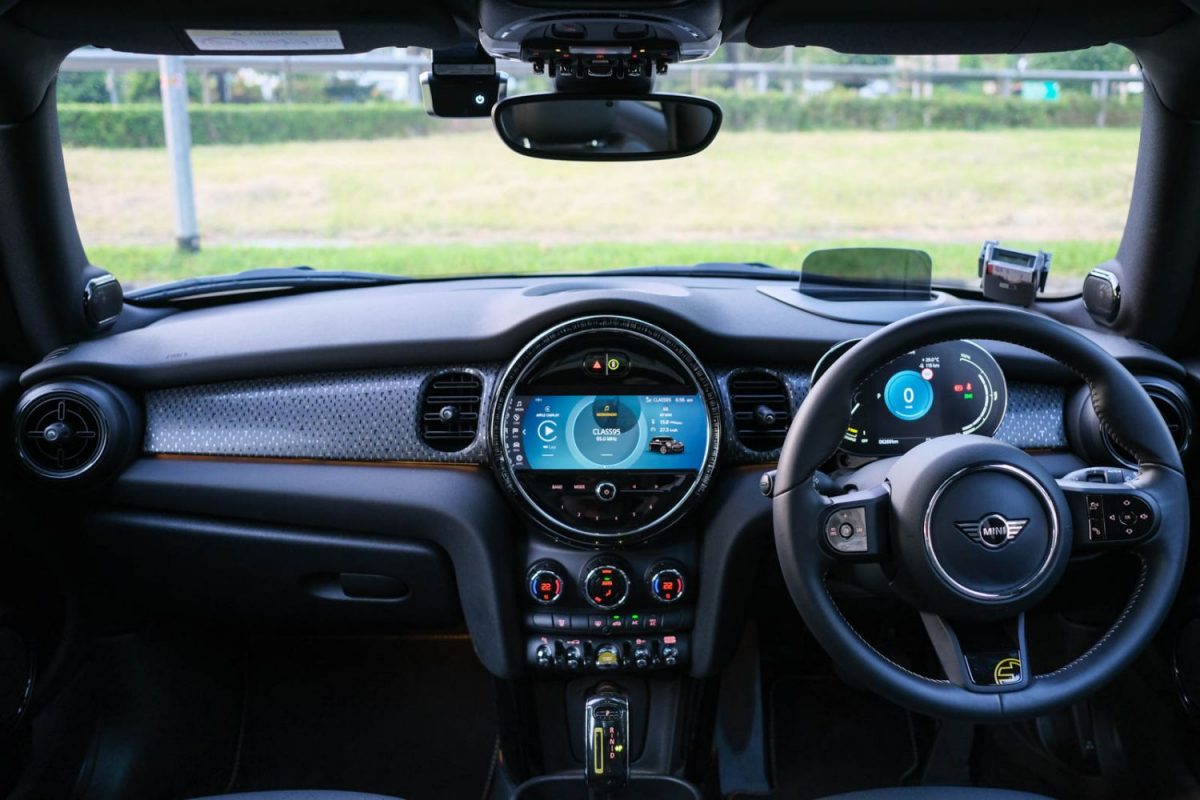 The yellow accents can also be found inside the car. The start switch, traditionally painted red, is yellow here. Along with the electrification of the powertrain is the new MINI Digital Instrument Cluster. In place of a tachometer on the left is a digital scale indicating how much my right foot is draining the battery; on the right of the display is a similar scale showing how much charge is left in the battery, to soothe (or trigger) my range anxiety. Behind this is a heads-up display showing my speed and driving directions when using the car's navigation system.
Overall, there's a good blend of digital screens and physical buttons; I like that MINI didn't just bolt on gigantic digital displays, unlike in some other EVs. Same same but different, so far.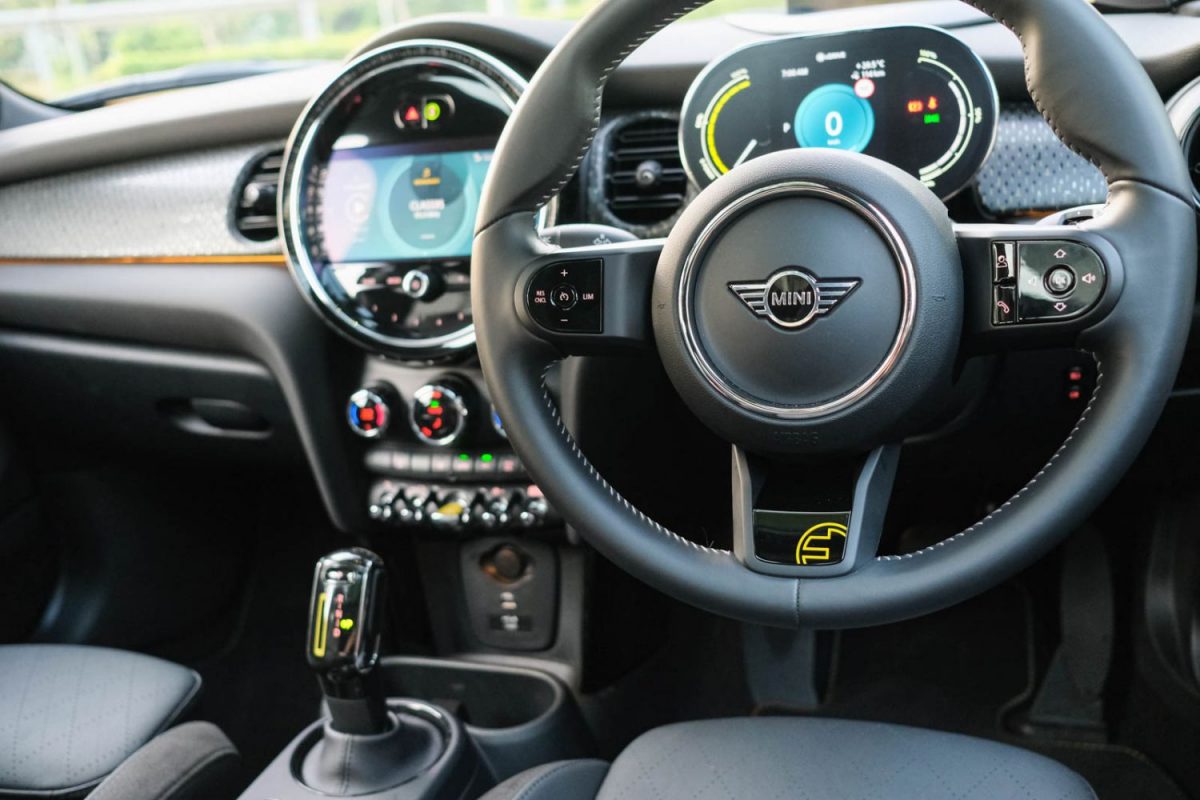 A strange noise came on when I flipped the yellow start switch, presumably to let me know I'd successfully started the electric motor. Being an EV, there was no idle creep and nary a sound as I eased my way out from the dealership's parking lot. The Cooper SE was similarly quiet on the go, with tyre roar from the 205/45R17 Pirelli Cinturatos the only disruption to an otherwise cocoon-like cabin at highway speeds.
The main excitement about driving an EV isn't the noise it makes (because it's eerily quiet compared to even a discreet internal combustion engine) but the way it accelerates. When I pressed the accelerator into the carpet, I could feel all 270 Nm of the shove generated by the motor; there was no hesitation, no delay from a build-up of engine revs or panicked downshifting of gears by an automatic transmission. It was just immediate, like a football kicked from the penalty spot. The instant torque also resulted in some torque steer that I needed to wrestle with under hard acceleration.
Shedding speed was an interesting experience too. The Cooper SE's energy recovery system slowed the hatchback quite significantly the moment I lifted off the accelerator. From cruising at the speed limit, it can feel like skipping down to fourth gear, sans the mechanical protestations from a sudden jump in engine revs. With some finesse, I managed to find a sweet spot in the pedal range that allowed me to coast along efficiently; by anticipating my braking and turning points and moderating my pedal input, I hardly needed to use the brake pedal for most parts of my drive.
I also tried the option of reducing the intensity of this energy recovery feature so that the Cooper SE could coast more like a non-electric car without needing a cultured right foot, although this reduced the potential for recharging its battery. Old habits are bad for energy efficiency, I guess.
Weight is also bad for energy efficiency. Fitting the electric drivetrain into the Cooper SE added nearly 150 kg more weight compared to the fossil fuel-burning Cooper S. Fortunately, most of that extra weight is located fairly low in the car, so the Cooper SE remains quite stable and reasonably agile, which makes this a fun hatchback to dart around in.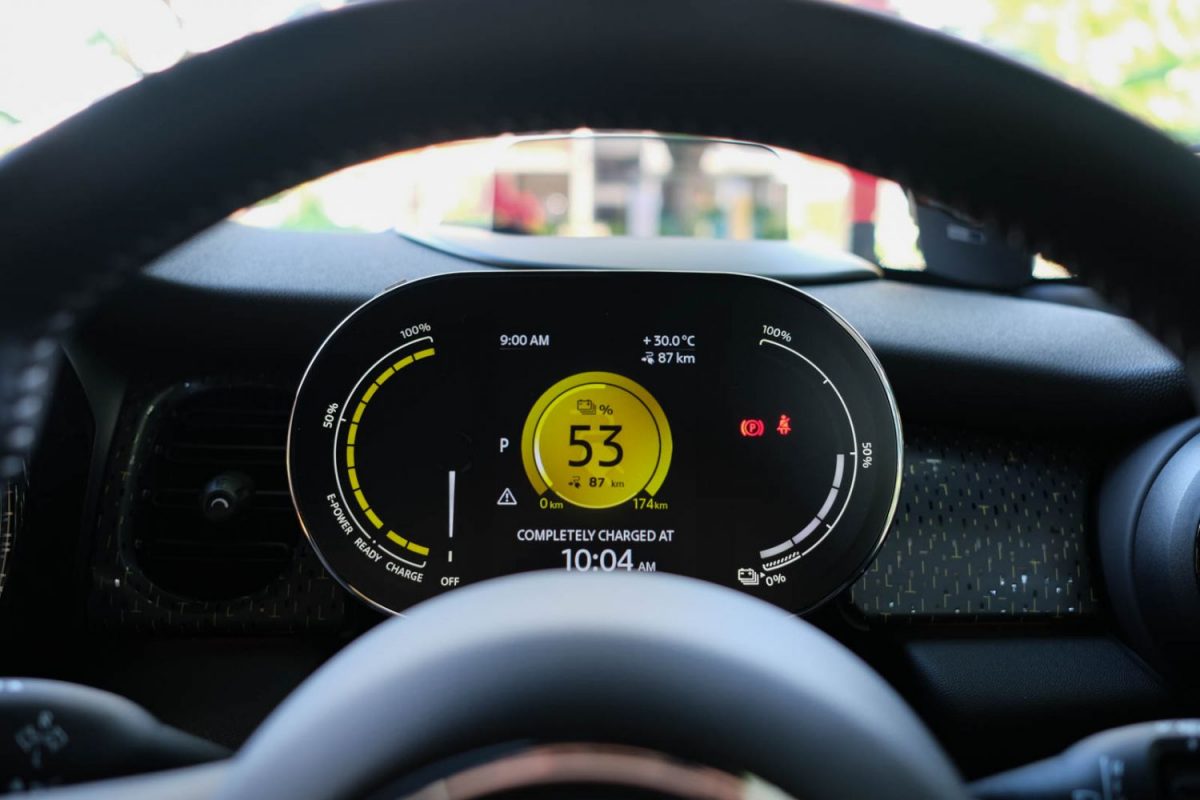 But that brings me to an inconvenient truth, which is the Cooper SE's range—or lack of. Among all the weekend car reviews I'd ever done, this was the first time I had to take the press car to a petrol station so I wouldn't run out of juice during the short review. On paper, the Cooper SE's 32.64 kWh battery capacity will yield a range of 232 km but MINI's app indicated just under 200 km on a full charge for this press car.
As I drove back to the dealership to return the Cooper SE, I cycled through the considerations of buying a car like this. Despite the electrification, it drives and handles like it's worthy of a Cooper S badge so it's still a bag of fun behind the wheel. But it's precisely because of the electrification that it'll need to spend considerably more time getting juiced up over its lifespan, given its range and charging time.
I'd also have to add an extra 30 minutes to my travel plans for each charge, on top of driving to and from an available charging station—unless I have the means to install a wallbox charger at home to plug the car in overnight, or if my workplace has sufficient charging stations so I can charge the car while I'm at work (COVID-19 work-from-home requirements notwithstanding).
Boot capacity is scarce at 211 litres but expandable to 731 litres with the rear seats down. It's arduous for an adult to climb in and out of the cramped rear seats, so the Cooper SE is realistically not the only car I would need if I regularly have more than one passenger to consider.
Practicalities aside, owning a MINI is about choosing to have fun. If I were in the market for a car like the three-door Cooper S and had convenient access to charging stations, I would give the Electric model a look. As far as the MINI Cooper SE goes, it helps introduce EVs to drivers who are considering stepping away from fuel-burning cars by offering pleasing aesthetics, familiar ergonomics, as well as MINI's trademark handling.
Special thanks to Eurokars Habitat for this opportunity.
---
The original version of this article first appeared on Eat.Fly.Drive.
GEEK REVIEW SCORE
Summary
The MINI Cooper SE bridges the potentially big leap from fuel-burning cars to fully electric vehicles, but can it go the distance?
Handling -

8/10

Performance -

8/10

Design -

9/10

Comfort -

7/10

Practicality -

6/10

Value -

7/10