There is no denying that the Google Wifi range of network devices have set the standard for mesh network devices, but that does not necessarily mean that it's the best.
In fact, being first has some downsides, as it allows competitors to come up with something new or even more innovative. I'm not implying that other companies into mesh devices are merely following in Google's footsteps, since mesh network are not new, but the Linksys Velop is mesh network that can run circles around Google's version.
For the uninitiated, a mesh network is established by a new type of router that, like normal routers, cover an area with Wi-Fi signals. For the coverage to expand, users simply connect another mesh device to the mesh network generated from the first device. By "linking" both coverage areas together, it establishes a larger mesh that covers a much bigger area.
If you have a large apartment with elongated layout, there's no longer a worry about devices at one end of your place, say the bedroom, not being able to connect to a router on the other end, such as your living room. With no need for an extender, a mesh network offers a flexible coverage area for WiFi devices connected to one router, to move seamlessly to another router, without disrupting connectivity.
But more than that, a mesh network can also extend upwards and downwards, so coverage can be extended to every floor, as long as one network device is connected to another on another floor. My parents live in a three-storey house and they have always have issues with coverage, but a set of three Linksys Velop units, one placed on each floor, solved the issue and there is now consistent coverage from the ground floor, all the way to the third floor.
Naturally, there was a slight hiccup, but more on that later.
Okay, so the Linksys trio of devices is no different from the Google WiFi trio of devices right? They each use an app for hardware management, and the app allows users a spread of management functions, such as device management, guest network deployment, device prioritisation and parental controls.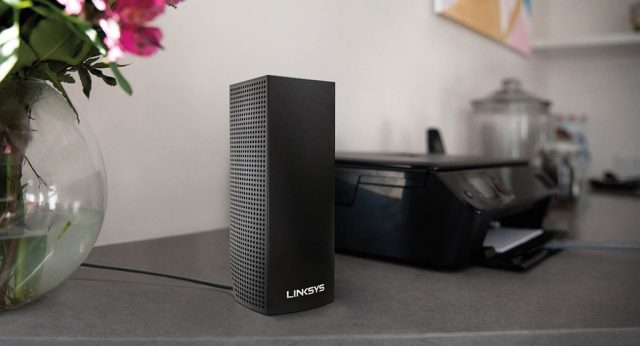 One key difference is in the bands. Google WiFi is a dual band device – one at the older 2.4GHz network and one on the 5GHz network. The Linksys Velop is a tri-band device. There's one 2.4GHz band and two 5GHz band. The dual bands are to alleviate network congestions, for homes that have a larger number of 5GHz enabled devices. The Velop is smart enough to allocate traffic to balance the load, and device prioritisation allows users to manually do the same.
Do you want your 4K TV to have a more favourable connection, compared to your iPad or laptop? Simply place the TV as a priority. In my living room, my 4K TV was streaming 4K content via Netflix, while in the bedroom, my laptop was running several downloads. The network was also concurrently handling several other networked devices, including Alexa, two IP cameras and my Philips Hue setup.
To be fair, there wasn't a problem when I ran the same setup on my previous test with the Google WiFi either. Like Google's device, I was also able to go wired back-end, to run a Powerline setup from my living room to the bedroom.
So what makes Velop a preferred trio of devices? The difference is with the availability and price. Google's device is not widely available here. Sort of. Officially, it is available via StarHub but you have to be a StarHub customer to get it. There are parallel imports, such as the imports from ViewQwest, or from importers from Lazada and Qoo10, but they don't come with an official warranty.
On the other hand, the Velop is officially available and sold here, and offers the same feature-rich offerings, as well as a third band support. That's a win in most books.
Setup is simple. Plug the modem to the first unit, and use the app to establish a network connection to the first unit. Adding a second unit is a much simpler affair, as the app will detect the second Velop unit, and link it to the first, and so on.
So what happened with the hiccup at my parents?
It's to do with all third-party routers and Singtel's fibre network. Since the telco uses its network to support digital voice and Singtel TV, Singtel uses a VLAN infrastructure and you cannot just unplug the old SingTel provided router out, and replace it with a new router like the Velop.
If you are on a Singtel fibre network, stop fiddling around with your own setup and call Singtel customer support. Tell them what you need and after I did that, I could plug in the Velop and get things running. Sure, it took 2 days instead of 20 minutes, but the end result is still pretty amazing.
Design wise, the Velop and Google Wifi differ greatly. The Velop is a rectangular tower that looks smaller than how it's depicted in photos. It's roughly the height of a smartphone, with three smooth, flat sides. An indicator light on the top shows if it's operating smoothly. The base as a small triangle groove for your cables, and it needs a small surface area to sit on. The power supply unit is slightly larger than normal, but it also comes with a separate three pin plug that can be rotated to fit various orientation, for homes with tight spaces.
App-wise, the Google Wifi system is intuitive and easy to use. It is also rather rudimentary, since its purpose is to offer a fuss-free set-up. Velop's Linksys app is more feature pack, as the parental controls come with the ability to block traffic on specific sites, on specific devices. Aside from limiting traffic to dubious sites, such as online gambling and pornography, owners can also disable connectivity to services, such as game streaming ones such as Steam, or video content ones such as YouTube. Want to block access to torrent sites? Now you can.
There's also the option to set a connection schedule, such as limiting your child's laptop for hours within a day. There are also advanced settings such as DHCP configuration, port forwarding and DNS settings. It might not replicate the full features of a traditional router, so advanced users need not apply, but these settings offer more than just a plug and play element for those who want to tweak some settings.
For even more features, there's a browser-based setting that also allows you to split the network into separate 2.4 and 5 GHz bands. Why would anyone need that? I have an older IP camera that runs on 2.4GHz, which also requires a smartphone app for set-up. Alas, all my smartphones automatically connect to the 5GHz band, which means that when connected to the same network, the camera and smartphone cannot detect each other because they are on different bands.
The trick is to split the bands, connect the camera and phone to the same 2,4GHz band, pair them, and then combine the SSID broadcast back to being one seamless band. It might sound complicated, but this is the assurance that even older devices running on the 2.4GHz band can be supported by the Velop.
And it's also why I bought myself a unit for my personal use.
GEEK REVIEW SCORE
Summary
The Velop is a mesh network that is in a class of its own. Offering no-nonsense set-up and a streamlined app that supports basic and advanced features, it is ideal for landed homes and larger apartments that suffer from connectivity issues.
Overall
9.3/10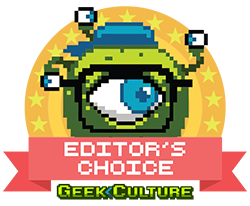 Aesthetics -

9/10

Build Quality -

9/10

Performance -

10/10

Value -

9/10