It's funny to think how a lot of essential functions in today's average home, such as potable water, flushing toilets, and cars, were all considered luxuries over the past hundred years. The same goes for a stable WiFi connection, an essential which is probably second only to food and water in the modern home, where working remotely has made it even more of a necessity.
Coincidentally, 2020 saw the rise of 5G networks to enable the average consumer to do just that, with download and upload speeds matching that of home WiFi routers. However, WiFi routers themselves got a much-needed upgrade in recent years, with the rise of WiFi 6.
The latest device to utilise WiFi 6 on a commercial level is the Linksys E9450 WiFi 6 EasyMesh Router. Singapore was the first in the world to launch it on 10 October as a Singtel subscriber exclusive (10 December for the rest of the island), as Linksys' first-ever entry in the Dual-Band WiFi 6 market aims to provide users with up to 4 times more capacity than WiFi 5 connections, with the ability to connect to over 40 devices simultaneously at the same bandwidth. Also, its new EasyMesh router system lets it get set up with greater ease than its Velop Mesh predecessors.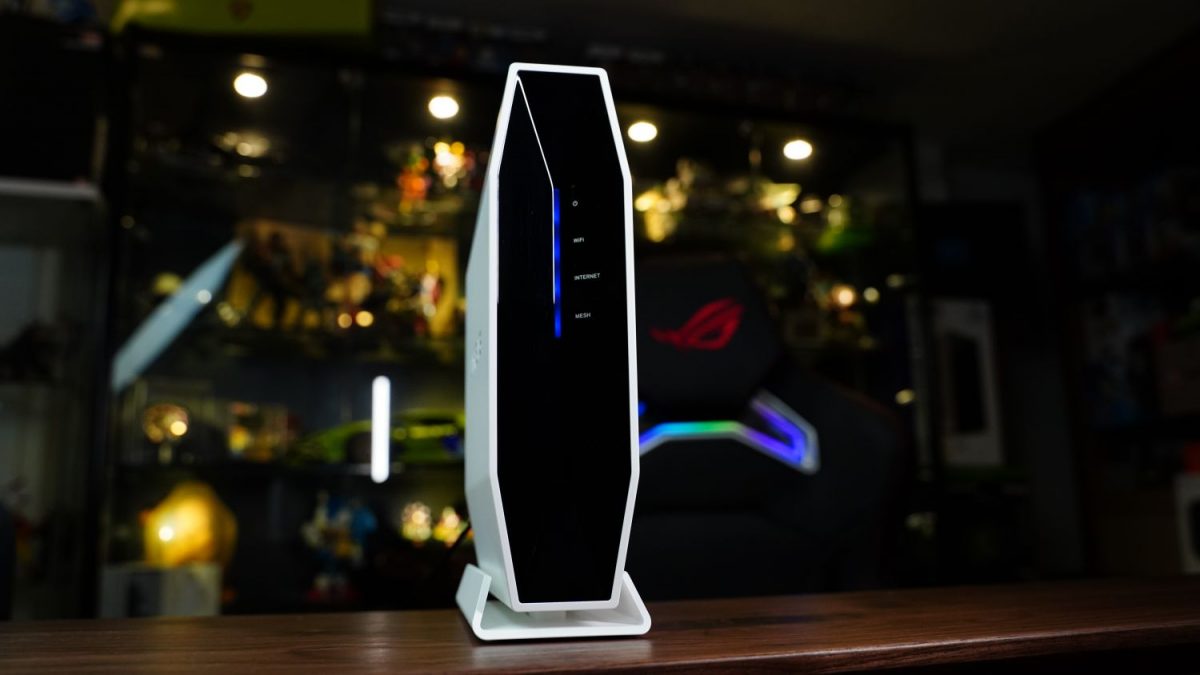 Sounds too good to be true? Well, yeah, for the most part.
At first glance, one might easily mistake the Linksys E9450 for a PlayStation 5 (yes, this idea constantly popped in our heads the very moment we laid our eyes on it), and we don't blame anyone for doing so. Sporting a clean white exterior with a black front panel angular, trapezoid design, it may as well be a PS5 Slim. It measures just about half the size of the PS5 when standing upright, but looks surprisingly awesome and clean when placed side-by-side. The best part is that the PS5 can actually use a WiFi 6 connection so it's a win-win (more on that later)!
Really, this router's uniform aesthetic lets it fit seamlessly into just about any home or office setting.
At a closer look, getting a read off the E9450 seems pretty straightforward. The front panel reveals four aspects (Power, WiFi, Internet, Mesh), that light up with blue LEDs when activated (red if not working properly). On the reverse side, users will find an assortment of ports and buttons, including:
1x USB 3.0 port
4x 5 Gigabit LAN ports
1x WAN port
1x WPS button
1x Reset button
1x Power button
1x 12V DC-in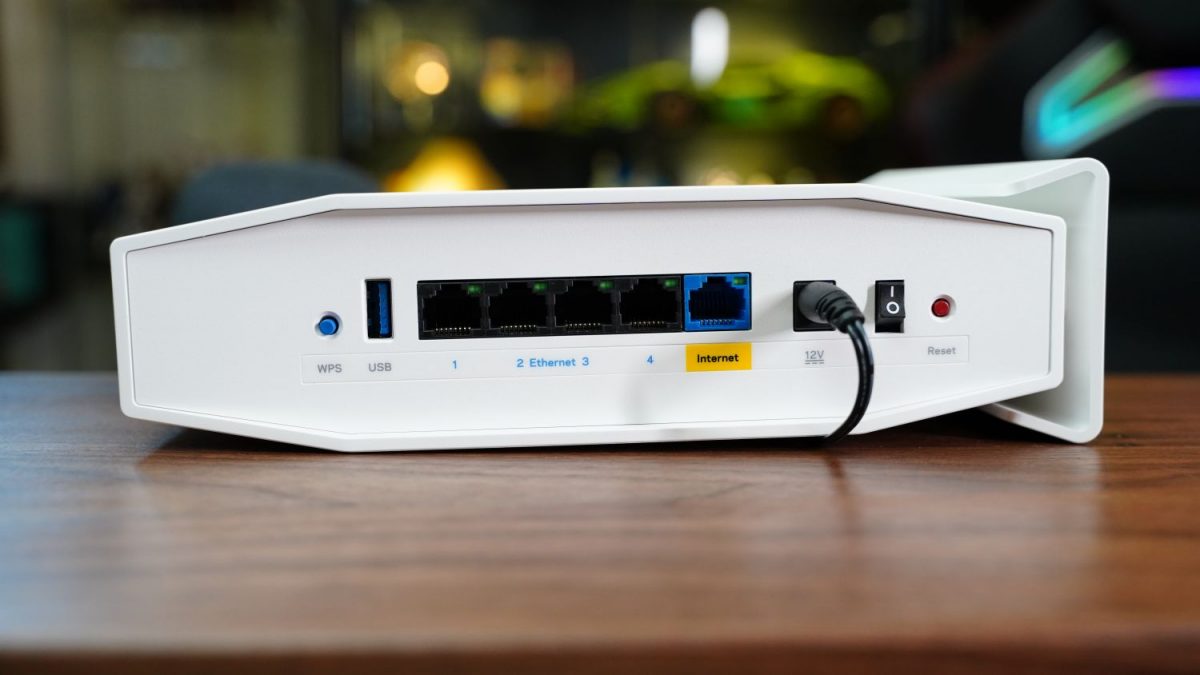 Again, like most other recent Linksys routers like the MR9000X, setting up the E9450 is a breezy process, especially if you're just switching over from your old router. All one needs to do is hook it up to a power source, connect to the various LAN/Ethernet ports as necessary, and follow the necessary steps on the browser on your PC/laptop, or even on your phone's browser, and you're all set. Within minutes, we were already ready to resume our day using the Internet and continue with our work.
The best part about setup is that, unlike the MR9000X, you don't need to use the Linksys app, which we found to be rather troublesome to use in our previous experience; all you need is to use a browser on any device, and you can set the E9450 in a jiff. Until Linksys streamlines its app process in the near future, folks are better suited to using browsers to set up its WiFi routers. That, however, is a conversation for another time.
Anyway. The other big selling point about the E9450 is its EasyMesh system, which lets it pair seamlessly with other E9450 routers, and other routers that use EasyMesh to provide a more stable WiFi connection all across the area. The only problem here (and a very big one at that, might we add) is that… the E9450 is currently the only EasyMesh router that has been released, so you're really only able to utilise this function by purchasing a second E9450 router.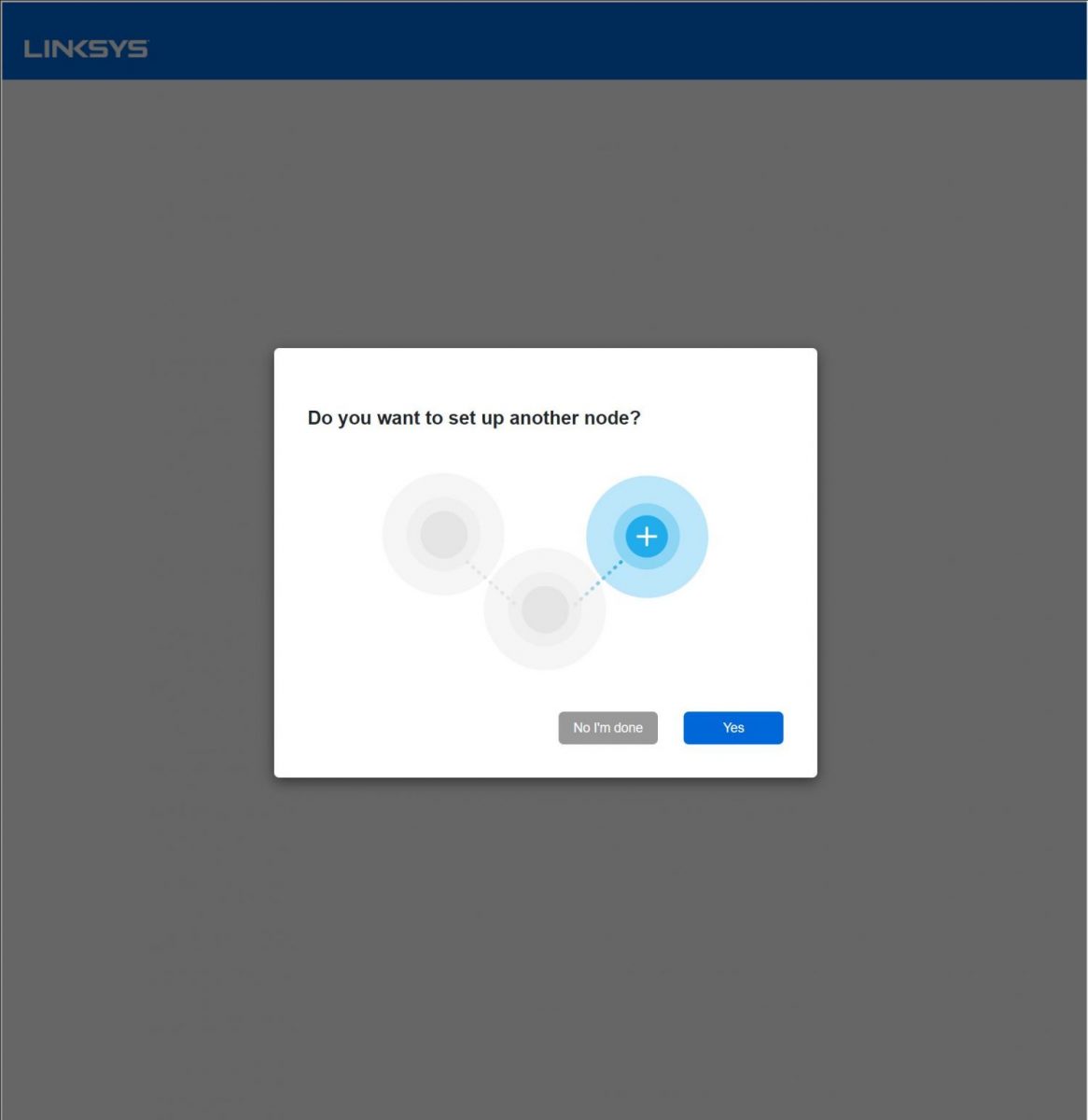 At S$399, it's not exactly the cheapest WiFi extender in the world, so you might want to exercise some caution if you do intend on extending your WiFi range. So until Linksys releases more EasyMesh devices, you're better off investing in Linksys' older WiFi 5 Velop mesh system, which consists of a slew of main routers and Velop devices such as the MX5300, for a proper mesh WiFi ecosystem.
That said just a single E9450 unit is more than enough to cover a steady and stable WiFi connection for around over 20 devices in our spacious office which measures 88 square metres, with a small upper loft.
Just to provide you a bit more context, here are the devices we're using on a daily basis in the office:
Roughly 8x smartphones (a mix of personal devices and review units)
5x PCs
At least 3x Laptops (including some of the team's personal notebooks)
At least 2x tablets (same as above)
1x Smart doorbell
1x PlayStation 5
1x Xbox Series X
1x Smart TV
While this isn't quite at the 40-or-so device limit that the Linksys E9450 can support, the amount of coverage it provides is quite astounding, and its connection speeds even more so. We performed a few tests on Speedtest by Ookla on one of our PCs. The test parameters comprised using a scale of 100Mbps among two different service providers, as well as an Ethernet connection.
Here are our results for all three after a few rounds:
Ethernet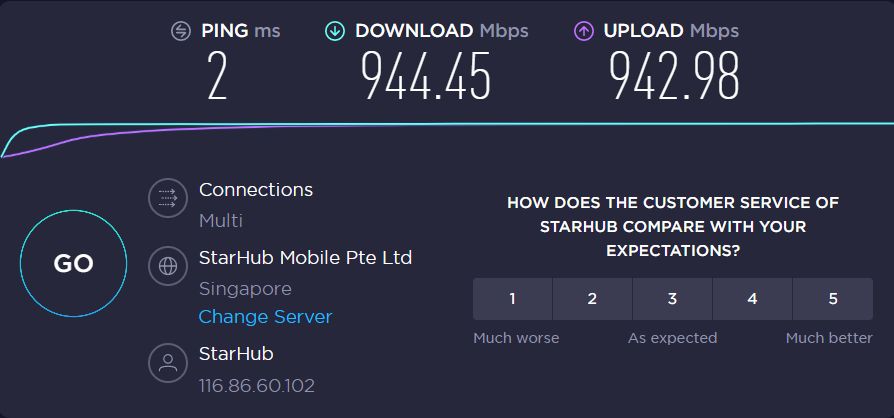 StarHub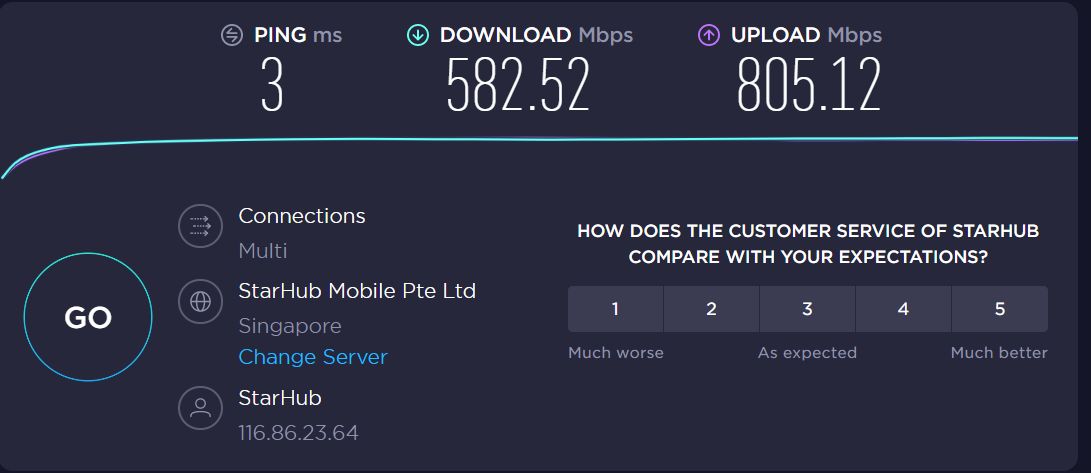 Singtel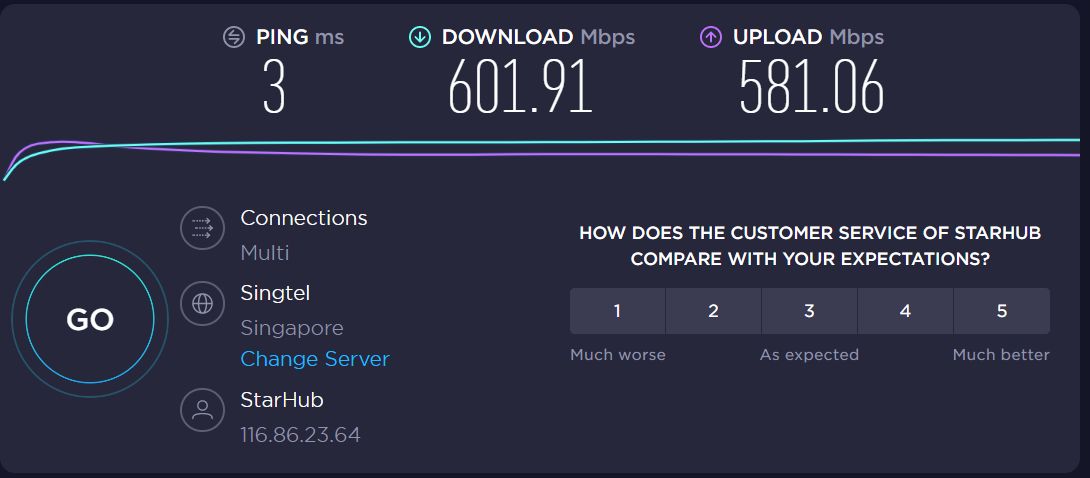 Interestingly, there doesn't seem to be a difference between the two telcos, averaging 580 – 600Mbps in download speeds, and roughly 680Mbps for upload speeds. But of course, the Ethernet connection is by far the speediest one of the bunch, nearly hitting 1TB for both download and upload speeds. Anyway, the recommended connection in this case would be WiFi, as it seems to yield the fastest and stable connection throughout.
The results above ring true with our field tests. We managed to get an average of 600 – 800Mbps while uploading files of 1 – 2 GB to YouTube while using WiFi 6 on the E9450 on our PC. Previously, uploading files of a similar size took a good 3 minutes for it to be done with our previous WiFi 5 router. Similarly, downloading games on our PS5 became a really speedy process, with 120GB files that typically took 5 – 7 hours to download, now taking a solid hour, give or take, to do so. And the best part here is that we could do all this with nearly 20 other devices connected simultaneously and chomping up generous helpings of bandwidth.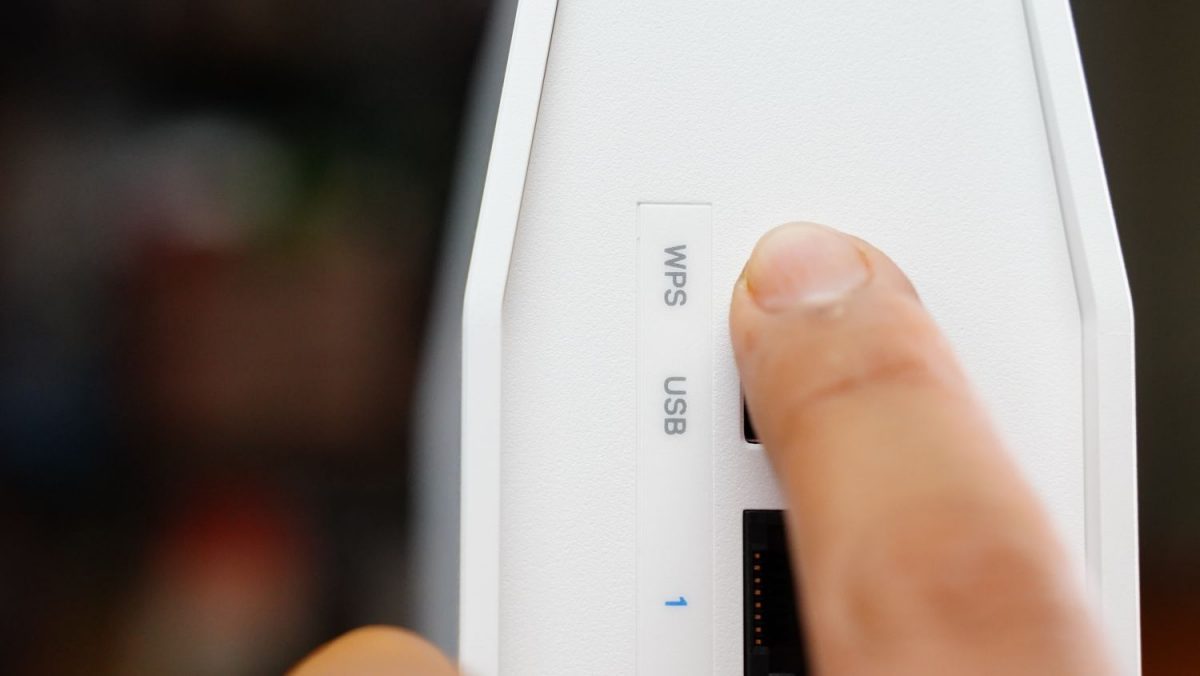 While your mileage may ultimately vary here, our personal verdict is that WiFi 6 is quite a considerable upgrade to WiFi 5… but only if you're using a device that supports WiFi 6.
Currently, there aren't a whole lot of devices that natively ship with WiFi 6. Not everyone will be owning an iPhone 11/Samsung Galaxy S10/Huawei P40 Pro onwards, or a PlayStation 5 today, and even then, it will take some time for companies to ship out WiFi 6-ready products. So really, you're only going to benefit from a WiFi 6 connection if you have specific devices (CNET has a comprehensive list of devices that do support WiFi 6 if you want to check whether you really need an upgrade) on hand. For devices that support WiFi 5, you're really only going to get WiFi 5 speeds, which, if you're already used to that lifestyle, isn't all that bad..
That said, however, using the Linksys E9450 as a replacement WiFi 5 router for now isn't such a bad idea, especially if you're looking to replace your 10-year-old machine. That just means that you're future-proofing your home or office for when you actually do purchase more WiFi 6-ready products when the time comes for it.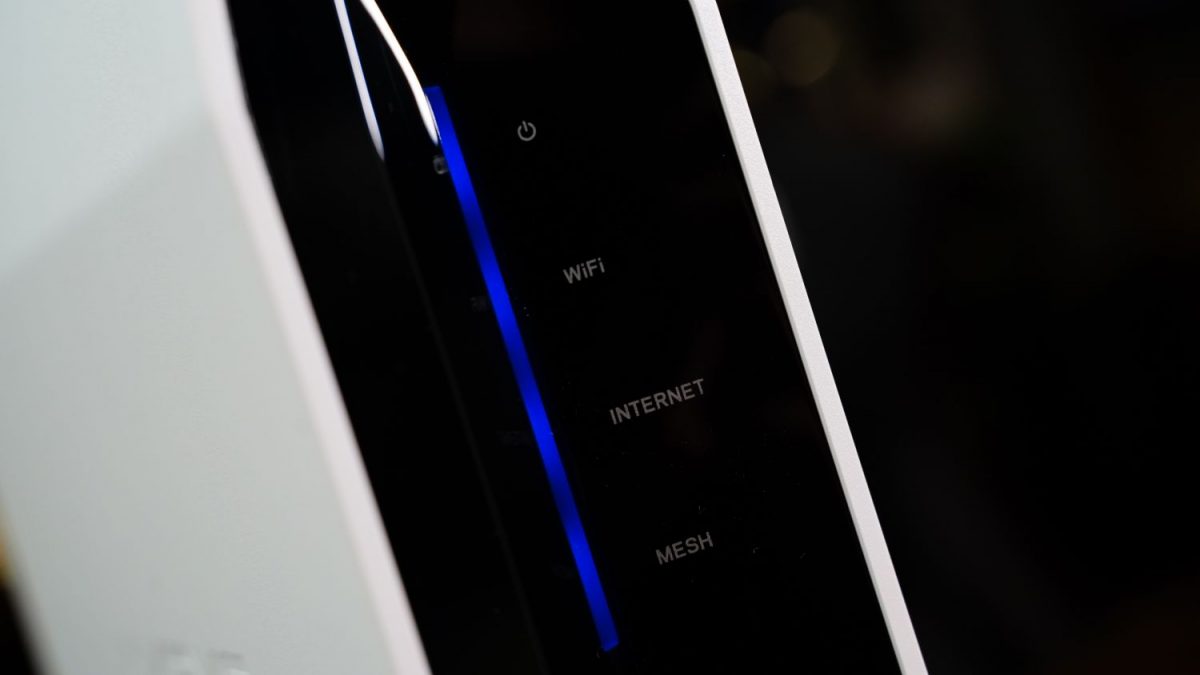 So when all is said and done, the Linksys E9450 is a solid and accessible WiFi 6 option for the average consumer. While there are certainly other WiFi 6 routers in the market that can potentially outperform this one, what sets this device apart from the rest is its relatively accessible price (and when we say that, we mean under S$400, while other WiFi 6 routers typically are priced easily above S$500) and simple setup.
Also, while the lack of proper EasyMesh support is still very much lacking, given that it is the maiden product to feature such a function, and that not a lot of WiFi 6-ready devices are available in the market, it wouldn't hurt anyone to invest in WiFi 6 early.
The Linksys E9450 is currently exclusively available to Singtel subscribers in Singapore, but will be available elsewhere such as Lazada and Shopee on 10 December.
GEEK REVIEW SCORE
Summary
The next generation of the Digital Age is punctuated with next-gen WiFi 6 connectivity in devices such as the Linksys E9450 EasyMesh router. With fuss-free setup, a relatively accessible price, and superb download and upload speeds, getting your local internet up to speed has never been easier with the E9450. That said, its utility is hampered by the lack of EasyMesh devices available at present, so it might not be ideal for folks with a bigger home or office.
Aesthetics -

8/10

Build Quality -

8/10

Performance -

8.5/10

Value -

8.5/10

Geek Satisfaction -

9/10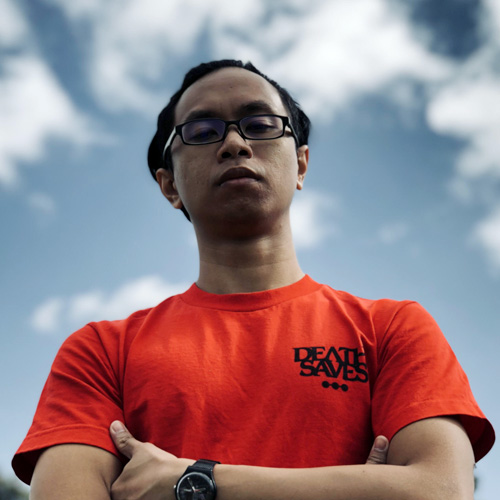 Marion has a serious RPG addiction. Sometimes it bleeds into real life; he forgets to sleep because he thinks he has a Witcher's body clock. Forgive him in advance if he suddenly blurts out terms such as "Mind Flayer" and "Magic Missile", because never once does he stop thinking about his next Dungeons & Dragons game.
---

Drop a Facebook comment below!