Have you ever been spooked by a shadow you thought you saw lurking in the dark? A silhouette that you thought was there, or maybe …it wasn't? Your eyes are playing tricks on you perhaps? Lights Out has just affirmed that those monsters are real, and they can hurt you.
Directed by David F. Sandberg (and produced by James Wan), Lights Out is based on his 2013 acclaimed horror short film of the same name. If you've watched it (And if you haven't, watch it here) and was unnerved by it, I assure you this extended version will have you keep your lights on when you go to bed at night.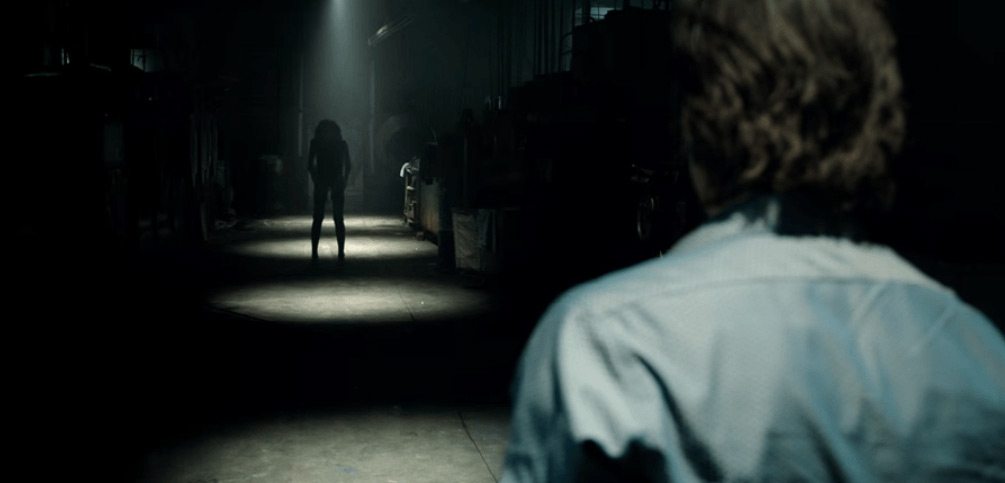 The movie is designed to scare and it wastes no time introducing you the entity that will haunt you for the next hour. Taking place in a creepy mannequin factory, employee Lotta Losten (who was in the short film, and Sandberg's wife) sees an ominous woman-like figure that appears mysteriously in the dark and disappears when she turns on the lights and tries to warn her employer (Billy Burke) right before she fled from the scene. Unfortunately he didn't take her seriously and ends up in a grisly death.
Later we learn that he left behind his young son Martin (Gabriel Bateman) and wife Sophie (Maria Bello) whose depression has gotten much worse since his demise. So bad that her nightly talks in the dark, accompanied by weird noises and scratches, with her imaginary friend Diane have gotten so intense and real that it begins to scare Martin. Disturbed and alone, he loses sleep over it and his mom gets called to school when he keeps dozing off in class but when she wasn't contactable, his older stepsister Rebecca (Teresa Palmer) was called in instead. Very soon Diane the imaginary friend has morphed into Diane the undead darkness demon and there begins the mayhem.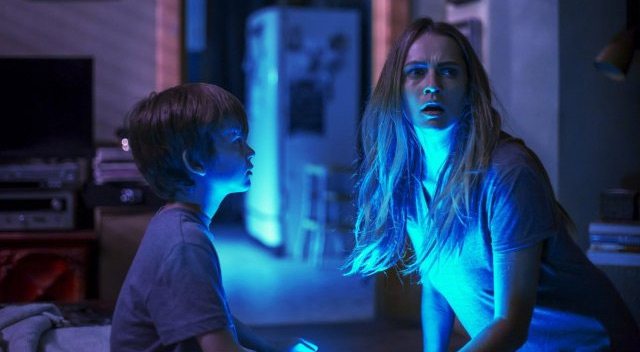 If you're looking for a movie with a plot, this won't be it. There's a back-story to it but it will just leave you scratching your head at the end of it so we shall not go into that (perhaps there's hope of a sequel). Lights Out is meant to make you jump in your seat and scare you sh*tless and it does that pretty darn well – it's a full 81 minutes of jarring scares, edge of your seat suspense and plain horror.
Perhaps the scariest thing about this movie is not just because there's a monster that lurks in the dark and disappears with the flick of a light switch, but the fact that it brings all our nightmares to life. It gives the monster form and shape, and they even threw in a willowy, raspy voice to go with it. Lights Out is fundamentally about exploiting our (and possibly every other person on the universe) fear of the dark and it succeeded because it made me extremely jittery for the rest of the night.
Depression and mental illness plays a big part in the script and as much as I am impressed by how it was so seamlessly weaved into the story, there was just not enough depth and content for me to feel invested in it. I was also disappointed by the ending, which I feel is highly divisive for what it might suggest about depression.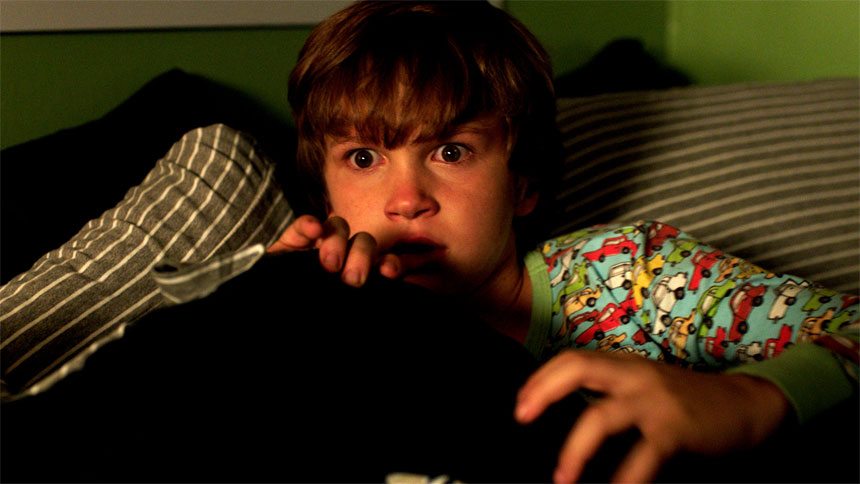 If you're looking for a good scare and nothing else, this is it. But if you're afraid of the dark, you might want to give this a miss. Also, don't bring your kids to watch this because I assure you they'll be sleeping in your bed for the next three nights. Don't say I didn't warn you.
GEEK REVIEW SCORE
Summary
If you're looking for a good scare and nothing else, this is it. But if you're afraid of the dark, you might want to give this a miss.
Story -

6/10

Direction -

8/10

Characterisation -

6/10

Geek Satisfaction -

10/10
Her idea of a date night is a good horror movie with a huge bowl of sweetened popcorn and ribena. She believes the world will end with a zombie apocalypse so she urges everyone to keep more canned food in your pantries.