The LG Gram series always had its expertise rooted in an extremely portable, lightweight design, and that's to be a continued characteristic with the newest member of the family. The latest LG Gram 17 follows hot on the heels of its Gram 13, 14, and 15 predecessors from 2018, bringing the unlikely concoction of ultra-portability and heft to greater heights. While it doesn't hit all the high notes, it certainly doesn't mean the laptop is a slouch.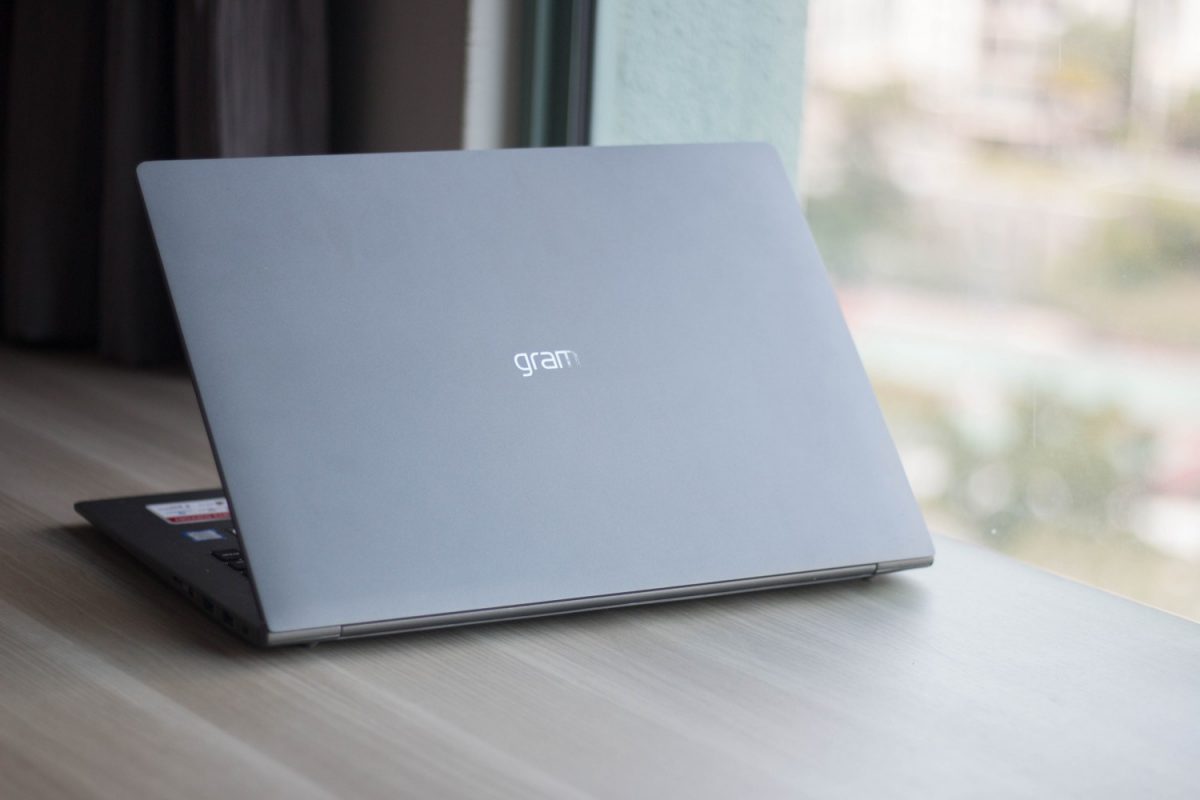 17-inch laptops are uncommon outside of gaming territory with good reason – nobody likes to lug additional bulk around, so sleek and lightweight is the way to go for many users. The newest Gram, as per tradition, seeks to prove that weight and size are not necessarily proportional to each other, courtesy of its nanocarbon magnesium shell.
Weighing in at 1.3kg, it's lighter than some of the most popular 15-inch laptops like the Dell XPS 15 (1.9kg) and MacBook Pro (1.8kg). A metallic-looking exterior belies all of that, however, with the machine exuding a premium, solid feel, while delivering the portability of plastic. In fact, lugging a laptop around has never felt more of an ease. Opening the Gram 17 one-handed is also much of a delight, as it stands firm upon the lifting of the lid with very little wobble, which makes for a pleasant surprise, considering its feather-light weight.
It's not without its flaws, though. While LG claims that the Gram 17 has successfully withstood the test against MIL-STD 810g military standards, the flex observed in both its chassis and lid doesn't do much to inspire confidence, especially with the increased pliability that follows added pressure.
Where the laptop lacks in rigidity, it compensates with its massive screen size. Despite its relatively larger IPS display, the side bezels have been shaved off to allow for enhanced viewing immersion, at a resolution of 2,560 x 1,600. Naturally, that falls short of the crisp quality produced by 4K panels, but it still impresses with its striking, eye-pleasing colours, and overall sharpness. The contrast and black levels, in particular, are excellent – YouTube videos took on a detailed, lifelike look when played, while vividly-animated content such as Into the Spider-Verse and selected episodes from Death, Love, and Robots were extremely gorgeous.
The pixel-packing 17-inch display will also come in especially handy for productivity-driven users. Working in split screen mode with multiple windows side by side is a convenient, satisfactory process, and no lag was observed when browser tabs, documents, and video streams were all pulled up at the same time. At times, its glossy display can make it difficult to view content – especially under direct sunlight –, but that's more of a slight inconvenience than a deal breaker.
Becoming a productivity maestro is made more efficient with the host of ports available on the Gram 17. Its lightweight frame doesn't give up on both classic and modern connectivity, providing access to a USB-A, HDMI, and Thunderbolt USB-C port on the left, as well as a microSD card slot, and two additional USB-A ports on the right. Considering how commonplace dongles are nowadays, the healthy port variety is certainly welcome, especially for those who have yet to embrace the dongle lifestyle.
There's a limit to its productivity, however. With the lack of a dedicated GPU, users will be unable to do any graphics-heavy lifting on the laptop, which is an unfortunate waste of potential. The point of a 17-inch laptop, after all, is to maximise the expansive screen experience, but its specs leave no room for any serious video editing (1080p and above) or advanced photo editing. Gaming, naturally, is also out of the picture.
One of the more attention-grabbing features of the Gram 17 is its spacious keyboard. Where some laptops have adopted the tenkeyless approach, LG's newest member includes a number pad at the far right to allow for ease in computing data. While appreciative, this presents an issue in function – a weird design choice sees the touchpad and main keys being pushed off-centre, which will take a little while to get used to. Typing errors, thus, are to be expected.
Decked out in a black shine against its dull silver chassis, the laptop's keyboard is heavily reminiscent of a MacBook's. Unlike the latter, its keycaps are softer and shallower to the touch, lacking the satisfying tactile feeling that comes with typing on a mechanical keyboard, but are more than capable of producing a decent click feedback. Its backlight effects allow for easy use in the dark, too.
The MacBook has long established itself as the wielder of a superior, high-calibre touchpad on the market, so finding its match is no easy feat. The Gram 17 isn't too far off the track, sporting a responsive, clicky tracking surface for smooth navigation and dragging, although it could do with a little more estate to leverage on the spacious 17-inch build.
A feature of note on the laptop would be its fingerprint reader, which doubles in with the power button on the right. While precise for the most part, there were instances where the fingerprint was not recognised even after multiple attempts, such that one has to eventually fall back on the tradition password unlock method. Thankfully, such exceptions are few.
Audio, meanwhile, is the greatest flaw of the Gram 17. The built-in speakers are weak and lacking in quality, bringing with them an airy, hollow, and dull quality. This subpar listening experience is only made slightly more rounded and tolerable with its DTS Headphone feature, which enhances audio quality though the headphone and mic jack. It's all quite a pity – the laptop certainly has the potential and capabilities to engage and immerse viewers, especially with its comparatively larger, bezel-less screen. Without decent audio, that just wouldn't have the same effect.
At least its battery life is praiseworthy. Where typical laptops can run for six to seven hours on moderate workload (keeping multiple windows, apps, and tabs open, streaming music or videos), the Gram 17 yields a powerful punch, and is able to sit through about 10 hours of use – though still quite some ways off LG's claim of 19.5 hours. Still, it's pretty impressive, and provides more than enough charge to survive the workload of a typical nine-to-five schedule.
At S$2,799, the Gram 17 is far from being the best bang for your buck, but might be a good choice for users who fancy a 17-inch screen in a lightweight, ultraportable package. For others, however, the lack of a dedicated GPU and robust build quality does little to justify the hefty price tag, especially since there are already more affordable, powerful builds on the market. LG's newest member is as unique as it's niche, which means most users will probably stand to benefit from the more common 15-inch ultraportable notebooks instead.
GEEK REVIEW SCORE
Summary
The Gram 17 is a steep investment for those seeking the trifecta of enduring battery life, colour vibrancy, and ultra-portability, but otherwise, remains an unconvincing pick. 
Aesthetics -

7.5/10

Build Quality -

8/10

Performance -

8/10

Value -

6.5/10

Geek Satisfaction -

7.5/10
---

Drop a Facebook comment below!