1993 was a glorious year for movie magic. Why? Two words: Jurassic Park.
The iconic movie by Steven Spielberg came out of nowhere, and stunned audiences with true-to-life visuals of the creatures from the Mesozoic Era, expertly brought to life in the most jaw-dropping scenes that have all but been immortalised in pop culture today.
And also Jeff Goldblum.
Fast-forward to 2019, and now you can have the best of Jurassic Park all in one sitting, with the new LEGO 75936 Jurassic Park: T. rex Rampage.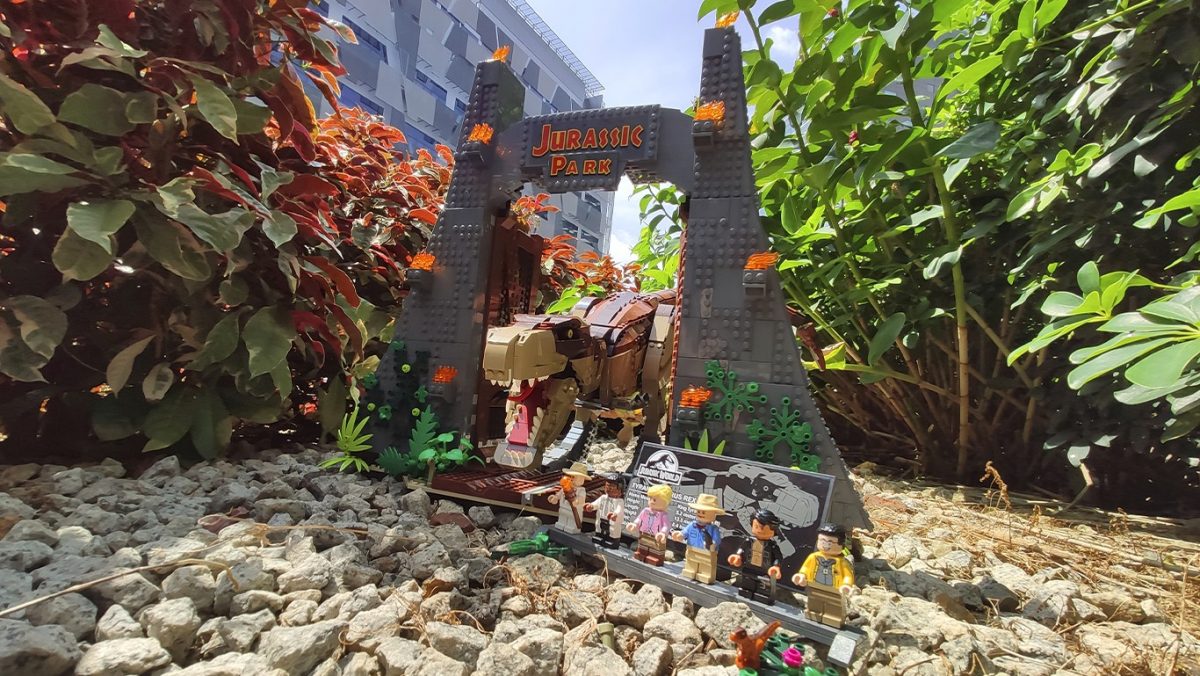 Designed by esteemed designer Mark Stafford, this absolute beast of a set comes with a staggering 3,120 pieces. Its main components are split into two: the Tyrannosaurus Rex, and the iconic gates that open to Jurassic Park itself.
Once constructed, the T. Rex stands at roughly 22cm tall, 69cm long and 17cm wide — about as big as an infant. Featuring snapping jaws on a minimally poseable head, tiny arms, strong legs and a surprisingly solid tail, the T. Rex is quite an impressive beast of a LEGO figure.
The iconic gates to Jurassic Park measure over 42cm tall, 48cm wide and about 14cm deep, and opens up to welcome unsuspecting visitors. But more than just a gateway to a doomed park, the reverse side of the gate's wall frame is delightfully well crafted, with mini dioramas built-in, featuring scenes ardent fans of the film will do doubt recognise, including a cracked dinosaur egg in a nest, some delightful dessert, and one particular scene where someone needed a hand and uh, got one.
Accompanying the two massive figures are six Minifigures of the main cast of characters in the original films. For those too young to remember, we have Sam Neill's Dr. Alan Grant, Laura Dern's Dr. Elie Sattler, Jeff Goldblum's beloved Dr. Ian Malcolm, Samuel L. Jackson's Ray Arnold, Wayne Knight's Dennis Nedry, and the late Richard Attenborough as park curator, John Hammond.
These minifigures can be fixed onto a platform bearing the scientific name of the iconic dinosaur and its stats. Also, there's a cute velociraptor minifigure to boot.
The Ian Malcolm minifig is the second iteration in LEGO for the role immortalised by the inimitable Jeff Goldblum, and this time LEGO gives us fans what we live for – the open shirt print.
Jon Hammond is nicely detailed with the teeth gap print and an ember staff, though much to our disappointment, he didn't come with a particular mosquito detail. Ray Arnold is featured in his well-printed lab coat, sans his cigarette.
The father figure Alan Grant features once more in this set and this time he comes with some better prints on the torso segment but we're unfortunately missing details on the legs, although we could argue the raptor claw he carries is a nice addition.
We get the only lady minifig of the set in the form of Ellie Sattler whose hair is tied up this time around because of the events that follow. We get a superb print on the legs showing the separation between her utilitarian shorts and boots.
Last but not least, Dennis Nedry joins the crew as our favourite minifig of the set, complete with a pot belly print and the best alternate face print, a most fitting identifier of the comeuppance he received as the protagonist of the events of the original Jurassic Park novel and film.
But of course, while these minifigs are amazing in their own right, the star of the show is still undoubtedly the T. Rex.
In our experience with the iconic and imposing T. Rex, he comes across as more poseable than we initially thought. The head is connected to the body via a ball joint and can basically move up and down with slight twists to the sides. Its jaw opens widely with ease and a distinct tongue shows.
The scale-y texture on the legs and on its back really depict the realism on this creature and gives it even more cred on top of the fantastic support it gives to the entire kit. The tail moves in a very organic manner and it pretty much the most solid portion of the t-rex despite it's amazing maneuverability.
Its legs – not dissimilar to birds' considering it is a therapod and the OG of the bird family – provide a wide standing base for stability in all possible poses. Even with the heavier head and a rather large tail, we found the T. Rex's centre of gravity very much considered – a wonderful hat tip to LEGO.
The T. Rex can be positioned pretty dynamically for some really cool poses in attack positions, and for general looking really awesome roaring into the sky.
Perhaps this was LEGO's intent, but while the set was meant to be more of a display piece, in our playtime it truly felt like this was built exactly to how a real T. Rex could actually move, thick neck and tail swing included, making for a build that gives even more value than the eye can see.
If you're willing to see past the rather steep price point of S$341.90, it's definitely a worthwhile addition to any collector's arsenal.
Plus, Shirltess. Jeff. Freaking. Goldblum.
---

Drop a Facebook comment below!