Every legend has a beginning. Every saga, a first step.
Alas for Lego, the production of simple, cheap collectible figurines based on popular culture, from TV shows, movies, comic books to video games, grew with Funko, the American toy company that has licensed hundreds of characters from all over geekdom.
Hong Kong's Hot Toys entered the fray a few years ago, with their Cosbaby figurines. Again, the public fell in love with disproportionate figurines with exaggerated features that weren't really posable, because who plays with action figures anymore?
Lego's foray isn't that new, given that it has been selling its minifigs for the longest time, but it seems that consumers are clamouring for something bigger. When news broke that Lego was launching limited sets last year, fans went nuts and snapped up the exclusives at San Diego Comic Con.
Unlike the sets that were sold as two-packs then, the current Lego Brickheadz Series 1 are available as individual figurines, though the Lego Certified stores are making them available as complete sets. At the recent launch at Ngee Ann City, only Batman, Robin, Joker and Batgirl were available individually.
There are 12 figures in all, but only 10 are available at the moment. Black Widow, Captain America, Iron Man and The Hulk round up the Marvel set, while Belle and Prince Adam, from Beauty and the Beast, and Captain Jack Sparrow and Captain Armando Salazar, from the upcoming Pirates of the Caribbean: Dead Men Tell No Tales, wrap up the series.
But since the fifth movie in the Pirates of the Caribbean series hasn't open, those two figures aren't out yet.
And if you're really into the Brickheadz series, the Series 1 set is different from the ones available at SDCC. The Bat family set here are from the recent Lego Batman movie, while the Batman and Joker set is from the comics. The SDCC Captain America and Iron Man are also from the comics, while those from Series 1 are based on the recent Marvel Cinematic Universe.
And it's not just the difference in colours, as some Lego parts are also different.
What is identical though, is that every Brickheadz is not just a shell, as they also come with a heart and brain. Fine, the heart is basically a pink 2×2 LEgo brick surrounded by several SNOT bricks, but hey, at least Lego has the ability and tries to humanise its figurines.
Each Brickheadz comes with the same base, with a 1×4 tile with two studs for perching the completed figurine on. While the figurine has arms, they are not movable in any way. There are also some unique parts, like the pieces with Belle's dress, or the stylised chest plate with Batman, Robin and Batgirl's logo.
The designers have tried to make each figure's design unique in some way, other than colour. The Joker has a head of green hair, while Captain America has a mini shield. Belle has a lovely long hair, while the Beast has a lovely mane.
Here's a completed Belle alongside a toy figurine of Belle. You know it's her.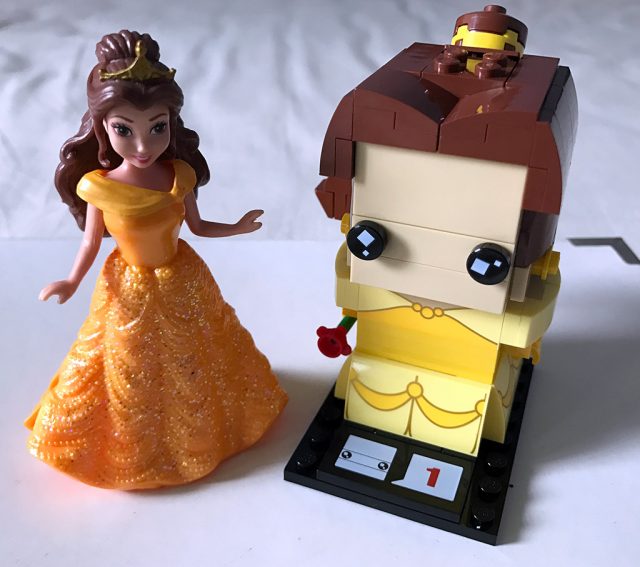 At S$19.90 each, these Brickheadz aren't expensive individually, though I'm sure most collectors will pick up the complete series of 12. The fact that each of the figures are also identified by series, instead of figures within a series means that Lego has plans to release more waves of these figures.
Come on. Even if you remove the Avengers and the Bat family, there are still a dozen Disney princesses and their prince, as well as from its other Lego toy lines.
And can anyone say Lego Brickheadz Star Wars? Afterall, every journey has a first step.
Even if you're not a fan of collecting Lego, the Brickheadz are a nice diversion from the main box sets. They are bigger than minifigs, and make better items to have on your office desk or around the home. And if you stick to only collecting them, you will never be forced to spend more on other similar items.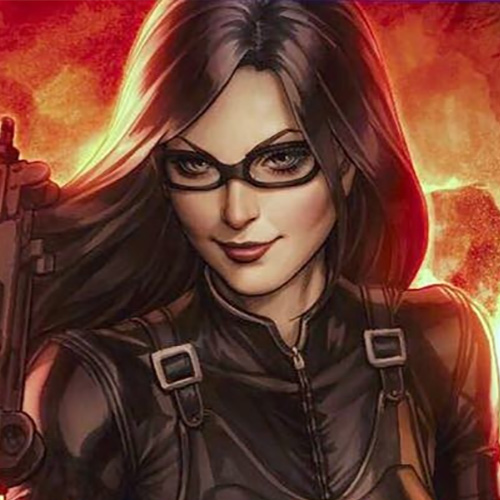 Passion and love mean little to the Baroness. No man can ever be her master. Where there's terror to be sown and coin earned, that's where she will be with guns akimbo.
---

Drop a Facebook comment below!
---