Remember when phones used to be the size no bigger than your palm? Oh, how simple those times were, when you could use an app, text somebody, and pick up calls all with just one hand.
These days, small phones just aren't that common anymore, with smartphones transforming into something akin to miniature tablets that are increasingly harder to wield with one hand than most folks are willing to admit. But when smartphone companies are constantly trying to ape the visual capabilities of traditional TVs and PC monitors with bare minimums of 21:9 aspect ratios, sharper displays, bigger batteries and 90Hz refresh rates, something has to give, and manufacturers have nowhere to go, but expand outwards..
So with the release of Apple's iPhone 12 mini, the 5.4-inch device might seem like an instant downgrade but given that the company has been releasing smallish iPhones in recent years, it's likely that it recognises the demand out there. However, it can also be seen as a palm-sized alternative to the dessert plate-sized flagships we have these days, and instead of relying on a small, under powered device, Apple saw it fit to launch a small phone under its flagship range.
Or, given that we're in the infamous "reboot era", its angular and boxy design could also be seen as a reboot of the designs seen on the iPhone 5 and iPhone 4 – a throwback if you will of a small powerful phone from yesteryear.
Though it really looks like an adolescent iPhone 12 (or the old iPhone 5/5S), it would certainly be criminal to simply label the iPhone 12 mini as a "budget" iPhone 12 – that's what the iPhone SE is for. It's really the best of the base model, just jam-packed into a smaller body, which is actually a major advantage for this model considering just how tiny it is.
We're talking features such as the new A14 Bionic chipset that lets it match the regular model in terms of overall performance, its relatively versatile rear dual-camera system for some snazzy photography, and not to mention 5G-ready capabilities. And at the starting price of S$1,149, it's one of the cheapest iPhones in the market offering the best that Apple currently has to offer, making the iPhone 12 mini more future-proof than its minuscule exterior suggests.
Right out of the box, the iPhone 12 mini sports a petite 5.4-inch Super Retina XDR OLED display (again, by petite, we say that in wake of the norm of smartphones these days that bear displays above 6-inches), which is actually not that far off from the iPhone SE (4.7-inches). This, coupled with the small form factor, lets it be used easily with just one hand. Measuring just 131.5 x 64.2 x 7.4mm, the mini slots snugly into most pockets without the fuss of it jutting out awkwardly and threatening to drop from your back pocket, unlike the iPhone 12 and above.
From our time with it, we found that our thumb could easily reach the other end of the screen when swiping from end to end, or when reaching the other side of the keyboard without worrying about hand cramps and the like. Again, when juxtaposed with the ocean of smartphones that demand to be used with two hands, it's refreshing to be able to use the mini on one hand while sipping on a cup of coffee on the other without so much as breaking a sweat.
Don't be fooled by the small screen size too; it is almost literally bursting with colour and vibrancy. The tones are as sharp and clear as they are on even the iPhone 12 Pro Max, and it's astounding just how bright it can get on this phone (it can go up to 1200 nits max brightness). Its 2340 by 1080 resolution at 476 ppi (pixels per inch) gives users more screen width than you'd expect, meaning you can view content on YouTube or Netflix and scroll through apps just as easily as you would on larger smartphones.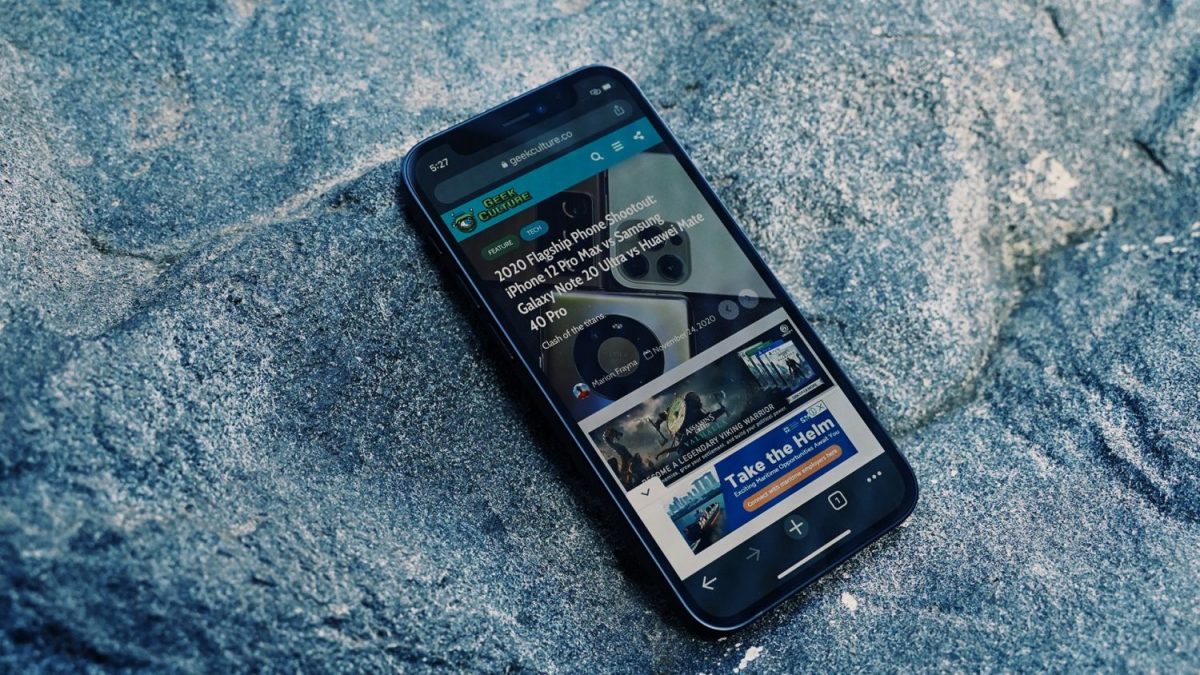 That said, don't expect the most jaw-dropping performance out of this device – a size this small means a smaller battery, though it only needs to power a smaller screen. Apple doesn't typically reveal the capacity of their devices' batteries, but from our experience, it tends to last no longer 10 hours of intensive use — which includes browsing through social media and using the Internet, snapping photos and video, using music apps, watching content and playing games.
The notch at the top — which has become something of a staple in iPhones since the X in 2017, sticks out like a sore thumb so much more than its larger counterparts, given that it is literally the same size. It's unfortunate that Apple didn't find a way to shift the Face ID sensor and front camera away to make way for more screen real estate, but it's something that users just have to deal with in the time being.
The iPhone 12 mini's internals are housed in that same sturdy Ceramic Shield glass material casing, capped off with a sleek glossy finish and an array of base colours that is sure to catch the eye everywhere you go. But of course, we're always of the mind that one should protect the interior and exterior integrity of their phones, which is where Apple's new MagSafe cases come in handy, and in this case the clear MagSafe case ensures your iPhone 12 mini's finish isn't compromised under that added protection.
Again, the iPhone 12 mini has the exact same camera system as the iPhone 12, which is always a great thing if you're on the lookout for something powerful but not as chunky. Its dual-camera setup comes with 12MP wide and ultra-wide lenses, which, really, get the job done at just about any light setting.
There really isn't much to separate it from the iPhone 12 in the photography and videography department, which, again, is an amazing achievement by Apple. In the day, subjects at the foreground and background are equally crisp and vibrant, with a solid dynamic range that requires little to no fine-tuning if you're in a rush to post pictures on social media.
Moving images are captured with minimal blur, and night mode is reliable enough, though, again, won't wow the trained eye compared to the post-processing capabilities of the likes of the Huawei Mate 40 Pro or even the Google Pixel 4. Overall, the camera on the iPhone 12 mini is just good enough, which is actually more than what most folks today can ask for at that price point.
This, by our estimates, is roughly equivalent to that of the Google Pixel 4, which also has a tragically pathetic battery life. You might want to develop the habit of bringing along a portable charger just to be able to get through the day with the iPhone 12 mini, though we found that using Low Power Mode adds about 2-3 additional hours of usage, which makes all the difference on a full day out. A full charge via the Lightning cable (again, like all other iPhone 12s, why doesn't the mini have a USB-C port in 2020?!) takes under 1.5 hours, while it takes a good 2 hours, give or take, with the MagSafe charger. It's not the slowest charging speed in the world, but we certainly recommend that you give it a full charge before heading out.
When all is said and done, the iPhone 12 mini brings so much to the table — actually, just about everything the regular iPhone 12 does, but at S$150 cheaper. This is a proper steal in our books, as you can use the extra cash to actually purchase a MagSafe charger, a MagSafe case, and then maybe even grab a bite at a nice cafe while you're at it. Jokes aside, despite all the hype that the iPhone 12 Pro Max is getting on the upper end of the echelon, the mini is a solid example of making the most out of what you have.
GEEK REVIEW SCORE
Summary
The iPhone 12 mini is a nice throwback to just how small flagship smartphones were 5 to 10 years ago. In an era where smartphones are half the size of our heads, it's always a breath of fresh air to have one that can be used with just one hand again. Just… make it a habit to bring a portable charger with this little fella, though.
Aesthetics -

9/10

Build Quality -

8/10

Performance -

7.5/10

Value -

9/10

Geek Satisfaction -

9/10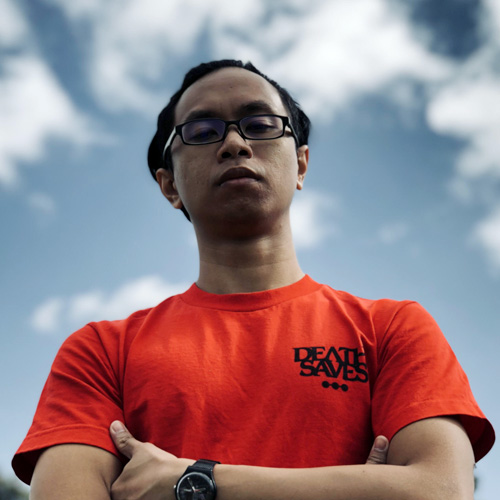 Marion has a serious RPG addiction. Sometimes it bleeds into real life; he forgets to sleep because he thinks he has a Witcher's body clock. Forgive him in advance if he suddenly blurts out terms such as "Mind Flayer" and "Magic Missile", because never once does he stop thinking about his next Dungeons & Dragons game.