If you have always wanted to get yourself an Apple iPhone but can't bring yourself to pay a premium for an iPhone 11 or other iPhone models that are just as, if not more, expensive, then the iPhone SE 2020 is just the phone for you. 
Apple's entry-level device comes in the body of an iPhone 8, complete with a home button that has been missing from all iPhones since the iPhone X. Though it is nowhere near as small as the original iPhone SE, which was based on the iPhone 5, this is currently the smallest and most modern iPhone model you can currently get in the market right now. Not only is it small, it is also the most affordable, priced at just S$649 for the 64GB model. 
For anyone that has used an iPhone 8 before, the iPhone SE's design will be nothing new. It comes with a 4.7-inch (1,334 x 750 resolution) LCD display, complete with top and bottom bezels and the aforementioned home button with a built-in fingerprint sensor. In a time of larger screen devices, this small display takes some getting used to, but the small form factor does help make it lighter, plus it fits into our pockets a lot easier now as compared to the iPhone 11.
While size matters, there is a market for smaller devices and this is perfect for those with smaller hands, who will find typing and scrolling around on the iPhone SE a more pleasant experience as compared to bigger devices such as the iPhone 11 Pro Max. And as someone who used the iPhone 8 before transitioning to the newer iPhone 11, going back to such a small device does give us heavy hints of nostalgia. And much like other recent iPhones, the iPhone SE comes with an IP67 rating for water resistance, meaning the phone can withstand being submerged underwater up to 1 meter for up to half an hour.
As the iPhone SE uses the display of the iPhone 8, the resolution of the phone's screen will not be the most top end and we noticed that the display struggles when we were using the phone in brightly lit environments, and we had to find a shelter to properly see what is on our screen. This is despite the iPhone SE having a max brightness of 625 nits, an improvement from the iPhone 8. However, these are all small nit picks considering the price you pay for the iPhone, as well as the strong chipset and camera it carries.
Unlike the original iPhone SE, the newer model does not come with a 3.5mm headphone jack and like most iPhones out in markets now, it instead uses the EarPods which connect through the phone's Lightning connector. Unfortunately, if you wish to use your own wired headphones, you will have to fork out a small sum for an adaptor.
Where the iPhone SE truly shines is with its A13 Bionic chipset, making it a lot more powerful than the iPhone 8 and capable of going toe-to-toe against even an iPhone 11 Pro in terms of speed when navigating between apps, playing games on the phone, and when editing photos and videos that you have taken.
When using the iPhone SE, we noticed little to no lag, and the iPhone was incredibly fluid when switching between apps. Plus we could easily game at high graphics quality without the phone lagging on us. Though it is worth noting that the iPhone SE comes with 3GB of RAM which is only a little smaller than the 4GB offered in the iPhone 11, we assume it is to help keep the cost of the phone low.
Plus it coming with the A13 Bionic chipset also means the iPhone SE will be able to receive years of iOS updates, so if you do plan to hold onto your phone for a few years before changing to a new model, then the iPhone SE is worth considering.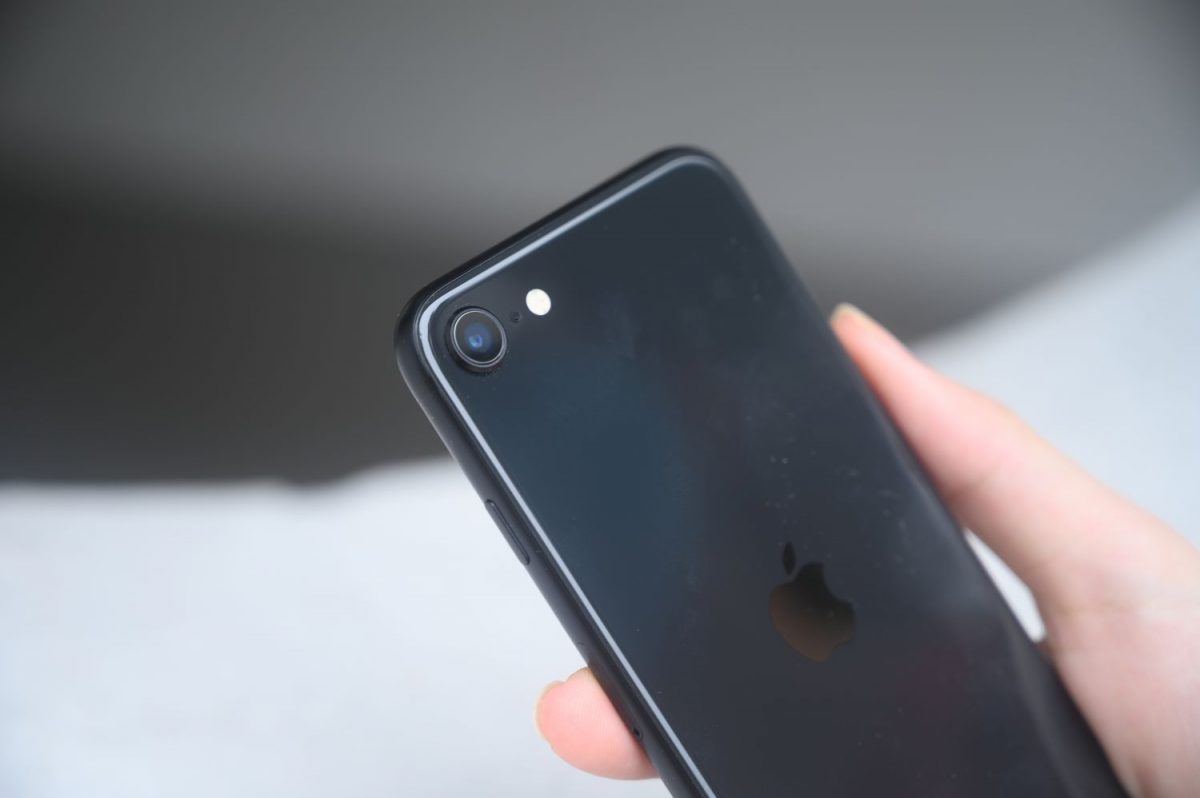 The A13 Bionic chipset also comes with improved image processing capabilities which means the iPhone SE will be able to take better photos as compared to the iPhone 8, and ones that could actually be on par with newer iPhone models.
The iPhone SE comes with only one 12MP camera with f/1.8 aperture, which is the same camera you find on the iPhone 8 but the improved image processing quality courtesy of the A13 Bionic chipset goes a long way in giving us sharper images, with more accurate colour representation. The iPhone SE's 7MP front camera also comes with a portrait mode function, meaning you can take a nice portrait of yourself with creamy bokeh around you.
Unfortunately for the iPhone SE, it does not come with a Night Mode, unlike the iPhone 11 series with its built-in Night Mode feature which helps to bring out details in low-light or night time scenarios. As such, when taking photos on the iPhone SE, you are relegated to trying to use the camera's flash to try and get a good shot of a dimly lit scene.
Apple did not reveal the battery size of the iPhone SE but we found after using it that it could easily last us for an entire day with low usage, but if you are an avid gamer or love watching videos on your iPhone, or love to scroll social media and browse the internet on your phone often, then you will definitely need to charge your phone a lot faster. We found ourselves needing to reach for our Lightning cable by the evening after spending the day on the iPhone playing some games and surfing the internet.
Thankfully, the iPhone SE comes with fast charging capabilities, with users able to charge up to 50% battery in 30 minutes but you will need to purchase a fast 18W charger separately as the power adaptor that comes in the iPhone SE's box is 5W.
But if you are looking for an affordable, value for money, lightweight iPhone that comes with a powerful engine and decent camera, and don't mind the smaller display and large bezels on the top and bottom of the phone, then you need look no further than the iPhone SE.
GEEK REVIEW SCORE
Summary
A pocket-sized, value for money iPhone that is perfect for those looking for an iPhone that will provide them above-average performance and a decent camera (minus the Night Mode) in a compact design.
Aesthetics -

7.5/10

Build Quality -

8/10

Performance -

7.5/10

Value -

8.5/10

Geek Satisfaction -

8/10
---

Drop a Facebook comment below!