Many adults love poop jokes, so kids won't be left out from the toilet humour with this particular title.
The premise of this Hasbro game, for ages 4 and up, is real simple – each player takes turns to flush the toilet and the last player left who doesn't get sprayed wins! Raise your hands of any of you have ever lost the game in real life before!
Out of the box, the toilet comes in 4 loose pieces, which snap together really easily. But as with many of such toys, it's a one-time assembly, so you won't be able to break it apart again for packing away, unless you intend to break it!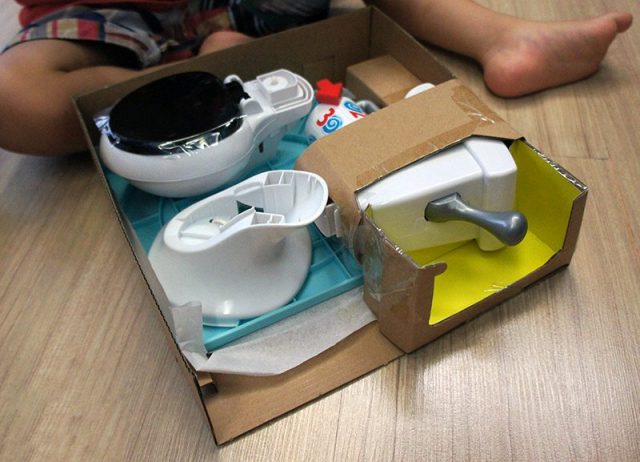 Once assembled, fill up the toilet bowl with water and start flushing the toilet several times continuously, until it starts spraying water.
Each player takes turns to face the toilet bowl, and spin the toilet paper roll spinner, which will end up pointing at 1, 2 or 3. This number will indicate how many times the player has to flush the toilet. Think of it as a toilet version of Russian Roulette, but with a slightly more disgusting premise.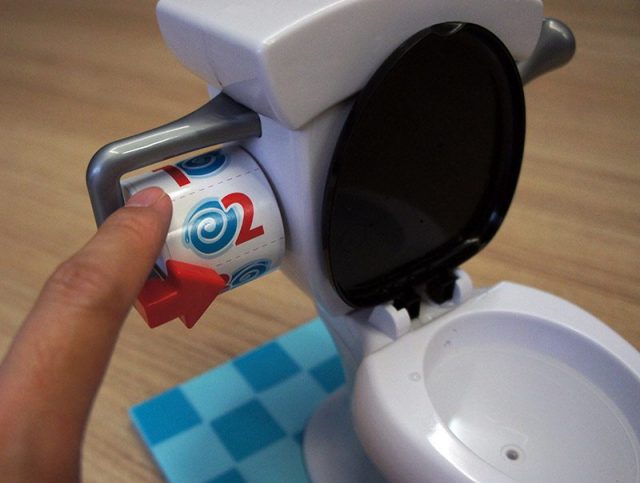 If the player only hears the flushing sound, he's safe. But if the flushing sound is accompanied with a gush of water sprayed in his face, he's out. The last player standing with a dry face wins the round.
The overall make of the toilet is sturdy, holds the water well with no leaks, and sprays water with decent finesse. You know, if you're into that sort of thing. The spinning toilet roll does its job well and spins as intended, in place of a dice roll.
The only gripe I have with it would be the flush handle implementation. For some reason, the handle tends to get partially "stuck" at random intervals, and requires additional strength to push down, which results in a loud click sound as though something broke. At first I thought it had something to do with how the mechanism builds up water pressure in order to spray the water out. This would have been a real bummer as that would mean players could tell when the toilet is about to spray.
However, after multiple tests, the loud clicking and handle resistance turned up randomly. This dulled the fun factor quite a bit, especially when my son had difficulty pressing down the flush handle whenever this happened.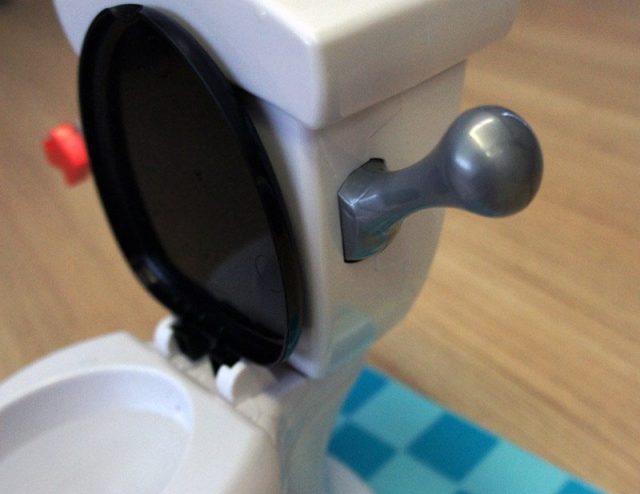 All in all, due to the simplicity of the game, even my 3 year old son could play it (even though it's meant for ages 4+). There are no small parts, so its real safe. And even at 3, he already knows to avoid placing his face in front of the toilet bowl after seeing it spray for the first time!
Alas, I can only foresee kids playing 1 or 2 rounds of this before moving on to the next activity. It gets old pretty quickly. Afterall, it's just a toilet bowl that sprays at random.
Maybe I can add some juice to the tank and aim for the mouth……
Yonk is a geek who is fortunate enough to have an equally geeky Star Wars fan for a wife, who owns a LEGO Millennium Falcon encased in a glass coffee table as their home's centre-piece.
---

Drop a Facebook comment below!

---